3.0m / 10ft 5.0m / 16ft8 and above Log Cabins
Why Buy Log Cabins From Garden Buildings Direct?
Here at Garden Buildings Direct, we're a leader in supplying log cabins UK. And we offer many ways for you to personalise your purchase. We offer options to customise:
The size of your log cabin (pick between a large, medium or small log cabin)
The wood treatment
The cladding thickness
Floor and roof options
Window glazing
As well as a wide range of products from contemporary log cabins to log cabin summerhouses. Our BillyOh cabins are also made from premium softwood materials. These provide great structural strength and durability.
Our garden cabins for sale are available in alpine, apex, pent and traditional styles. So all tastes are catered for. They're built to last, and any items you're looking to store inside, from bikes to work electronics, are guaranteed to be safe. Customise your model to build your perfect log cabin.
Log Cabins For Use As Garden Offices
We know that a quality garden office is on a lot of people's wishlists. And with a range of garden buildings to suit, you could have your very own outdoor home office space in no time with one of our modern log cabins.
One use for an outdoor building is to turn it into a garden home office. Even a small log cabin can act as a separate room from your house. Somewhere you can create a relaxing and productive environment. Find a for sale cabin that suits you now.
Our offices are perfect for those who're self-employed or small business owners. By installing a space in your garden, you can cut down on travel costs and office rentals. But you can also use your garden cabin as a games room, man cave, she shed, or summer house. By insulating it, you could even make use of it as a space for guests, or keep it cosy for year-round use. Whatever you use it for, a garden office log cabin can give you additional living space to work and relax.
Log Cabin Sheds
Log cabin sheds can act as a welcome upgrade from smaller wooden sheds. With double-door designs, you can manoeuvre larger garden tools like lawnmowers as well as bikes. Pick from options for single-glazed shatterproof SAN glass or double-glazed windows. Either way, you can keep your belongings safe and regulate your garden cabin's temperature.
Small Cabins
If you have a limited amount of garden space, why not opt for one of our smaller log cabins? Even a small log cabin can still be transformed into a cosy space for entertaining guests, watching TV, or simply chilling out. We even have a corner log cabin available to fit in those tight corner spots.
Log Cabin Playhouses
And our products aren't just limited to adults. We also offer log cabins in a playhouse design. You can provide a place for your kids to run wild with their imaginations. Whether it's pretending to be a cowboy or a princess - a cabin playhouse can provide plenty of space for all kinds of play.
Our log cabin playhouses come in a range of beautifully crafted single and barn doors. There are also options for traditional cottage-style windows, shutters, and flower boxes. Some of our playhouses are even available in two storeys. This means that children can grow into their garden cabin with a playhouse that has their future in mind. With a raised platform for a bed, add some comfy chairs downstairs to make a pretend kitchen. You may find they want to spend more time there than in the actual house!
Allowing them to play in a playhouse with planters. You may even introduce them to a new love of gardening! Giving children responsibility and projects can help their development and learning. And you may even find they take an interest in the rest of the garden.
Log Cabins & Summer Houses
BillyOh luxury log cabins are guaranteed to bring you joy. They're designed to provide you with an outdoor area that's suitable for relaxing, entertaining, and even working from home. A log cabin summerhouse could be the answer to a home extension. Each building is made with quality tongue and groove construction. So you'll have a sturdy outdoor building that's manufactured to last.
Stylish Design
Pent Roof
With options for apex and reverse apex log cabins, you can get that traditional style. Pick something that perfectly complements a charming terrace or garden. These traditional, apex roof structures are great for any garden.
But we also offer pent log cabins with flat roofs and wide-opening double doors. These modern log cabins are fantastic for a newer aesthetic and offer great water runoff.
There are many ways you can transform your new purchase into something amazing. We've seen families use a traditional outdoor cabin as a crafts room. Even a small one can provide you with enough space for a large table or even floor space to get creative. And why not customise with shelves and draws? Or, convert your garden log cabin into a home cinema for the holidays?
One of our custom buildings could even prove to be a cost-effective way of keeping fit. Or, if you're planning to have guests, convert it into a spare bedroom. Extend the functionality of your house without needing an extension. If you weigh up the cost of adding another bedroom to your house, a log cabin is a reasonable alternative.
If you're into music, an insulated cabin can allow you to rehearse. Or, perhaps you want a games room for the children or even for yourself? A log cabin can provide the perfect divide between work and home.
Various Size Cabins for Sale
When looking for log cabins for sale, you'll need to measure the site of your proposed cabin. Consider what you want to store or set up inside your garden cabin and mark out an area that seems suitable. When choosing a site, think about sunlight and which direction you want it to face. Also, consider boundaries and overhanging trees.
Try not to build at the bottom of a slope or on marshy or damp ground. Luckily for you, we offer log cabins in a range of sizes from 3.5 x 2.5m all the way up to almost 6 x 5m models. Our log cabin kits UK come as easy-to-assemble tongue and groove panels. So you can have a quick garden log cabin put up in no time.
Log Cabin Benefits
Space
If you need extra space, then a log cabin could be the answer. Get way more usable benefits than just buying a garden shed. With increased internal space you can use your log cabin for a spacious living extension.
Log cabins make the perfect space for relaxation, working, or a bit of extra storage. So if you need more space, consider investing in a quality timber building.
Views
Always thought that your shed would be the perfect place to sit and relax? Except that it doesn't offer enough space. Well, then a log cabin uk could be for you. Our log cabins UK are a customer favourite. From the sense of satisfaction, they can bring to simply enjoying a new outdoor studio.
Storage
Perfect for a lawnmower or for when you're running out of loft space. Garden cabins can offer the perfect solution. Log cabin storage can go a long way to reorganising your life. And a cabin with shelves can become an inspiring art studio or somewhere to create a reading nook.
Log Cabin Uses
From studio to cabin home gym or garden office, the possibilities are endless. Get protection against wind and water ingress. Then you can spend time in your garden log cabin in comfort. The improved insulation offered by thicker cladding makes log cabins suitable for year-round use. So, whether it's for outdoor living or a new dining space, we have a dream cabin for you amongst our extensive range.
Garden Cabin Prices
Above all else, we want everyone to be able to enjoy the space and utility of a bespoke log cabin. We offer a huge range of cabins in all sizes and shapes, meaning you'll be able to find one at an affordable price for you.
Log Cabins & Planning Permission
Planning regulations that may affect your proposed log cabin include:
If it is likely to extend past the boundary of your house
If it is within two metres from a boundary
If your highest eaves are taller than 2.5m or exceed a ridge height of 4m
If it exceeds 50% of the area of your garden
If your proposed site is closer than 2.5m to your main house
With a BillyOh log cabin, you can be sure that it will follow these guidelines (e.g. eaves and ridge height) where possible. Remember, planning permission can vary depending on things like your area. We recommend reading our quick guide to planning permission for more info. For example, if you're looking for log cabins to live in, it's likely you'll have to apply for planning permission.
Log Cabin Maintenance
No matter what form of treatment you choose for your log cabin, you can be sure of long-lasting quality. That's why we can offer our BillyOh 10-year guarantee against rot, decay, and insect infestation on our log cabins. And, if you select pressure treatment, we ensure that protection will extend to 15 years.
Taking care of your structure is essential in ensuring its longevity. One of the most important ways of maintaining a contemporary log cabin is by applying wood treatment. This could be oil-based, water-based, or solvent and spirit-based. Or it can be achieved through dip- or pressure treatment. Treating the timber can also help protect against pests and rot. Each form of treatment has its own advantages and disadvantages.
For instance, oil-based treatments only need to be retouched every five years. This may sound convenient. However, oil-based treatment is actually one of the least effective forms of treatment. Solvent and spirit-based treatments are some of the more effective methods of treatment. They will only need retouching every three years. And pressure treatment is able to go even deeper into the timber of your log house.
This means it is likely to have stronger weather protection than the other methods. That's why we offer pressure treatment. For more information, we suggest checking out our ultimate guide to log cabins.
Timber and Cladding Options
Our timber buildings utilise quality materials sourced from Europe. And they come in a variety of thicknesses. These include 19mm, 28mm, 44, and 66m thick cladding. So what does log thickness mean?
Here are some quick tips to help you when choosing a log cabin. All our log cabins use tongue and groove cladding. This is where notches in the panels fit into corresponding grooves. So no matter what log thickness you go for, you can be sure of a tight seal and a durable, weatherproof product.
19mm is best suited to log cabin summerhouses for use during the warmer months. 28mm thickness will allow for further year-round use. Thicker cladding will help to insulate and regulate the temperature in your garden cabin.
44mm log cabin cladding will allow your garden building to be better still at dealing with harsh weather conditions. We also offer double-glazing options on our log cabins. For more information, check out our guide on how to damp proof and insulate your garden building.
Fast and Free Delivery
Our log cabin kits for sale are ready and available for delivery throughout the UK mainland. On top of that, free delivery is available for the majority of the country. Just contact our customer service team to discuss delivery options for your garden building. Your delivery address may qualify for delivery at no additional charge. Whether you're looking to live in log cabins or simply set up a home cinema in one, get your log cabin uk now! Or head over to our blog for more tips and inspiration regarding log cabin living.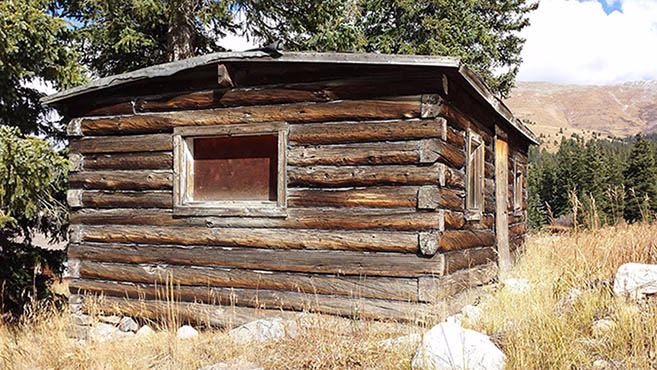 Log cabins have been a popular form of home building for hundreds of years now, and their popularity is just as strong today as ever before. Log cabin homes are not nearly as sophisticated as many modern home building styles, which is why many people like them. The rustic, natural style of building your home goes back to ancient Europe and Scandinavia, and on to early American settlers.
Throughout history, log homes have been an efficient style of home building, since there has always been an abundance of strong, durable wood to use. In the old days, every aspect of building a log cabin was done with simple handsaws, hammers, and other simple hand tools. The process started by cutting down the tree, and then cutting logs from the tree to the proper size of the desired house. Back then, log homes were even made without nails, which is how, and why interlocking logs were created by builders of the time. A good log cabin could easily be built in under a week back then, by a family looking to settle.
Another reason that log homes were so popular in olden times is that it was easy to move them. It could be time consuming, but was worth it to many settlers who needed to relocate for various reasons. Log cabins could be disassembled and moved in pieces to a new destination. This was more common with short moves, because longer moves would take longer than building a new cabin.
Here are some resources on the history of log cabins:
Popular Log Cabin Construction Cuts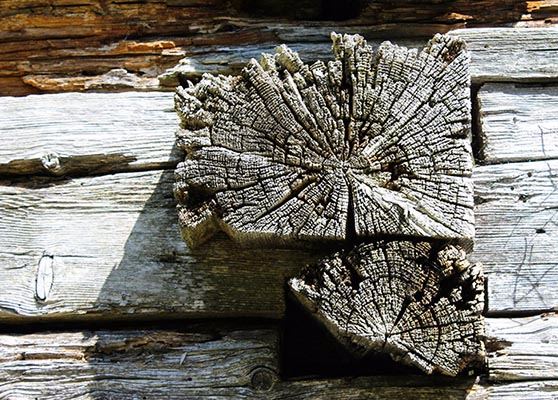 When it comes to log cabins, there are a few different construction types. No log cabin will be the same as another, which is a big part of the appeal for many people.
Timber for log cabin construction can be cut in many styles, here are some of them:
Square/Rectangular Logs
These are logs that are cut with square or rectangle corners. This will make the corners of the house line up properly, so it is important to have the logs cut to the right length and width that you want your finished cabin to be.
Round Logs
These are round cut logs that have no corners or angles in them. They are held together with long bolts that will go through the logs, which make the main support for the cabin. Some round cut log homes use round logs that have a flat top and bottom, and that style is called double round logs.
Swedish Cope Cut Logs
These are logs that are cut with square or rectangle corners. This will make the corners of the house line up properly, so it is important to have the logs cut to the right length and width that you want your finished cabin to be.
D-Log Cut
A D-log cabin is built with logs that are cut square on one side, and round on the other. This makes it so one side of the cabin can have flat walls whilst the other side has rounded, traditional log style walls.
Handcrafted Logs
A D-log cabin is built with logs that are cut square on one side, and round on the other. This makes it so one side of the cabin can have flat walls whilst the other side has rounded, traditional log style walls.These are logs that are entirely cut by hand so they keep the natural log shape. This style gives the cabins a nice rustic appearance.
Interlocking Corners
If you ever used Lincoln Logs as a kid, then you will know what interlocking corners are. They are logs cut with square notches cut out on the top and bottom of each end of the log. This helps with stability and has a natural, rustic look.
Building a Log Cabin
Building a log cabin takes a lot of time and effort, but when it is finished you will have a gorgeous home and can take pride in your cabin, even if it is built from a kit. There are many people that still prefer to build their cabin homes by hand, just like in the old days. This can be a daunting task, so it is important to learn the proper way to build. This includes choosing the type of wood you want to use, the style of log cut that you want to use for the build, and even how you plan on insulating your home. In old times they used mud and clay to fill in the cracks for some insulation.
Tools Needed to Build a Log Cabin
When starting to build your own log cabin home, playhouse, or other type of log house, it is important to have all the right tools before you begin. Below you will find some good help ensure you have what's needed before you get too deep into the project.
Decorating a Log Cabin
Once you have your log cabin built and ready to live in, you then need to decide how to decorate. Here are some ideas of décor for your log cabin home.
Fun Facts About Log Cabins
There are some interesting facts about log home living, read about some of them here.
Free Log House Build Plans
Getting started on building your first log cabin can be overwhelming. But luckily, there are many places that you can find free plans online. We gathered some of the best that we could find for you. Check them out below!
UK Log Cabin Holidays
A log cabin getaway is a perfect way to escape the hustle and bustle of everyday life. It is also a great way to enjoy nature and go off the grid for your holiday. Getting out and living in a rustic cabin isn't for everyone, but many people around the world enjoy it, which makes it easy to find destinations where you can rent a log home for your holiday.
Whether you want to rent a log cabin for your holiday, or have a log cabin for your permanent residence, you will have no trouble finding either. There are plenty of professional log cabin builders all around the world, or you can buy a log house that is pre-manufactured and can be placed on your land.