Check out this post for the perfect solution to home fitness – transforming your log cabin into something else entirely.
As much as staying physically fit and active is important, there will be times where you won't have access to a commercial gym – especially during the ongoing pandemic. Luckily, there are plenty of methods for staying active besides this. In fact, you can do your exercise routines from the comfort and convenience of your home! But what if you don't have enough space to stretch, jump or perform your workout routine in your house?
The best solution to opt for is having your own home gym set-up. Sure, buying a log cabin or any garden building may cost you, but creating your own log cabin gym will be extremely practical and beneficial in the long run.
Not only will you have the perfect place to do your exercise routine without any distractions, but you also won't have to worry about the expensive gym membership. 
To help you create the perfect garden gym in your log cabin, here is the complete and practical guide to help you take the next step towards doing just that!
Amazing Benefits of a Log Cabin Gym
A home gym is a must-have, especially if you want to get serious about your fitness. Other than the ability to workout without even needing to leave your home, there are a number of other fantastic advantages to a garden gym in your log cabin.
1. No Commute
Arguably the best thing about owning a home gym is that you're only a very short walk away from it. You can simply take a leisurely stroll from your house to your garden gym at any time, and be ready to go in a matter of seconds. Having a no hassle commute will save you a huge amount of time in the long run.
2. Make Your Own Rules
Your gym, your rules! Blast out your go-to workout playlist (just not so loud that it'll drive the neighbours crazy) and arrange equipment however you wish. For an especially relaxed workout, it may even be worth considering a TV, so as to catch up on your favourite shows while lifting weights or running. Now that you have your own space, you have the freedom to do whatever you want.
3. You Can Take Your Time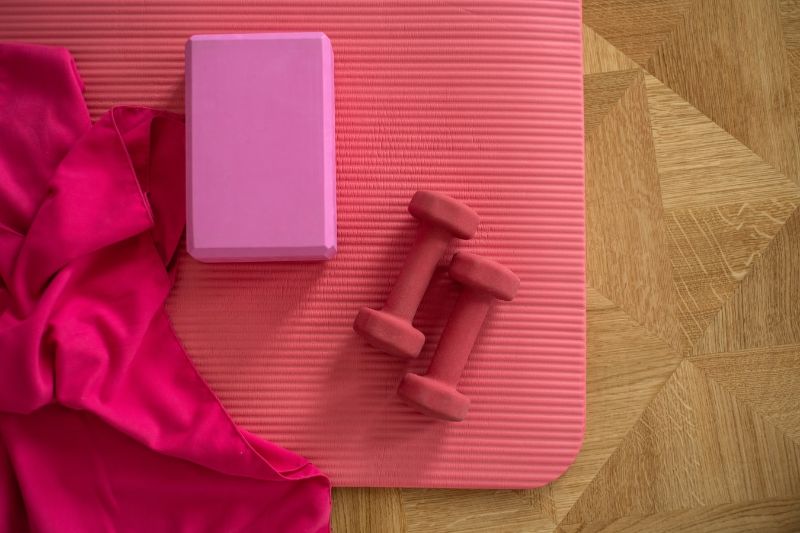 You don't have to wake up early or turn up late in order to get first dibs on the most popular pieces of equipment. There's no need to rush. Move at your own pace and take your time to properly finish your workout.
4. Privacy
When exercising in your gym, you won't have to worry about being judged or feeling intimidated, as can sometimes happen when working out around others. You can take your time, spend as little or long in your gym as you wish, and dress as casually as you please!
How to Create a Log Cabin Gym
1. Decide on Your Log Cabin Size
When it comes to the size of your log cabin gym, a spacious structure will provide more equipment options. If circumstances do not allow, however, you'll need at least a 3m x 3m building. It will grant ample space for you to move around whilst working out.
Before purchasing a log cabin, you'll also need to measure the available space in your garden and how much of it you can allot to the log cabin. When it comes to the height, you should consider the types of exercises you'll be doing and the type of equipment that this will naturally require.
Our range of log cabins come in a variety of sizes to choose from, allowing you to consider the width, depth, and height of your ideal garden building.
2. Consider the Location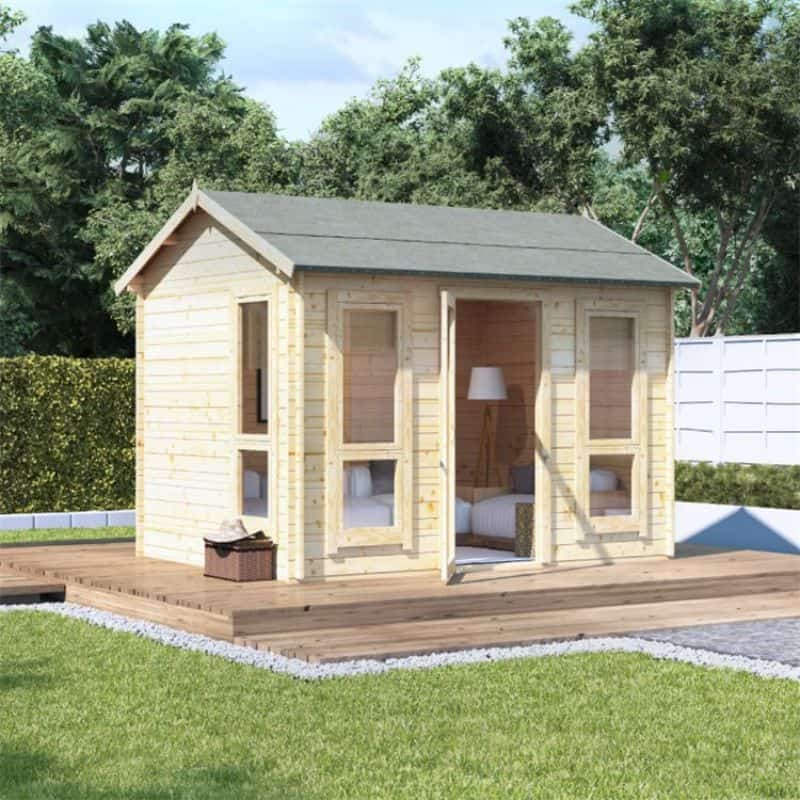 You can use your garden space in a variety of ways, as dictated by your needs. So, if you plan on creating a home gym in your log cabin, be sure to choose the best location; one that is easily accessible, but won't greatly interfering with your other garden activities.
For example, you may opt for the area farthest from your home to get a good view of your outdoor space while working out. This technique can also prevent kids and pets from constantly barging into your workout space.
3. Set up Safe and Sturdy Flooring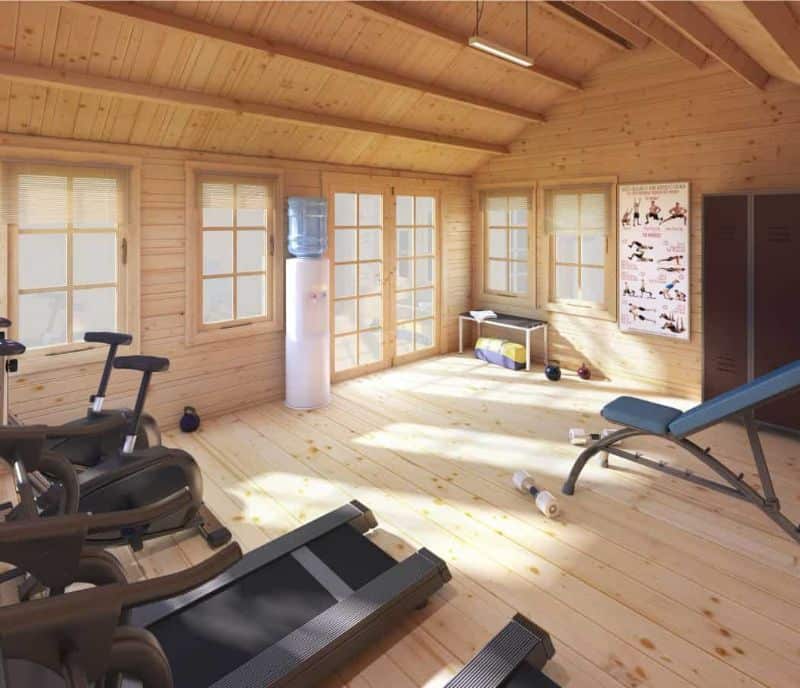 Since a garden gym will cater to various physical activities, be sure to choose sturdy wood for the flooring. You can also opt for an easy to clean design, to help keep the structure neat after some intense workouts!
Deciding on your gym floor setup will also depend on the type of fitness equipment you'll be using. If you use free weights, it's essential to select a specific rubber matting.
You can purchase our range of log cabins with optional tongue and groove or Durellis solid sheet flooring options which perfectly fit the requirements of a garden gym.
4. Insulate and Ventilate the Structure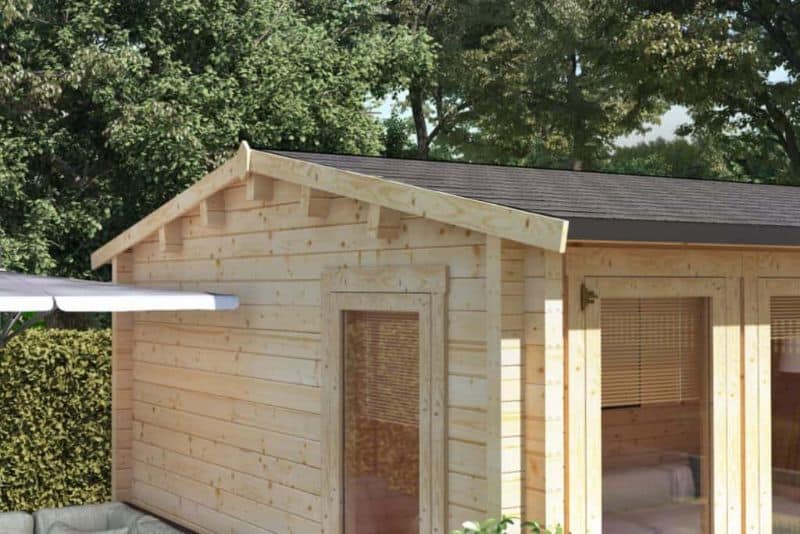 If you want the gym to be functional all year round, you'll need to both insulate and ventilate it. For an easy ventilation technique, opt for a structure with windows large enough to let sufficient air in during the summer.
You can also choose double-glazed windows which keep the log cabin warm during the cold season. They'll also allow you to turn the music up without annoying the neighbours! It would even be better to install an extractor fan and additional air vents to let the warm, moist air out while drawing in cool air.
When it comes to insulation, you can either invest in an insulated garden building or do it yourself. You can use rock wool or other sturdy insulators for this exact purpose.
5. Clearing and Storing
If you already own a log cabin and have been using it for years, it's time to clear it out and get rid of any unnecessary items that make the space look chaotic.
Put all the items in a box or any other storage space, and stash them elsewhere. The more floor space you can clear, the better.
6. Buy the Right Equipment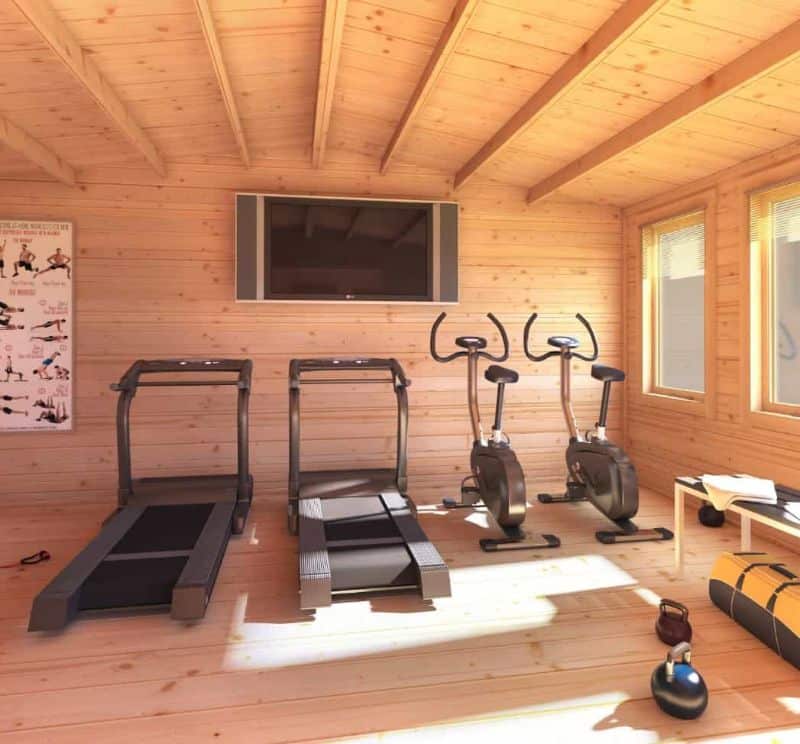 When choosing your equipment, consider space available, fitness needs and budget. For your cardio sessions, you can choose from simple items such as jumping ropes and a stepping box, to a treadmill and elliptical trainer.
Beyond cardio, a set of dumbbells will also allow you to implement an excellent all-round training routine. If you're a beginner, it's important to employ various weight increases (slowly adding on to the amount you lift, as opposed to starting with a large amount), in order to support a natural strength progression.
7. Decorate and Work It Out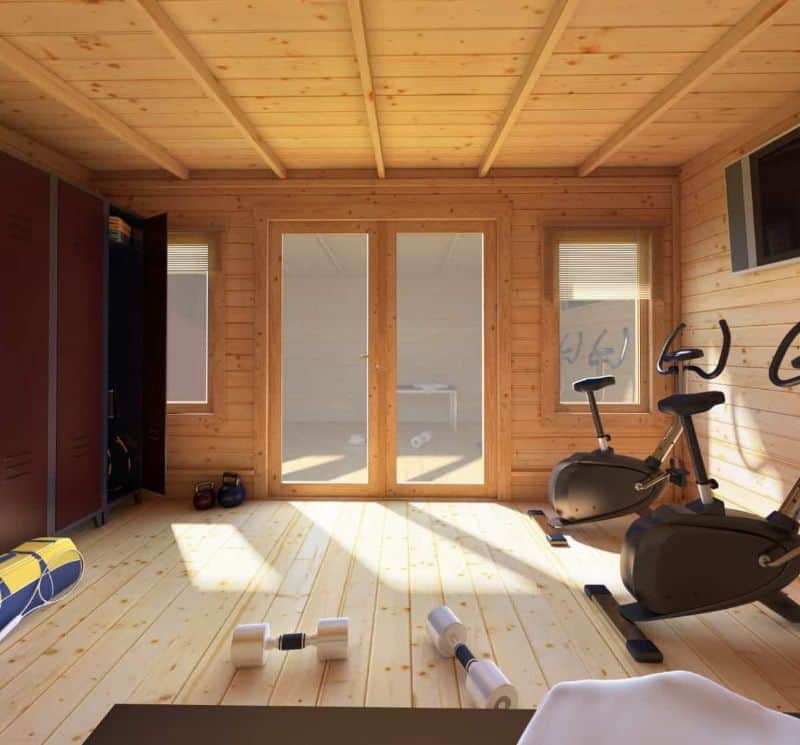 What's great about a home gym is that you can create your perfect exercise environment, without having to worry about what other people think. This is applicable to both your workout requirements (equipment required) and the overall aesthetic of the gym.
For your finishing touches, you can add window blinds for more privacy, mirrors, and a great music system. Setting up benches and squat racks will also be a great idea if your home gym space allows for it.
When it comes to the external look of your garden gym, a log cabin's wooden surface can easily blend into an established garden. Nevertheless, you can still spruce it up with paint and other forms of decoration.
8. Secure the Garden Building
Lastly, with all the equipment and furniture you have installed in the garden gym, you'll need to keep it secure. A sturdy lock will do, but additional security systems, such as an alarm, will work better.
Check out our great range including the Winchester, Dorset and Fraya.