We love to catch up with our customers to see how they're getting on with their garden buildings. And when it came to Lucy's experience, we were overjoyed to hear that she loved transforming her new Devon Log Cabin into a swanky salon!
Having a salon in your own home is the best and new modern way to operate. It gives you your own, personalised workspace that's close to home while making customers feel like they're getting special treatment with every single appointment.
Hair stylist Lucy, on the brink of returning from maternity leave and sensing the winds of change, saw that creating a personalised salon was the way to go. But, smartly, she also decided that she wanted to separate her home space and working space. That's where we came in.
She searched around and about for a log cabin building that would fit the bill. But it was here at Garden Buildings Direct that she found the solution that suited her – the Devon Log Cabin.
"It was exactly what I imagined I wanted when I began planning."
After falling instantly in love with the Devon Log Cabin's big windows and double doors, which flood the interior with natural light, Lucy decided to start on the road to making her very own home hair salon. 
We're proud to have given her a fantastic sales experience, one that Lucy was happy to tell us all about:
"Great price, amazing delivery time, and the salesman on the phone was genuinely happy to help us. My experience was 10/10."
And once the Devon Cabin had been delivered, things kept going smoothly for Lucy. She said the instructions were "simple to read and understand when building". With their help, her cabin was up in no time at all. In the end, the whole process was "a breeze!"
After building the cabin, Lucy's mind turned toward decorating it. She decided on a simple and fresh theme with a white interior and a clear finish protector for the exterior. She then added some personalisations to make the cabin her own. Take a look below to see how great it turned out: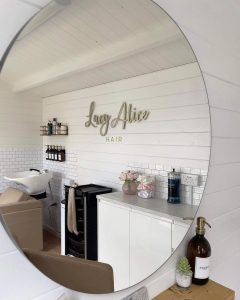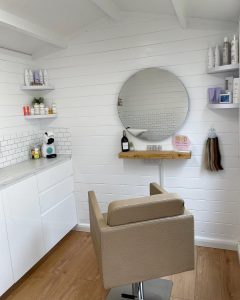 Her salon is now fully up and running, and Lucy is hard at work specialising in colouring and hair extensions. And we're happy to report that she is loving the cabin!
"We are really impressed with the thickness and quality of the timber. It gives the warm, cosy feel I wanted."
"The building has allowed me to return from maternity leave and easily work around my partner's hours. I am able to easily work without the stress of travelling."
We're happy when our products make such a big difference in people's lives. Seeing everything work out for Lucy and her Devon Log Cabin has been amazing!
We finally asked her what her top tip for anyone else wanting to create their own salon was, and Lucy had some great advice:
"Don't skimp. Invest from the beginning in double glazing and thicker wood – you won't regret it."
Great tips Lucy, we hope everything continues smoothly with your Devon Cabin and your business!
If you've been inspired by Lucy's story and are interested in setting up a salon or studio cabin of your own, then take a look at our range of log cabins or summerhouses using the button below. Alternatively, check out how some of our other amazing customers have personalised their garden buildings in our other customer stories!