We love to catch up with our customers to see how they're getting on with their garden buildings. And today we have a truly special story from Martyn, about how he made over his newly purchased Picton summerhouse!
We're always intrigued when trade-savvy customers purchase products from Garden Buildings Direct – as we just know that they're going to do our buildings justice.
So when Martyn – a dab hand with the old D.I.Y – approached us to purchase a new summerhouse, we just knew what he was going to do would be remarkable!
Usually customers come to us for a nice and dry area to chill out and relax in, but Martyn came to us with the idea of fitting a hot tub in one of our builds! Somewhere he could use year-round without the weather spoiling the party.
Due to the shape of his tub, he needed something a little more spacious, and after a little while spent browsing through our variety of high-quality products in a range of shapes and sizes, he finally set his heart upon our Picton Corner Summerhouse – as it was great value for money in his eyes.
'It was well made and great value for money.'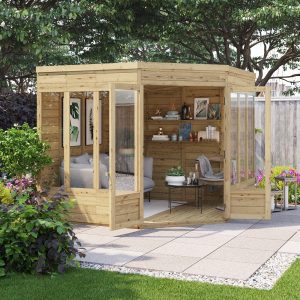 After a rapid response in terms of delivery, Martyn got on the tools and set about constructing his new summerhouse in the corner of his back garden.
A semi-skilled worker combined with easy-to-follow instructions and prefabricated timber is a force to be reckoned with, and Martyn's summer house was up in practically the blink of an eye.
'I am so pleased with our new summer house 7×7. Bigger than I thought. Nice size!'
He decided to keep its original rustic look, and furnished the interior with towel racks, shelving for skincare products and rails to hang dressing gowns etc.
You can see the full extent of Martyn's makeover below: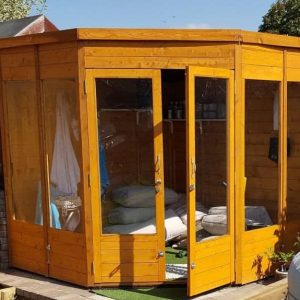 It's not every day we see someone with the same levels of creativity and ingenuity as Martyn, and his work has well and truly stunned us. A great use of the Picton summer house, well done!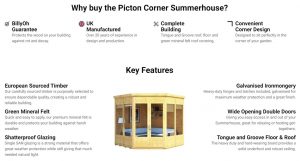 If you've got a story about your BillyOh shed, summerhouse, or playhouse conversion – we'd love to hear it! Simply get in touch with us on social media for a chance to feature here.
Or if you want, you can check out more customer stories right here.