We love to catch up with our customers to see how they're getting on with their garden buildings whenever we have a chance. So that's why this week, we spoke with Cary to see how her daughter was enjoying her new play space!
Some kids like staying indoors, glued to their video games and it's a good idea to get them outdoors. Not only will this enhance their creativity, but it also does a lot to keep them active.
Having a playhouse in your garden is one of the best ways to let your children have their own space to play and be independent. 
This is a sentiment Cary shared, so she decided to pay Garden Buildings Direct a visit – to see what we could offer to enhance her children's outdoor time!
And she found the perfect product in our Gingerbread Max Playhouse due to its size and quaint aesthetic visage.
'We first chose the Gingerbread 6×4 thinking it was big enough but didn't realise it was not very tall for a 5-year-old.  So we then returned it and bought the Gingerbread Max with a bunk.'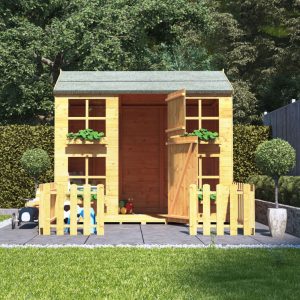 And although Cary initially bought the wrong product, she was overjoyed to find that she would be offered a full refund and exchange when she found she needed something a little bit bigger.
'We were surprised and very pleased when a member of staff said that we could take the first one we bought down and that they would arrange for a pickup and a full refund. It was picked up in a few days and the new one was delivered.'
After a prompt re-delivery, Cary had no issues with the construction process – and by following our step-by-step instructions she had it installed and ready for decoration in a flash!
Once complete, she decided to strengthen the structure with extra wood – for that little bit of peace of mind on those windy days. Coupled with our ten-year anti-rot guarantee as a standard, the playhouse will most certainly pass the test of time, and weather all storms.
'We have used some extra wood to strengthen the playhouse just to protect it from high winds.'
She also installed comfy seating in the playhouse so the kids could chillax in comfort, and added plenty of toys to keep them going!
You can see the full extent of Cary's makeover below: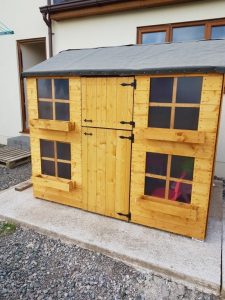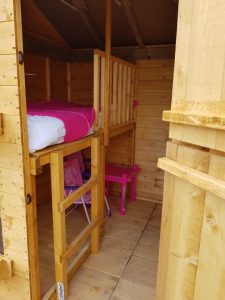 'Dealing with Garden Buildings Direct was straightforward and the staff were very helpful.  We had a prompt, very polite and helpful reply to our messages.'
We're so glad to hear you had a pleasant experience with us Cary – and we hope that your kids love their new playhouse and spend hours of fun there!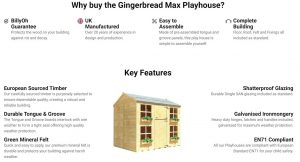 If you've got a great story about your BillyOh shed, summerhouse, or playhouse conversion – we'd love to hear it! Simply get in touch with us on social media for a chance to feature here.
Or if you want, you can check out more customer stories right here.