We love to catch up with our customers to see how they're getting on with their garden buildings. That's why today, we reached out to a very special customer, to see how her children were putting their new playhouse to use.
Before the era of social media, technology and addictive video games, kids used to love nothing more than being outside. Remember running around with friends – letting your imagination run wild?
Well many parents feel that it's important that children still have the same experiences that they did when they were growing up.
Rachel came to Garden Buildings Direct to promote outdoor play time to her children. She, like many others, didn't want her little ones sitting in front of a TV screen all day every day, wasting their youth!
So she decided to browse through our massive selection of high-quality playhouses, with hopes of securing something cute for her children to spend time playing in.
And she found exactly what she was looking for in our Bunny Max Tower Playhouse – complete with a slide to keep the kids entertained.
'It's a good product and was a good price on the website. I researched many companies and products before settling on Garden Buildings Direct.'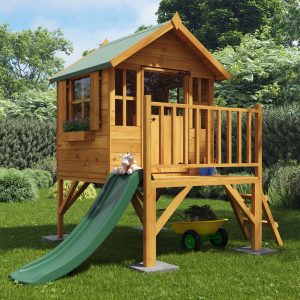 After a prompt delivery, Rachel set to work on constructing the new playhouse for her little one's. And, although daunting at first, she had it built in a flash with the help of our pre-cut timber and easy-to-follow instructions.
Before she knew it, the playhouse was standing tall and ready for use! She decided to leave the playhouse in its natural rustic state, allowing the kids to use their imaginations to make it whatever they desired on the day.
'My customer experience was good, overall. I initially couldn't order online due to not being able to apply a discount code so I called instead and the order was processed straight away.'
You can see Rachel's full makeover below: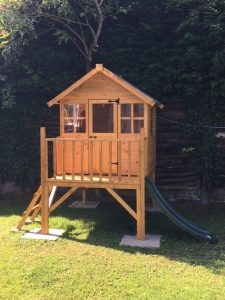 'It's very good, I'm happy with it and my kids love it!'
Another fantastic use of a BillyOh product by another well and truly caring mother. We hope that the kids enjoy their new playhouse for years to come, and that it promotes healthy outdoor playtime for them as planned!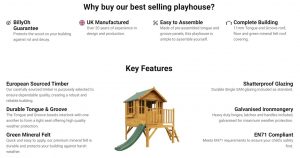 If you've got a great story about your BillyOh shed, summerhouse, or playhouse conversion – we'd love to hear it! Simply get in touch with us on social media for a chance to feature here.
Or if you want, you can check out more customer stories right here.