We love to catch up with our customers to see how they're getting on with their garden buildings. So this week we caught up with the lovely Rachel to see how she had made the most of her sons' new playhouse!
Like many other proud parents, Rachel visited Garden Buildings Direct with hopes of purchasing a gorgeous garden retreat for her two little boys – a place they can frolic and play for hours on end, until their hearts are content.
After a short while spent browsing through our luxurious products, Rachel finally decided that the Lollipop Junior PLayhouse would be the perfect setting for her young ones, and wasted no time in ordering it there and then.
'After looking for the perfect playhouse for months for my two boys I came across Garden Buildings Direct.'
'I saw this playhouse on the website and it was exactly what I wanted & the best price I had seen.'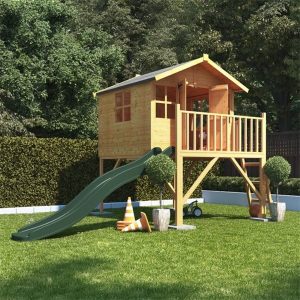 After a super-speedy delivery, Rachel wasted no time in erecting her new playhouse. And with our easy-to-read step-by-step instructions, coupled with our pre-cut timber she had it up and ready for use in a heartbeat!
A dab hand at decoration, she decided to spray it a stylish sage green for that classic garden feel. She then added two pretty shrubbery tubs either side of the stylish hatched door.
The inside was furnished with cosy seating, and filled with plenty of toys for both her boys!
'The playhouse was easy to build. It took my partner a morning to put together (he is a handy type) & we painted it up.'
'We're so pleased with the final outcome & the boys love it! It's sturdy, well-made and it's been in torrential rain and had no leaks!'
You can see the full extent of Rachel's makeover below: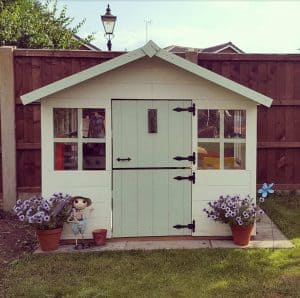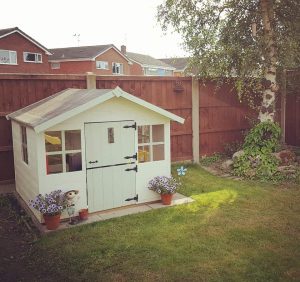 Yet again, another breathtaking makeover from a beautiful and caring family. Rachel should be very proud of what she's managed to achieve in such a short space of time – we most certainly are!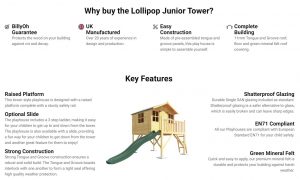 If you've got a great story about your BillyOh shed, summerhouse, or playhouse conversion – we'd love to hear it! Simply get in touch with us on social media for a chance to feature here.
Or if you want, you can check out more customer stories right here.