We love to catch up with our customers to see how they're getting on with their garden buildings. So we were delighted when Rhiannon got in touch to tell us about how well she and her children were getting on with their new BillyOh Lollipop Junior Playhouse!
With lively kids to keep occupied, Rhiannon was in desperate need of a place to let them express themselves and use their imagination. On top of this, they needed a safe and inviting place for them to play in the garden. But she had a secret trick – she knew that a playhouse was her best bet at giving them both of these things.
So, in search of a quality playhouse, she turned to us here at Garden Buildings Direct – and we didn't let her down!
A thorough browse of our wide playhouse range took Rhiannon straight to one of our personal faves, the Lollipop Junior. 
She fell in love with its cute size and design features, especially the picket fence and stable door which she thought was super sweet! The kid-safe windows also ticked all of Rhiannon's boxes, and she took the leap and purchased her very own Lollipop Junior.
"It was a great design and the perfect size for our garden."
After a stress-free delivery and straightforward assembly of their new playhouse, Rhiannon's family got to work on the decorations – and let me tell you, they did a superb job!
Cornflower blue paint, beds of colourful flowers, a classic white picket fence, and a wicker love-heart on the door all make it the perfect place to play. And that's exactly what it has become.
They've not decorated the inside yet…but when they do it's sure to look amazing! Take a look at their current handiwork below!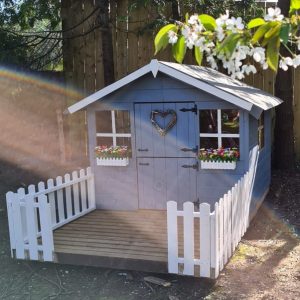 We totally recommend adding a personal touch to any playhouse. Children will feel happier and more comfortable inside if they can see that this playhouse is especially theirs! And it seems that's exactly what's happened with Rhiannon's playhouse. Yes, it's already providing her children with some great laughs and memories!
"The Children love to use their imagination with the playhouse. They like to use the stable door and pretending it's an ice-cream shop!"
That's just what we want to hear! These cute stories are exactly why we sell playhouses. In fact, Rhiannon was so happy with the playhouse she was happy to recommend us to anyone looking for one!
"I had a great experience with Garden Buildings Direct and, yes, I'd recommend them to a friend."
Thank you so much, Rhiannon. We hope you and your family get many hours from your new Lollipop Junior Playhouse!
If you're interested in buying a Lollipop Junior of your own, or want to view our other Playhouses, you can browse our wide range using the button below.
Alternatively, you can read our other customer spotlights using this link!
Shop Playhouses