We love to catch up with our customers to see how they're getting on with their garden buildings. So we were overjoyed to hear from Gemma about how she was getting on with her Lollipop Max Playhouse.
With a newborn on the way, and a two year old in need of distraction, Gemma went in search of a playhouse. She knew that a playhouse can provide endless hours of fun, and that the right playhouse would keep her children entertained for years to come.
She and her husband scoured the internet for a playhouse that was good quality but still affordable. They naturally found Garden Buildings Direct, and the Lollipop Max.
With clear photos of the product, a wealth of information, and some great guarantees, Gemma didn't want to look anywhere else.
"Garden Buildings Direct ticked all of those boxes and showed clear photos of what we were getting. Buying was easy!"
When it arrived, Gemma did not sit on her laurels – she built her new Lollipop max, and then took it up a level.
Now, their Lollipop Max wouldn't look out of place at any British seaside. Her Lollipop Max has been painted in a vibrant turquoise and kitted out with charming beach hut decorations such as a "Welcome aboard" sign, fishnets, starfishes, and maritime bunting.
Gemma really has taken the Lollipop Playhouse to the max! Take a look at her construction below.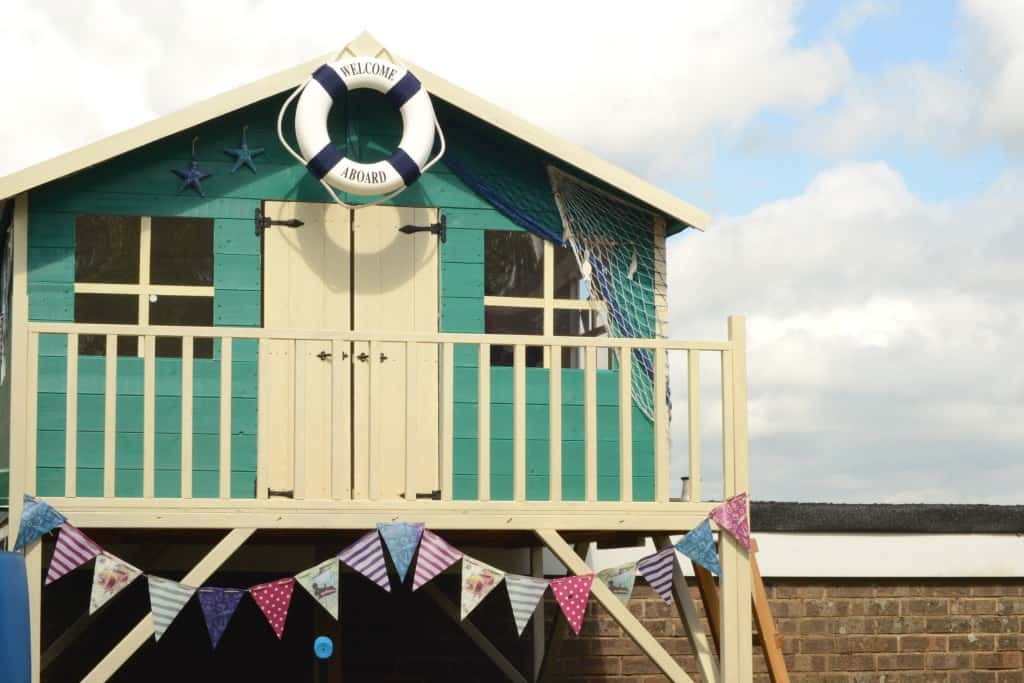 "I think we got the perfect one to fit our space. The kids still absolutely love it."
"We have recommended you to friends and family when they ask where our playhouse is from."
Gemma and her family are in love with their playhouse, and even happier with how easy it was to order and build. In fact, she told us that the hardest part of the while process was choosing the colour!

If Gemma's Lollipop Max has inspired you, and you're looking to buy a playhouse of your own, then shop using the button below. Or take a look at our other customer stories!
Shop Playhouses