We love to catch up with our customers to see how they're getting on with their garden buildings. So hearing from Sharon, who recently purchased one of our Bunny Max Tower Playhouses, was an absolute treat!
These days, it can be hard to convince your children to spend more time outside the house. With so many distractions inside, getting kids into the garden can be an uphill battle – and one that Sharon was facing herself with her grandchildren. With outdoor play so important to their cognitive, social, and physical development, it's worth doing all you can to get them outdoors.
But she had an ingenious idea – if she gave her grandchildren a safe, comfy, and fun place to play, getting them out of the house would be much, much easier. In fact – they might even find the motivation to go out themselves! 
Sharon knew that the best way to encourage this was a playhouse.
A quick search online led her to Garden Buildings Direct, where our great value and build quality range quickly showed her that we were the best around. Sharon was especially impressed with our customer service and delivery.
"Service was amazing from when I ordered to when it was received"
Sharon chose the Bunny Max Tower Playhouse 4×4 for the fantastic value that it offers. With so much space and so many features at such a low price, we can see why.
The Bunny Max Tower has a great raised platform and cute balcony, which is great for letting children's imagination run wild – imagining themselves on pirate ships, castles, or in a beach hut overlooking the sea. Inside, there is enough space for all their toys, giving them a comfy place to play.
Sharon's playhouse was given a few little added extras: there are bulbs on top for the kids to enjoy the playhouse at night, while the pots and bench are perfectly placed to give it a homely feel. There's even a wise raven toy to watch over them as they play!
Take a look at Sharon's playhouse below: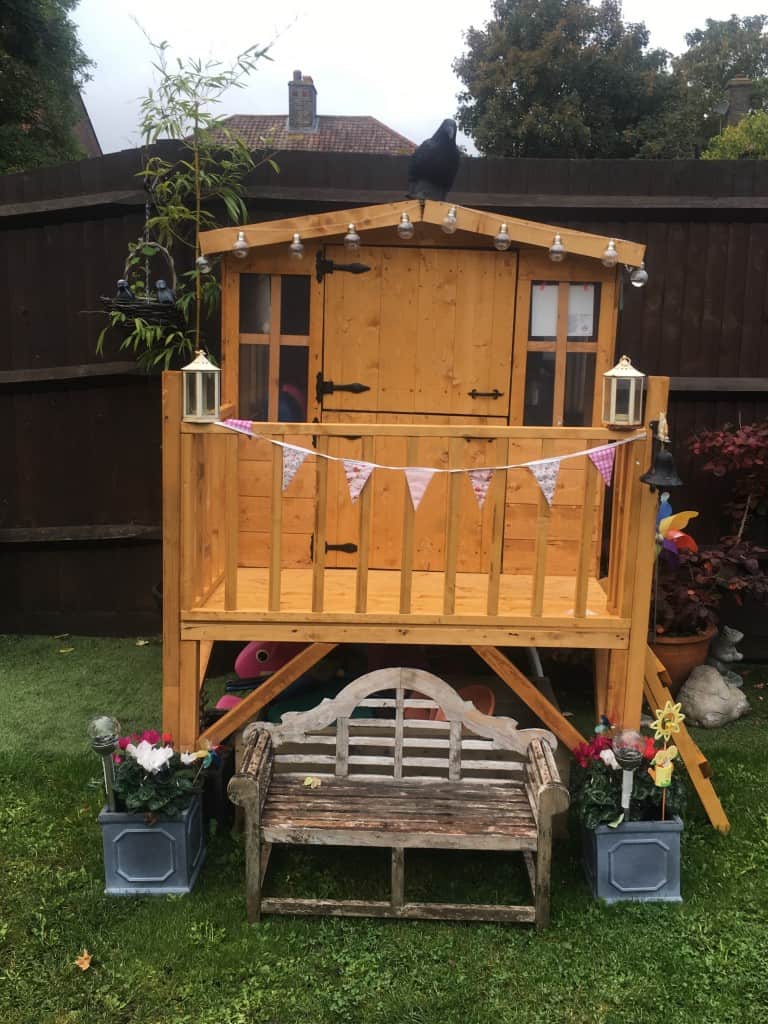 It's not just Sharon who is happy with her purchase either. Her grandchildren can't get enough of it, and they're thinking of customising it even more.
"We haven't painted it yet – but my grandchildren want pink, blue, and white. They absolutely  love it – it's so cute!"

If you like the look of Sharon's Bunny Max Tower, or are thinking about getting a different playhouse, then we have what you're looking for. Shop our great playhouse range using the button below!
Or, check out some of our other customer reviews.