There's nothing quite like hearing back from our amazing customers about how they're finding our products. We love finding out how they got on with assembling their garden buildings, how they've customised them, and reading about the memories they have already made in them!
One category we receive lots of reviews for is our famed wooden playhouses. Parents are eager to show us how much their kids love to use them, and we love to see them in action!
Below, we've compiled a huge list of all our playhouse customer spotlights. Check out how our creative customers have customised our playhouses to make each one individual. 
If you've got any outdoor playhouse questions, or simply want to know more about them, visit our Playhouse FAQ Centre for all information you'll ever need.
Interested? Then scroll down to read our great reviews!
---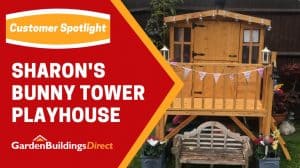 Sharon wanted to buy her grandchildren a present that would encourage them to get out of the house, and that they could use for years upon years. She decided upon a Bunny Tower Playhouse – and couldn't be happier with the result! Click the link above the explore Sharon's story.
---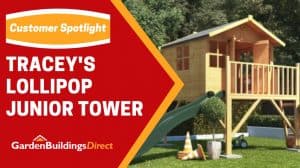 With two active grandsons to entertain, Tracey had a lot on her plate. They needed a place to play and let off steam – and Tracey realised a playhouse was the ideal solution. She chose the Lollipop Junior Tower for its fun slide and versatility. Read her story to find out how her grandsons are getting on!
---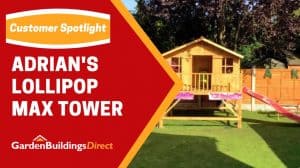 Adrian's daughter had been asking for a playhouse so she could have a place to play and have tea with her dolls. He was happy to help but wanted to get good value for money and a sturdy, long-lasting building. A little bit of research led him to our playhouses, and he was immediately convinced. Click the link to see how happy he was with his playhouse!
---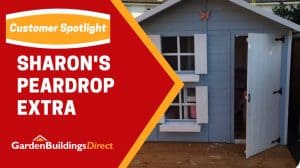 Like many grandparents, Sharon wanted to give her granddaughter a special present for her birthday. She knew she wanted a playhouse, but she needed one that could fit in her garden. This was a challenge – until she found our website and the Peardrop Extra. After assembly and a lick of paint, it looks perfect in Sharon's garden. Follow the link to have a look yourself!
---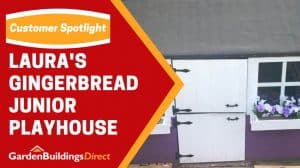 With a daughter who needed a cosy and safe place to play in her Garden, Laura knew a playhouse would be ideal – but didn't know where to start. That was until she found our great range. She found the perfect playhouse in the Gingerbread Junior and didn't hesitate to buy it. Since their Gingerbread Junior arrived, Laura and her daughter couldn't have been happier with it  – click the link to find out more!
---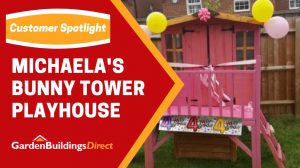 Like many other customers, Michaela was searching for a birthday present that would bring her granddaughter bounds of joy for years of her childhood. After building it with a neighbour and painting it in hot pink, Michaela unveiled it for her granddaughter's birthday. Read the story to find out more.
---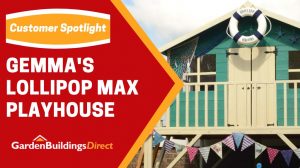 With a newborn on the way and a two-year-old in need of distraction, Gemma decided that a playhouse would be an investment that she couldn't ignore. A web search led her to us and our extensive range, and from there she fell in love with the Lollipop Max Tower. 
Gemma didn't just stop at assembling it – she painted and decorated it in a seaside theme and it looks amazing! Follow the link to see more.
---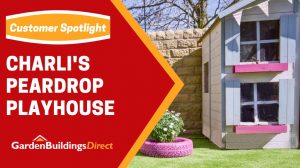 Charli's children were in need of a place to play in the garden, and her garden needed some sprucing up. Her kids also wanted somewhere to put their toy kitchen set that they loved to play with. Through Garden Buildings Direct, Charli discovered that a playhouse, like the Peardrop that she brought, was the perfect solution. Find out more by clicking the link above.
---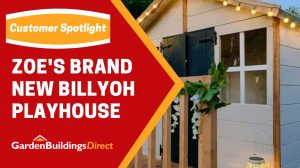 As a loving mother, Zoe can't help but want to treat her little ones to things they'll love. When it came to buying a piece of brand new play equipment for her garden, it was the same. Zoe wanted the best for her two kids – and the one extra that was on the way! 
She needed a playhouse that would be big enough for the three of them, and she found just that in the Lollipop Junior Tower. Find out more through the link above!
---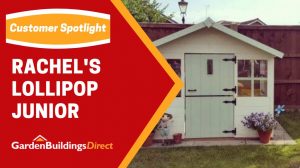 In a house with two young boys, Rachel knew that providing a place to have lots of fun was a top priority. Like many other parents, she visited Garden Buildings Direct in search of the perfect product – and that's when she found the Lollipop Junior. There was no delay in ordering it, and after her husband put it up in record time, her boys were all over it. Find out more!
---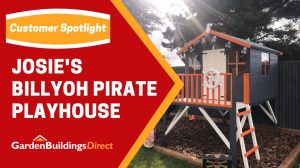 London-based influencer Josie wanted to create a magical retreat for her little lad, so he could have a place to play and have fun on those warm summer days. She brought our Lollipop Junior Playhouse and completely transformed it into a daunting Pirate's ship! For all the pictures, follow the link!
---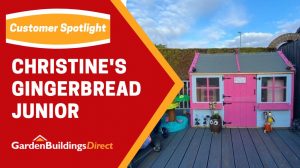 Christine came to our website with aspirations of creating a play haven for her two granddaughters. With a back garden in need of refreshment, Christine found the solution to both problems in the form of one of our playhouses – the Gingerbread Junior. After a speedy delivery, Christine decided to give the playhouse a makeover: and, no surprise, they loved it! Check it out using the link above.
---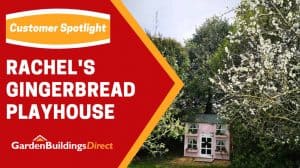 Countryside cottage renovator Rachel moved into her new house, only to find that it was missing something – a playhouse for her young children to play in. On the back of a heap of good reviews, she brought one of our Gingerbread Max Playhouses and put her professional skills to use. The result was amazing – click the link to see it!
---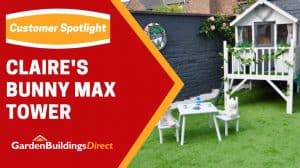 With two children approaching the age where they want to get out of the house and start playing, Claire made the smart choice to buy something that they'd get years of joy out of – a playhouse. She brought her Bunny Max playhouse from us here at Garden Buildings Direct and decked it out in a fancy floral theme. Take a look using the link!
---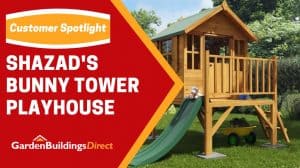 Shazad wanted to get an extra special present for her daughter's birthday, something she would play with for a long time. She had the bright idea of getting a playhouse and came to us to make it a reality. We sold her a Bunny Tower, and she and her daughter couldn't be happier with the result. Read more using the link.
---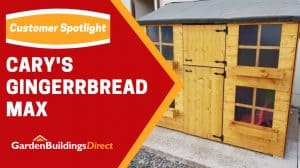 Keeping your kids active these days is difficult with so many distractions indoors. But Cary had an ingenious plan to get her kids outdoors and active, and it involved a playhouse. 
Despite ordering the wrong product to begin with, Cary was super impressed with our customer service and quick delivery – it wasn't long until her kids were outside enjoying the playhouse! Find out more above.
---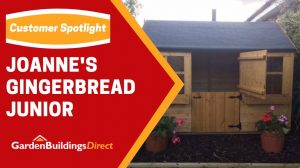 With kids that mean the world to her, Joanne decided that they'd benefit massively from a place to play outdoors. She searched the internet for something that would fit the bill, and found everything she needed at Garden Buildings Direct. She let her kids pick the playhouse, and they chose the Gingerbread Junior. It was no surprise that they loved it from the moment it arrived! Click the link to find out more!
---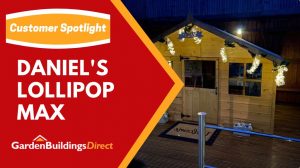 Daniel noticed that his children didn't have a fun or comfortable place to play outdoors – so he decided to change all that by investing in a new wooden playhouse. After visiting Garden Buildings Direct, Dan and his family found exactly what they were looking for in the form of the Lollipop Max. After assembling and decorating their new playhouse, Daniel's wish of getting his kids out the house came true. View the post using the link above to read the full story.
---
If you've been inspired by these Customer Spotlights, then why not check out our amazing range of playhouses using the button below. Like all of our customers above, you won't regret it!
Shop Playhouses