We know that loads of you have questions about Wooden Playhouses – spanning from building your own to decorating one that you already have. We also know that there can be lots of conflicting answers out there on the internet. That's why we've created this: The Complete Playhouse FAQ.
Inside this FAQ, you'll find the answer to every single playhouse question on every single topic that's out there. If there's something you don't know or aren't sure about when it comes to wooden playhouses, this FAQ will have the answers.
But that's not all. We've taken this opportunity to give you as much playhouse information as possible. 
We want you to be able to find everything and anything you want or need to do with outdoor playhouses quickly and easily. Inside this post, you'll also find links to all our playhouse guides, posts, and ideas. We've left no stone unturned – if it's got the word playhouse in, you'll find it here!
Find the information you're looking for by scrolling down, or use the navigation bar above to find the section you're looking for.
Either way – go and get your playhouse questions answered!
---
Choosing and Buying a Playhouse
If you're interested in buying an outdoor playhouse, finding the right one for you, your garden, and the children who will be playing in it can seem daunting. True, there's a lot to consider and loads of options to choose from. 
If you've found that you're struggling to decide, then worry no longer. To help you out, we created The Complete Guide to Choosing A Playhouse Series!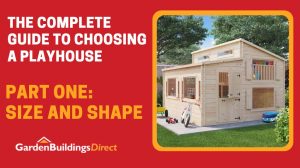 In this four-part series, we go through everything you need to know about picking out the perfect playhouse for you. We cover choosing a playhouse to fit your garden, picking the right features, and even getting the best value for your money.
Clicking the image above takes you to the first part, but if you've got a general idea, but want help in a specific area, then follow one of the links below.
4: Part 4 – The Finale (including a step-by-step example on picking the right playhouse).
We also have a shorter and sweeter look at picking out a playhouse in 7 Considerations When Choosing a Kids Playhouse. Pick the one that suits you best!
A General View
Or if you're interested in a general overview of playhouses of all kinds, then you can find our Playhouse Ultimate Guide right here. We cover all aspects of playhouses, whether that be wood or plastic, giving you all the information you need if you're considering buying one. 
Check out the answers to all your choosing or buying questions below!
---
The Benefits of a Playhouse
Playhouses have a huge number of benefits for both you and especially your children. We already know that active children who spend time in playhouses and outdoors will grow up with a greater appreciation for nature.
On top of this, they can help encourage physical activity, promote independence, and aid in the physical, mental, cognitive, and social development of children! All while giving you some peace and quiet!
The benefits don't stop there, however. There are too many to list here, so we've lumped them together in one useful place so you can discover all the scientific benefits of a garden playhouse. Simply visit Why a Playhouse Can Help Your Child's Development to read more!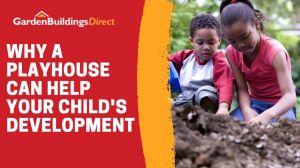 Don't just take it from us, though!
If you prefer to hear about the benefits of a wooden playhouse from those who already have one, then we've got you covered. In our Playhouse Customer Spotlight Hub, you can find a wealth of reviews from our satisfied customers who all love the benefits of their new playhouse.
Gemma, for example, brought one of our Lollipop Max Towers and hasn't looked back since. Her family have been impressed with it and she wasn't afraid to tell us.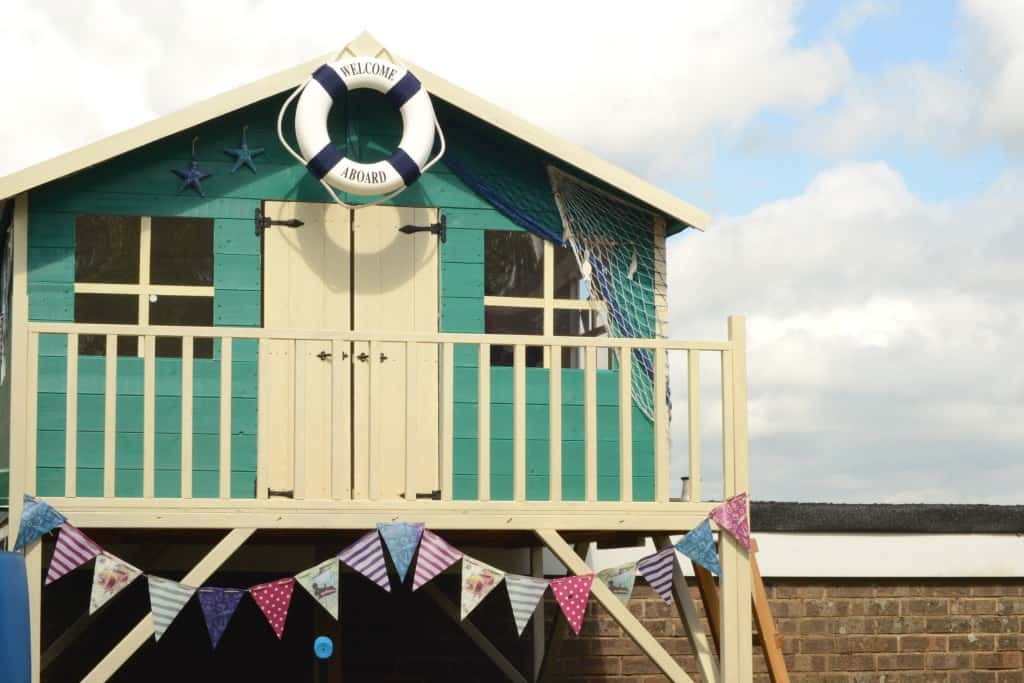 "I think we got the perfect one to fit our space. The kids still absolutely love it!"
You can discover Gemma's story, along with many, many others at our Customer Spotlight Hub. For all your other questions on the great benefits of playhouses, consult the FAQ below!
The truth is that kids can do whatever they want in a playhouse, as it gives them a private space to express themselves and learn independence. While leaving them to their own devices might sound like a recipe for disaster, it can really help their own cognitive development to have a space they can call their own.
Playhouses are great for kids. They do a great job of helping children develop in many aspects of their life, providing social, cognitive, and physical benefits as well as developing their sense of independence and their personality - all by encouraging them to partake in imaginative play. Find out more here.
A playhouse is good for pretty much any age - from two up to twelve. As soon as they can walk, they'll love a playhouse! It lets them play in a safe environment, encourages physical activity, and most importantly lets their imagination and brain bloom. You can read more here.
---
Playhouse Building, Assembly, and Installation
Buying a kids playhouse is one thing, but buying, assembling, and installing one is a completely different ball game. If you're stuck with any of these, then look below for the answers you've been searching for.
Build or Buy?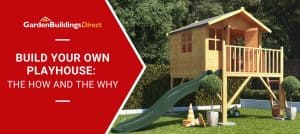 When it comes to playhouses, and just garden buildings in general, build or buy is a question as old as time. It's not easy to choose between the cost-efficiency of building or the time you'll save by buying – but it's best to make the choice when you know all the facts. 
Where do you get all the facts, I hear you asking. Well, you'll get them all at Build Your Own Wooden Playhouse, The How and the Why. There, we explore everything from the tools and materials you'll need to build a playhouse to the process of installing a playhouse you've brought.
Speaking of Playhouse installation…
Our post 7 Things You Need To Plan When Installing A Playhouse gives you some handy tips if you're about to assemble or install a new playhouse. It's worth checking out!
We also have a fun guide to Growing Your Own Playhouse if you want to take a slow, steady, and cheap approach to making a children's playhouse!
FAQ
And, of course, we've answered all your questions below!
---
Playhouse Decoration
Have you recently brought a traditional playhouse, and are looking for some decoration tips and ideas? Or maybe you're looking to spruce up the one you have? Decorating your playhouse requires nothing but an idea, time, decoration, and a few coats of paint!
If you're struggling to find an idea to begin with, then you can find a great range of them in our guide 20 Imaginative Ways to Decorate Your Playhouse.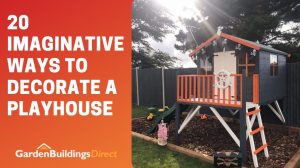 We focus on giving you ideas that will help spark imaginative play in your kids, which (as you probably know by now) is great for their development. From a Fairy's Cottage to the inside of an Interstellar Spaceship, picking a theme for your decorations should be fun, not a struggle.
If you've stumbled upon this during the spooky season, feel free to check out our Halloween-specific decoration guide.
If you want a bit of inspiration then check out our Customer Spotlight on Josie's BillyOh Pirate Playhouse, where she decorated her playhouse in a pirate ship theme. Frankly, it looks awesome!
Oh – and, yes, we've answered all your questions too!
---
Playhouse Care
Once you've picked out your wooden playhouse, brought and installed it, and decorated it in just the way you want, you'll want to keep it that way for as long as possible. And with a bit of care and attention, you can!
Maintaining your playhouse is the best way to ensure that it stays in great condition for as long as possible, and the good news is that it isn't difficult! 
We've got some simple steps for you below to ensure your playhouse stays in top condition.
Wash, clean out, and ventilate the playhouse regularly.

Apply coats of wood preservative or wood finish to ensure the playhouse is protected from rain and rough weather.

Repair any damage as soon as possible, especially damage to the roof.
If you want a more detailed guide, then visit our guides on How to Care For Your Wooden Playhouse and Playhouse Aftercare: 5 Essential Steps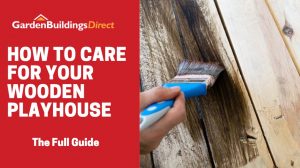 Additional Care and Protection
We've also got you covered if you want to take your playhouse care to the next level. 
Take a look at our selection of guides below for information on how to Waterproof your playhouse, how to insulate it, or how to prepare it for winter. While the information is labelled for use with sheds, it can easily be applied to playhouses too.
| | |
| --- | --- |
| How to Waterproof Your Shed (2021) | For a full guide on waterproofing your playhouse, visit this guide. We discuss water ingress, wooden treatments, and explore all the things you can do to make your playhouse waterproof. |
| How to Damp Proof and Insulate a Garden Shed | If you're interested in Damp-proofing or insulating your playhouse to keep it warm and rot-free, this guide has all the info you need. Open to read about ventilation, caulking, and more. |
| Winter Shed: How to Prepare Your Shed For Winter | Protecting your playhouse over those winter months can be a struggle - unless you've read our handy guide, of course! Read if for a range of techniques to keep it safe in spite of the cold. |
We didn't forget to answer the questions you've been asking either!
---
Rounding Up
In this guide, we've given you all the Playhouse information we have available and answered all your questions too!
By now, you'll be an expert on everything playhouses. If you've not got a playhouse, and want to put all this new knowledge to good use, why not browse our wide range of children's playhouses? Simply click the button below to browse!