You might have loads of questions about wooden playhouses, and that's why you're here. Searching for information online can also be overwhelming. Lucky for you, we've got you covered — whether you're considering building your own or sprucing up an existing one.
Here's our compiled FAQ to address every playhouse for kids question you may have. No more conflicting answers — just straightforward, helpful information. To enhance your experience, we've included links to our playhouse guides, posts, and ideas.
Your playhouse journey starts now, so let's have your questions answered!
---
Investing in a Playhouse
There's a multitude of options and considerations when choosing and buying playhouses. And the decision-making process might seem like a daunting task. But fear not, as we've put together this guide for you: 'The Complete Guide to Choosing a Playhouse Series'.
In this four-part series, we break down everything you need to know. From finding the right fit to selecting features that enhance playtime, you name it. We'll ensure you get the best value for your money.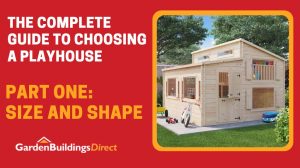 Click the image above to dive into Part 1, or if you have a specific focus in mind, follow one of the links below:
Ready to make the right choice? Click your way to a stress-free playhouse selection process!
A General View
For a broad understanding of playhouses, dive into our Playhouse Ultimate Guide. This blog post covers all the essential information to aid your buying decision. It comes in handy whether you're drawn to the charm of wooden structures or the practicality of plastic.
Discover insights and answers to choosing or buying questions below. The following FAQ (the first of many from this guide) can help make your journey informed.
Is it cheaper to buy or build a playhouse?
Generally, it is always cheaper to build your own playhouse. However, due to the busy nature of modern life, you may not always have the time or energy to be able to do this. While you might be paying a little bit more, if you buy at Garden Buildings Direct, you'll get great value for money.
What's the best playhouse?
We believe the best playhouse is the magnificent BillyOh Lollipop Junior Tower Playhouse. It combines the fun and games of a tower and slide playhouse while providing kids with tons of space inside. It's the complete playhouse package!
Do you need planning permission for a playhouse?
You won't usually need planning permission unless it's extraordinarily big! Planning regulations state that no garden building should take up more than 50% of your outdoor space. Moreover, it can't have a maximum height of more than 2.5 metres. If you're concerned, it's always best to check with your local planning authority.
How high can you build a playhouse?
You can build a playhouse up to a maximum height of 2.5 metres. This is what planning regulations for outbuildings state. If you want to build one any bigger, you'll have to contact your local planning authority.
---
The Benefits of a Playhouse
Discover a multitude of advantages that children playhouses bring to you and your kids. Beyond fostering an appreciation for nature, these charming structures promote:
physical activity

independence

contribute to the holistic development of your child (physically, mentally, cognitively, and socially)
But that's not all! For a better understanding of the benefits, we've gathered them in one helpful guide. Dive into 'Why a Playhouse Can Help Your Child's Development' to explore more. It's your key to a world of enriching experiences for your child!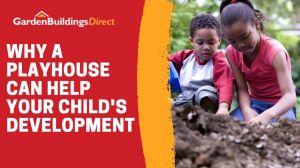 Don't just take it from us, though!
Gemma has brought one of our Lollipop Max Towers and hasn't looked back since. Her family have been impressed with it and she wasn't afraid to tell us.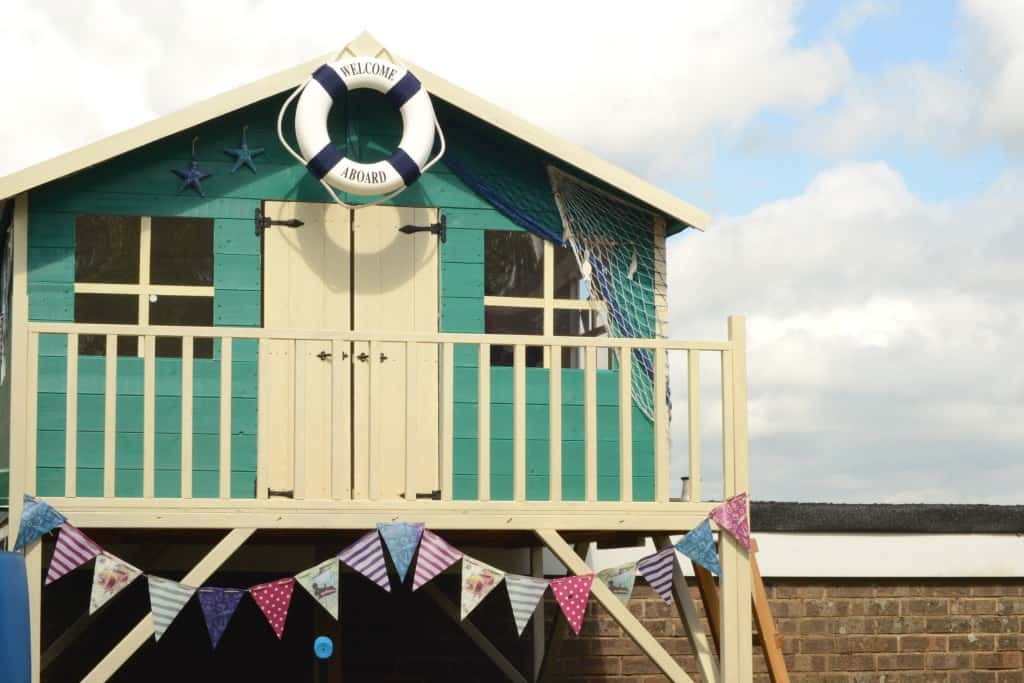 "I think we got the perfect one to fit our space. The kids still absolutely love it!"
You can discover Gemma's story, along with many, many others, at our Customer Spotlight Hub. For all your other questions on the great benefits of playhouses, consult the FAQ below!
What do kids do in a playhouse?
The truth is that kids can do whatever they want in a playhouse. It gives them a private space to express themselves and learn independence. Leaving them to their own devices might sound like a recipe for disaster. However, it can really help their own cognitive development to have a space they can call their own.
Are playhouses good for kids?
Playhouses are great for kids. They do a fantastic job of helping children develop in many aspects of their lives. For instance, it provides them with social, cognitive, and physical benefits. Moreover, they develop their sense of independence and their personality. All by encouraging them to partake in imaginative play.
What age is a playhouse good for?
A playhouse is good for pretty much any age – from two up to twelve. As soon as they can walk, they'll love a playhouse! It lets them play in a safe environment and encourages physical activity. And most importantly, lets their imagination and brain bloom.
---
Playhouse Building, Assembly, and Installation
Buying a kids playhouse is one thing. But when buying, assembling, and installing one is a completely different ball game. If you're stuck with any of these, then look below for the answers you've been searching for.
Build or Buy?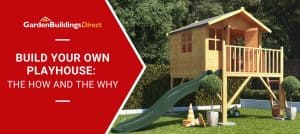 When it comes to garden rooms, the age-old debate of whether to build or buy persists. The cost-efficiency of building or the time-saving convenience? The good thing is that making an informed choice becomes easier when armed with all the facts.
Where can you find these essential facts? Look no further than 'Build Your Own Wooden Playhouse: The How and the Why.' In this guide, we delve into everything. From the tools and materials needed to the steps of installing a purchased playhouse. Get ready to make the right decision for your project.
And, of course, we've answered all your questions below!
How much would it cost to build a wooden playhouse?
The price depends on the materials you buy and the effort you put in. Generally, expect to spend somewhere in the area of £350-£800 to build a small to average-sized unit. Anything bigger, and you'll start to pay more. The money you spend is also tied to your woodworking skills. For one, if you've got good skills, you'll spend less time and money on the build.
A playhouse that sits on the ground should have a base. A base will keep it stable and stop groundwater from damaging the bottom of the structure. However, tower playhouses – the ones that stand on a platform – don't usually need one. Unless the ground underneath is either unstable or uneven.
How much does it cost to install a playhouse?
If you already have the right tools, installing a playhouse from one of our kits should cost nothing but a few hours of your time. Once the playhouse kit arrives, simply follow the instructions. And, if you have any problems, you can always contact our attentive customer service team.
How do you build an outdoor playhouse?
Start by finding plans for a playhouse or drawing up plans of your own if you have the expertise. Gather your materials and tools. Next, select the place you want to put the playhouse and install a base if you need to. Start by constructing the frame, then add cladding or wooden boards to the frame. Finish with fittings, roof beams and boards, then felt roof tiles.

Can I put a playhouse on the grass?
Only put a playhouse directly on grass if it is a tower playhouse. If it is not a tower playhouse, then you should install a base or foundation for it to sit on. Having a playhouse sit directly on grass can cause long-term damage to the wood.
How do you build a playhouse foundation?
There are a number of options for playhouse foundations. You can build a wooden base, an eco-fit base, a concrete base, or a waterproof membrane base.
For a wooden base, measure the dimensions of your playhouse. Add an extra 10cm on all sides so there is overlap space. Construct the base with structural strength in mind. It needs to be strong enough to support the whole weight of the playhouse, so add enough beams to hold it up.
Where should I put my playhouse?
You should put your playhouse on firm, level ground where it won't be susceptible to flooding. It's also a good idea to put it away from any trees, bushes, or big foliage. Otherwise, these could damage the playhouse in extreme weather.
---
Playhouse Decoration
Decorating is a delightful way to add charm to your kid's playhouse. All it takes is an idea, some time, decorations, and a splash of paint!
Seeking inspiration to kickstart your creativity? Our guide '20 Imaginative Ways to Decorate Your Playhouse' is the perfect resource. We focus on ideas that ignite imaginative play in kids – a key element in their development. Choosing a theme for your decorations should be a joy, not a challenge.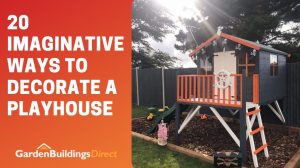 We focus on giving you ideas that will help spark imaginative play in your kids, which (as you probably know by now) is great for their development. From a Fairy's Cottage to the inside of an Interstellar Spaceship, picking a theme for your decorations should be fun, not a struggle.
And yes, we've got all your questions covered, too!
Do I need to treat a playhouse before painting?
You don't have to treat a playhouse before painting it, but if you can, it's always better to! Treating the wood will give it added durability and weather resistance. This helps extend the life of the building and ensures you can use it for longer.
Take, for instance, our models that come with a 10-year guarantee. This means each playhouse covers it against rot, decay, and insect infestation.
What paint do you use for an outdoor playhouse?
When painting a playhouse, use water-based paints that are non-toxic and fast-drying. Using a water-based paint ensures that your playhouse is a safe environment for kids to play in. They won't be in any danger if they touch the paint while it is still drying. Or worse, somehow ingest it (it sounds silly, but kids are capable of all sorts of things!)
How do you decorate a children's playhouse?
The answer to this one is deceptively simple – decorate it in any way you'd like! Do so in a way that encourages the children to play imaginatively. If they have a play theme they especially like, then try to decorate it to help that. Start by painting the playhouse. Add some themed decorations, and finally, bring in toys or furniture to take it up a notch!
How do you paint a playhouse?
Start by cleaning the exterior of the playhouse using a wet cloth and some soap. Make sure the exterior surfaces are as clean as possible before applying paint. You can also add a layer of wood treatment before painting to increase the durability of the wood. Using water-based, non-toxic paint, give the playhouse one coat and let it dry. If it looks faded, apply a second coat.
What do you put in a kids' playhouse?
You should put the things your kids love to play. Have some of their favourite outdoor toys. Or a large toy set that doesn't quite fit indoors (like a toy kitchen) – a playhouse is the perfect place to keep them. Old furniture can also be a great idea and can make the playhouse feel extra homely.
---
Playhouse Care
Once you've picked out your wooden playhouse, brought and installed it, and decorated it in just the way you want, you'll want to keep it that way for as long as possible. And with a bit of care and attention, you can!
Maintaining your playhouse is the best way to ensure that it stays in great condition for as long as possible, and the good news is that it isn't difficult! 
We've got some simple steps for you below to ensure your playhouse stays in top condition.
Wash, clean out, and ventilate the playhouse regularly.

Apply coats of wood preservative or wood finish to ensure the playhouse is protected from rain and rough weather.

Repair any damage as soon as possible, especially damage to the roof.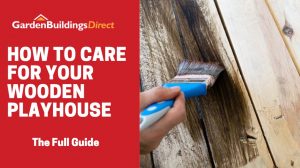 Additional Care and Protection
We've also got you covered if you want to take your playhouse care to the next level. Take a look at our selection of guides below on how to waterproof, insulate, and prepare it for winter. While the information is labelled for use with sheds, it can easily be applied to playhouses, too.
| | |
| --- | --- |
| How to Waterproof Your Shed (2021) | For a full guide on waterproofing your playhouse, visit this guide. We discuss water ingress, wooden treatments, and explore all the things you can do to make your playhouse waterproof. |
| How to Damp Proof and Insulate a Garden Shed | If you're interested in Damp-proofing or insulating your playhouse to keep it warm and rot-free, this guide has all the info you need. Open to read about ventilation, caulking, and more. |
| Winter Shed: How to Prepare Your Shed For Winter | Protecting your playhouse over those winter months can be a struggle - unless you've read our handy guide, of course! Read if for a range of techniques to keep it safe in spite of the cold. |
We didn't forget to answer the questions you've been asking, either!
How do you maintain a playhouse?
Maintaining a playhouse is as easy as giving it a full clean-out every year. Top it up with a coat of the best wood protector to ensure the cladding is protected from the weather. It also helps to repair any damage to the building as soon as it occurs.
How do you make a weatherproof playhouse?
To make a playhouse weatherproof, give it a coat of a wood preservative. Or consider a wood finish such as Protek wood stain and protector. This coating is water-repellent, meaning it will stop rain from seeping into the cladding. Overall, it gives protection from the worst of the British weather.
How do you protect a wooden playhouse in winter?
Protecting a wooden playhouse in winter is as easy as:
Waterproofing the building to stop water ingress.

Protecting the roof by fixing holes and removing build-ups of snow.

Securing the contents of the shed's interior.

Oiling hinges and locks.
Check our guide on 'Winter Shed: How to Prepare Your Shed For Winter' for reference.
How do I stop my playhouse from getting damp?
To stop your playhouse from getting damp, ensure that it has enough ventilation. This will allow damp air to escape. In addition, prevent water ingress by caulking the windows. Additionally, fix any holes in the roof or gaps in the wood and make sure the foundations are sealed.
Here's how to damp proof a shed for more information.
How long do wooden playhouses last?
Wooden playhouses last for a long time. They last even longer if you look after them with proper maintenance and care. We're confident in the long-lasting durability of our playhouses, lasting for up to 10 years!
How do you clean a wooden playhouse?
Clean a wooden playhouse using water and soap. Scrub down all the exterior and interior surfaces, and clean out any guttering or any debris on the roof. Clean the windows with water and spray, and open the doors to aerate the inside and stop the build-up of any damp air.
---
Round-up
In this guide, we've given you all the information we have available and answered all your questions, too! By now, you'll be an expert on everything playhouses. 
If you've not got a playhouse and want to put all this new knowledge to good use, why not browse our offerings? Simply click the button below to browse! Or you can click these links: two storey playhouses, log cabin playhouses, Wendy houses.