Purchasing a garden shed is a worthwhile investment. Apart from being a great home extension, they're also versatile, with uses ranging from storage to a place to perform DIY tasks. But regardless of how you use your shed, you need to know how to take care of it. Preparing for seasonal weather variations is no exception, especially during the wintertime. By creating a cold-resistant garden building, you'll effectively have your own winter shed!
One of your priorities as a shed owner is to make sure your outdoor structure is well prepared for the cold months and is winter ready. If your shed is leaky and draughty, then only a little effort will be required to make it nice and cosy – allowing you to achieve the ultimate winter shed.
If you want to know how you can get your shed ready for winter, we've collected some helpful tips that can help your outbuilding survive, whatever weather the winter throws at it. Let's get started!
1. Weatherproofing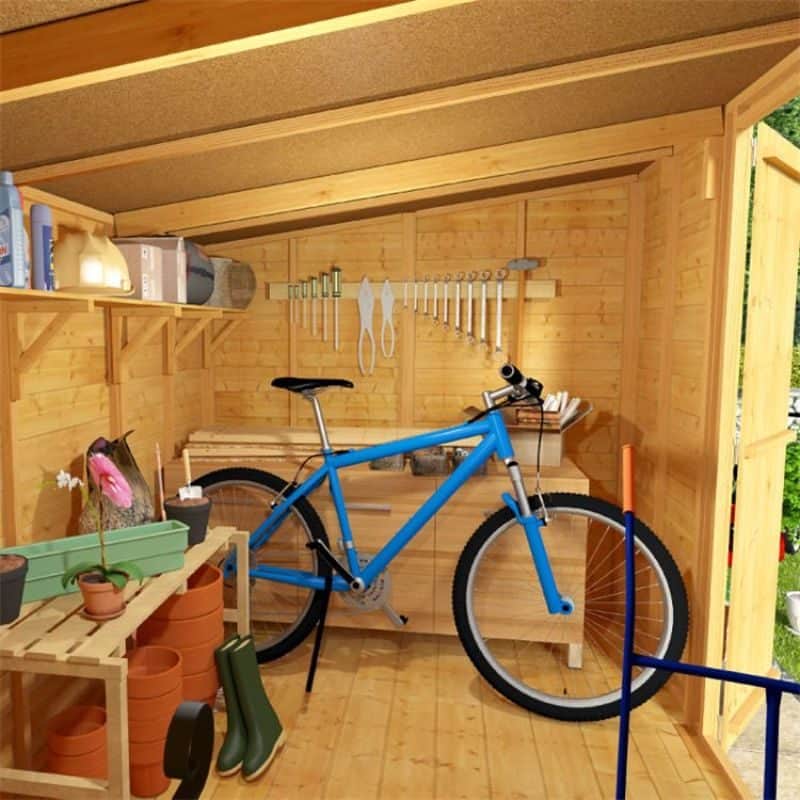 To protect your possessions or gardening belongings, your winter shed has to be protected through weatherproofing, especially when the temperature starts to plummet.
With most outdoor buildings constructed from wood, winter weather conditions can wreak havoc. So be sure to check for termites and leaks, while inspecting for rust and corrosion if you own a metal shed.
You can also look at your shed roof to see if there's some mould or damp. Check for any leaks on your shed's roof. If overlooked, holes could let water drip inside your shed, which can potentially cause damage to your belongings within. The flooring and windows have to be well-sealed and free from leaks to protect belongings from condensation and prevent water from getting in.
Lastly, your garden building needs proper insulation. 
2. A Lick of Paint
To guarantee that your garden building will be protected against the cold weather, give the building some TLC with a lick of paint. All you have to do is apply a fresh coat of outdoor paint.
Not only will this keep your garden building well protected from the adverse weather ahead, but it will also add heaps of seasonal style to the overall look of your garden building.
In addition, painting your shed will protect the garden building from water penetration and infestations of pests and bugs.
3. Make Maintenance a Priority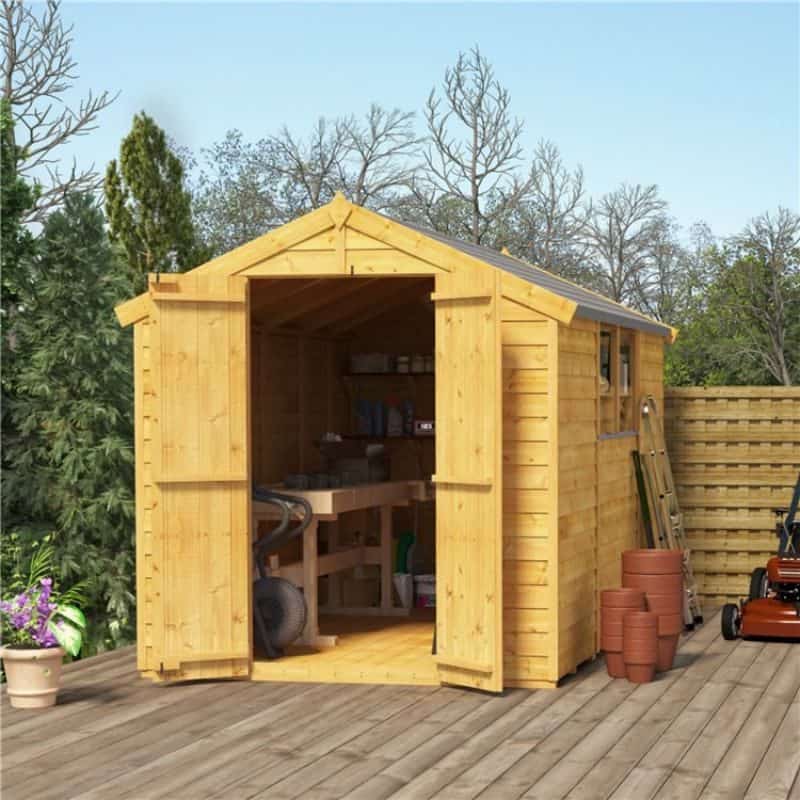 With the cold weather just around the corner, we understand the temptation to store items away in your garden building and leave them until next year. But if you wish to make the most of the space, regardless of the cold weather outside, here's what you can do.
Lessen the damage outside by cutting back overhanging branches and sweeping up dead leaves. At the same time, install some shelving and storage units to keep your garden building organised inside.
In addition, make sure to check that any guttering is clear and free of debris and leaf litter, as this can otherwise lead to exposing your garden building to excess water and potential for leaks due to the guttering overflowing.
Look out for any cracks or holes hiding on the surface. To do this, we advise doing an interior and exterior inspection so you can mark the gaps that could invite cold air and rodents into your shed. To fill any hold you find, you can use caulk and spray foam.
Don't forget about the door and windows! If you notice some cracks or splits on the windows, it's best to replace them right away. 
4. Warm Things Up
To make the most of your winter shed during the colder months, there are actually plenty of methods to adding extra warmth inside, making it a cosy and comfy place to use during the cold weather.
Consider investing in some insulated walls and underfloor heating, creating a convenient and luxurious setting inside.
5. Storage Solutions
To protect your power tools and other materials from damp, especially when you're not using them, it's best to pack them away in cabinets, boxes, or cupboards, and move them indoors during the winter.
If you plan to leave the tools in your shed during the cold months, you'll want to make sure they're not left lying on the ground. Consider placing silicon sachets in tool boxes as well to absorb damp before it causes any damage.
6. Apply Wood Treatment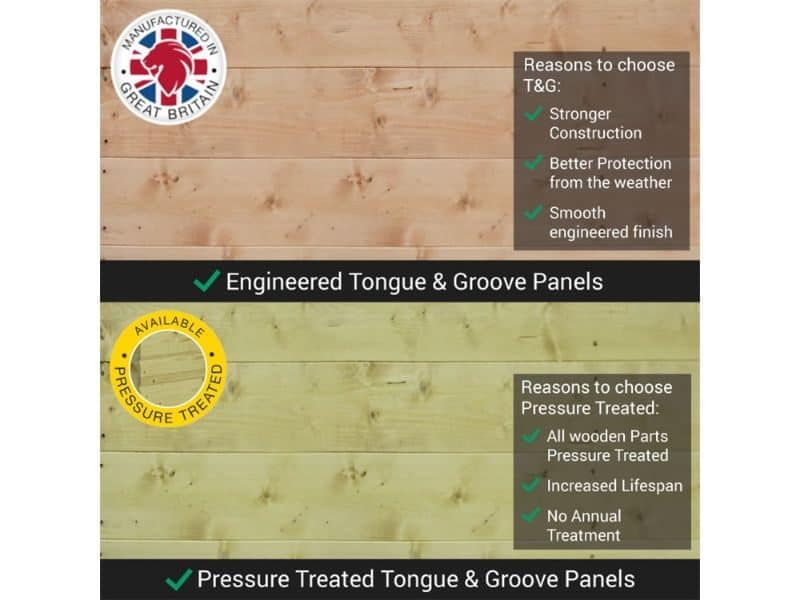 To ensure your garden shed remains looking good for as long as possible – particularly during the wintertime – thorough care is a must. If your garden building is unfurnished, it's crucial to apply a wood treatment right away, unless it's already made from cedar or pressure treated timber.
When it comes to treating your shed, regular maintenance (at least once a year) is crucial. This will help to prolong the life of your shed, as well as keep your items safely stored inside.
If you don't have enough time and resources to treat your wooden shed, then the majority of our wooden sheds come with the offer of pressure treatment.
Pressure-Treatment

– This involves blasting wood with protective treatment before the timber is stacked and left to dry. This process not only offers maximum weather-resistance, but also provides longer-lasting protection than the dip-treating alternative.
Turning Your Shed into the Ultimate Winter Relaxation Haven
Step 1: Invest in Floor and Wall Coverings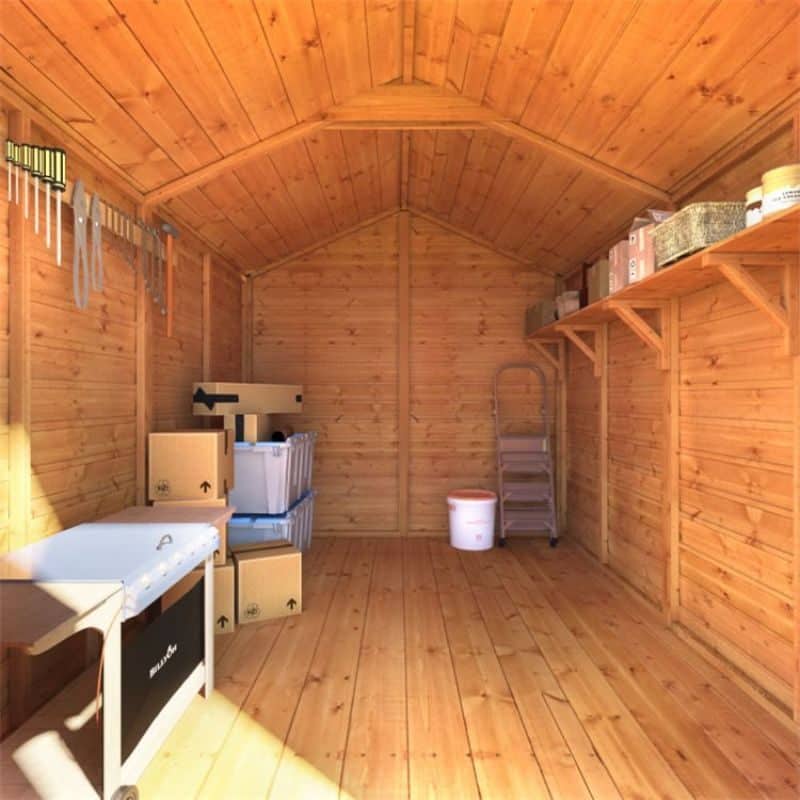 It will likely be uncomfortable to spend time in your shed when the weather is too cold. Entering a garden shed with no proper floor and wall coverings will surely make you shiver.
So make sure to purchase some rugs – particularly those with wool content – for the floor, as well as an underlay to add an extra layer of warmth and prevent the carpet from slipping.
Wall hangings are an excellent investment too, especially if the wall is timber — keeping out draughts and providing more cover against the freezing weather.
Step 2: Consider Furnishings
Other than keeping the floor extra warm with rugs, you can invest in some blankets and cushions to provide additional cosiness to keep you warm throughout the cold nights. 
Dim lighting gives a feeling of warmth,  while adding candles and vibrant colours, such as gold, orange, red, to name a few — finish off the overall shed aesthetic.
Step 3: Using Electrical Power as Energy Source
A trendy option to keep your winter shed warm is using electrical power as an energy source. All you need is an electric socket!
Listed down below are some of the options you may choose:
Infrared
This heating device produces infrared radiation that can provide warmth to a person. However, with everything or everyone around the radiating field heating, they indirectly heat the air, too.
It can be a perfect investment if you wish to use your shed all-year-round, as it guarantees to keep your garden building warm and cosy in the winter.
Fan Heaters
They can provide the warmth you need quickly, meaning there's no pre-heating period.
Electric Fireplaces
Resembling a real-life fireplace, an electric fireplace combines the easy and safe handling of electrical heating. This allows you to stay inside your shed and feel warm and cosy throughout the cold season.
Step 4: Insulation Is the Key
To keep the cost for heating low, adequate insulation is the key, which will have a lasting effect on your energy bill.
To insulate your winter shed, your windows should be at least double-glazed and south-facing. If you have a more extensive roof overhang above the windows, it will let the low winter sun in, but shade them from the high summer sun.
By doing so, this will keep your shed warm, thus protecting the building and yourself against the cold in winter (bonus: and even in the excess heat during summer).
Tip: Green roofs are also a great alternative, as they have excellent insulating properties. Your chosen wall thickness can also have a significant impact on the insulation value.
With that, our experts recommend considering insulation if you have either 44mm or 70mm timber walls. This will guarantee you comfort and cosiness while using your shed in the winter.