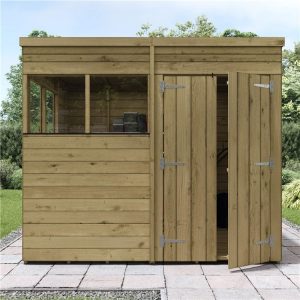 At Garden Buildings Direct, we've been pioneers of the wooden garden tool shed and storage units for over twenty years. With so much experience in the industry, we know what it takes to make the perfect tool shed. That's why we've developed our latest garden shed: the BillyOh Switch.
Customise to your heart's content
It's our most adaptable shed ever. Effectively, you can design it yourself, with windows and doors that can be placed on whichever side suits you best. This means that it's great for any garden and any location – and you won't be hindered by bushes, buildings or lack of space.
Think about it. Maybe you have a spare crevice for a shed between your house's side wall and your garden fence. But you'd only be able to access it with the door on the short side – also known as the gable end. That's where the Switch comes in; opt for the windowless version, and then place your doors exactly where you need them to be.
The Switch is equipped with a modern, pent roof, which boasts a load of benefits. It means that you have more headroom than you would with a traditional apex-style roof, as the eaves are raised to be at the same level as the ridge. The slope allows all potential rain to run off in one direction. And, of course, it also looks super stylish and modern (great for impressing the neighbours).
The saloon doors are a feature to behold. Not just content with being quirky, they're also big enough to allow larger items such as lawnmowers in and out with ease.
Pressure treatment as standard
We've recently boosted our anti rot policy, meaning that you now get a huge 15-year guarantee on any of our PT sheds. That includes the Switch.
This is due to the obligatory pressure treatment (PT) of the building. Normally, we offer customers a choice on whether to opt for pressure treatment or not. But with the Switch, it's included as standard, boosting the durability and dependability of the building.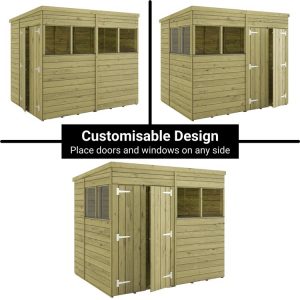 As pressure treatment is an industrial process that takes place inside huge vats, it usually costs around £200 a pop. But we've included it – and still managed to keep the price down to a superb £649 – making it one of the cheapest sheds on our market. It means that you won't have to treat the shed annually with your own products. During pressure treatment, the wood is submerged in liquid preservative, which soak into the wood over the course of a few days. After it's been left to dry out, the wood then becomes extra resistant to rot and fungal decay.
Sizing options
The Switch comes in three size options – 8×6, 12×6 and 16×6 – and is delivered with all the fixtures and fittings included. You won't have to buy anything extra for the build – it's all part of the price. The internal height 6'3" minimum at the lowest point (the eaves).
None of our other sheds are available with the same customisation options as the Switch. We think it's going to be one of our hottest products.
The ultimate tool shed
It's perfect as a tool shed, to store trowels, fertiliser, plant pots, trimmers, lawnmowers, shovels and spades in. Alternatively, you could use it as a bike storage facility, or as a workshop. The interchangeable window position means you'll never be stuck wanting for light.
We're bringing it out just in time for summer 2021. With no end of combinations, the Switch is bound to be the right shed for you!