We love to catch up with our customers to see how they're getting on with their garden buildings. Motorbike enthusiast Liam was one of the many who let us know how they got on with their new Garden Building, and we're very excited to share his journey with the BillyOh Premium Motorbike Store!
---
You might not believe it, but a Garden Building can be the solution for all sorts of problems you have with your home. Whether you need somewhere to relax, extra storage space, or even a whole garage, there's a building to solve the issue – and even do many things at once!
Liam realised that a Garden Building could help him with his problem – getting a secure place to store his Motorbike. Not only did it need to be a robust storage location, but it had to look good too. This is exactly what led him to Garden Buildings Direct.
Our diverse range of high-quality and affordable Garden Buildings led him to find the BillyOh Premium Motorbike Store. As soon as he found it, he knew it was right for him.
"You're the only place that does a dedicated Motorbike Store."
With its strong and attractive 28mm Tongue and Groove log wall panelling, spacious 7x9ft size, double doors and modern pent roof, the Premium Motorbike Store is a great all-around package. Liam thought so too – and brought one of his own from us.
After a swift delivery from one of our own personal vans, Liam wasted no time in building his all-new log-panelled motorbike store. 
He didn't do a half-job, either, building his new store in no time and then decorating it with memorabilia, a storage and workshop bench, and even an entire TV setup! Liam has created a fantastic, multipurpose shed – check it out in the pictures below!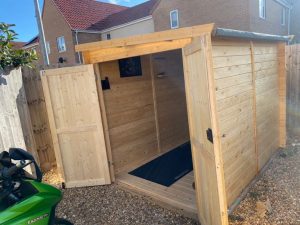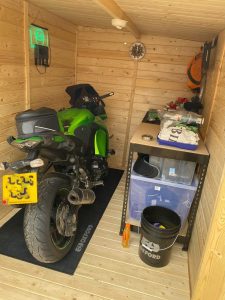 "It's great, sturdy, and big. Looks good and keeps the bikes dry."
With the shed Liam has created, he's combined a collection of useful purposes into one reliable building. He now has a secure bike storage space, a tool and workshop area, and a place he can relax and watch football outside of the house.
The building gives Liam functionality he never had before, while also freeing up space inside his house and in his garden and driveway – all while improving the security of his possessions.
"It's given me easy access to all my tools and bikes that I didn't have before."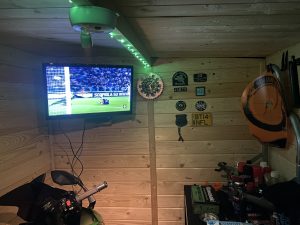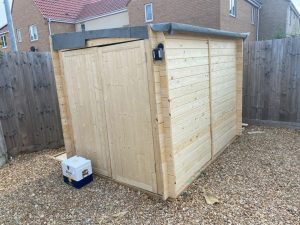 Liam now has a great, versatile shed that he can use in a variety of ways, while still fulfilling the main purpose of storing his prized motorbike. His experience has given him some insight into keeping your building in top condition. His top tip is to keep the exterior "sealed and painted" which will help stop water and weather damage. 
A big thank you to Liam for this tip – and for getting in touch with us about his experience!
Finding a Garden Building that suits your needs is easier than you think. At Garden Buildings Direct, we have a massive range of cabins, sheds, summer houses, and storage units in different styles, sizes and materials. Browse our entire selection online or click the button below to browse just to browse our great storage solutions.