We love to catch up with our customers to see how they're getting on with their garden buildings. Catherine was one of our great customers who got back in touch, and we loved to read about her experience with a fantastic Master Tongue and Groove Apex Shed! 
To find out what she loved and how she's using her new tool shed, stay with us and this great Customer Story!
---
Storage space is a valuable commodity in homes across the country, especially for items that you want to store out of the house like outdoor toys or your sets of tools. Finding a secure, convenient place for these can be tricky – but there are great solutions out there to solve these problems with ease.
Catharine was in a similar situation. She had a garage that she was using for storage, but she saw the potential to turn this into a fully-fledged office space. But she couldn't do that without finding a place to put all of her DIY and garden tools.
The versatile and popular solution that Catherine opted for was a garden shed. Heading online in search, she knew she needed a building that would fit in the space beside her garage. And she found exactly what she was looking for here at Garden Buildings Direct.
"I chose Garden Buildings Direct from all the good reviews online."
From all the fantastic models to choose from, Catherine opted for the fantastic Master Apex Shed. Not only was it a perfect fit for the space she had available, but could easily provide all the storage space she needed for her lawnmower and tools.
After choosing her shed, and ordering it on our easy-to-use site, Catherine had a smooth experience with our expert delivery team. 
"My experience was really good, friendly and professional."
But after delivery was when the hard work began! Catherine needed to convert the space behind her garage into one that she could use for her shed. First, she dug up all the turf that was in the space and levelled the ground. 
Over this level ground she added gravel and a plastic eco base that would support the shed. And, then, finally assembled the building – made easy with our instruction manual – and fitted it out how she saw fit! Take a look at the process below!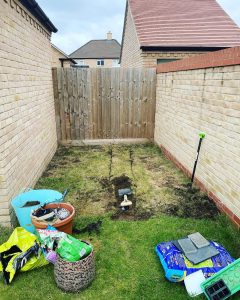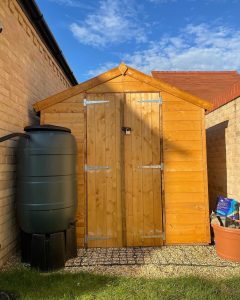 Wow, what a transformation – that's what we call making great use of the space you have available! Now aptly named "Mummy's Tool Shed", Catherine's Master Apex shed easily stores all of their tools providing robust, secure protection – and looking great at the same time! She has plans to paint the front with a black stain to make it look even better and increase the shed's durability.
"Our favourite thing about the building is how sturdy it is, and that it can be secured well."
Catherine also gave out some great advice to other prospective Shed owners, too. She noted that particular care should be taken with the base – get the measurements correct, and think about how it will extend and join up with your garden. 
Thanks for your advice Catherine, we appreciate your insight and are really grateful that you wanted to share your experience with us. Best of luck with your Master Apex Shed! 
If Catherine's journey has given you the impetus to get a shed of your own, click the button below to explore our amazing shed range! Alternatively, you can explore more of our wonderful Customer Stories.