We like nothing more than catching up with our customers to see how they're getting on with their garden buildings. That's why today, we decided to speak with green-fingered Ken to see what use he was getting out of his new garden shed.
Ken and his wife love gardening year-round, and they crave being outside tending to their plants as much as they can afford to.
However, due to living in the UK, their hobby is often cut short due to unpredictable spats of rain, wind and even snow – good old British weather eh?
So one day, he decided to surprise his wife and find a solution to combat the sleet and storms and continue their passion. How? By paying Garden Buildings Direct a visit to find a sensible setting where they could do exactly that.
Due to having a very small garden, product size was a massive issue. Ken needed something quaint to fit in an allocated corner, and after a little while browsing our range of high-quality products of all shapes and sizes – he found the perfect match in our BillyOh 8×6 Potting Shed.
'I bought the potting shed for my wife. She loves gardening but this summer was fed up with "rain stops play".'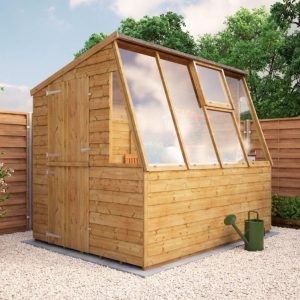 A little old fashioned in terms of technology, Ken decided to phone our customer services team to secure his product, where they answered all queries and qualms he had about the product – putting his mind at rest.
After a speedy delivery, Ken got right to work installing his wife's gift – ready to surprise her when she got home.
'The shed was built in under 2 hours with no problems. Thank you Garden Buildings Direct for the excellent service'
After the construction process was complete, Ken set to work painting the new product, coating it with a lovely even wash of royal blue – as after all his wife is his queen.
You can see Ken's full transformation below: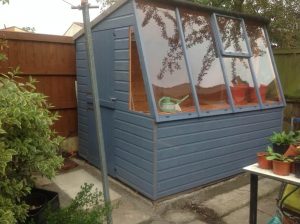 We really loved catching up with Ken to find out more about his progress. And we absolutely love the fact that he selflessly made an effort for his wife to let her continue her talents whatever the weather…it's well and truly heart-warming!
If you've got a great story about your BillyOh shed, summerhouse, or playhouse conversion – we'd love to hear it! Simply get in touch with us on social media for a chance to feature here.
Or if you want, you can check out more customer stories right here.