We love to catch up with our customers to see how they're getting on with their garden buildings. So this week, we decided to chat to D.I.Y fanatic Robin, to see how he'd transformed his new BillyOh purchase!
We advertise our buildings as DIY. For builders, it gives them an edge since they can customise it and show off their craftsmanship. But we've had them all designed in a way such that everyone can easily build them on their own (with the help of a friend)..
He came to Garden Buildings Direct with a vision in mind – to buy a quaint relaxation spot in the bottom of his garden. A place where he and his family could relax regardless of the weather or time of year.
And although he didn't plan on using our brand initially, Robin did copious amounts of research prior to securing his product. He scoured the web high and low, seeking the best value-for-money deal he could find.
'I spent quite a while deliberating on which size would suit the space I had available and settled for 6'x4′. Searching again, I decided that your house was the best deal.'
And he eventually found it in the form of our BillyOh Harper Tongue and Groove Apex Summerhouse.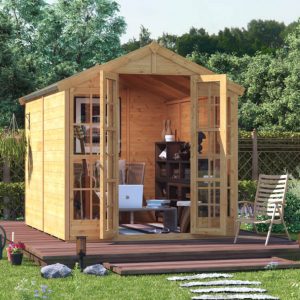 After securing his product and speedy and free-to-UK delivery, Robin wasted no time in giving the building process a crack.
Although he was reluctant at first due to having no major building experience, his mind was soon put at rest after reading our foolproof step-by-step instructions.
And in absolutely no time at all, Robin had built his new garden unit from top to bottom. It's amazing what you can achieve when you put your mind to it!
'I was amazed at how quickly it was delivered. There were several instruction videos on the subject and it was easy to follow and fit.'
For decoration, he decided to paint it with a coat of sky blue wood paint, choosing a white trim on the door and roof to make it pop that little bit more.
You can see the full makeover below: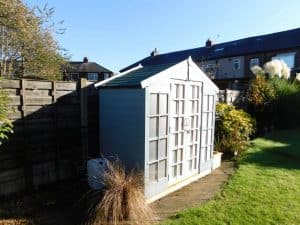 And it's not just this only with this Tongue & Groove Summerhouse, but all our buildings that are tailored to allow you to erect it yourself.
Careful engineering and architectural designs allow you to 'have it your way' as they say. Just like finishing a big puzzle, the feeling of success that comes after seeing the erected building is truly rewarding.
Something that we also feel when looking back on our customer makeovers!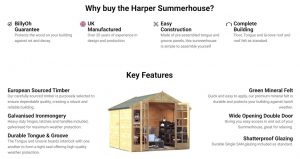 If you've got a great story about your BillyOh shed, summerhouse, or playhouse conversion – we'd love to hear it! Simply get in touch with us on social media for a chance to feature here.
Or if you want, you can check out more customer stories right here.