We love to catch up with our customers to see how they're getting on with their garden buildings whenever we have a chance. So that's why this week, we spoke with Catharine (who recently purchased one of our products) to see how she was settling into her new back garden retreat!
As a successful business owner, Catharine was simply working from home for the most part – to save on hefty office rental fees and commuting costs.
But when her online business selling home decor and children's toys outgrew her already clustered home, she decided a log cabin office was the perfect solution.
'I wanted to separate the two and create a good work and life balance. It's a great place to work. I have plenty of space to pack all my online orders that come from all over the world.'
An extension of her home seemed like a fantastic idea to Catharine at the time, who needed to separate her work and life balance. And after hearing a couple of recommendations from friends, she decided to visit Garden Buildings Direct.
After browsing through our fantastic selection of high-quality timber-based products, Catharine finally set her sights on our top-selling Devon Log Cabin – due to its good sizing and affordability.
'The cost of the product at Garden Buildings Direct was the most affordable, and the reviews were very good.'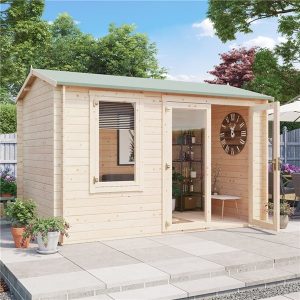 After securing super-speedy and free-of-charge delivery, Catharine wasted no time at all in setting up her new retreat – making the most of our legible step-by-step installation instructions provided with every  building.
And just like that, she had her new home office standing tall and ready for decoration.
She decided to paint the hardened exterior with a coat of business jet black, with an opposing all white interior. She furnished it with her computer, as well as comfy seating and deskspace so she could focus on her daily routines.
Her husband insulated the building, and also added indoor heating to keep out the cold on those frosty winter mornings. A fantastic touch if you ask us!
'I'm loving my home office! I had heating and lighting installed and my husband added insulation and boarded it over and painted the whole room white.'
She also showed off the versatility of our products by adding a swing hung from the ceiling in the unused space. So now her five-year-old son can double it up as a play area!
You can see the full extent of Catharine's makeover below: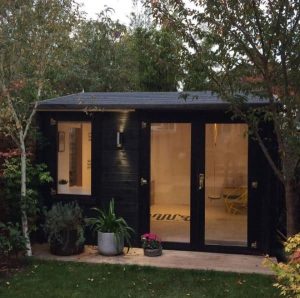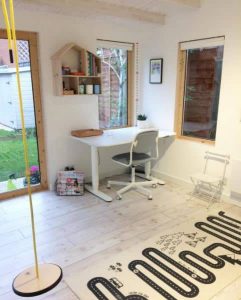 Wow, all-round a brilliant use of one of our fantastic products! We're ecstatic to see what Catharine has done with the place and we hope that we can potentially provide a similar blank canvas for you should you choose to use our products and services.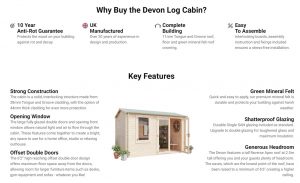 And if you've got a great story about your BillyOh shed, summerhouse, or playhouse conversion – we'd love to hear it! Simply get in touch with us on social media for a chance to feature here.
Or if you want, you can check out more customer stories right here.