We love to catch up with our customers to see how they're getting on with their garden buildings. So this week, we chatted with Zoe, Welsh mother to two little girls, to see how her little ones were enjoying their new playhouse!
Zoe came to Garden Buildings Direct with aspirations of creating an outdoor playspace for her daughters in the comfort of their own back garden. As a family who love the great outdoors, Zoe wanted to promote outdoor playing to her family as much as possible, especially on those short-for-time days where they couldn't afford to go exploring.
After reflecting on previous recommendations from friends, Zoe decided to visit our website, where she found exactly what she was looking for in our Lollipop Max Playhouse – a playhouse bolstering with plenty of space for playtime adventures!
'I chose this building as it fitted perfectly into the space that I wanted to put it in. It's a fab building and is very sturdy.'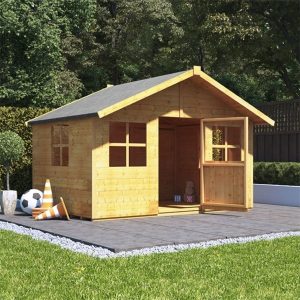 Shortly after delivery, Zoe and her family set to work constructing their new garden unit, and had it up in a short matter of time. Following our easy-to-read instructions, assembly was an absolute doddle for them, and before they knew it, it was ready for decoration.
She decided on coating the exterior a magical Disney-blue with a white trim, opting for a similar colour for the surrounding picket fence.
She strung bunting across the roof for an exciting feel and furnished it with comfy seating and all the toys the girls needed.
'I had help putting the playhouse together – it was really simple and took less time than expected to build. Fantastic service and a fantastic product.'
However, shortly after assembly, Zoe and her family moved properties and they wanted to take the playhouse that the girls cherished so much with them to their new home.
So she decided to disassemble the product for a rebuild at her new property – which was easy enough to do.
'I have recently moved and dismantling the playhouse to relocate it to my new place was quick and simple.'
You can see Zoe's full makeover below: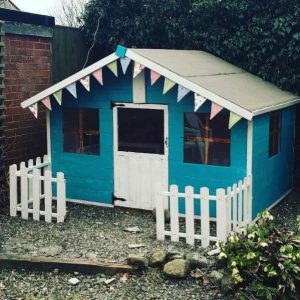 What an amazing use of one of our playhouses by a fantastic family – we're truly ecstatic that the girls love their new space, and we're very pleased you managed to take it with you to your new home!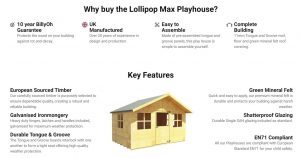 If you've got a great story about your BillyOh shed, summerhouse, or playhouse conversion – we'd love to hear it! Simply get in touch with us on social media for a chance to feature here.
Or if you want, you can check out more customer stories right here.