Welcome back to our Choosing A Playhouse series! We're going through everything you might want to consider when picking out your perfect playhouse!
Last week, we covered finding a wooden playhouse that's the right size and shape for your garden and needs. From measuring the dimensions of your space, to considering how you'll use it, we made sure that the playhouse you pick won't be too big or small for you or your garden. Read all about it by following this link!
This time around, we're honing in on the Features and Flair of the garden building you're picking.
We'll be taking a look at the kind of features you can choose, and which ones will work best for you. Then we'll explore all the options available for customising your garden building's appearance to fit your style and garden.
So, without further ado, let's learn all there is to know about picking the right features and flair for your playhouse!
Features
Let's kick things off by looking at garden playhouse features. We'll be looking both at what's on offer as well as the best choices for your garden and the children who'll be enjoying it!
Floors and bunks
One of the most influential features you can get for an outdoor playhouse is bunk beds. They can be a brilliant and useful addition for kids of all ages, acting as simply a playspace, somewhere to sit, or even as a bed for a fun playhouse sleepover!
Their versatility makes bunks super useful. The possibility of sleeping in the playhouse can give children additional independence and privacy. It's easy to see why they're popular!
The one thing a bunk bed requires, however, is space – and lots of it. Bunks especially take up lots of vertical space, meaning the building needs to be much taller in order to accommodate it. If you've not got much room to work with, it might be difficult to fit a bunk in.
We offer a wide range of bunk playhouses, such as our iconic Gingerbread Max playhouse with an internal bunk.
Tower playhouses
Towers are another great and popular feature you might consider getting. A wooden playhouse with a "tower" is a playhouse on a raised platform, with a small step ladder to gain access to a balcony section that extends from the front of the building.
This feature is especially brilliant at encouraging imaginative and fun play for kids. The raised balcony lets their imagination really take flight, as well as imbuing the playhouse with real individuality.
Climbing up and down from the tower can also help provide children with a form of fun exercise, strengthening muscles, increasing flexibility, opening their minds to climbing, and giving them a different perspective of the world from the top of the tower!
Our most popular tower playhouse is the brilliant Bunny Max Tower!
While we don't recommend tower playhouses be used by very young children, you can rest easy in the knowledge that all our playhouses are built to EN71 European Safety standards and include anti-slip ladders and safety rails with all raised platforms.
Space for toys
If you have children or grandchildren, you might also be looking for a playhouse with lots of space for toys.
Playhouses can be the ideal place to put toys, and storing them in there can even encourage kids to play with them more! You might even consider buying special toy sets to make the playhouse a unique play environment. Our valued customer Laura fitted it with a toy kitchen set, and couldn't be happier with the result!
The good news is that, whether you buy our smallest playhouse or our largest, they all have loads of space to store toys in! You could even install shelving for extra storage if there are lots of playthings to fit in.
Super slides
We've saved the best for last – that's right, we're talking about slides!
While slides are only available with tower playhouses, they really are the best of the bunch when it comes to additional features. Time and time again we've heard customer stories rave about how much fun their children have had with the slides on their new outdoor playhouse – kids love to slide over and over again without ever getting bored of it!
Slides are hours upon hours of fun in a small package and provide yet more avenues for imaginative and inventive play. If you have children in dire need of entertainment, a slide is a perfect way to preoccupy them for hours and hours on end.
If you weren't already convinced, then we'll let you in on a secret: slides are super cheap, too. But the best thing is that slides never get old with age – whether they're 3 or 10, a slide is fun forever!
What Do You Need?
While there are loads of fun and useful features on offer, you should pick the ones that suit what you need and what the children who will be using it need.
For example, let's say your kids' toys are clogging up the living room and they want a place they can play and have fun sleepovers. You'd be looking for a playhouse that has an internal bunk and lots of interior space for toy storage. From our range, both the Lookout Log Cabin Playhouse and Peardrop Extra Playhouse fit the bill.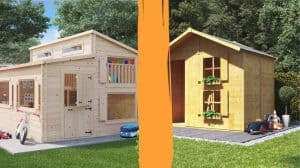 Which one you choose might be up to the features each has – or it may be up to how the playhouses look.
That's right, it's time to talk about picking a playhouse with the right appearance and flair.
Flair
Picking a wooden playhouse that looks good in your garden is just as important as finding one with all the right features and additions. If your playhouse doesn't look good, or if it doesn't look good in your garden, then you're not going to love it as much as you want to!
While the look of a building may be more important to some more than others, if you have an interest in garden fashion or want to keep your garden consistent to a theme, how your outdoor playhouse looks will be important.
Maybe you've got a set of garden furniture you want to match it up to? Or a nearby log cabin you'd like it to blend in with? Whatever look you're going for, there's a playhouse to match it.
Comparing styles
Let's start by looking at some different outdoor playhouse styles so we can compare and contrast them against each other. Here at Garden Buildings Direct, there are a couple of styles to pick from.
Our Classic Playhouses are the standard look we offer. They offer an authentic wooden panel appearance, with classic wooden boarding that blends in nicely with other garden buildings such as sheds. They have fancier, Georgian windows and traditional apex roofing.
You can see an example of a classic outdoor playhouse below in the Gingerbread Junior.
Alongside the classic look, you can also opt for a Log Cabin Playhouse. The log cabin look features a cleaner, lighter and more modern appearance that is more in line with our full-size log cabins.
Our log cabin playhouses also feature modern windows without internal framing, which gives them a more minimalist appearance. Alongside this, we have options for different roofing styles – for example, the Lookout Log Cabin features a multi-level Pent roof.
We've included a picture of the lookout below to give you a taste.
Little bits of flair
The wood style isn't the only style element to choose your playhouse on. On top of the boards, there's loads of way to make your playhouse look the part.
Paint is the easiest and most efficient way to get your playhouse looking the way you want. We offer a range of colour finishes that you can choose from so that the pre-assembled boards of your playhouse come with paint already applied. If we don't have the colour you're looking for, you could pick up the right one yourself and paint it personally.
Choose a white or matte grey paint finish to match your playhouse to any modern surroundings, or go for green to give the natural wood more of an old-fashioned appearance.
We also offer additional extras that can give your outdoor playhouse a bit of visual flair. Decorative window shapes give your windows a little bit more personality, whilst beautiful picket fencing can be added to many of our garden buildings to give them a traditional, homely look.
What combination of style, paint, and extras you choose is up to you. But with so many to pick from, finding a blend that gives you the right style for your garden is simple and easy!
Rounding Up
Making sure your kids' outdoor playhouse has everything you need, while still making sure it looks good, isn't easy. But now you've read this guide, you'll know everything there is to know about playhouse features and flair!
Let's quickly recap the most important parts.
There are a ton of

Playhouse features

to choose from, from slides to bunk beds, but make sure you pick ones that your child will get full use of out of. Consider their needs and interests when picking out features.

Making your playhouse look good

is super important. You can get a playhouse that suits your garden by choosing the right style. Then, pick a good paint colour and add little visual extras to complete your masterpiece!
Our top tip is to take your time when choosing. Have a good think about what you need, and what looks good, before choosing. That way, you'll land on a playhouse that does everything you need it to while looking great!
But these aren't the only factors you'll be looking into. In the next post in our series, we're looking into all things money and budgeting – and find you a playhouse that suits your budget! Click this link to find out more!
If you've got any playhouse questions, or simply want to know more about them, visit our Playhouse FAQ Centre for all information you'll ever need.
Or check out our playhouse range using the button below!
The Complete Guide to Choosing A Playhouse: Part 1 – Size and Space
The Complete Guide to Choosing A Playhouse: Part 3 – Budget and Value
The Complete Guide to Choosing A Playhouse: Part 4 – The Finale