In the world of technology, children are more fond of their gadgets. They gravitate more towards screens, making most of them 'outdoor play deprived. Getting them to spend time in nature can be a challenge, too. The solution? Garden playhouses.
A playhouse for kids offers the perfect opportunity for them to be lost in their world. What's more, use their imaginations while getting much-needed exercise and fresh air. And there's nothing better than a wooden playhouse!
To help you find the perfect unit, here's a curated list of our best wooden playhouses.
---
Why Invest in Wooden Playhouses?
You may be hesitant to opt for a wooden playhouse at first, and it's understandable. After all, in today's modern world, why bother with traditional material? But don't let that stop you. The truth is that traditional designs are still relevant. Wooden playhouses are no exception. There are many great reasons why a timber playhouse can be a valuable addition to your outdoor space.
One, their versatility strives for harmony and order. It can fit into any garden setting, making everything seem just to go together. Two, colour has more place, including art, textiles and decor accents – helping pop the room!
As for the features, wooden units come with anti-trip edges and rounded corners designs. Most also have shatter-resistant windows, keeping your little ones safe at all times. Their safety and robustness also make them more durable than other materials, e.g. plastic.
Of course, there's the imaginative role-play experience. On top of that, important life skills are also developed. From increased physical activity to improved problem-solving skills, one makes a worthwhile investment.
But which wendy house to choose? To help you find one that works for you, we've selected five of the best BillyOh playhouses below.
5 Best Wooden Playhouses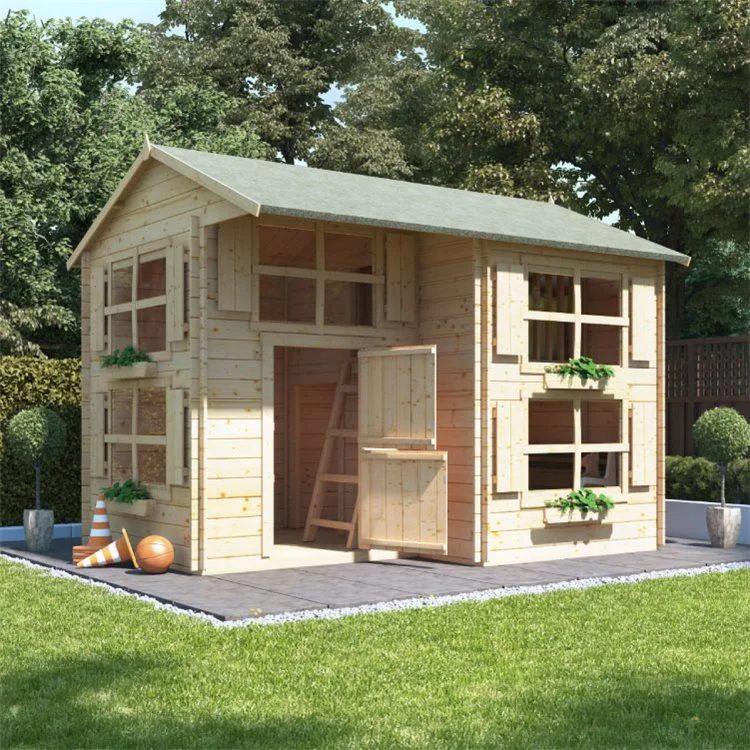 BillyOh playhouses can get your garden into an imaginative getaway for your children. The Annex is the perfect playhouse for that, bringing in a touch of modern log cabin.
Thanks to its increased 19mm log walls, your little ones can stay warm in their play haven year-round. The design features a multi-floor open area and a snug on the first floor. This gives them a safe place to make their own, be it a superhero hideout or fairytale castle.
The quality materials used include a tongue and groove floor and reverse apex roof. This cladding style offers a tight seal against water ingress and element protection. The added green felt roof ensures further weatherproofing.
Emulating the classic Wendy Houses style, the Annex also features shatterproof windows. These both give your children natural light to play by and ensure that they're getting Vitamin D.
Design insights of the BillyOh Annex:
Exciting two-storey design

11mm T&G roof and floor included

Stable door and traditional windows

Faux

window shutters

and planters

Optional pressure treatment for longevity
Available size: 19mm Annex W3.0m x D2.5m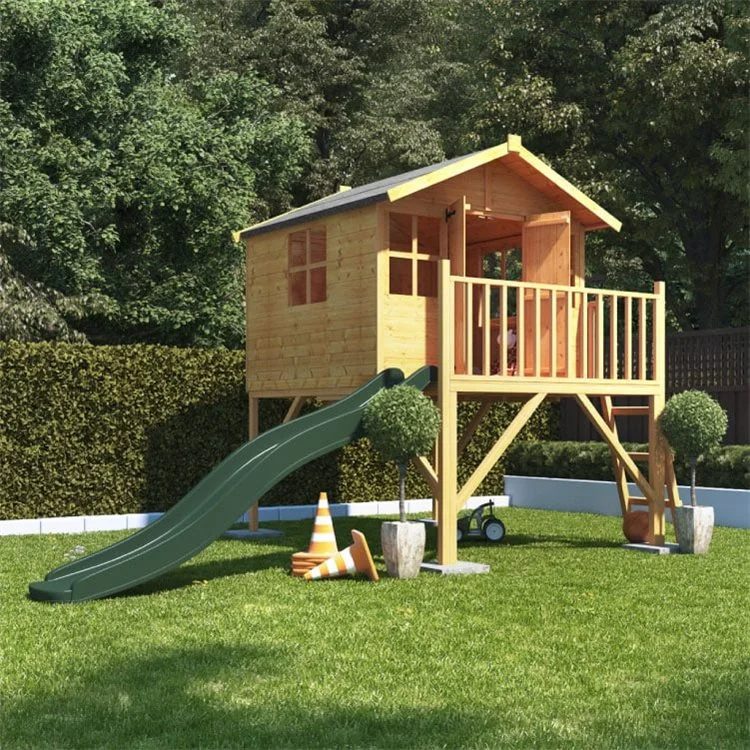 If your kids want something more elevated, they'll admire the BillyOh Lollipop! With this timber playhouse, a climbing ladder and safety rail are included.
The apex style roof offers generous heights with a high ridge, offering cover to the balcony area. For extra fun, consider getting the standard or premium slide for the junior tower. The same goes for a robust climbing ladder and safety fence for your peace of mind. What's more, the four styrene glazed windows add to the security while letting sunlight into the unit.
The Lollipop's wall panels come pre-measured and cut with comprehensive instructions. This enables quick and easy construction. Once installed, let your children paint the building and make it their own. Or, choose from our wide range of wall and trim colours at checkout.
Design insights of the BillyOh Lollipop Junior:
11mm T&G roof and floor included

Tower only and with slide options

Green felt roof

covering included

Complete with fixtures and fittings

Optional pressure treatment
As always, our garden playhouses adhere to BS-EN71 child safety rules. Available size: 6×5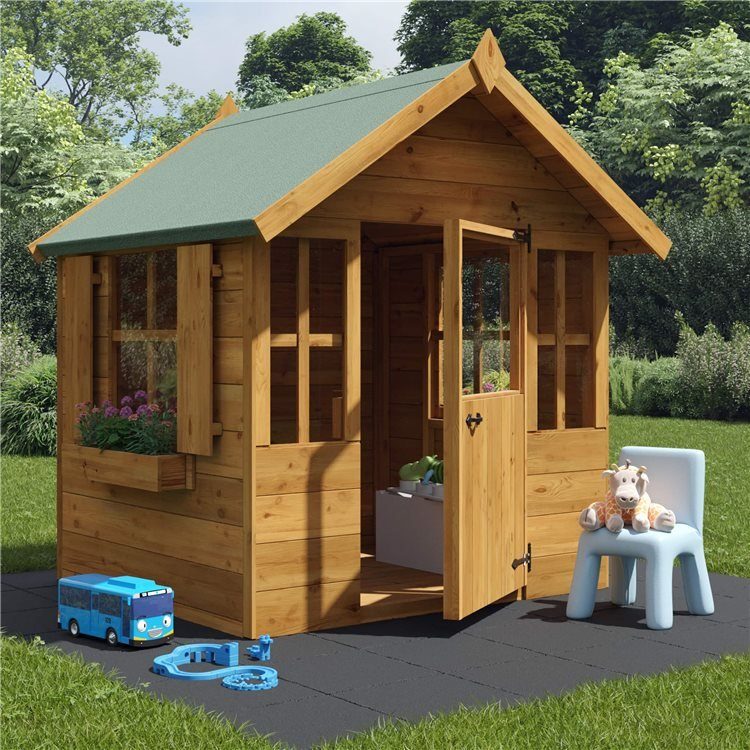 If your garden doesn't have plenty of space for a bigger unit, the BillyOh Bunny Max is sure to please your kids.
The meadow cottage playhouse design can transport them into a fairytale land. Although small, it features four cottage-style glazed windows. Complete with flower boxes and window shutters to the two outer windows. For added character, consider the picket fence options.
All safety aspects have also been carefully considered. The raised platform is complete with a safety rail, rounded edges and smooth framing. Air holes on the rear for increased air circulation. Plus, a 12mm gap around the door protects little fingers from being trapped.
Design insights of the BillyOh Bunny Max:
Pick your favourite colours from the optional extras to add a personal touch to the walls and trim

Optional pressure treatment

Complete with felt, fixtures and fittings

Will be delivered as pre-assembled panels

Comes with comprehensive assembly instructions
Available size: 4×4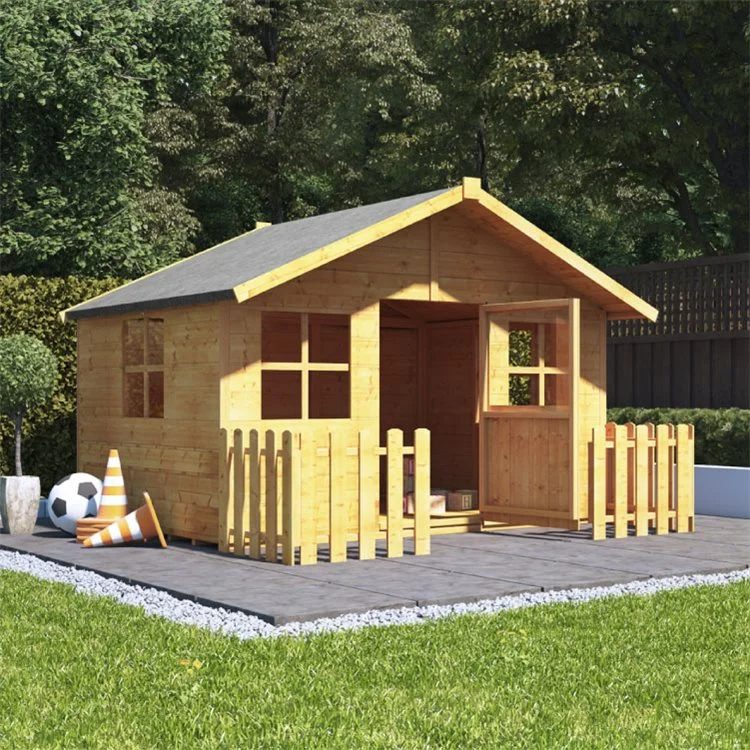 Transform your outer space into a fun playground with the Lollipop Max. Complete with floor, roof and felt as standard, all you need to add is the fun extras! Add a touch of whimsy and beauty with the fence and paint options.
It may not be as spacious and high as the Junior Tower, but it has the same durable T&G cladding construction. This means it offers high-quality weather protection, providing year-round fun and adventure. 
This unit meets the European standard and British Standards BS-EN71 to ensure safety. Other kids playhouse safety features include:
Safety gaps around doors to prevent trapped fingers

Safety rails on all raised verandas

SAN-glazed shatterproof plastic windows
Design insights of the BillyOh Lollipop Max:
Traditional single-storey cottage playhouse

4 styrene

glazed windows

Available with exterior platform

Picket fence and pressure treatment options available

Optional pressure treatment
Available size: 6×7 (with or without platform option)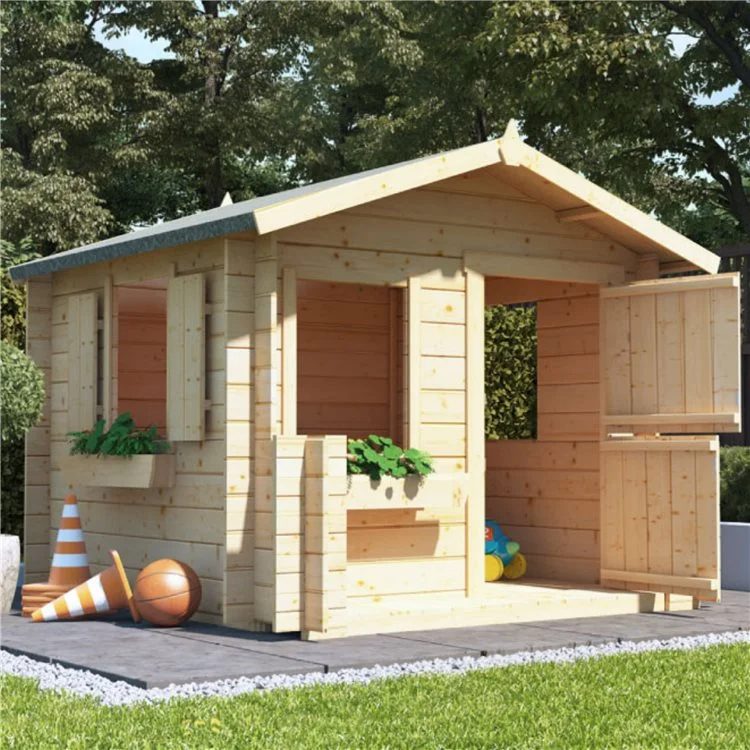 The BillyOh Junior Log Cabin Playhouse is an upgrade to the classic apex-style unit. Available in 19mm or 28mm interlocking logs, this unit exudes a beautiful rustic look. The hard-wearing construction is a bonus at a reasonable price.
The Junior comes in a compact but roomy W 2.0m x D 2.0 base size with tongue and groove floor. You can either purchase a suitable base like the Ecobase at checkout. Or, place your playhouse on a solid, level base, e.g. a concrete slab.
And the cottage playhouse design doesn't stop there. The cottage-style structure comes with beautiful window planters. Encourage your child to grow herbs in flower boxes and hone their green thumbs.
Design insights of the BillyOh Junior:
Stable door

3 Large, safety-glazed windows

Complete with

green felt roof

, fixtures and fittings

Pressure treatment option
Available sizes: 19mm – 2.0mx2.0m and 28mm – 2.0mx2.0m
BillyOh Playhouses Exclusive Features
Get your money's worth with Garden Buildings Direct's wooden garden playhouses. Here, we take pride in our quality wooden play houses finished with T&G panels. A pressure treatment option is also available for ultimate protection and longevity.
Tongue & Groove panels
The T&G groove panels are available in 19mm – 28mm, some even in 44mm, wall thickness. The panels interlock, creating a strong and secure board for the playhouse walls. This also gives off a smooth finish which further enhances the style and aesthetic of the unit.
The thicker the walls, the more warmth and comfort the playhouse can offer. Plus, extra protection from bad weather and a more secure structure.
Pressure treatment
Here, we offer both untreated and pressure-treated garden buildings. But we recommend opting for a pressure-treated garden room for a longer lifespan. You'll be left with a cost-effective log cabin. Thanks to reduced maintenance, you may even save money and time in the long run!
Round-up
There are tons of benefits associated with playhouses for kids in wooden designs. What's more, if you find a suitable type of playhouse for your little ones. If you're struggling to get started, you can find out full guide on how to choose a playhouse here. With the selection of these best wooden playhouses, we've no doubt you've narrowed your options down. If you want to explore more of our playhouses, then you can click the button below to browse our entire range!
Shop Playhouses