Now, the fact of the matter is that choosing an outdoor playhouse that ticks all your boxes isn't easy. There is a lot to consider when choosing something that is right for you, your garden, and the kids who will be playing in it. All these factors can make choosing just one difficult. 
Luckily, we're here to lend a helping hand with this complete guide to choosing the right playhouse for you. This guide will run through everything you'll need to consider when choosing a garden playhouse or wendy house. We'll be exploring size and shape, features and flair, prices, budgeting, and more.
Let's not waste another moment – it's time to start choosing your perfect playhouse!
Size and Space
The first thing we need to know when choosing a playhouse isn't to do with the garden building you'll be buying. There's nothing worse than buying a new garden building, only to find it's too big or too small for what you need it for! You might already have a place in mind, but before we lock it down it's a good idea to check that the location will be suitable for a wooden playhouse.
We've got a little checklist below that you can run through to make sure the spot you're picking can accommodate a wooden playhouse.
The ground is flat and firm

. If there are bumps, or the ground is uneven, your playhouse won't stand up straight. This could damage the structure or make it sit unevenly so that it tips over easily. Both of these would make it unsafe to play on. Make sure it is as close to level ground as possible, using a spirit level to measure.

The spot does not flood easily.

Flooding, and water in general, can be disastrous for your playhouse. Not only will the water damage the ground underneath and make it uneven, but it will seep into the wood of the playhouse, causing all sorts of damage.

It's away from trees and large bushes.

Trees and playhouses generally don't play well together. Not only can they drip moisture onto the playhouse, but falling branches and sticks could cause damage.

There's easy access for building and maintenance.

You'll need to be able to get to your playhouse during building and for keeping it in good shape. If you want to back the playhouse against a wall, make sure that only one side is obstructed to access is still possible. It's a good idea to leave 1 foot extra on all sides.
Finding a spot that fits all the criteria can be harder than you might first think, especially if your garden has a lot of trees, is small, or gets particularly boggy and wet when it rains. 
If you don't have a stretch of ground on which you can build a level base, then you can always build it on top of a concrete base. Concrete will provide a reliable foundation for the playhouse, but it will be expensive. Always make sure you have a suitable base for your playhouse. Once you've found or decided upon a spot, it's time to quickly check if what you'll be doing is legally up to scratch.
Planning permission
The words "planning permission" may seem scary at first sight, but you needn't worry. In the vast majority of cases, you won't need planning permission for a garden building. There are only a small number of times when you do, and we'll cover them generally now. Most of these rules apply to when your playhouse or garden building is either really big or takes up loads of space in your garden.
For example, your garden building can't have a maximum eaves height (where the roof meets the wall) of 2.5 metres tall or a total height of 4 metres. Your playhouse also can't also take up more than half your garden or outdoor space with a garden building, and it can't be in front of the first wall of your property.
For a full list of conditions, visit the UK planning portal's official website here.
Measuring up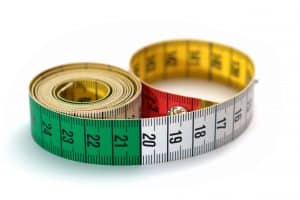 Once you've chosen a place to put your wooden playhouse and made sure it's suitable, it's time to measure up.
With a tape measure, measure up all the dimensions of your garden space. That means the length, width and the one you might not expect – the height. Some types of playhouse can reach tall heights, for example a two-storey playhouse or a playhouse equipped with a tower extension, measuring the available height of the area is important.
If your two-storey or tower playhouse is going to sit out in the open with nothing above it, then this is less important – but if you plan on putting it up against your house or under a shelter then the height is super important.
Take all the dimensions and write them down so you don't have to go back outside and do it again! They'll give you the limits of how big your playhouse can be, letting you rule out all those that won't fit into the space. With that done, you've taken the first step towards choosing the perfect wooden playhouse.
A Size That Fits
You'll probably agree that any outdoor playhouse you buy should be a good fit for the people who'll be using it the most: the children who will be playing in it. With them in mind, there are a few things to consider to make sure it suits them and their preferences.
First is how old they are – and how big they are! As we all know, kids grow up faster than we expect them to. While it is lovely to watch them grow up, you need to make sure that any playhouse you buy is going to fit them for the years to come. Don't buy them a playhouse that will only just fit them now, as it won't be up to scratch in the years to come.
This also goes for their playing habits – if they're on the verge of getting into double digits, you might find that they'll be growing out of playhouses relatively soon. If they're smaller, they might not be as active or need something with as many features.
Second, consider how many of them there are. If you're buying the playhouse for just one youngster, you won't need to get a massive construction. But, on the other hand, if you have a bunch of wily children in need of entertainment you're going to need something that can fit them all inside!
This should give you a concrete idea of the size and shape of the playhouse you need.
Features and Fun
Let's kick things off by looking at garden playhouse features. We'll be looking both at what's on offer as well as the best choices for your garden and the children who'll be enjoying it!
Floors and bunks
One of the most influential features you can get for an outdoor playhouse is bunk beds. They can be a brilliant and useful addition for kids of all ages, acting as simply a playspace, somewhere to sit, or even as a bed for a fun playhouse sleepover!
Their versatility makes bunks super useful. The possibility of sleeping in the playhouse can give children additional independence and privacy. It's easy to see why they're popular!
The one thing a bunk bed requires, however, is space – and lots of it. Bunks especially take up lots of vertical space, meaning the building needs to be much taller in order to accommodate it. If you've not got much room to work with, it might be difficult to fit a bunk in.
We offer a wide range of bunk playhouses, such as our iconic Gingerbread Max playhouse with an internal bunk.
Tower playhouses
Towers are another great and popular feature you might consider getting. A wooden playhouse with a "tower" is a playhouse on a raised platform, with a small step ladder to gain access to a balcony section that extends from the front of the building.
This feature is especially brilliant at encouraging imaginative and fun play for kids. The raised balcony lets their imagination really take flight, as well as imbuing the playhouse with real individuality.
Climbing up and down from the tower can also help provide children with a form of fun exercise, strengthening muscles, increasing flexibility, opening their minds to climbing, and giving them a different perspective of the world from the top of the tower! Our most popular tower playhouse is the brilliant Bunny Max Tower!
While we don't recommend that a tower playhouse be used by very young children, you can rest easy in the knowledge that all our garden playhouses are built to EN71 European Safety standards and include anti-slip ladders and safety rails with all raised platforms.
Space for toys
If you have children or grandchildren, you might also be looking for a playhouse with lots of space for toys. Playhouses can be the ideal place to put toys, and storing them in there can even encourage kids to play with them more! You might even consider buying special toy sets to make the playhouse a unique play environment. Our valued customer Laura fitted it with a toy kitchen set, and couldn't be happier with the result!
The good news is that, whether you buy our smallest playhouse or our largest, they all have loads of space to store toys in! You could even install shelving for extra storage if there are lots of playthings to fit in.
Super slides
We've saved the best for last – that's right, we're talking about slides!
While slides are only available with tower playhouses, they really are the best of the bunch when it comes to additional features. Time and time again we've heard customer stories rave about how much fun their children have had with the slides on their new outdoor playhouse – kids love to slide over and over again without ever getting bored of it!
Slides are hours upon hours of fun in a small package and provide yet more avenues for imaginative and inventive play. If you have children in dire need of entertainment, a slide is a perfect way to preoccupy them for hours and hours on end.
If you weren't already convinced, then we'll let you in on a secret: slides are super cheap, too. But the best thing is that slides never get old with age – whether they're 3 or 10, a slide is fun forever!
Getting Great Value
There are two ways you can get great value for your money, and we'll be looking at them both. The first is buying a playhouse from somewhere that is generally good value for money. That means that their garden buildings are priced well and you'll be getting good quality and durability from your purchase in general.
The second is finding a kids playhouse that will have good personal value. In other words, the money you spend will be put to the best use possible, and you won't be paying for things you won't need or use.
Buying from a good retailer
Half of getting the best possible value for your money is buying from a retailer whose products themselves are sold at a price that is good value. There are tons of factors that come into play when deciding if the place you're buying from is "good value" or not. The quality of what you're buying, how long it will last, the time it takes to be delivered, the after-care and customer service they provide – these are all important elements, but there are many more.
When it comes to wooden playhouses, finding a place that is good value for money isn't always easy. But, luckily for you, we know just the one…that's right, it's us: Garden Buildings Direct!
Yes, we know what you're thinking: of course you're going to say that! We don't blame you for thinking that, either. You just want the best deal possible – and so we do. So don't take it from us – take it from our customers.
What our customers say about us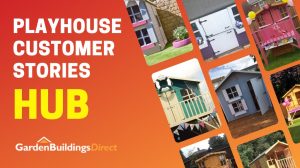 Zoe, who brought the Lollipop Max, was impressed with our prices and said that the experience of buying from us was "excellent".
Meanwhile Claire, who purchased a Bunny Max Tower Playhouse, said she "loved the design and found it affordable. We chose Garden Buildings Direct for the great value for money."
Michaela, the proud owner of a Bunny Tower Playhouse, felt the same. She said that our site had "the best prices with free delivery – I found it a good deal."
If that's not enough, then feel free to visit our Customer Stories Hub, where you'll find a huge number of great reviews from our customers who all praise the delivery, prices, and quality of our children's playhouses.
What makes our products even better value for money is the fantastic guarantee they come with. Since all our outdoor playhouses are made with quality, natural wood tongue and groove cladding, we guarantee all of them against rot, decay, and insect infestation for up to 10 years! If you shop at Garden Buildings Direct, good value is a surety.
Getting the best personal value
The other half of getting good value for money is choosing a product that you will be able to get your money's worth from. The key to achieving this is choosing an affordable playhouse that fits your needs precisely.
In our previous guides, we've guided you to nail down what you need from your garden playhouse. This includes how big it needs to be, what features you need, what it will be used for, and so on. If you don't know this yet, then it's worth getting a list together so you can get the best possible value for money.
When choosing, aim to identify a playhouse that fits all your needs without giving you any excess or features you won't be using. For example, if you simply need a large playhouse for your children, try not to buy a large playhouse that has additions that simply won't be used – like bunk beds or a tower.
These kinds of additions can seem attractive, but you won't be getting full value for money out of them. If that's your aim, then cut out the elements that go beyond what you're looking for.
By sticking to what you need and not forking out for features you don't you'll be on track to get great value for your money.
Choosing a Playhouse
We've run through all the different factors to choosing a Playhouse that's right for you but, before we round out and hand the decision over to you, let's quickly recap How to Choose a Playhouse that's right for you:
Size and Shape:  Consider both how much space you have available and the size and shape you need. If you have lots of active children to entertain, a bigger playhouse might be necessary, while a small house and young children mean you should lean towards a smaller building.
Features: Get an idea of which features you want in your playhouse, such as a slide, bunk beds, or a tower-model playhouse.
Get Great Value: Find a playhouse that offers you great value – not just in the value you get from the retailer, but also in choosing a model that suits your needs and requirements precisely.
Keep all of those in mind, and you'll end up with a Playhouse you can be proud of! Speaking of which – why not take a look at the 5 Best Playhouses we have on offer?
If you've got any playhouse questions, or simply want to know more about them, visit our Playhouse FAQ Centre for all information you'll ever need. Until then, check out the Garden Buildings Direct children's playhouse range using the button below!
Shop Playhouses