Buy or build – build or buy? And why a playhouse at all?
When it comes to picking an outdoor garden building for kids, it's easy to get overwhelmed with options. And sure, we think that they provide the ideal place for children to let their imaginations run wild.
But perhaps you're not sold on the idea yet. That's why, in this post, we're going to cover all things playhouses.
We'll have a look at whether to build or buy a playhouse and how to do it. All of that and more, after the jump. But before we start, let's look at some:
Quick takeaways:
Playhouses encourage creative thinking and social skills during play

Playhouse tend to be built from wood or plastic

You can: build, buy, or BillyOh your playhouse

Playhouse types include: single and double-storey, tower, and log cabin
But the term 'playhouse' doesn't always mean just one thing.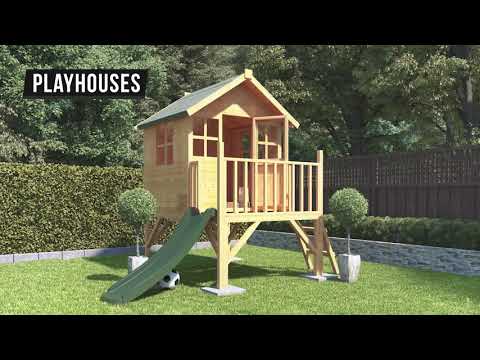 Different Types of Playhouse
We all know what comes to mind when we think 'classic playhouse' – an American Gothic-style playhouse. Right?
Ok, maybe not. But the point is, there are a million and one different ways to build and decorate a playhouse. Some popular classics include:
Treehouses

Tent and teepee playhouses

Fort playhouse

Single-storey
Two-storey
Tower playhouse (with/out ladder or slide)
Heck, if you've got some time and patience, you could even learn how to grow a child's playhouse. By creating a willow or sunflower den, you could save yourself the price of a playhouse. 
Although, you might be waiting for quite a while!
Why Buy a Playhouse?
Instead, you could always check out these playhouse plans for a bit of inspiration. But we're getting ahead of ourselves a bit. 
All these quirky (and some kooky!) ideas sure sound amazing. But, chances are, you're probably looking for something a bit simpler. So let's start simple. 
The first step is to decide on what material you want to use for your playhouse.
Playhouses tend to come in either wood or plastic (as metal can be hazardous). Plastic might fade in the sun but will be easier to move. Whereas, wood has a more rustic feel to it that we think looks better. Wooden playhouses are also easier to customise.
If you want to turn your playhouse into a saloon or a fort, we suggest opting for wood. Either way, by simply getting them outside a playhouse can help your children to: 
Be healthy and active (and build their immune system)

Have their own space

Improve coordination, social skills, and even sleep quality

Have an all-weather play area

Instil confidence and responsibility
So, hopefully, that's put to bed any questions you have as to 'why should I buy a playhouse'?
Playhouses can act as a garden building that is dedicated to playing and that children can use year-round. A playhouse can be customised and worked on as a project to boost creativity, thought development, and even social skills.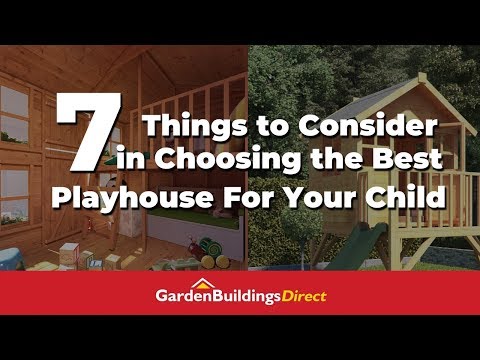 Building a Playhouse
If you've settled on getting an outdoor playhouse, then the next step is to decide whether to build or buy one.
How much does it cost to build a playhouse?
This one's a bit tricky. Some people will say that you can build a playhouse for around $350 (about £250). And that's for a small, single-storey playhouse for young (i.e. small) children.
Other people will say that building a wooden play house will only cost £150. That's if you already work on a building site where you're able to salvage materials. The point is, there's no one answer. 
What works for you will depend on things like:
Materials required

Quality of materials

Proposed size of play house

Existing tools or tool hire inc: level, Stanley knife, tape measure, set square, hammer,

circular saw, jigsaw, reciprocating saw, drill, and a straight edge

Factoring in the cost of your time
So if at this stage you're thinking that you probably don't have the tools or the know-how to build your own wooden playhouse – that's fine. 
You can always skip ahead to the section on buying a playhouse. There, you'll also find an option where you get the best of both worlds.
For now, let's crack on with – how do you make a homemade playhouse?
Courtesy of Rogue Engineer
Playhouse Plans and Building Instructions
If you're building a flat-pack wooden playhouse, the assembly process will generally be:
Remove travel blocks from timber panels

Lay everything flat

Screw in door hinge/s

Lay playhouse floor on your base

Mark the centres of your joints as a drilling guide

Screw in playhouse floor

Starting with the back, hold the upright panels in place and screw them together




(

Top tip: Make sure to countersink screw holes so you won't rip out or split the timber!

)

Square your playhouse off

Fix your roof trusses and nail or screw in roof panels

Felt and shingle the roof
Now, bear in mind that that's a whistlestop tour of building a pre-fab children's playhouse. If you want those steps explained in more detail, check out this step-by-step guide.
And if you're still wondering whether or not to build your own kids playhouse, perhaps this next section will help you decide.
Now we're going to look at the steps you'd need to take to build a children's playhouse from scratch.
But for the rest of us kick-in-the-muds, there's always the option of:
Buying a Playhouse
As much as we'd t all like to build a playhouse (or think it's cheaper), you have to start by being honest with yourself.
Do you have all the tools that we listed earlier? Did terms like squaring and trussing put you off a bit? If so, that's fine!
You can always buy a playhouse and feel like a top-notch builder. Simply opt for a children's tongue-and-groove playhouse. 
With pre-measured and cut tongue-and-groove panels you and a friend can build your wooden kid's playhouse in no time. All you have to do is gather a few tools (maybe a mallet for a light tap or two) and a mate!
Then interlocking tongue and groove wooden panels mean you can be stood around admiring your handiwork in just a couple of hours. You can get a professional, customisable playhouse at a more competitive price point than buying and having one installed.
And the exact same preparation steps apply, whether you're building or buying a kid's playhouse. You'll still need to think about your available space and budget and what features you'll need.
For example, are your kids little monkeys who require multi-storey play options? If so, then a tower playhouse with a slide might suit them. The great thing about the BillyOh method of building a playhouse is that you can still customise it. 
There are loads of options to choose from before you buy. And, a wooden playhouse has so much more character on offer than a plastic one. With a kid's wooden playhouse you can still add to it and dress it up. 
And if you want a nudge in the right direction, check out our very own expert's guide to choosing a playhouse. You'll find all the info you need to narrow down your selection.
Playhouses: Why Buy?
Building a playhouse can be a fantastic cost-saving option if you have access to raw materials like pallets and timber. With the internet bursting with free playhouse DIY plans, even intermediate carpenters can have a crack at building a playhouse.
But for the rest of us, hiring or buying jigsaws and trying to fish out a set square might be above our pay grade. So if you're still set on buying the kid's a playhouse for summer, you could always simply buy one and have it installed. 
But there's a third option – the best of both. A.k.a. the BillyOh option. With our tongue-and-groove wooden playhouse's, you can find a price and model that suits your needs. Plus, you can feel like you've built something without breaking the bank (or your back!). 
And if you're looking at building a shed at the same time, download our free guide on How to Build your Shed.
Shop Playhouses
FAQs