Buy or build – build or buy? When it comes to garden playhouses, choosing between the two is not as easy as it seems.
Perhaps you want to have a go at building something yourself, providing your kids with a place to play and have fun through your own hands and means. Or maybe the shoe is on the other foot – you want to buy a playhouse, but all the costs seem a little bit too much for you to handle.
Whatever your situation, whichever way you're leaning, we're here to help.
This guide is 100% dedicated to getting you set up with a playhouse. We'll have a look at the specifics of building or buying a playhouse – and how to do both. All of that and more, after the jump!
All You Need to Know
Before we start, let's quickly assess what playhouses are and what they do.
If you've not read it yet, we strongly recommend taking a look at our informative guide to Why A Playhouse Can Help Your Child's Development. We run through all the benefits of playhouses and imaginative play, and how much they can help your child develop socially, mentally, and cognitively. All in all, they're pretty brilliant.
But the term 'playhouse' doesn't always mean just one thing.
We all know what comes to mind when we think 'classic playhouse' – an American Gothic-style playhouse. Right? Ok, maybe not. But the point is, there are a million and one different ways to build and decorate a playhouse. Some popular classics include:
Two-story, or bunk, playhouse
Tower playhouse (with/ without ladder or slide)
See, there's more than meets the eye when it comes to types of a playhouse. Heck, if you've got some time and patience, you could even learn how to grow a child's playhouse – you might be waiting for quite a while though!
In this article, we'll be focusing on wooden playhouses. Specifically, we'll be looking at building or buying single-storey, double-storey, and tower playhouses.
In short, playhouses are garden buildings dedicated to play, fun, and creativity. Active children can use them year-round, and gain a sense of independence by having their own space to explore and be themselves. All in all, they're hours of fun and learning!
If you came here not knowing whether or not to even invest in a playhouse, we'll bet that you're now convinced!
Let's not waste any more time, and look at whether to build or buy.
Building a Playhouse
We'll kick things off with building a playhouse.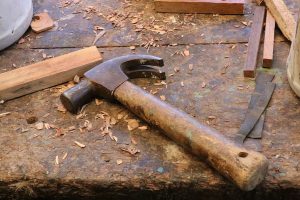 How much
does it cost to build a playhouse?
This one's a bit tricky. Some people will say that you can build a playhouse for around $350 (about £250). And that's for a small, single-storey playhouse for young (i.e. small) children.
Other people will say that building a wooden playhouse will only cost £150. That's if you already work on a building site where you're able to salvage materials. The point is, there's not a tell-all answer.
What works for you will depend on things like:
The amount of materials required.

Quality of the materials you're using.

Proposed size of the playhouse.

Whether you have existing tools or need to hire them.

Factoring in the cost of your time
All of these can vary massively, so do some rough research and calculations and see if things look possible. When it comes to tools, you'll want these as a minimum: Level, utility knife, tape measure, set square, hammer, circular saw, jigsaw, reciprocating saw, drill, and a straight edge.
If you're thinking that you probably don't have the tools, know-how, or time to build your own wooden playhouse – that's fine.
You can always skip ahead to the section on buying a playhouse. There, you'll also find an option where you get the best of both worlds.
For now, let's crack on with making this homemade playhouse.
Playhouse Plans and Building Instructions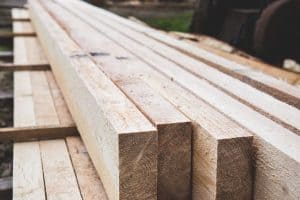 Now we're going to look at the steps you'd need to take to build a children's playhouse from scratch.
Step 1 – Shop for materials
First things first, you'll need to pick up timbers and(/or) tools.
When it comes to wood, you can choose to buy pre-cut timbers (cut to the length of your plans) or just buy planks that you can cut yourself. You're also going to need some assorted nails and screws, and you might even want to pick up some plexiglass for windows and roof felt.
Bear in mind, you'll have to consider transport costs and whether or not you have a truck, van, or utility vehicle capable of carrying your wooden beams.
Step 2 – Select and prepare the playhouse site
Next is finding and preparing the place your playhouse is going to sit.
First of all, check that you have planning permission for the site. If it's your own garden, this shouldn't be an issue (unless you're making a really, really big playhouse), but it's best to check with your local authority first.
Next, the site itself. You want somewhere where the ground is flat and firm, that will not flood easily, that is away from trees or large bushes, and easily accessible for building and maintenance. This last point is especially important, and we recommend leaving 1 foot extra on each side of the site for access.
To prepare the site, start by raking away debris and rocks. If the ground is soft enough you can even give it a rough level with a landscaping rake. Check how flat your ground is using string and a level.
Step 3 – Building a base
It's never a good idea to build garden buildings straight on to the ground. Building a base for your playhouse will help it massively and save you time and effort on upkeep in the future.
For a kid's outdoor playhouse, you should be fine with building a timber sub-floor. As there won't be much weight in your playhouse, building a concrete slab might be overkill.
 Just remember to raise your playhouse floor off the ground to avoid damp!
Step 4 – Start framing
If you've not got pre-cut timber, or you're assembling an order, then here are the beams and boards you'll need to buy:
Frame

Wall

Floor boards

Trusses

Roof
You can install your cut-outs (like doors and windows) until later if you want, but you will need to cut or order them. You should have a full set of plans ready by this stage.
With your timber ready, you can start framing the structure. Start by attaching panels to your wall frame.
Top tip: It's easier to do this on the ground. Just make sure you snap a chalk line on the panels where your studs are. This will make it easier to nail/screw into them from the outside.
Then you'll need a hand to raise the walls and attach them with either:
Corner blocks

Corner braces

Gangnails 
You'll also need to fix them to your floor joists. At this point, check that your outdoor playhouse is level and square. If needs be, straighten your frame with a straight edge. Pay special attention throughout this stage, as the structure needs to be safe and secure.
Step 5 – Roofing and trim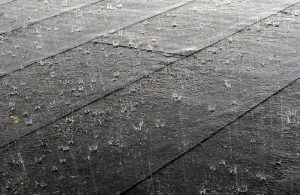 You might already have been measuring, cutting, and attaching trim as you go. If not (and if you're even using any trim), make sure to screw it in before roofing.
Once you have your playhouse frame up, you can start trussing. After that, it's simply a case of lining up and nailing or screwing in your playhouse roof panels along the trusses with roofing nails.
Lastly, you'll need to attach your felt shingles. Start with the first line flush to the edge of your roof, then overlap each subsequent line slightly as you work up the apex or pent.
Step 6 – Decorating
And then you're on to the fun part!
Now that you've got your wooden children's playhouse constructed, you can get the kids involved. We've got a bunch of imaginative decoration ideas that you can take inspiration from, with all the ideas specially chosen to encourage your kids to play creatively.
Find our guide on 20 Imaginative Ways To Decorate A Playhouse here. Either way, if you've got the tools and the experience, building an outdoor playhouse can be a great achievement.
But, if you're not so sure, there's always the option of…
Buying a Playhouse
As much as we'd all like to build a playhouse (or think it's cheaper), you have to start by being honest with yourself. Do you have all the tools that we listed earlier? Did terms like squaring and trussing put you off a bit? If so, that's fine!
But you can always buy a playhouse and feel like a top-notch builder. Simply opt for a children's tongue-and-groove playhouse from Garden Buildings Direct.
With pre-cut, interlocking tongue-and-groove wood panels you and a friend can build your wooden kid's playhouse in no time. All you have to do is gather a few tools (maybe a mallet for a light tap or two) and a mate! In just a couple of hours you'll be stood admiring your own handiwork!
You can get a professional, customisable playhouse at a more competitive price point than buying and having one installed.
The Process
If you're building a flat-pack wooden playhouse, the assembly process will generally be:
Remove travel blocks from timber panels and lay everything flat.

Lay playhouse floor frame on your base.

Mark the centres of your joints as a drilling guide, then screw in the floorboards.

Starting with the back, hold the upright panels in place and screw them together




(

Top tip: Make sure to countersink screw holes so you won't rip out or split the timber!

)

Square your playhouse off using the level and straight edge.

Fix your roof trusses, screw in roof panels, then felt and shingle the roof
Now, bear in mind that that's a whistlestop tour of building a pre-fab children's playhouse.
The Final Round-up
Building a garden playhouse can be a fantastic cost-saving option if you have access to raw materials like pallets and timber. With the internet bursting with free playhouse DIY plans, even intermediate carpenters can have a crack at building a play house.
But for the rest of us, hiring or buying jigsaws and trying to fish out a set square might be above our pay grade.
If you're in that boat, why not opt for the best of both worlds – the BillyOh option. With our tongue-and-groove wooden playhouses, you can find a price and model that suits your needs. Plus, you can feel like you've built something without breaking the bank (or your back!)
If you want to take this route, then click the button below and find your perfect BillyOh Playhouse. For inspiration, check how Josie turned their playhouse into a pirate haven.
Shop Playhouses
FAQs