Are you thinking about purchasing a playhouse? If so, then you're in the right place.
Whether you're looking to buy a plastic playhouse or a wooden Wendy house, there are things to consider when choosing the perfect one. The most expensive playhouse isn't necessarily going to make the best outdoor toy because of price alone.
Let's have a look, at a glance, at what you need to know when buying garden playhouses. Then we'll crack on with our expert-informed guide to choosing the perfect playhouse.
How To Choose A Playhouse
Step 1 – Location
Think about where your outdoor playhouse will fit. Will you need planning permission or to check with neighbours?
Step 2 – Size and Style
What size and style would suit your children? Single-storey, two-storey, or even a tower playhouse?
Step 3 – Material
Do you want a plastic or a wooden playhouse?
Step 4 – Safety
Can your children use their playhouse unsupervised? Does it feature things like safety hinges?
Step 5 – Assembly
Do you have the right tools and some friends to help you build your playhouse from scratch?
And just to help guide you through those five stages, we've put together an expert's guide to choosing a playhouse.
But first:
Why Buy a Playhouse?
Buying a children's wooden playhouse can be a great investment, not only in a fun toy for kid's but in their development.
Research has shown that there are loads of benefits to children playing outside. These range from increased independence to nurturing creativity. By encouraging outdoor play you can reduce the time your little ones spend indoors or looking at screens.
So when it comes to a playhouse versus added screen time – who doesn't want that?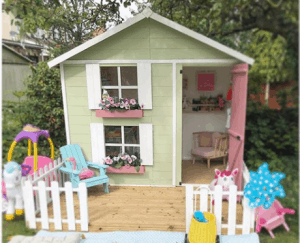 A children's outdoor playhouse is also a space that's dedicated solely to playing. This means that children won't feel like they're intruders in your space! 
But what about when it's cold outside?
When To Buy a Playhouse?
As most parents know, little ones are happy to play come rain or shine as long as they're bagged up well.

Plus, a playhouse with a solid structure can be a year-round haven for them that isn't dependent on weather.
Maybe you're looking to buy a playhouse for a kid's birthday present. Or perhaps for Christmas, or even now that summer's just around the corner. Whatever the reason, you can be sure that your kids will be having fun in the garden for a long time to come.
So now that you're sold on the idea, let's look again at those five steps to consider before buying a playhouse for kids.
Step 1 – Location
This will depend on the location you want your outdoor playhouse and the location of your main house.
Do you have a private garden or even a terrace? You need to make sure that your children have an outdoor toy that's visible from the house and not near any hazards.
It's unlikely, but you might also have to check for planning permission for your playhouse. Of course, this will depend on what type and size you choose. Plus, it's always handy to check with the neighbours before purchasing a kid's toy house!
Our expert suggests you try to put your playhouse at the bottom of the garden. Then you can position your kid's playhouse against a boundary. Or you can leave enough space so that they can run around it whilst playing.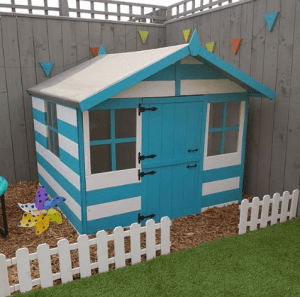 Step 2 – Size and Style
When you've got such a large selection of playhouses to choose from, it can seem daunting at first.
Choosing your location will help you with this step. Our expert says: 'get your kids into the garden to help you decide. You could even set out a floorplan with strings and pegs to see how much space they'll need'.
Once you've done that you can decide on what style of outdoor playhouse you want. The main choices are:
Single-storey

Tower

Two-storey
A single-storey playhouse is, as the name suggests, all on ground level. Although, even this style can be jazzed up with optional features like a picket fence.
A two-storey playhouse will usually feature a snug, accessed by an internal ladder. This feature can add a whole other dimension to your children's playtime. 
And a tower playhouse is one raised on stilts. This provides access options for things like ladders, slides, and swings. Plus, the raised base is perfect for storing children's toys or acting as a garage for your little ones' coupés.
Some children's playhouses even come in wigwam or teepee styles!  
So, once you've decided on the perfect style of playhouse for you, you can think about customisation. Why not choose a playhouse with extra planters to nurture your children's green thumbs?  
Whatever playhouse you choose, our expert recommends a couple of must-haves like:
An apex-style roof for increased headroom

A door to keep the elements out

Windows to let the light in
Step 3 – Material
Once you've sorted the location, size, and style of your playhouse, it's time to settle on what material it's made from. It's unlikely that you'll find a metal playhouse due to safety reasons so your two options are wood or plastic.
Plastic
As with wood, a plastic playhouse has its pros and cons.
On the one hand, plastic playhouses are quick to put up. Their colours are usually fun and bright, and they're usually cheaper. The biggest draw here is really dependent on your budget.
Yet, the word budget has two meanings here. A plastic playhouse won't last as long as a wooden one and might not be as resistant to weather conditions. For example, their bright colours tend to fade when exposed to sunlight.
But a playhouse made from plastic won't need treatment. 
Wood
Whilst a wooden playhouse will need initial treatment, the manufacturer will do this.
The upside of this, and wooden playhouses in general, is that they're built to last. Plus, aspects like tongue and groove boards provide a tight seal and high-quality weather protection.
On top of that, wooden playhouses are more customisable as they can be painted (and repainted if need be). A wooden playhouse is also nicer to look at for parents, and the style will stay relevant for children as they grow older.
After all, your kids might not want to play in a pink plastic playhouse once they grow up a bit. A wooden playhouse is designed to last – both physically and visually. 
Step 4 – Safety 
When selecting a playhouse for kids, whether it's made from wood or plastic, safety is a top priority.
Make sure that your purchase, whether it's a wooden Wendy house or a tower playhouse, is up to safety standards. Things like safety hinges with wide gaps around doors to protect little fingers are a must as well. Also, make sure that timber is smoothed and planed for wooden playhouses.
Any windows should feature shatter-proof styrene glazing. Your playhouse should be certified by European Toy Safety Standards (EN71). 
If you're choosing a tower or two-storey playhouse, you'll also need to consider whether children can fall. Things like non-slip ladders can prevent these little accidents.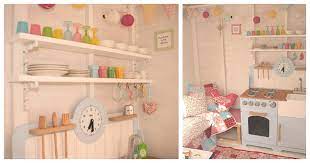 Step 5 – Assembly
If you're looking at buying a kid's playhouse, you've probably Googled something like 'how to build a playhouse'.
You might even have tried to figure out how to build a playhouse from scratch. Or you might have eyed up some pallets and other stuff lying around the garden.
The good news is that building a playhouse is a lot easier than all that. For example, our BillyOh playhouses feature pre-assembled panels. They also come with digital assembly instructions to get your playhouse built in no time!
With a modular design for ease of assembly, two people can have a playhouse built in a matter of hours.
Each kit comes complete with every fixture and fitting. So trust us when we say, you'll feel like an architect without all the stress. And your kids will always remember you as the one who built their castle playhouse!
Here is a list of the tools that our expert recommends for building your playhouse:
A hammer

A drill and drill bit or a screwdriver

A spirit level and set square

A stepladder (depending on model)

A tape measure

A pencil
For once, building your kid's dream playhouse is almost easier done than said!
Choosing the Perfect Playhouse
When it comes to choosing the right playhouse, the amount of style, sizes, and options on offer can seem overwhelming. That's why we put together this expert's guide to help you choose the perfect playhouse.
Still, there are a lot of big questions when choosing the right playhouse. Like whether to go for wood or plastic, one storey or two, and how do I ensure my children's safety? 
Luckily, our wide selection of children's playhouses all come with warranties so you can be assured of guaranteed quality. All our playhouses are both EN71-approved and built to last. 
As for the other questions, a lot of these will depend on the amount of free space in your garden. You'll also need to consider the age and play requirements of your children. Either way, though, here at Garden Buildings Direct we believe in the developmental benefits of a good playhouse (plus, they're just really fun!).
So, if you want to learn more about options for your kids in the garden – check out our ultimate guide to playhouses!
Shop Playhouses
FAQs