Mirrors are often brushed aside as indoor furniture. The truth is, they also work in outdoor spaces, especially in small gardens.
A garden mirror gives the illusion of depth and space. It reflects light and the effect makes it look like a window opening to another world.
Many UK homeowners love the idea, and so, garden mirrors have grown in popularity in the country. Here, we've rounded up our favourite garden mirror ideas. We're certain that you'll find something you love in this mix, so keep reading!
1. Gothic-inspired
Inspired by Gothic arches, the tracery adds a decorative element to outdoor spaces. The design is simple and enough to bring some character to your garden. This mirror can also be used to create a feature wall.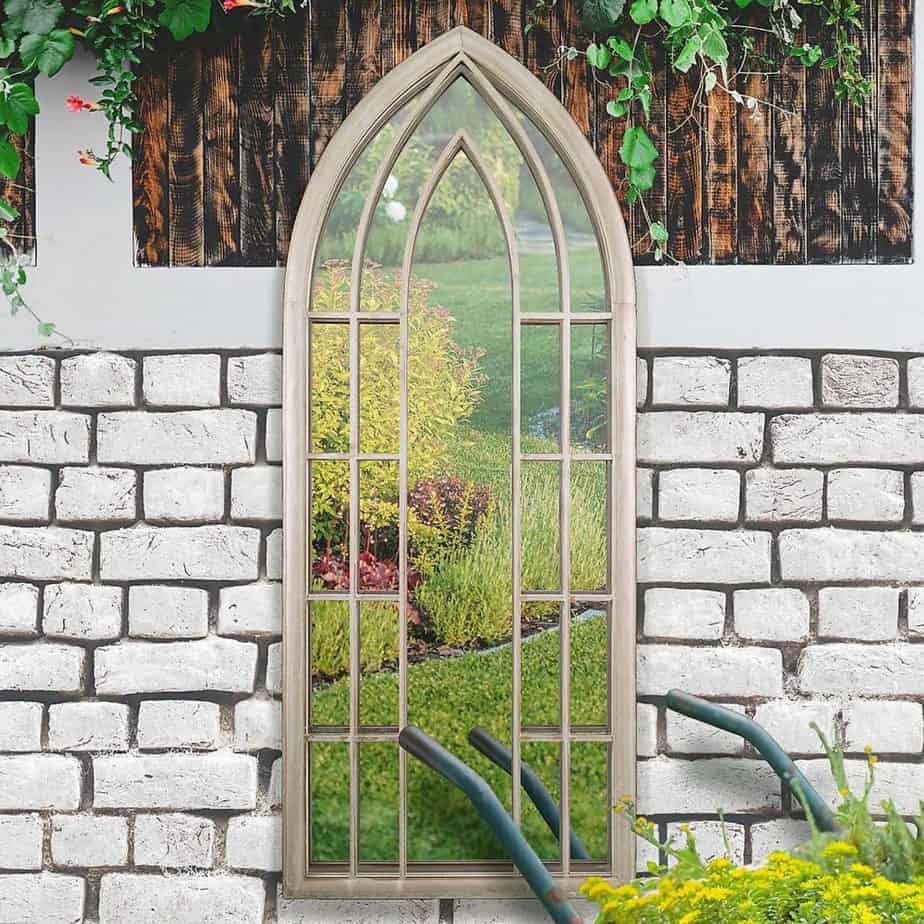 2. Go convex
Curved outwards, convex mirrors give an upright image and provide a wider field of view. This mirror is great for reflecting light to plants with lower light requirements.
The light reflected is spread out to a wider space.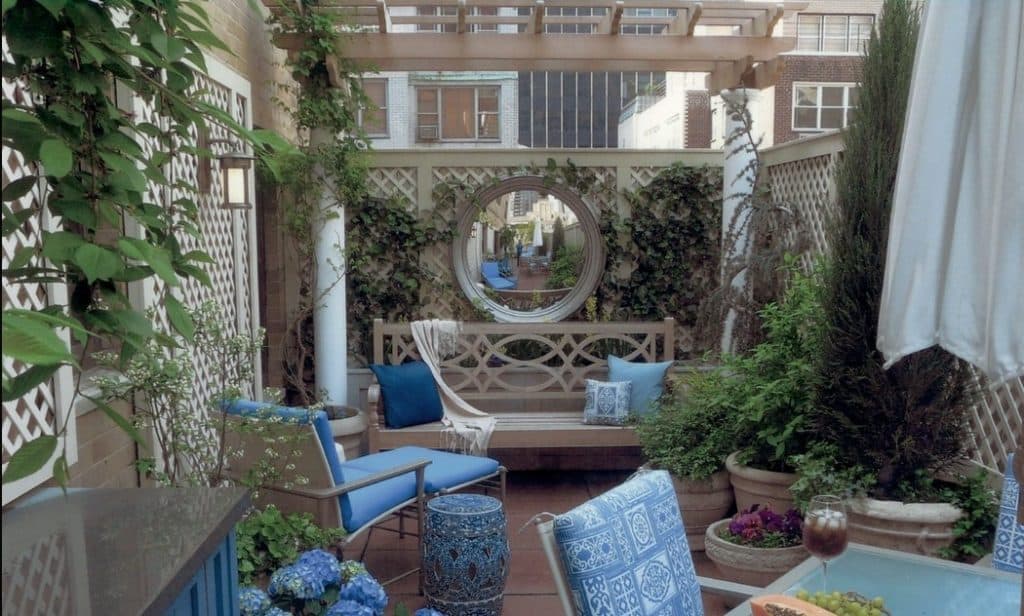 3. DIY mosaic
A do-it-yourself garden mirror featuring a floral and leafy design. The mirror is positioned in a way to catch the light while the tiles spice up the aesthetic.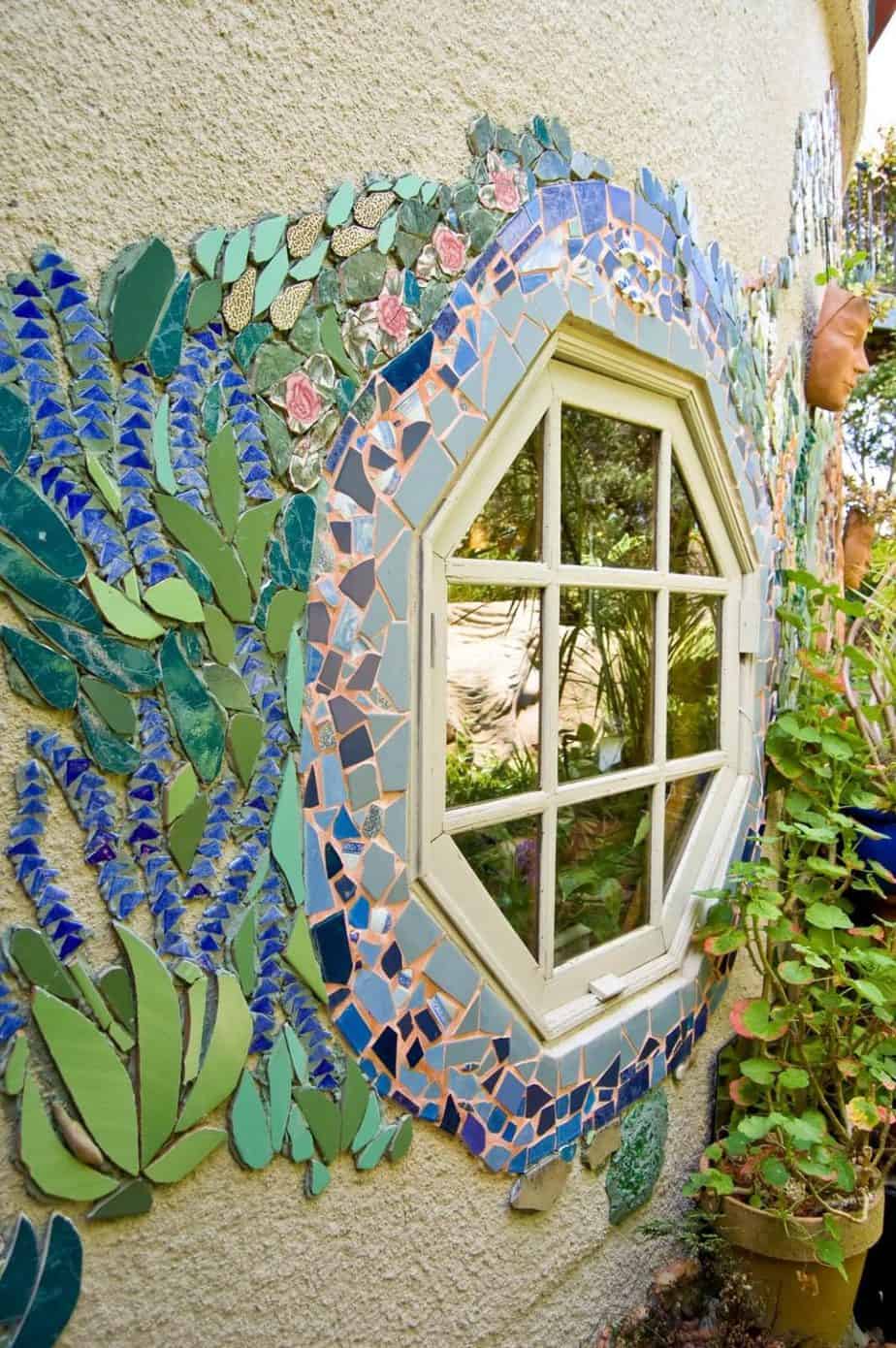 4. Church window mirror
A traditional window design with a distressed wood effect, but it's actually metal. A timeless piece that can boost your garden appearance and can stand up to UK weather.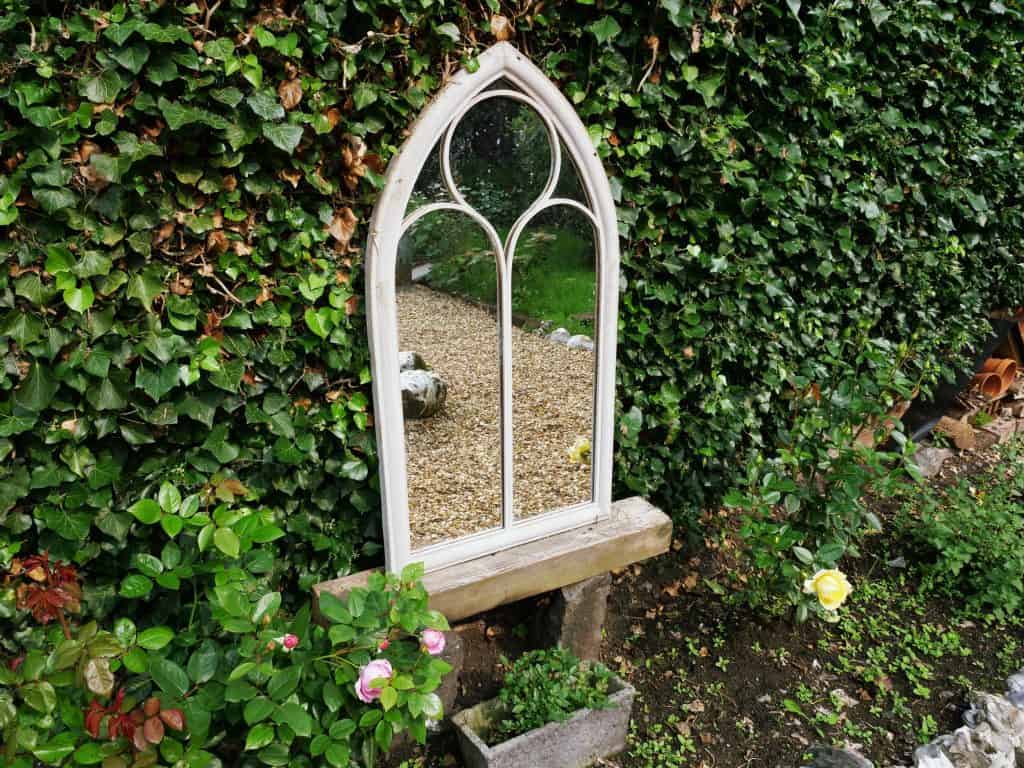 5. Combine with greenery
Make your backyard even more serene and enchanting with a wall mirror matched with vines. A perfect cottage garden idea, the design concept adds an exquisite feature to the space.
Tip: Add a console display and decorate it with more plants and candles.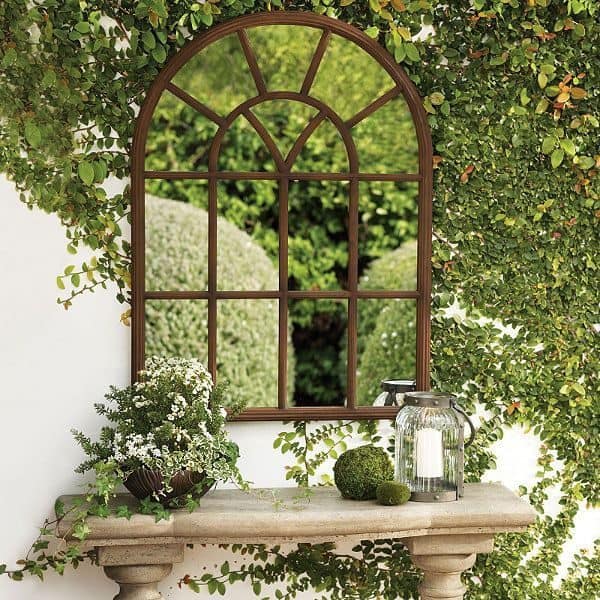 6. Full exterior mirror
Full-length garden mirror designed with arched window-pane and an antiqued finish. Ideal for both small and large outdoor spaces. 
It visually expands your garden and gives a unique perspective to your outdoor design.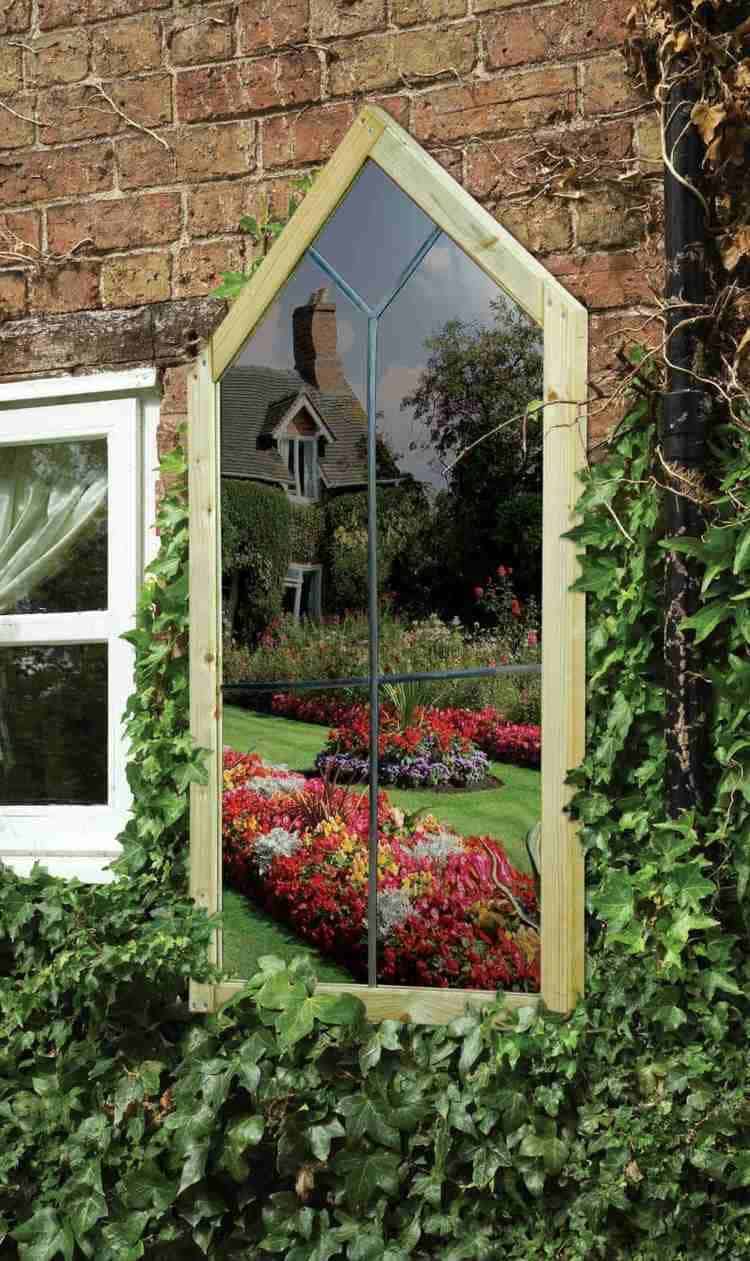 7. Faux door window
An arched garden window framed with metal featuring two openings. The design makes it look like a door, but clearly, it's not, hence the name. What a way to add illusion and creativeness to your space!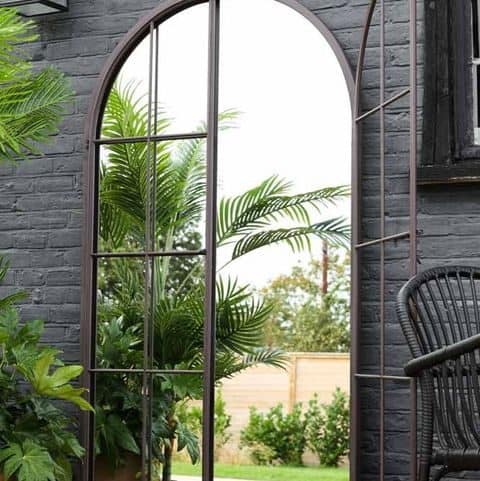 8. Round architectural style
A rustic garden mirror with intrigue design featuring sectioned panels. The size is big enough to create the perfect illusion you want for your space.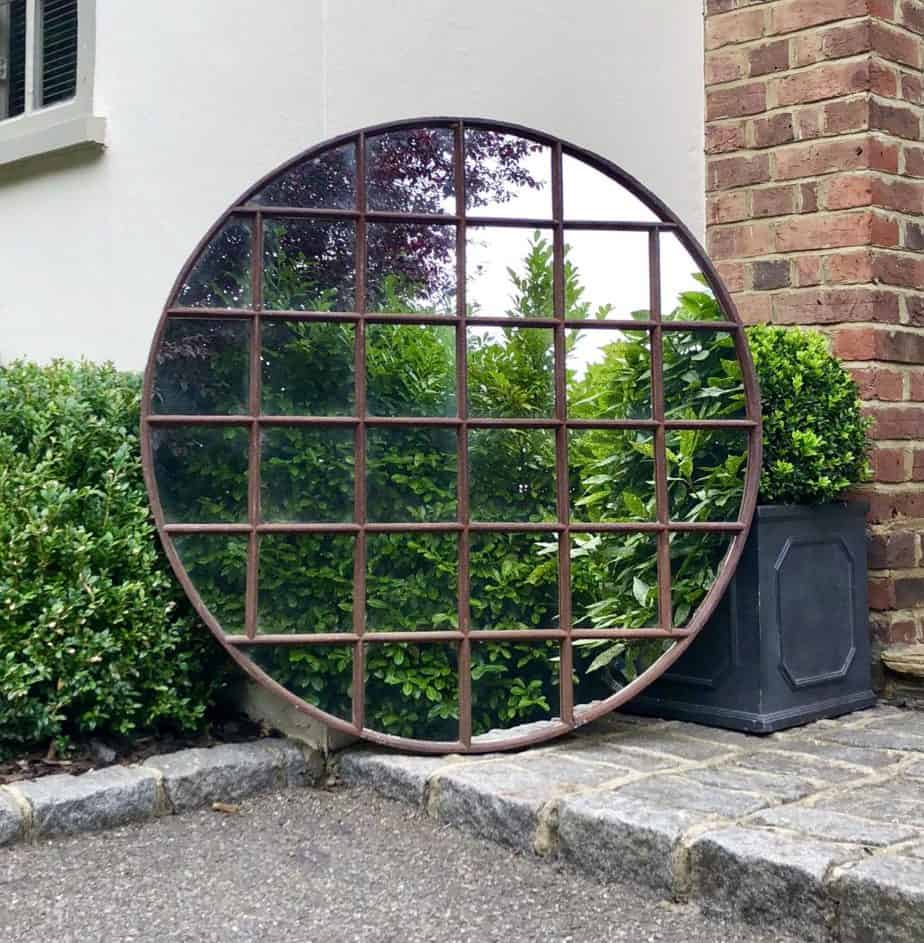 9. With shutters
Bringing back the classic, a shutter garden mirror can be a great addition to your corner garden idea. The shutter style adds to the mirror trick while creating a sense of light and space in your backyard.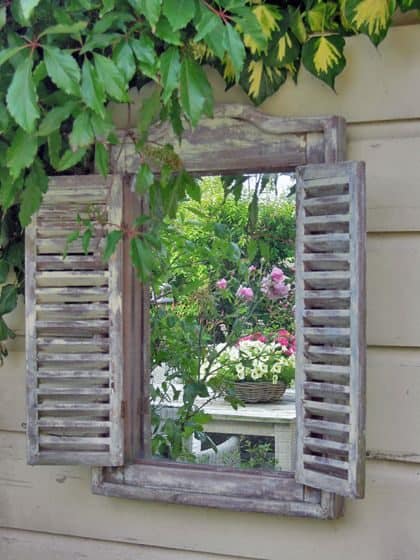 10. Mirror and statue
Adding a statue in front of your garden mirror can make your space feel like you're entering the forest of the gods. Draw inspiration from this design.
The statue makes an elegant addition to the space. Meanwhile, the mirror behind adds interest and reflects the garden.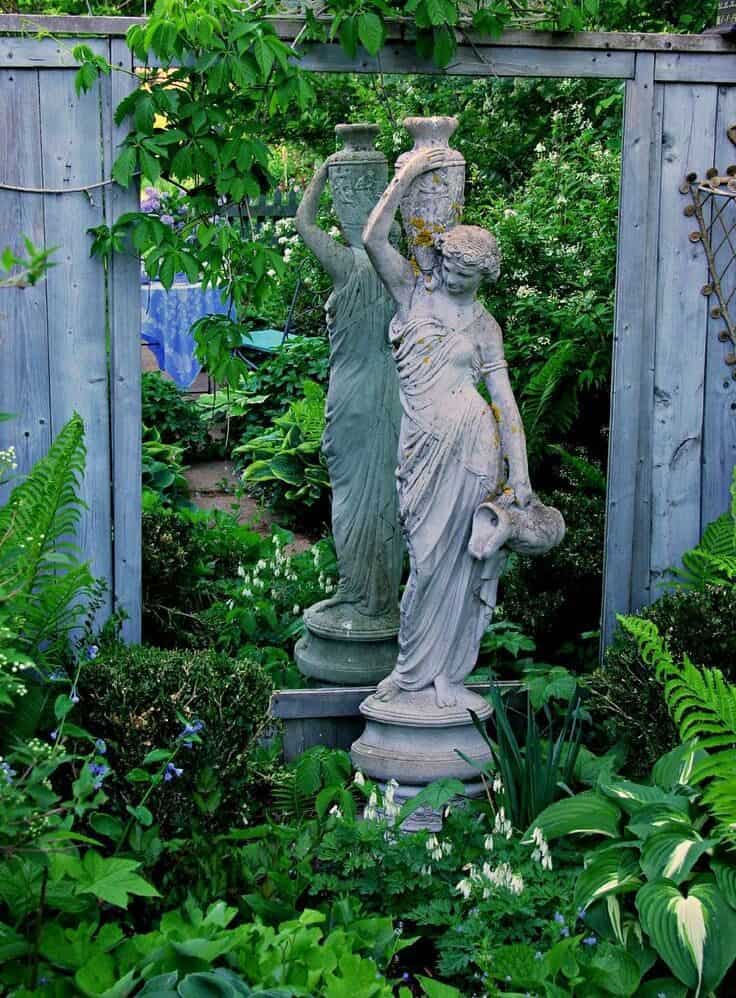 11. Integrate mirror into the pond
Creating a double effect, the design highlights the pond with tremendous effect. The concept also makes an excellent garden pond idea. But make sure nobody walks in!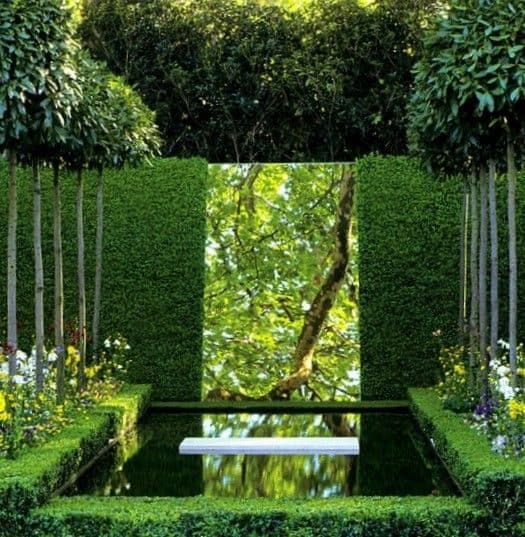 12. Small framed mirrors
Use more than one mirror and create a show-stopping display with garden mirrors en masse. A variety of shapes, sizes and coloured frames are displayed, breaking up the dense conifer hedge.
The number of mirrors is enough to help bounce light around the garden.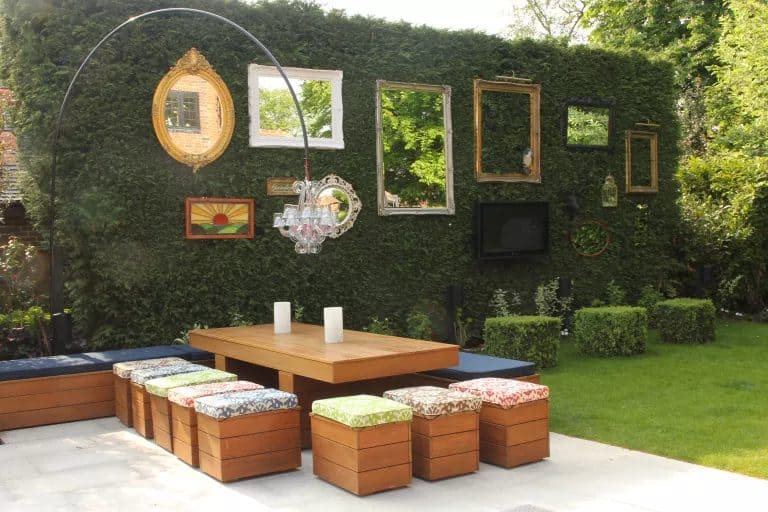 13. Blur the boundaries
Simple but effective, this trick uses a large-scale mirror to stretch the small yard visually. A smart concept to stick with if you have a small, urban courtyard. Climbers and raised beds in front soften the edges and enhance the illusion.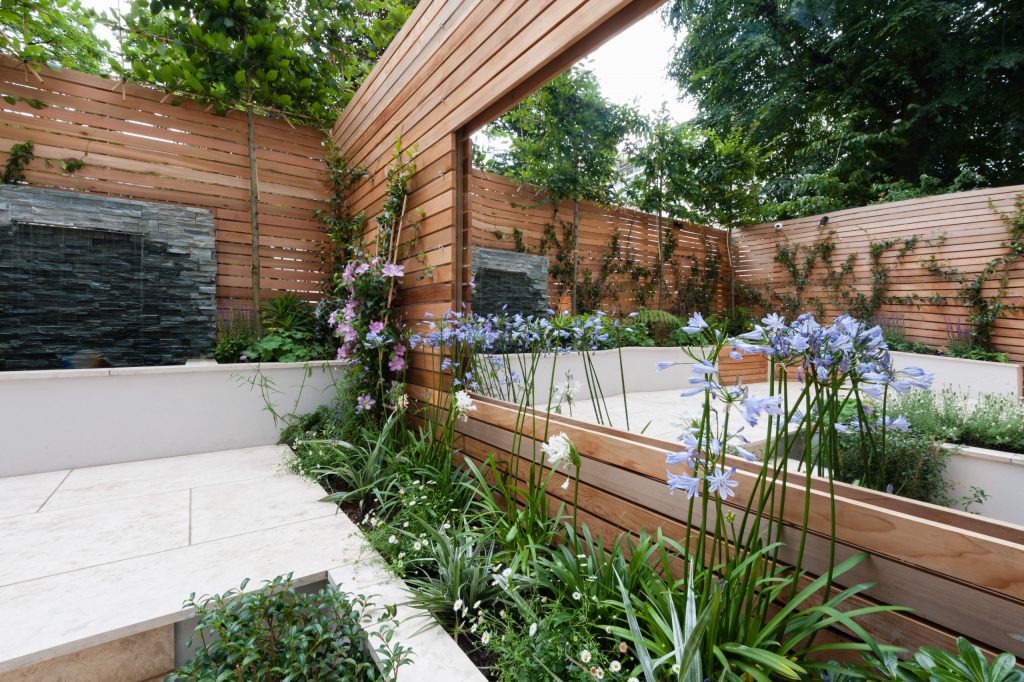 14. Salvaged mirror
With old window frames coupled with vintage beadboard, you can recreate this project. The process includes cutting the windows down and removing the broken muntins.
This created the perfect opening for mirrors. Use this guide for in-depth instruction.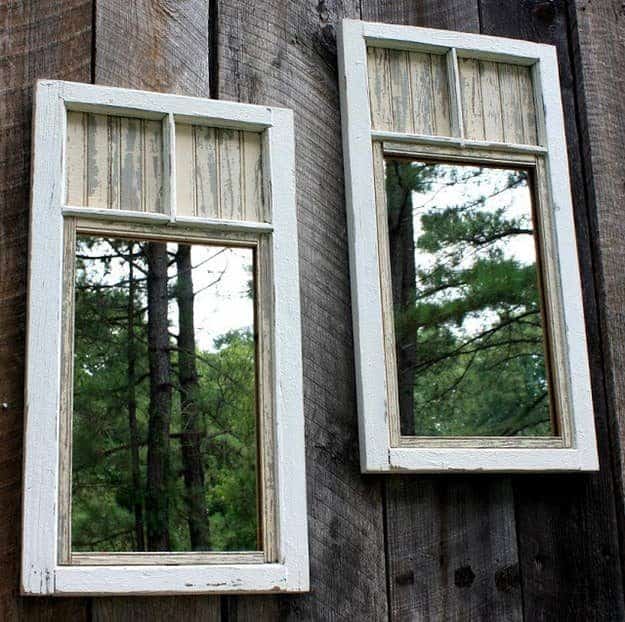 15. Moroccan magnificence
A riad courtyard look isn't complete without a classic Moroccan-style mirror. Displaying gorgeous arches, the curvy shapes imbue a sense of calm, as opposed to straight lines.
Check our Moroccan garden ideas to add a new slice of paradise to your space.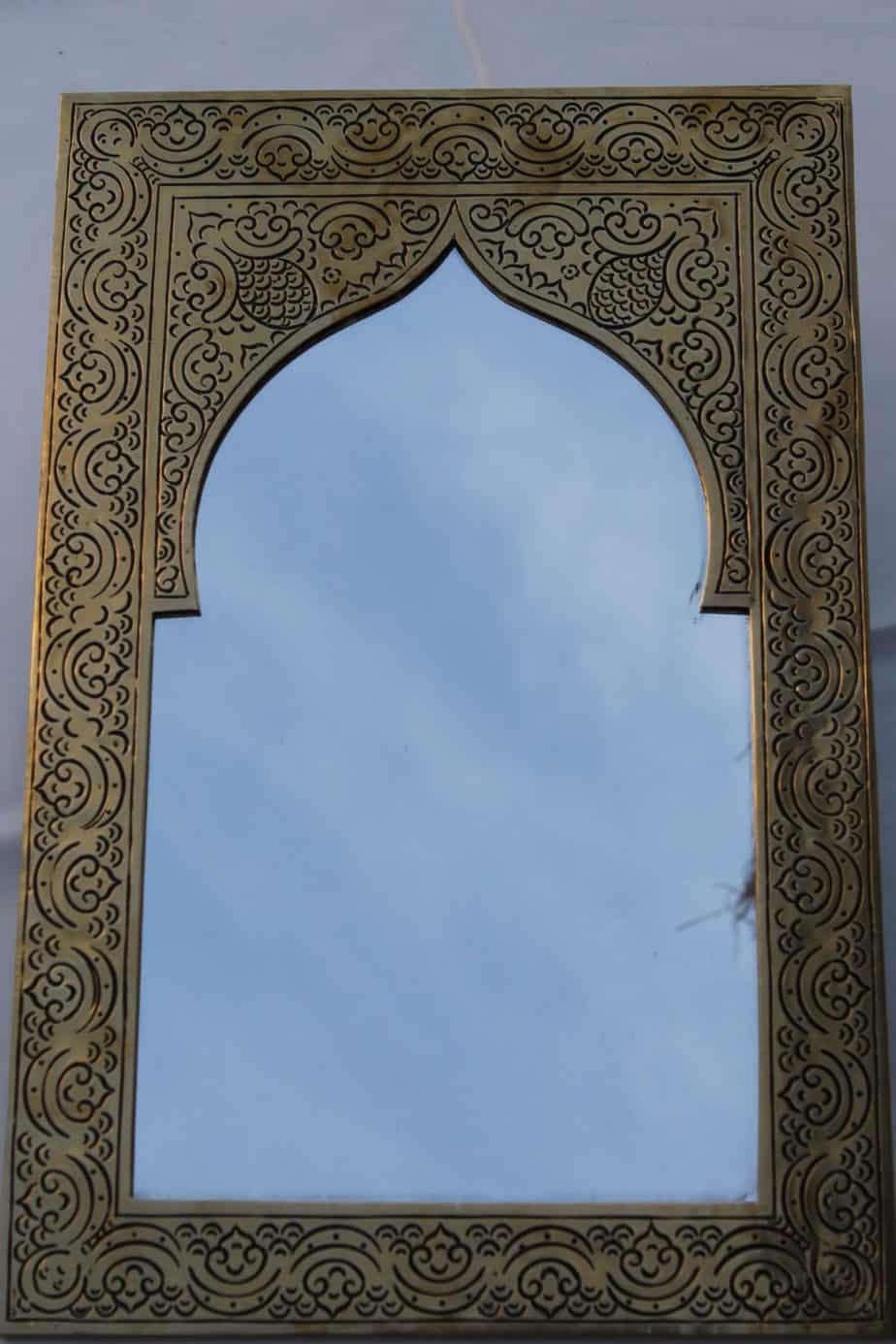 16. French chic
A French chic garden mirror is for lovers of an effortlessly put-together scheme. The graceful curves make a perfect backdrop against a sophisticated garden set. The elegance and simplicity say it all.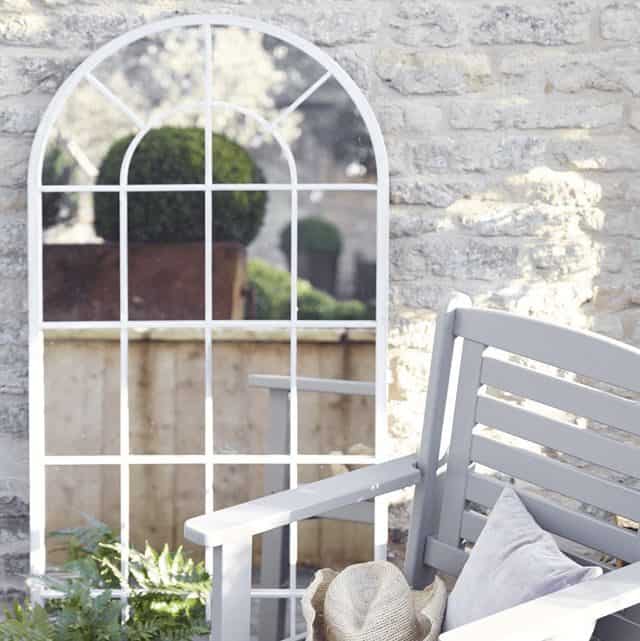 17. Once upon a time mirror
A castle-like mirror piece attached to a garden wall, surrounded by a vine. There's a magical scene going on here, all thanks to the addition of the antique marble top, tree branch, and candles.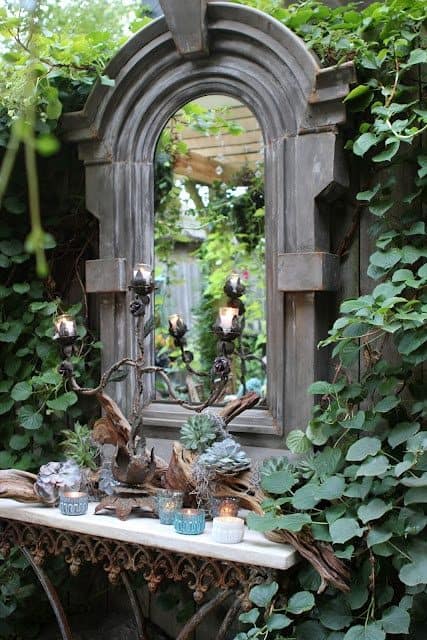 18. Black and gold
The rusty gold-ish mirror and displays stand out most because of the black backdrop. The concrete privacy screen is extended with a console table holding the mirror.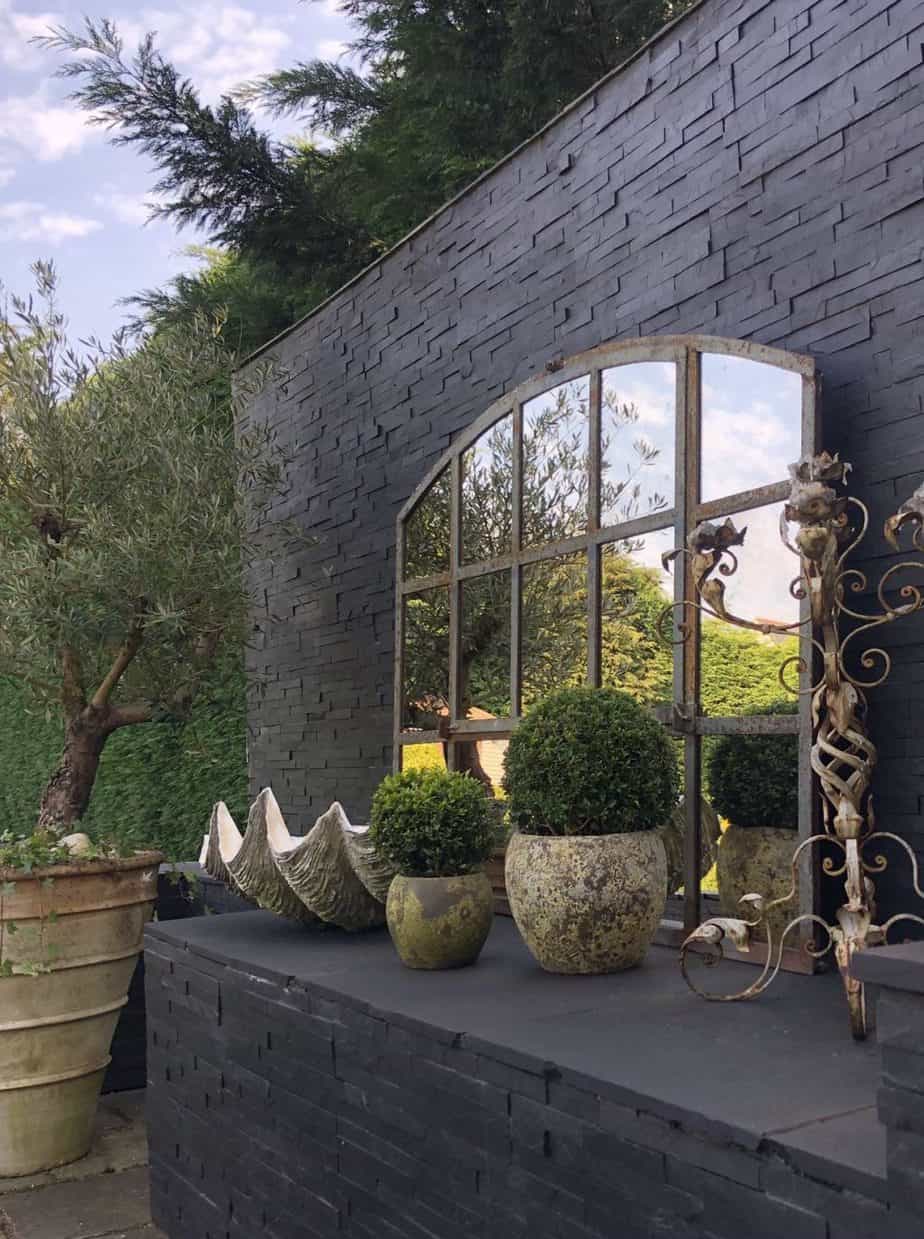 19. Interesting shapes
A smaller and pleasingly-symmetrical design that adds as much impact as larger mirrors. Perfect for a more classic-style space, this quatrefoil shape gives an architectural nod. It's a great addition to brightening up any small garden or patio.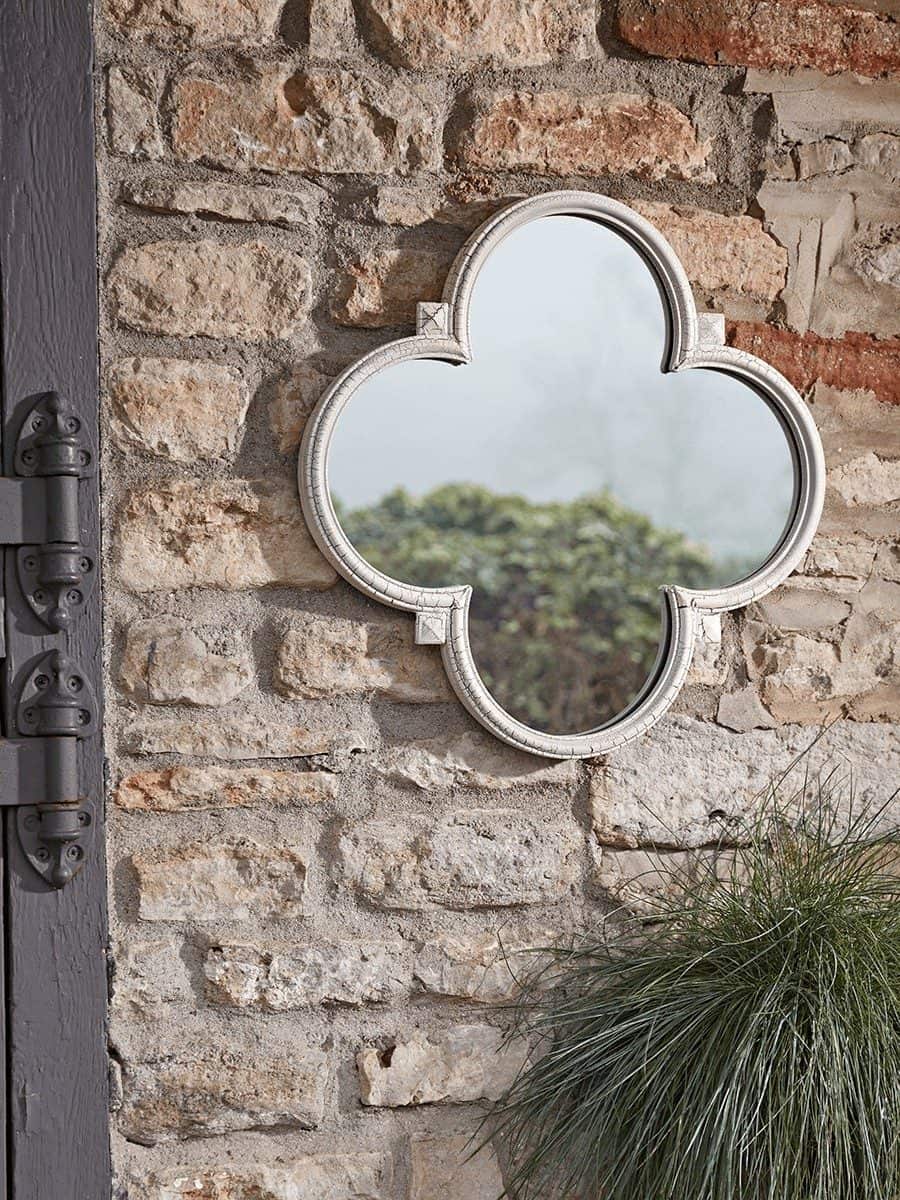 20. Shed mirror
A windowless garden shed isn't always a problem. You can create one with mirrors! Have a look at this one; a mirror designed with strips of wood and shutters.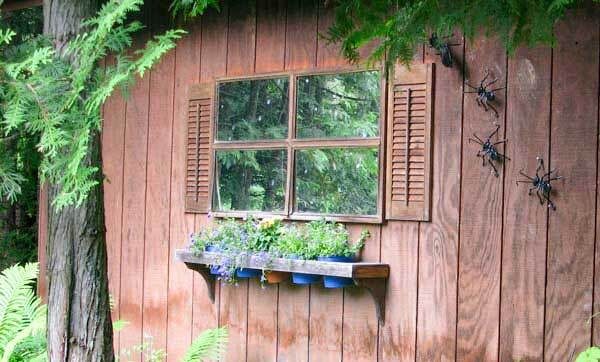 21. Mirror-polished stainless steel leaves
A design that embodies unique and beautiful mirror sculpture. The mirror-polished stainless steel leaves sit atop adjustable rods. This forms an enchanting display, reflecting the surrounding space.
The painted bold colour adds an extra dose of vibrancy.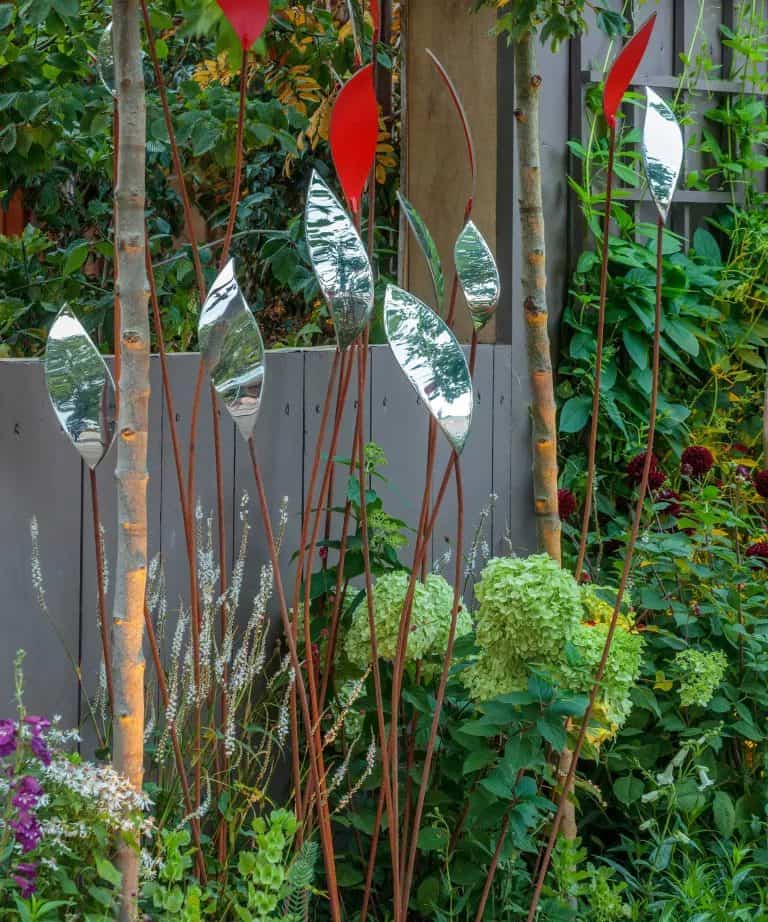 22. Lawn mirror for a focal point
Now have a look at this water droplet mirror! Its convex curves reflect the surrounding garden, adding visual interest to the lawn. If you want a mirror piece that offers an other-worldly vibe, consider this concept.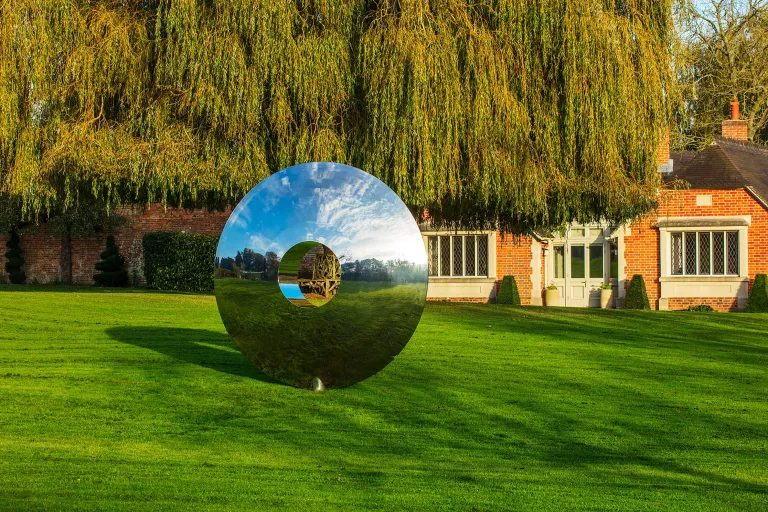 23. Waterfall fountain with mirror wall
Waterfalls are wonderful additions to both large gardens and small patios. But choosing a mirrored style is a surefire way to boost the visual impact. 
It also feels effortlessly contemporary while giving off a dramatic flair.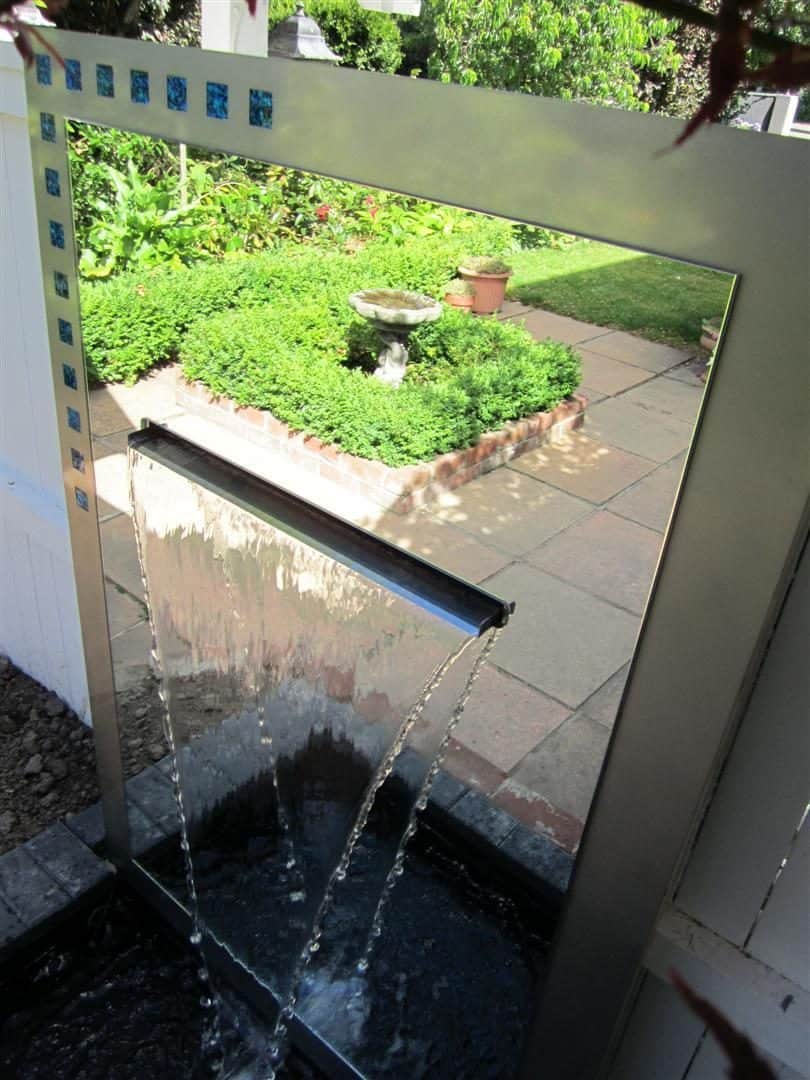 24. Window illusion
This window mirror looks like an opening to a secret world. But mind you that it's not really open; it creates the illusion of a window, at the same time, adding depth to the space.
The concept also provides a focal point and brings natural light to an otherwise dark corner of the garden.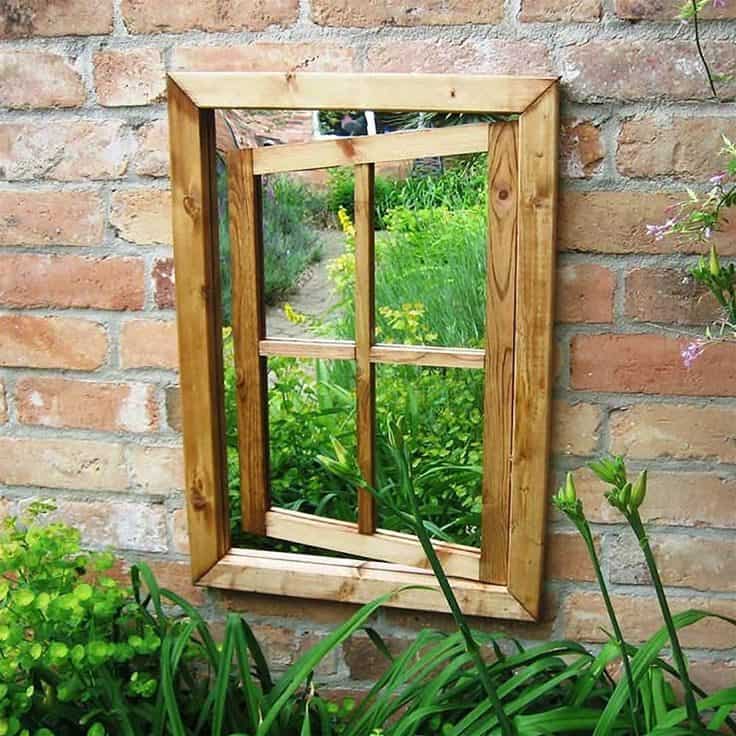 25. A prop on a potting bench
When it comes to decorating your potting bench, mirrors always make a great prop. Secure one above the table, and the scene will become a little airy and brighter.
Make sure to pick a style that complements your garden for a cohesive feel.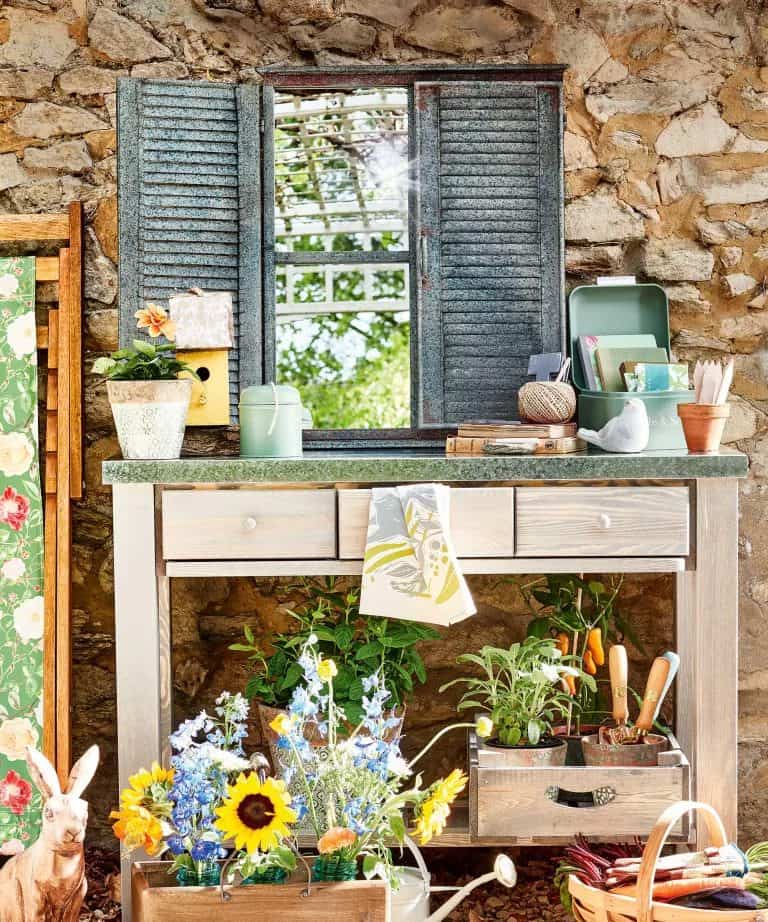 26. Garden sofa with built-in mirrors
Take inspiration from this creation of the custom sofa + mirror combo. This project features an outdoor sofa with three mirrors mounted to its back wall.
The mirror wall reflects the sun as it rises over the patio. The addition of climbing plants injects more liveliness and colour into space.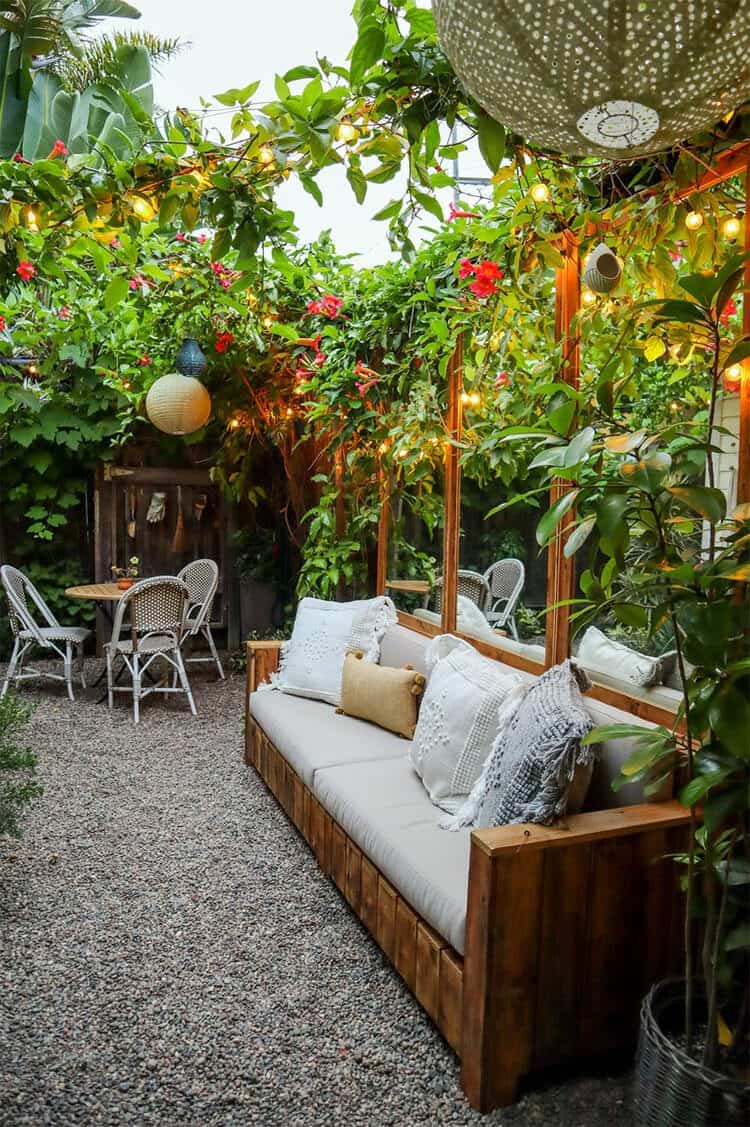 27. A matching set
Why have one garden mirror when you can have a matching set? On this rooftop patio, the two mirrors add a chic and industrial tone.
The similar look also offers a harmonious, contemporary vibe. If you prefer a more eclectic style, mix them up – whatever works best for you.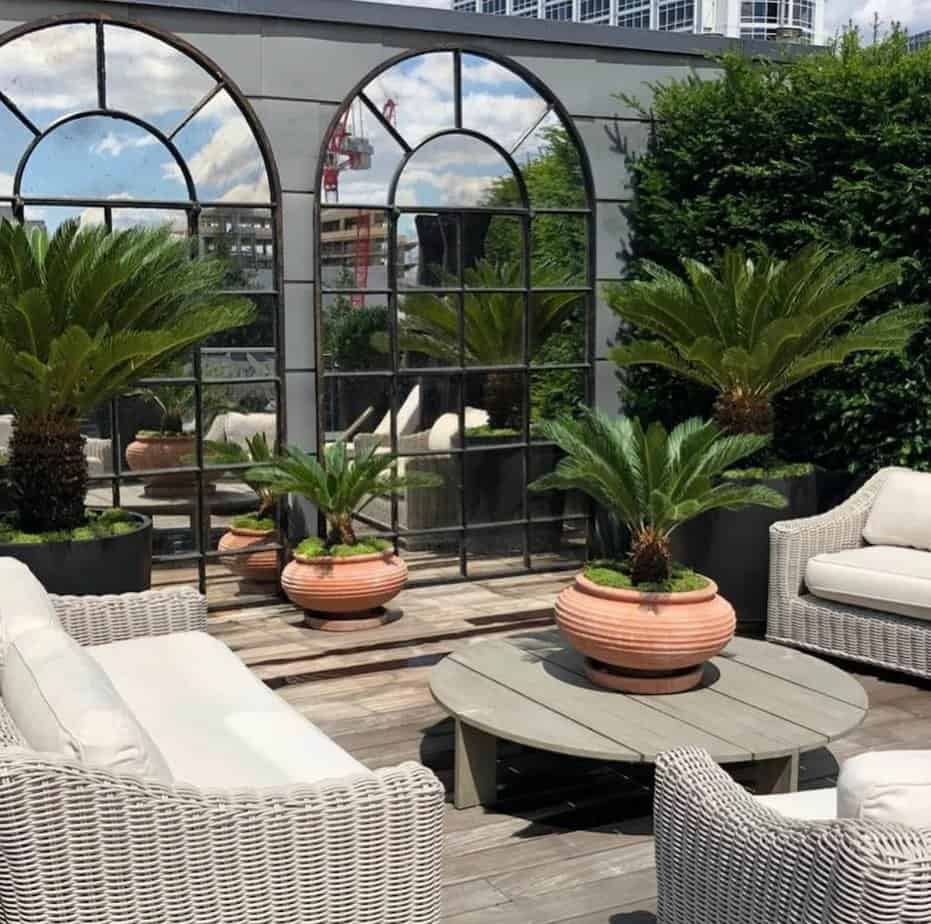 28. Mirrored facade
This approach will especially look breathtaking for courtyard garden ideas. The mirrored facade reflects the whole backyard, from the pool, patio and the sky!
Imagine having an ever-changing view of the clouds while relaxing on your patio or garden?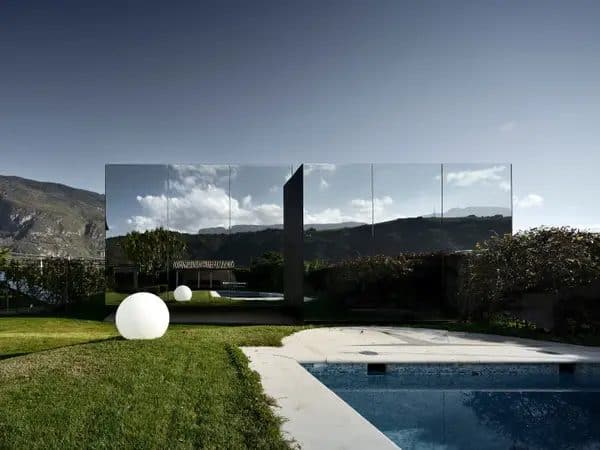 29. Mirror garlands
Bring a jewel-like mirror to a favourite part of your patio for a touch of the unexpected. Small but effective, this mirror garland is certain to draw the eye and reflect light.
Fix them on a gazebo, pergola, trellis, or from the branches of an overhanging tree so they can dance in the daylight.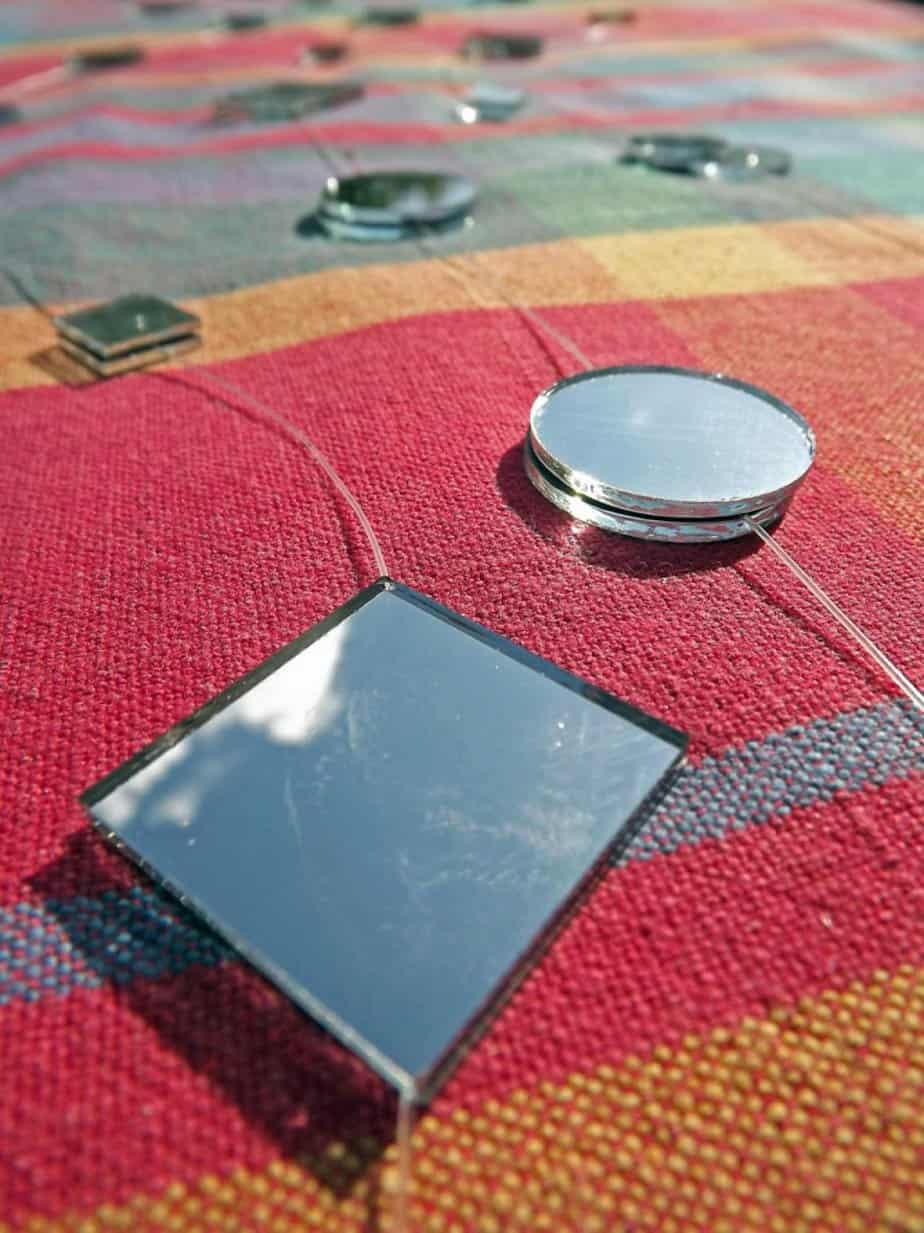 30. Chrome steel fountain
These aren't mirrors, but the chrome steel reflects the garden like actual mirrors! This fountain with mirrored spheres will certainly add something special to your space.
It can sit happily on a patio, nestled amongst pots and plants, or at the centre as a focal point.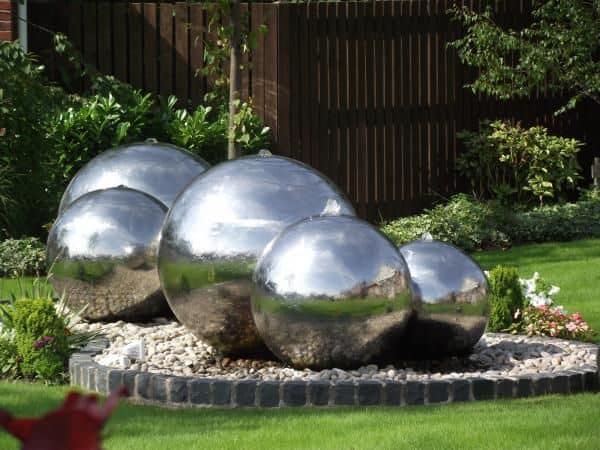 31. Repurposed door mirror
An old door makes for a creative repurposed door mirror for gardens and patios. The recessed panel is perfect for insetting the mirror, full-length one is ideal. 
The bright paint and framework keep the focus on reflection.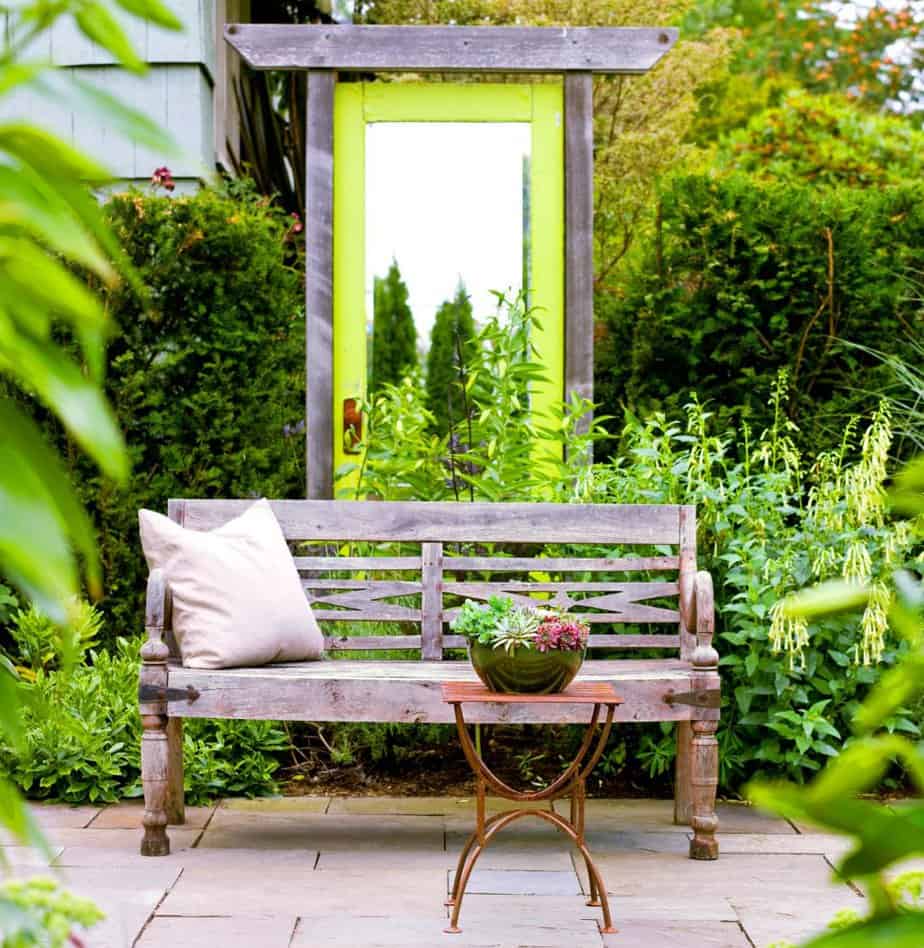 32. Creatively layered
If you want your patio scheme to make a spectacular impact, layering mirrors is a unique idea. Vintage or reclaimed designs with various styles will help you recreate this setup.
A series of mirror frames painted in the same colour also works well.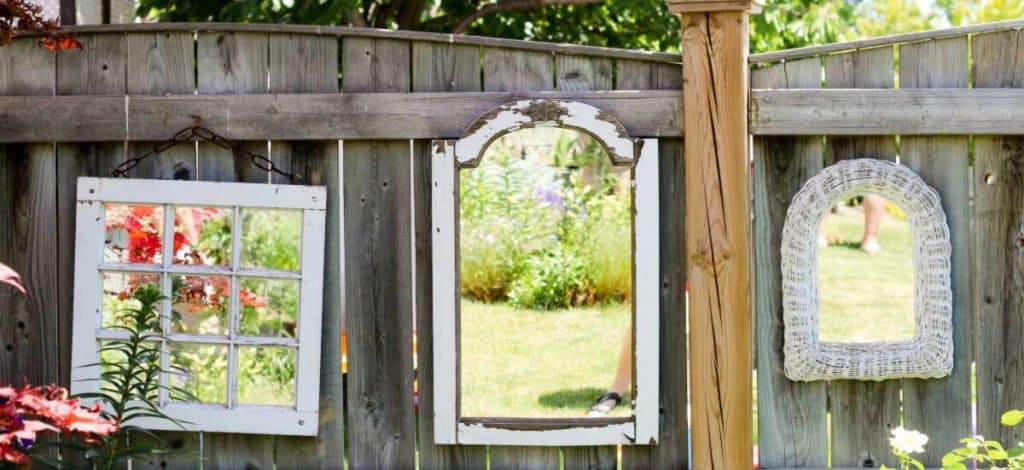 33. Double-purpose mirror tray
Glass mirror trays are a timeless piece for both interior and exterior design ideas. They're a classic way of displaying items, such as flower vases, patio candles, and other things.
Paired with a glass table, it'll bring a lot of style and light as both are naturally reflective.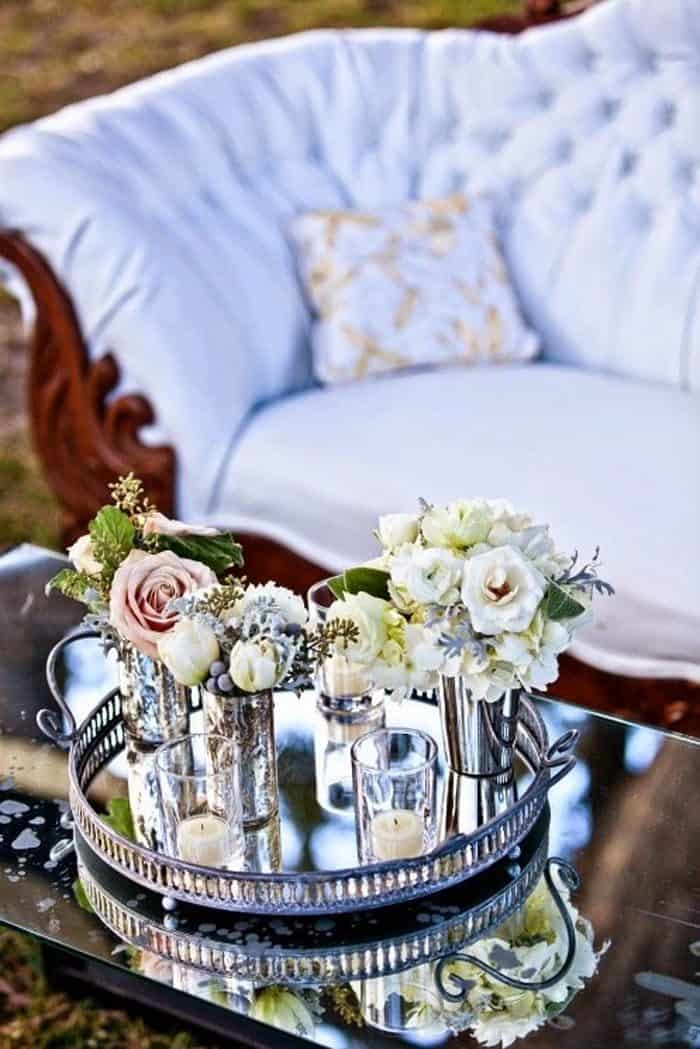 34. Heart-shaped addition
This small heart-shaped mirror makes a splendid decorative piece, despite the size. It reflects light in specific areas and brightens up some darker landscape spots.
If you have a wooden fence, consider hanging one and see how it makes a difference to the space.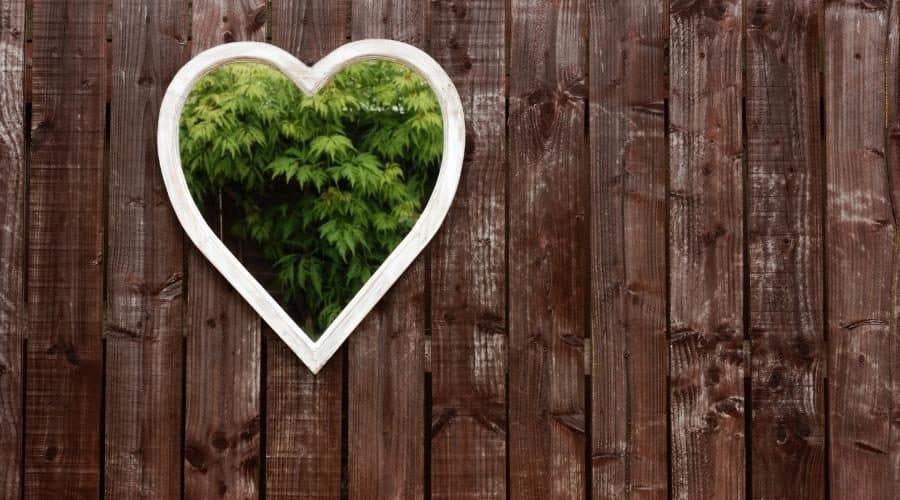 35. Blend in with the greenery
Strategically placed mirrors can create a new perspective line that alters the feeling of a space. Take this hedge-looking mirror, for example.
The sculptural form unexpectedly adds movement and interest. A clever trick to make a statement in your garden.
36. A burst of colour
Small but colourful, add one on your wall planter to inject fun while reflecting greenery. Hanging a mirror in sight lines of plants can also help grow plants where they won't usually grow.
Fix the planter and mirror on a bare garden wall or fence for a sturdy installation.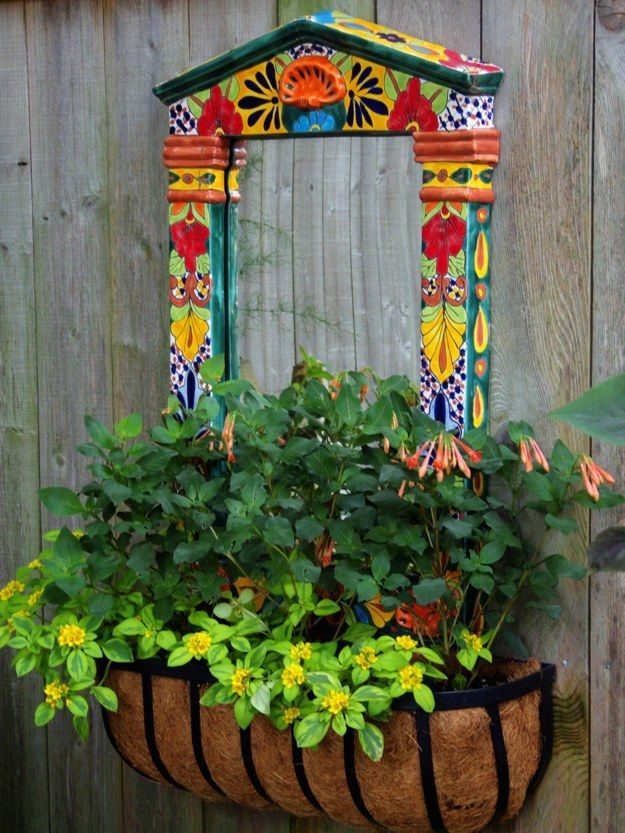 37. The natural approach
Water in the garden is a great natural mirror, reflecting the sky and the landscape that surrounds it. Ponds like this one are great for this, but even puddles can make a scene interesting.
Circular stones create a horizontal mirror and a great DIY project for small gardens.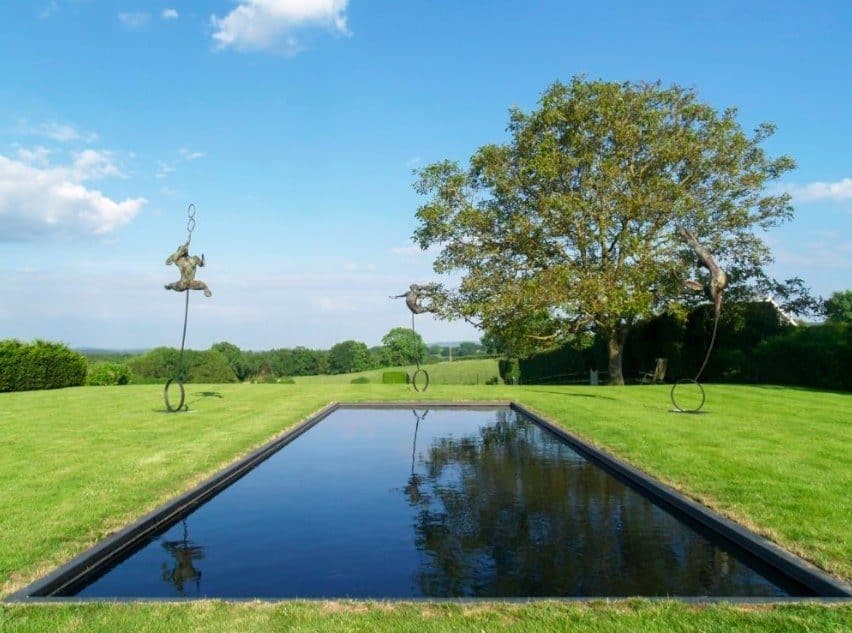 38. Mirror fencing
Mirror fencing gives the appearance of an entry to another space. The visual effect is as bizarre as it is diverse.
In some landscapes, the fence seems to be camouflaged. But in others, it serves as a surreal extension of the environment around it.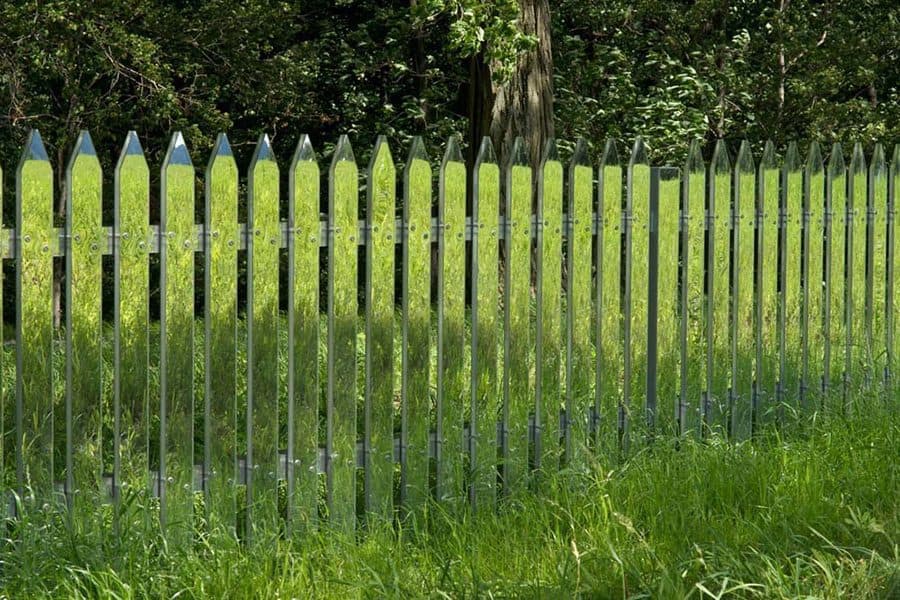 39. Acrylic type
If you want a safer than glass and lighter weight option, acrylic mirrors are your best bet. This type of outdoor mirror is about 20 times stronger than glass, and they are well suited for garden/patio use. It's child- and pet-friendly, too!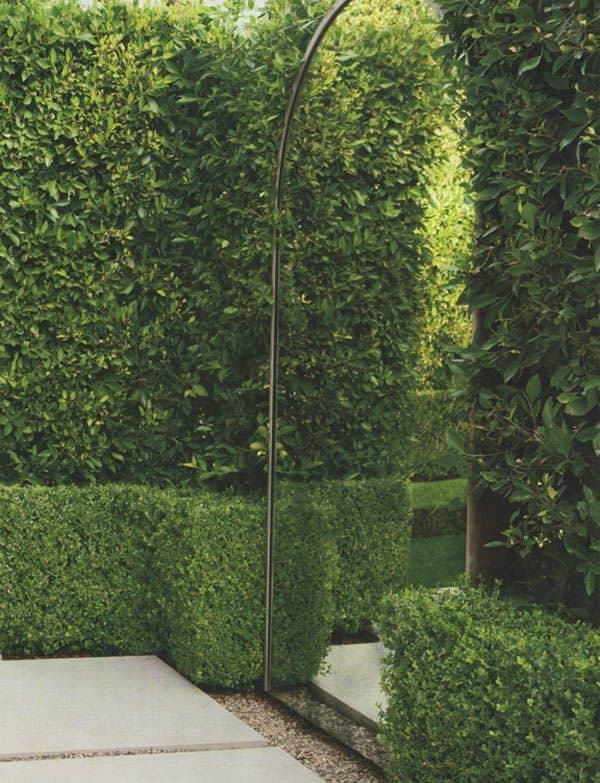 40. Mirror artwork display
This mirror wall looks like a piece of artwork you'd usually see in an art exhibit. The idea of the design is the positioning of each little square mirror.
The reflected landscape will appear to be part of a larger garden. Meanwhile, the person opposite will only be visible when they're right in front of the frame.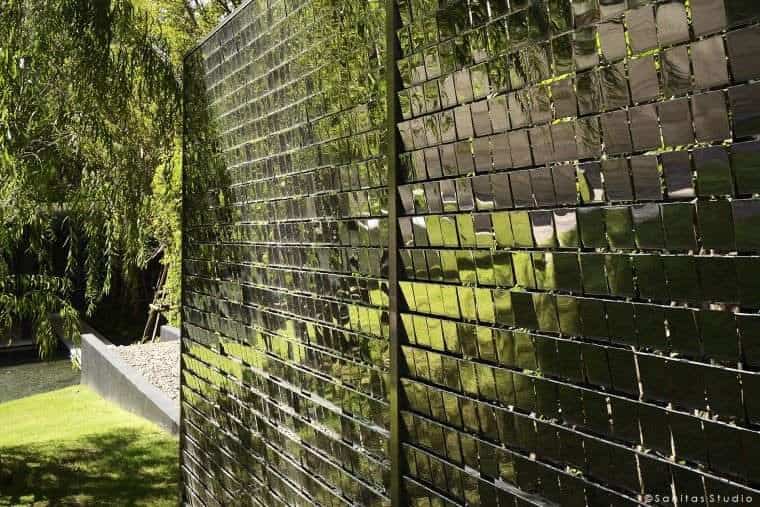 41. Baroque-style garden mirror
For a vintage-style atmosphere, opt for antique mirror frames. Old mirrors painted in gold also give a chic secondhand effect. For added interest, hang some vintage chandeliers to reminisce about the period.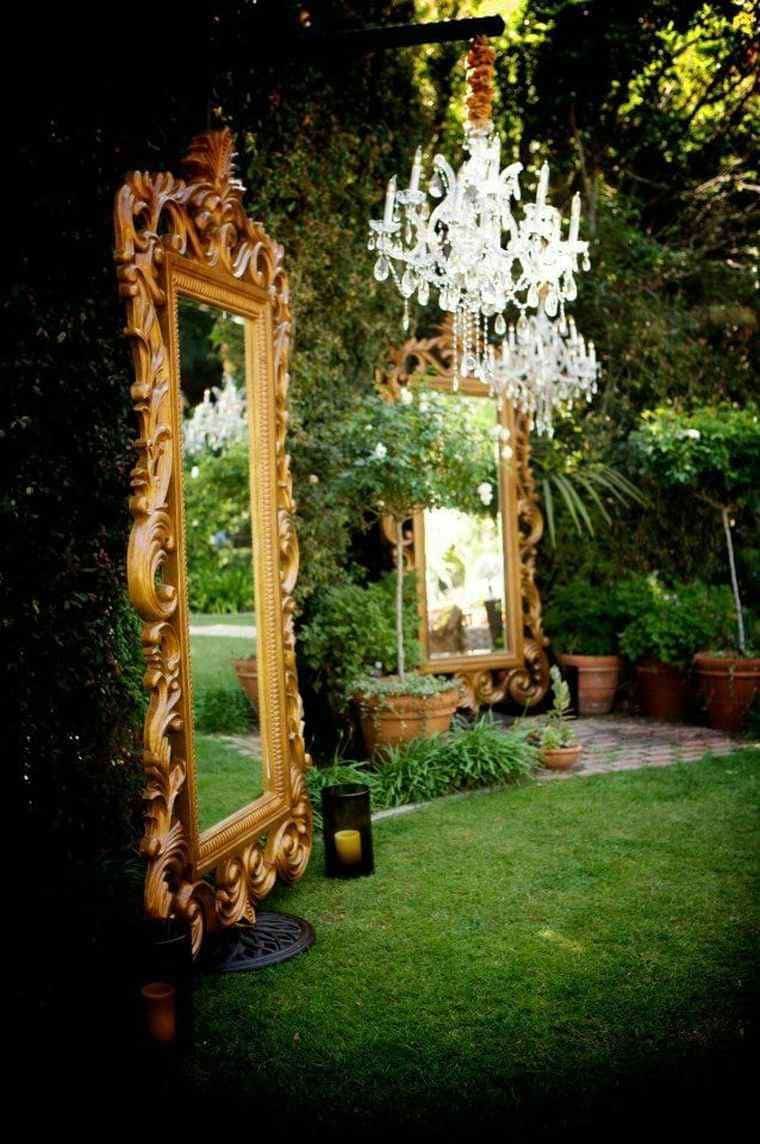 42. Mirror-like garden archway
A natural mirror approach with a hint of Japanese garden ideas. This garden entrance features a round archway in oriental style.
The concept gives you an idea as if you're looking at a mirror, except without your reflection. Even so, it makes the space look more open and inviting.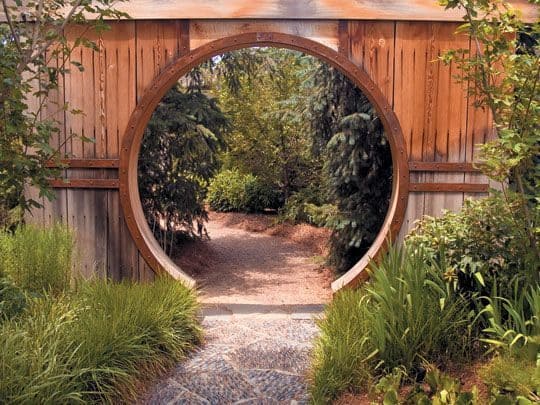 43. Mirrored wall garden room
Give your garden room idea a fresh and reflective look by fixing a huge mirror on the wall. Take a cue from this design. It opens up the space of a small garden/patio while being functional by offering a room for relaxation.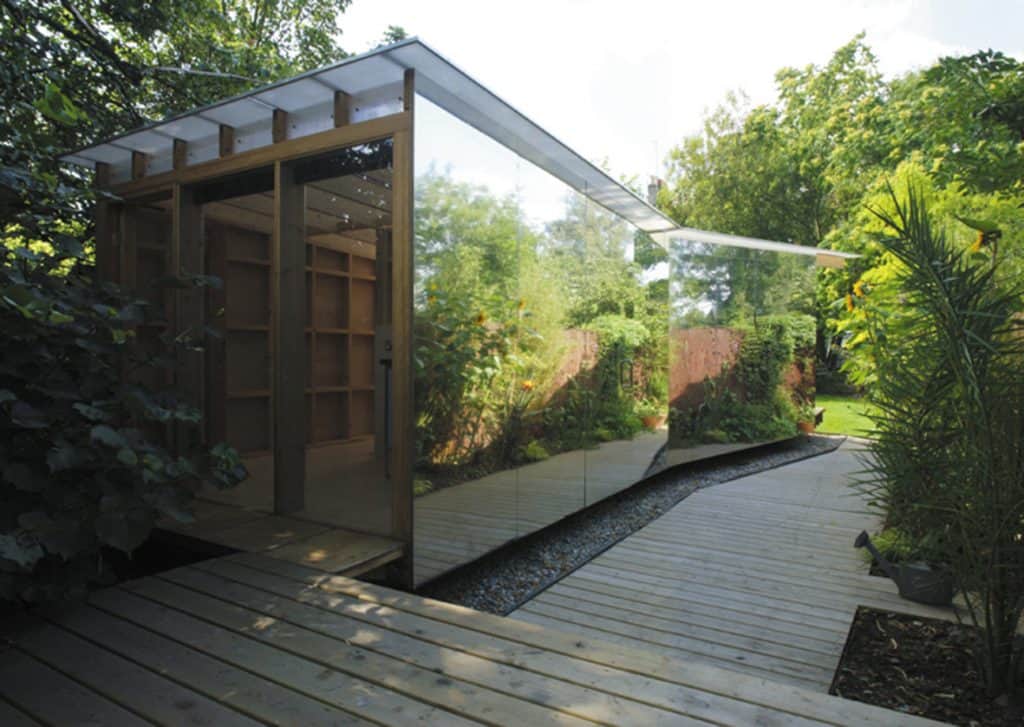 44. Salvaged broken mirror
Got any broken mirrors banked in your shed or the garage? They're not safe to have around, especially if you have kids and pets.
But there's a way to make use of some of the pieces, such as this DIY glued onto the fence with clear silicone caulk.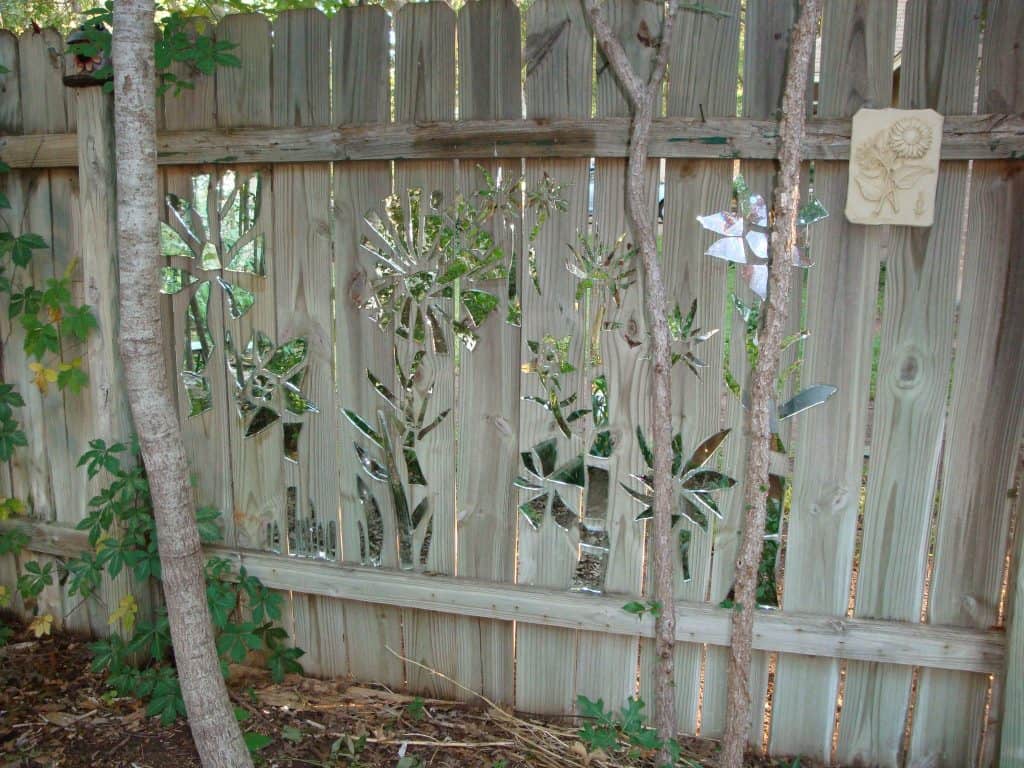 45. Decorative flower piece
This daisy garden mirror makes a lovely bespoke design! Using an acrylic mirror, the flower was made most simply and adorably.
It may be small, but it serves its purpose well. Do you see the yard pool reflecting on it?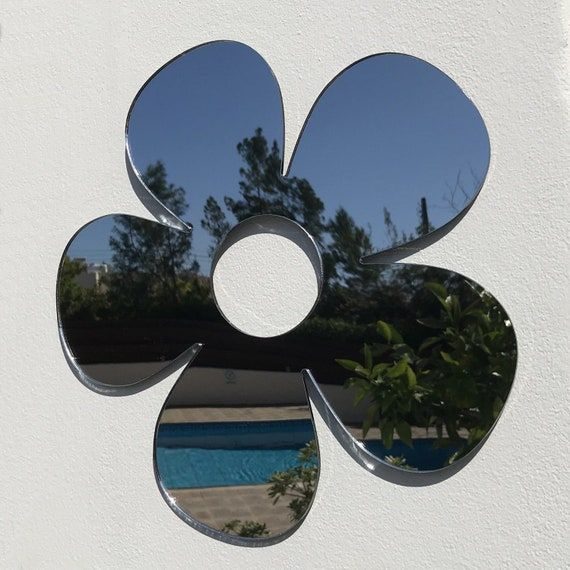 46. Rustic festive display
Looking for Christmas garden ideas? The elegant lines of this rustic mirror echo the classic styling of the urn and shrubs.
A graceful arch of greenery frames the composition. Complete the look by hanging string lights.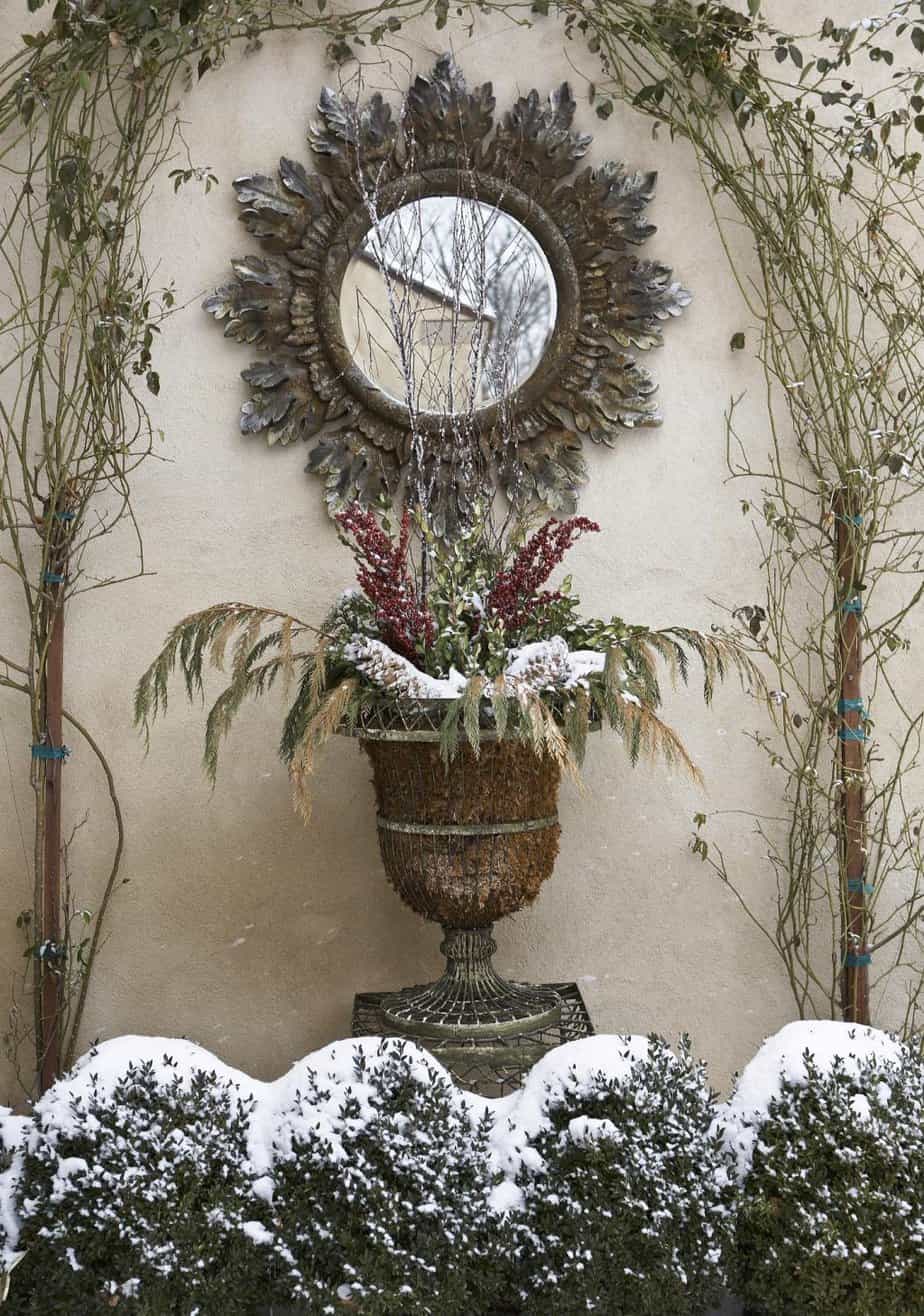 47. The tree of life
This large tree carving and mirror wall decor was made to both create an illusion of space. The scheme also adds life to a rather plain side of a room. Great for interior and exterior design ideas.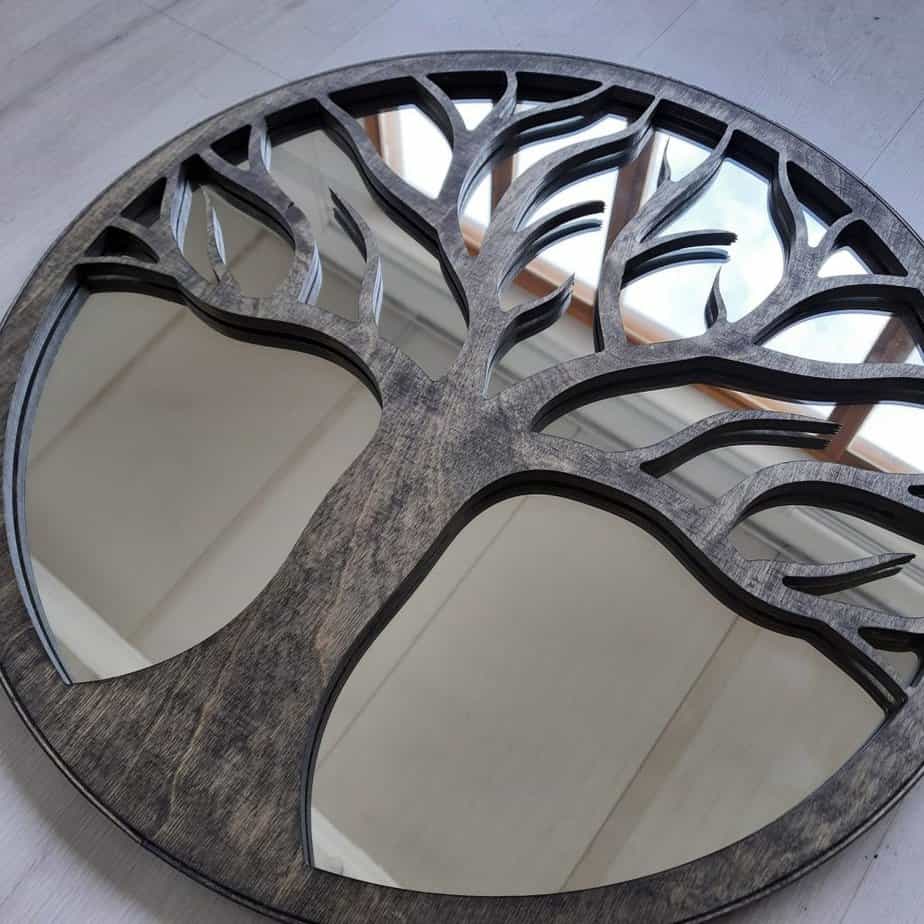 48. Inside styling
Just as you would hang art above an indoor fireplace, do so on your patio. Here, the mirror and its ornate framework as a centrepiece on a bricked wall. 
This kind of setup will look amazing above somewhere around your patio fireplace mantel.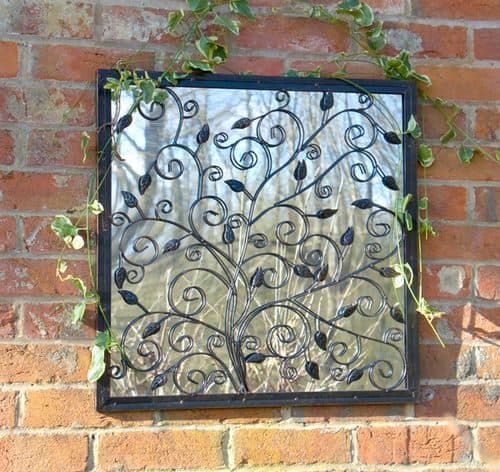 49. Artistic element with a porthole
Flesh out the loveliness of your green space, even if it's small, with the presence of garden mirrors. This porthole effect of this mirror, for one, makes an impact on the space. Inspired by ships' portholes.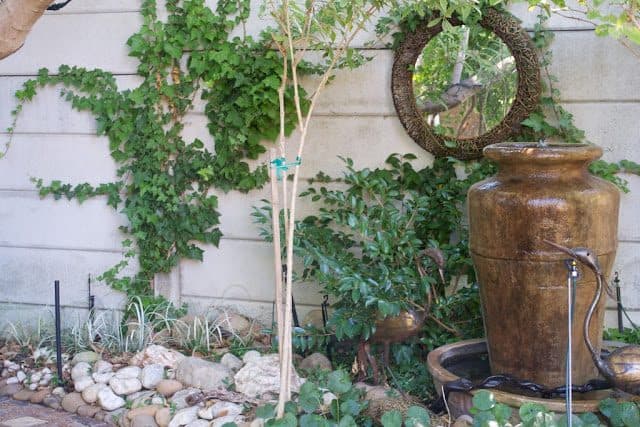 50. With a backlit effect
This wooden framed mirror gives a whole new dimension while creating a cosy light at night. Usually, the backlit feature is powered by a solar panel. So when the night comes, it'll create a soft, warm glow with a backlit effect.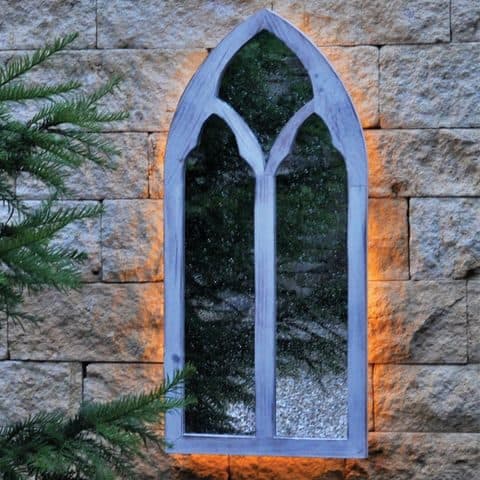 Round-up
Garden mirrors make a great addition to gardens. Best for jazzing up a dull-looking wall or fence or adding a new dimension to your garden design.
Pair with outdoor furniture, you can extend your living space outdoors! But there are a few considerations you need to keep in mind.
First, when positioning the mirror, make sure to place it with care. Birds can get confused by mirrors, so pay close attention to their flight paths. Choose an area where birds aren't likely to fly towards.
Second, avoid a potential fire hazard, such as a glare that can reflect into your home. Ensure your outdoor mirror isn't placed in direct sunlight; shady areas are ideal.
We hope our list of ideas will help you revamp your garden scheme in a show-stopping style!
FAQs