Mirrors are often brushed aside as indoor furniture. The truth is, they also work in outdoor spaces, especially in small gardens.
A garden mirror gives the illusion of depth and space. It reflects light and the effect makes it look like a window opening to another world.
Many UK homeowners love the idea, and so, garden mirrors have grown in popularity in the country. Here, we've rounded up our favourite garden mirror ideas. We're certain that you'll find something you love in this mix, so keep reading!
1. Gothic-inspired
Inspired by Gothic arches, the tracery adds a decorative element to outdoor spaces. The design is simple and enough to bring some character to your garden. This mirror can also be used to create a feature wall.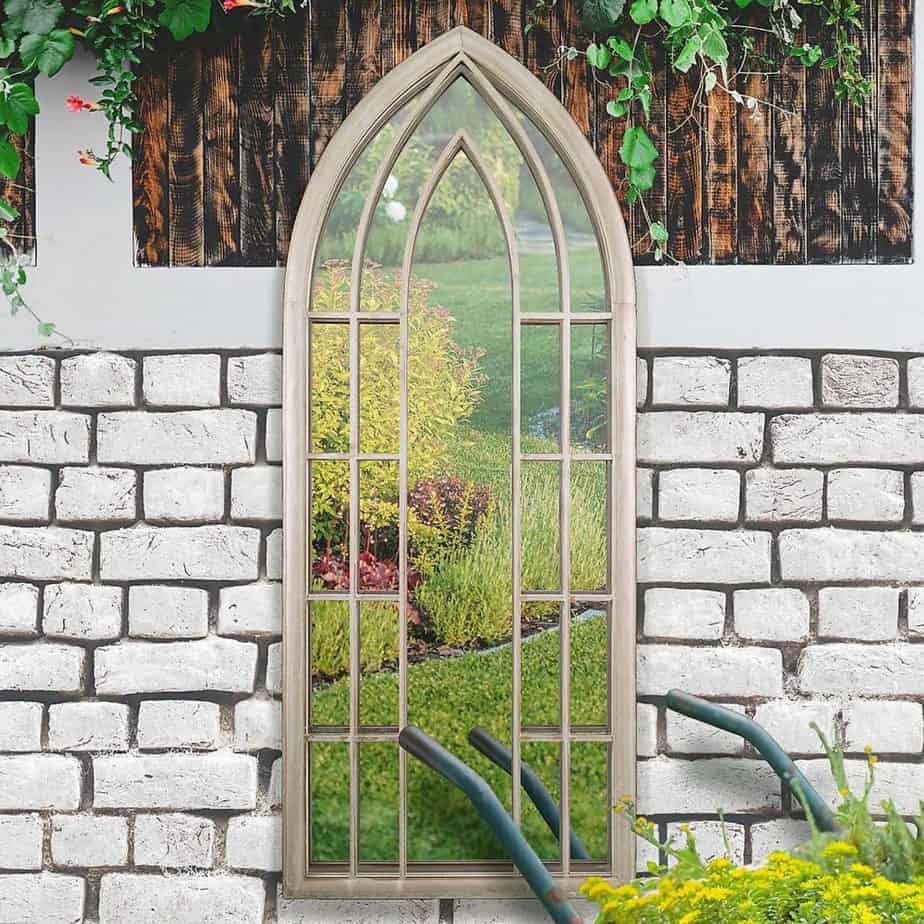 2. Go convex
Curved outwards, convex mirrors give an upright image and provide a wider field of view. This mirror is great for reflecting light to plants with lower light requirements.
The light reflected is spread out to a wider space.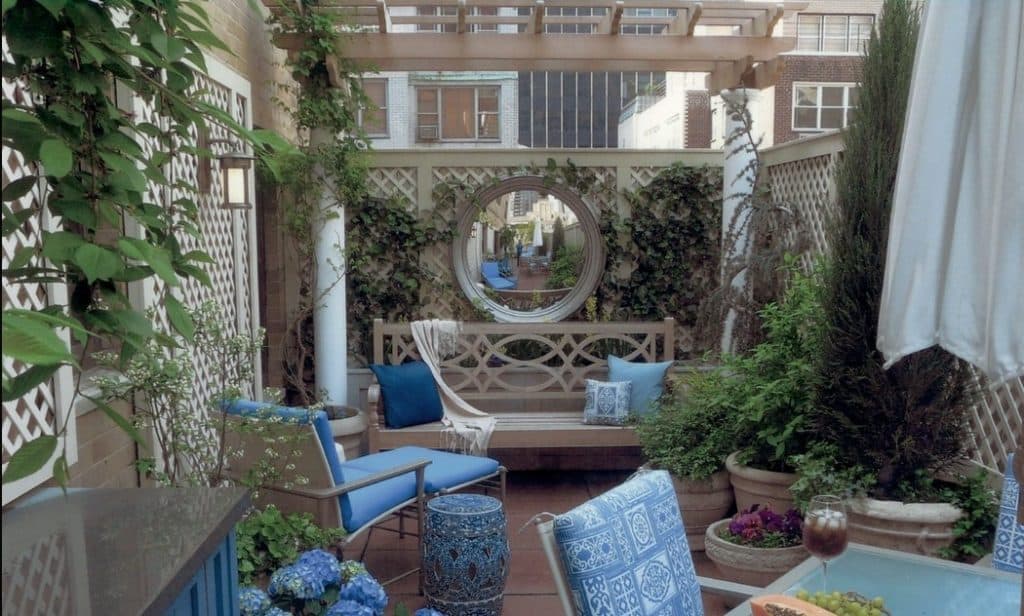 3. DIY mosaic
A do-it-yourself garden mirror featuring a floral and leafy design. The mirror is positioned in a way to catch the light while the tiles spice up the aesthetic.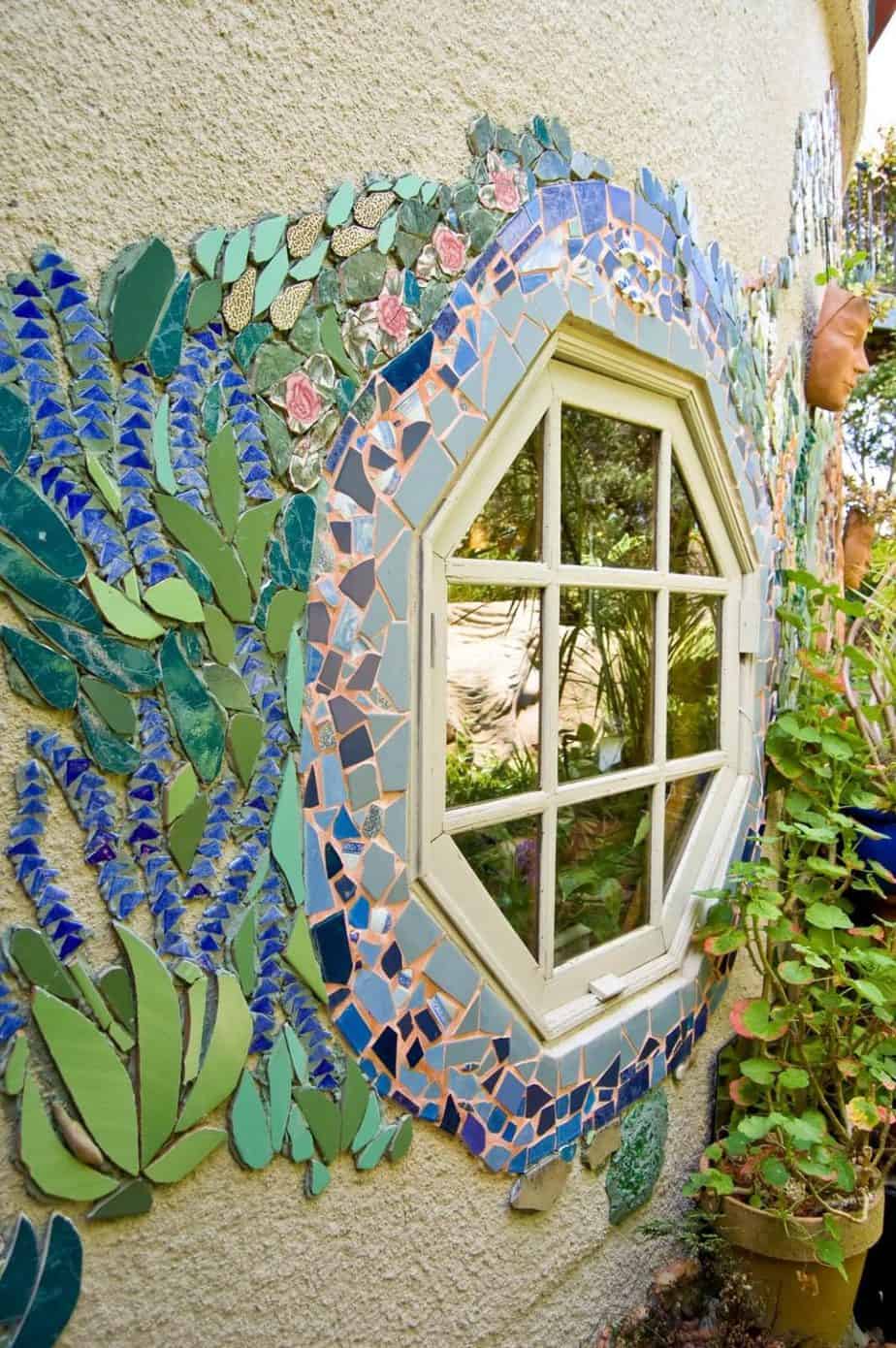 4. Church window mirror
A traditional window design with a distressed wood effect, but it's actually metal. A timeless piece that can boost your garden appearance and can stand up to UK weather.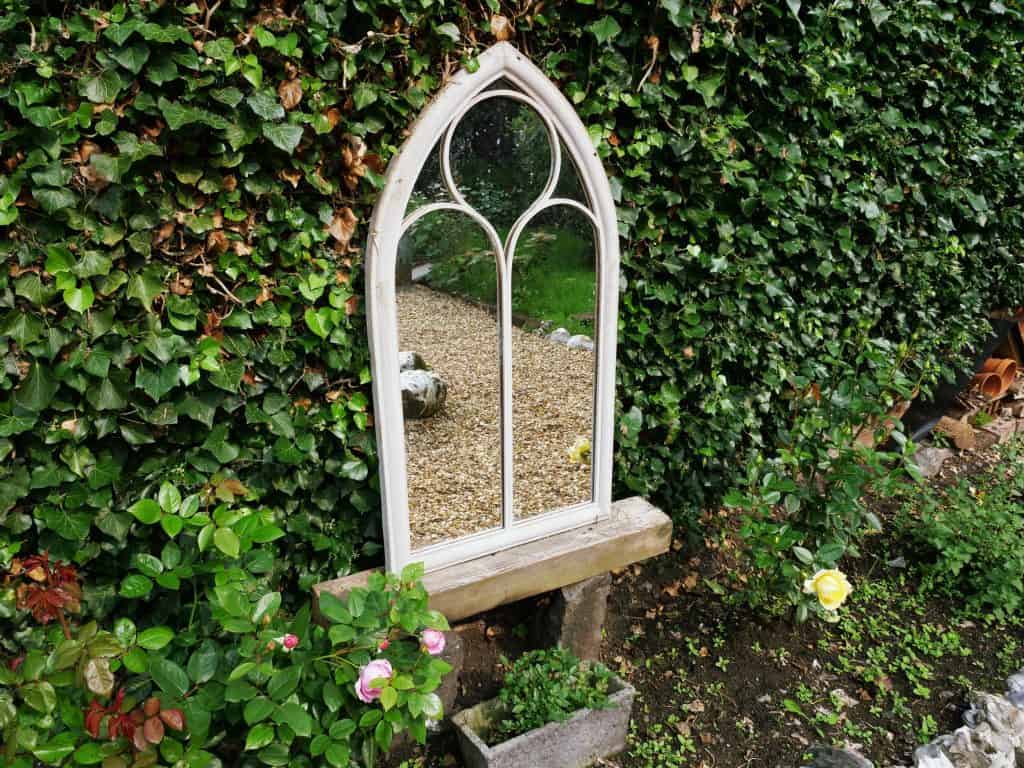 5. Combine with greenery
Make your backyard even more serene and enchanting with a wall mirror matched with vines. A perfect cottage garden idea, the design concept adds an exquisite feature to the space.
Tip: Add a console display and decorate it with more plants and candles.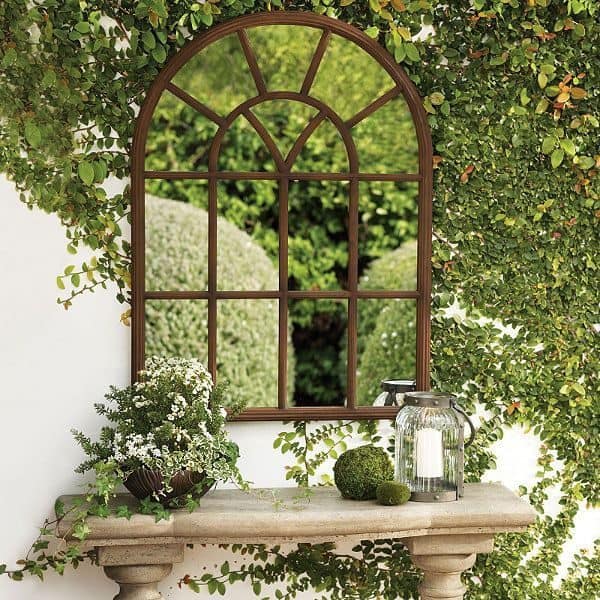 6. Full exterior mirror
Full-length garden mirror designed with arched window-pane and an antiqued finish. Ideal for both small and large outdoor spaces. 
It visually expands your garden and gives a unique perspective to your outdoor design.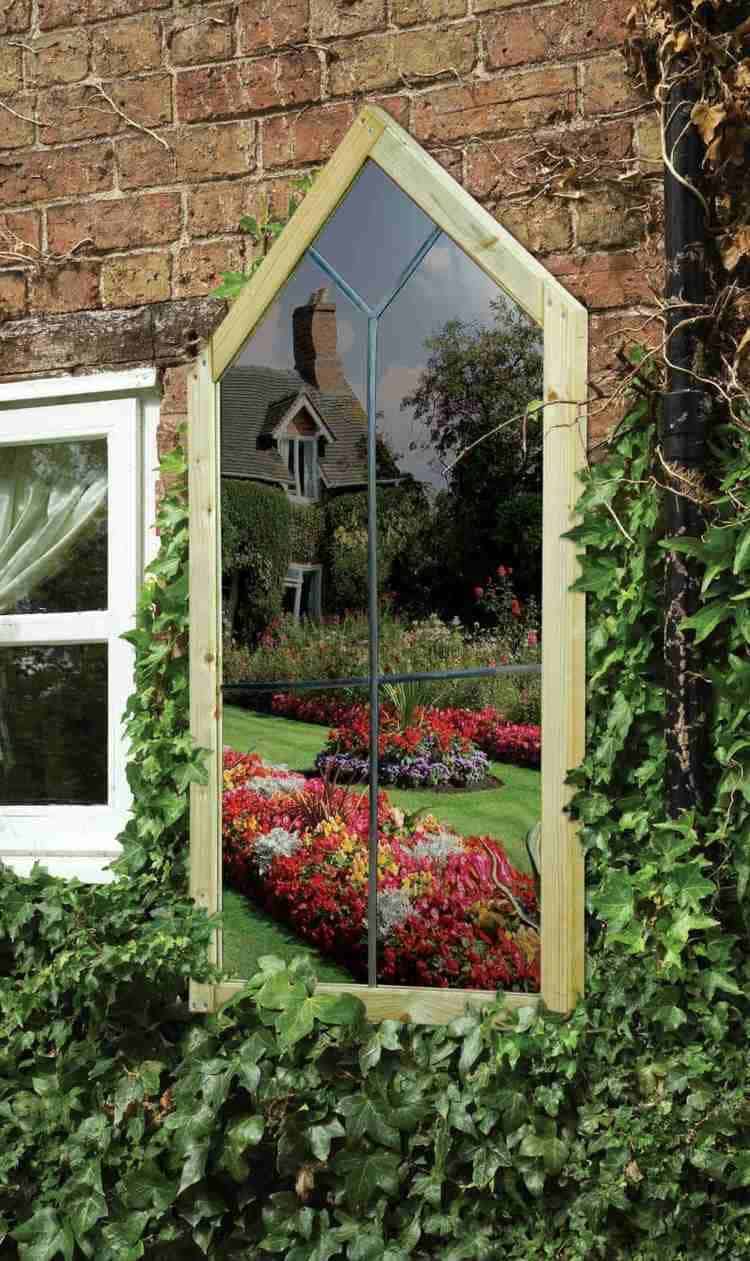 7. Faux door window
An arched garden window framed with metal featuring two openings. The design makes it look like a door, but clearly, it's not, hence the name. What a way to add illusion and creativeness to your space!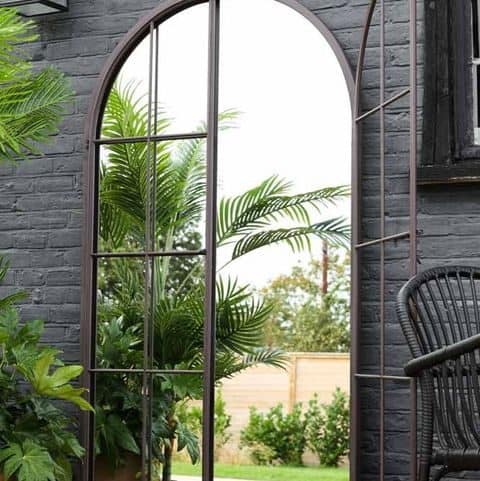 8. Round architectural style
A rustic garden mirror with intrigue design featuring sectioned panels. The size is big enough to create the perfect illusion you want for your space.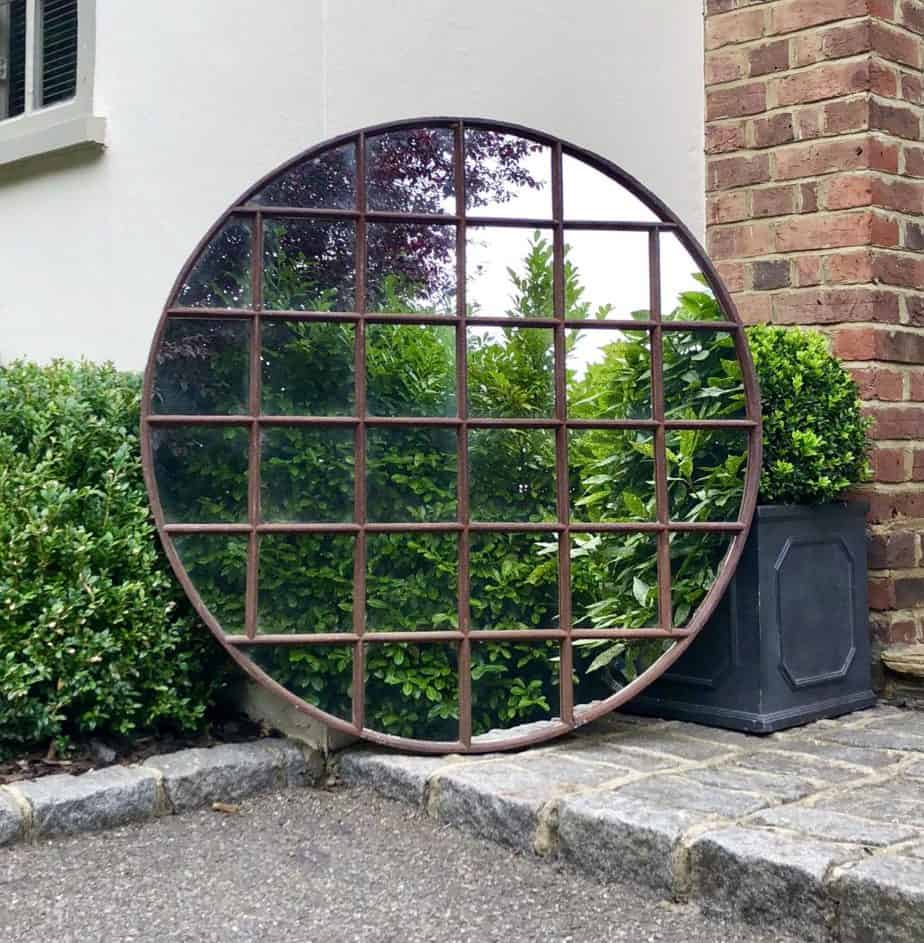 9. With shutters
Bringing back the classic, a shutter garden mirror can be a great addition to your corner garden idea. The shutter style adds to the mirror trick while creating a sense of light and space in your backyard.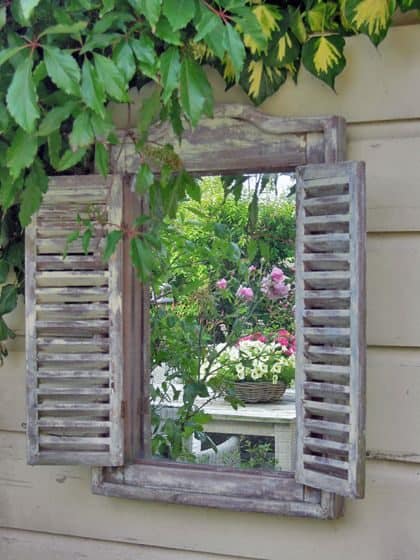 10. Mirror and statue
Adding a statue in front of your garden mirror can make your space feel like you're entering the forest of the gods. Draw inspiration from this design.
The statue makes an elegant addition to the space. Meanwhile, the mirror behind adds interest and reflects the garden.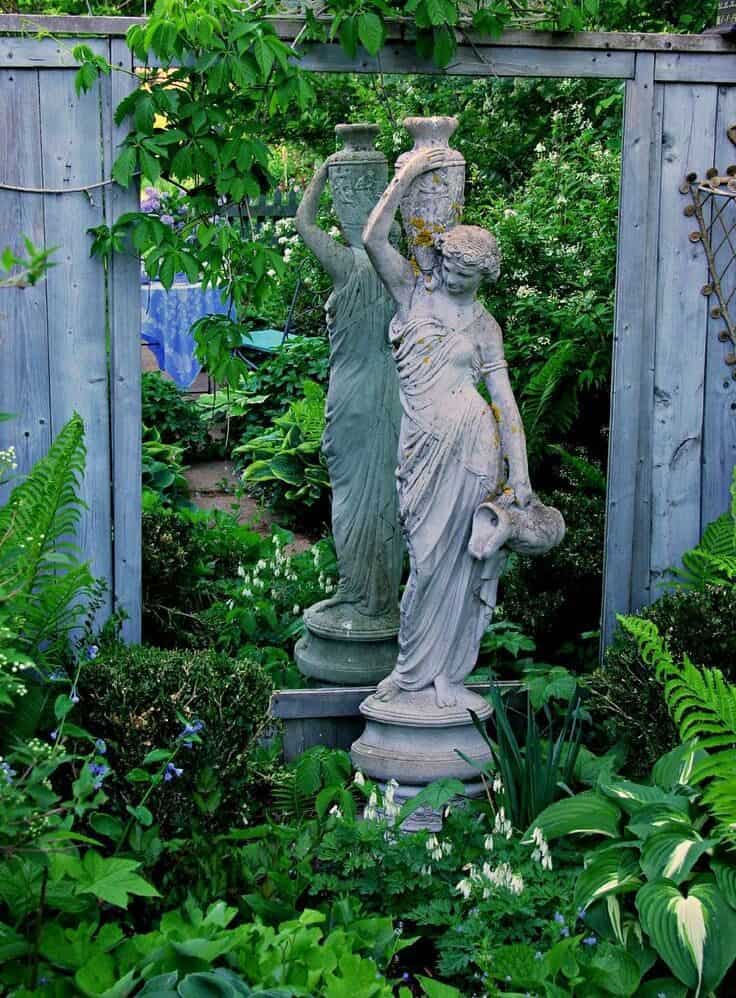 11. Integrate mirror to pond
Creating a double effect, the design highlights the pond with tremendous effect. The concept also makes an excellent garden pond idea. But make sure nobody walks in!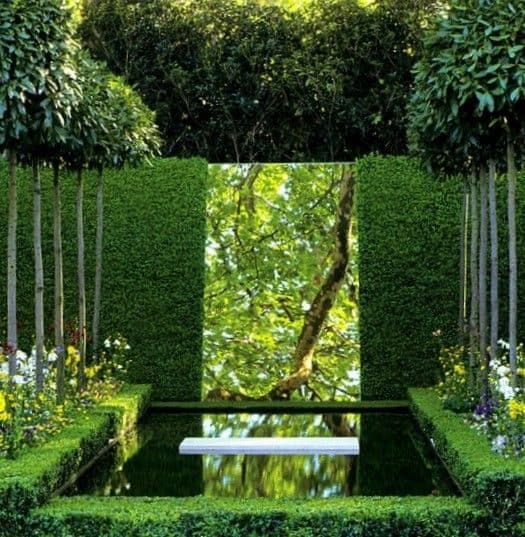 12. Small framed mirrors
Use more than one mirror and create a show-stopping display with garden mirrors en masse. A variety of shapes, sizes and coloured frames are displayed, breaking up the dense conifer hedge.
The number of mirrors are enough to help bounce light around the garden.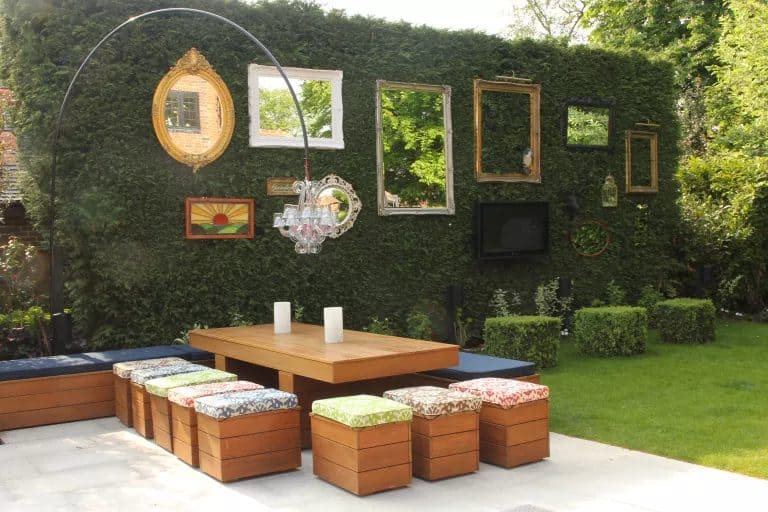 13. Blur the boundaries
Simple but effective, this trick uses a large-scale mirror to stretch the small yard visually. A smart concept to stick with if you have a small, urban courtyard. Climbers and raised beds in front soften the edges and enhance the illusion.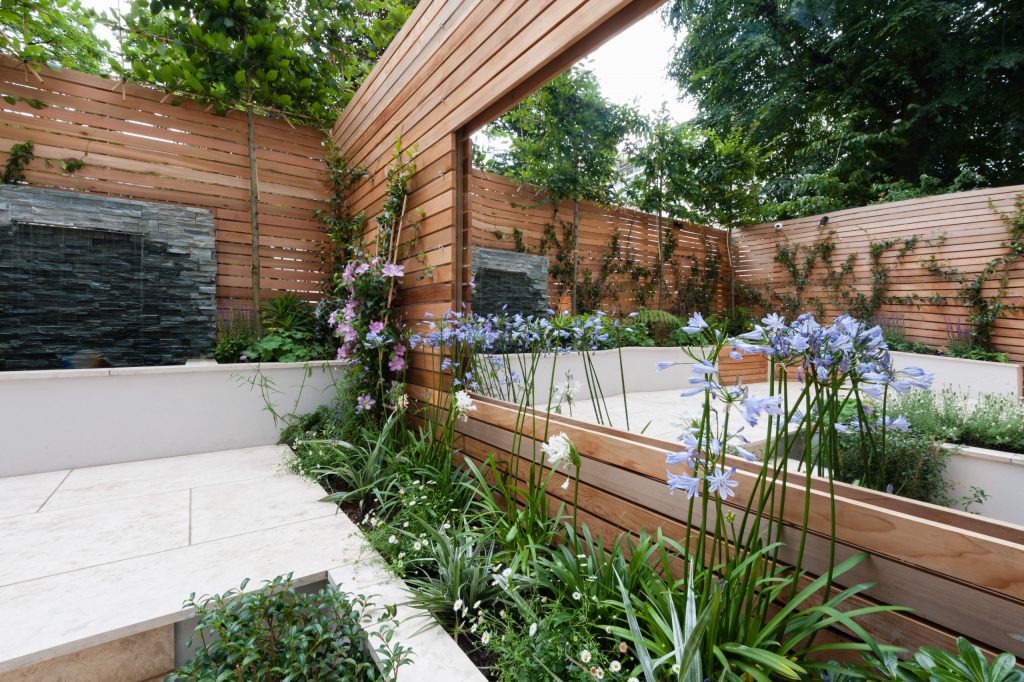 14. Salvaged mirror
With old window frames coupled with vintage beadboard, you can recreate this project. The process includes cutting the windows down and removing the broken muntins.
This created the perfect opening for mirrors. Use this guide for in-depth instruction.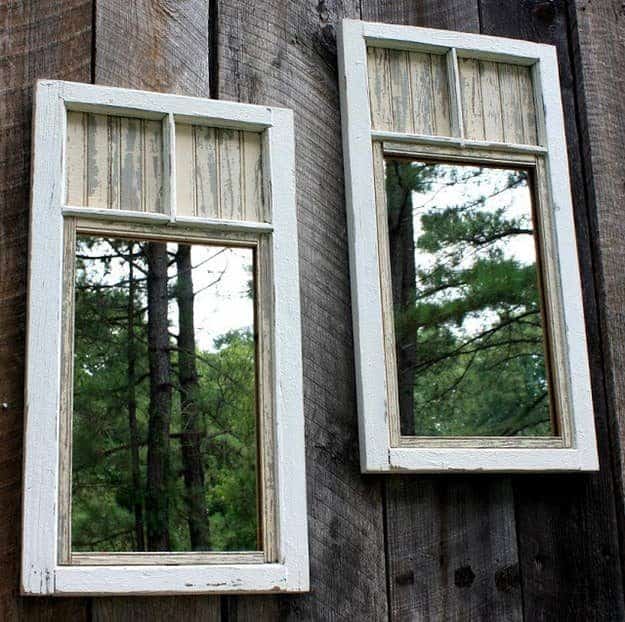 15. Moroccan magnificence
A riad courtyard look isn't complete without a classic Moroccan style mirror. Displaying gorgeous arches, the curvy shapes imbue a sense of calm, as opposed to straight lines.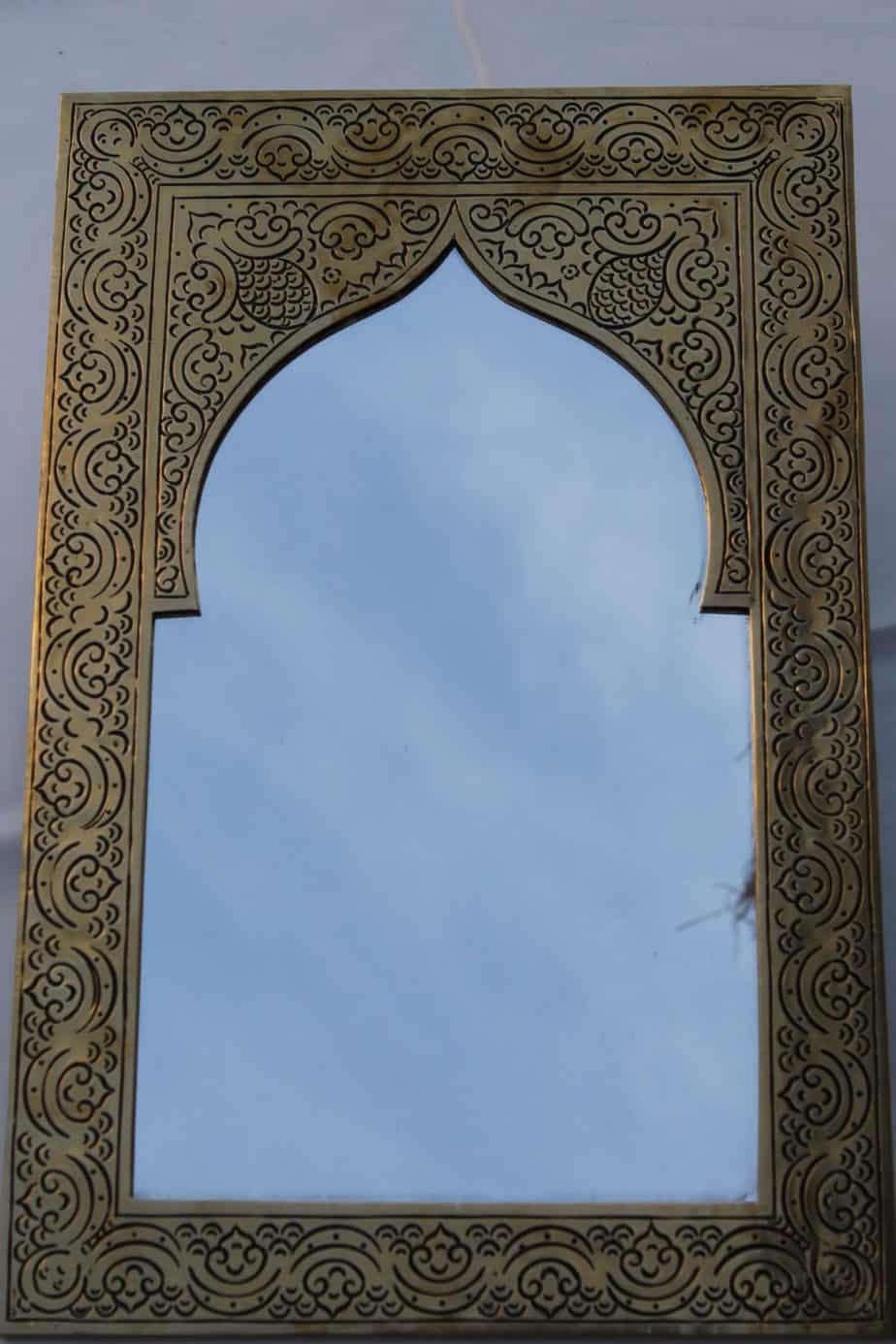 16. French chic
A French chic garden mirror is for lovers of an effortlessly put-together scheme. The graceful curves make a perfect backdrop against a sophisticated garden set. The elegance and simplicity say it all.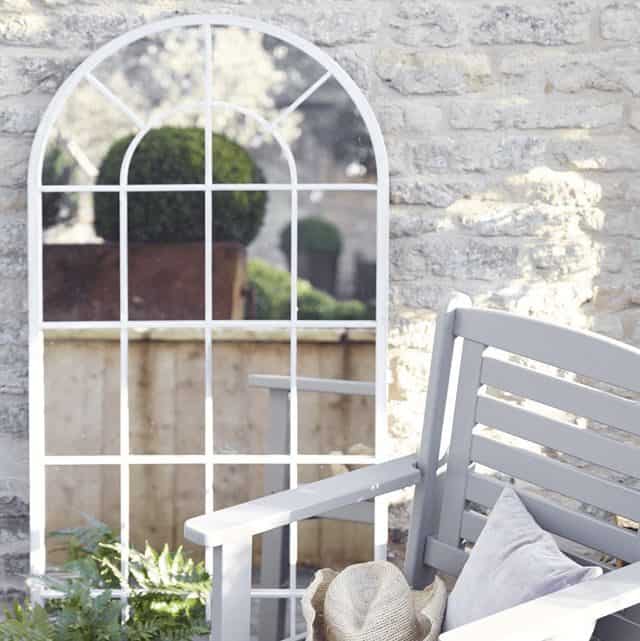 17. Once upon a time mirror
A castle-like mirror piece attached to a garden wall, surrounded by a vine. There's a magical scene going on here, all thanks to the addition of the antique marble top, tree branch, and candles.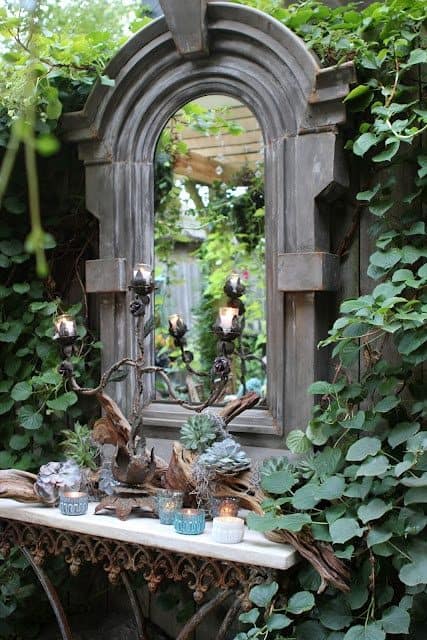 18. Black and gold
The rusty gold-ish mirror and displays stand out most because of the black backdrop. The concrete privacy screen is extended with a console table, holding the mirror.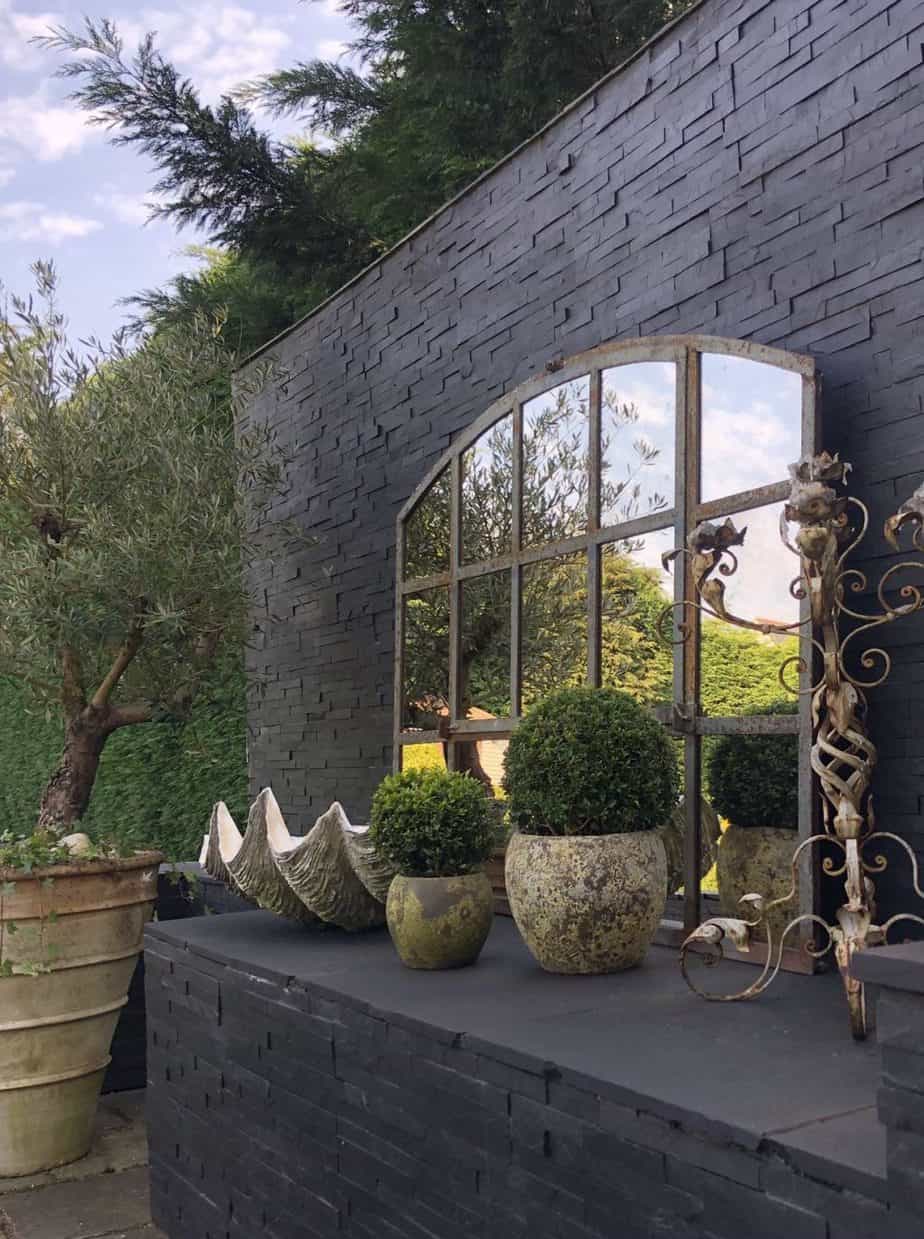 19. Interesting shapes
A smaller and pleasingly-symmetrical design that adds as much impact as larger mirrors. Perfect for a more classic-style space, this quatrefoil shape gives an architectural nod. It's a great addition to brightening up any small garden or patio.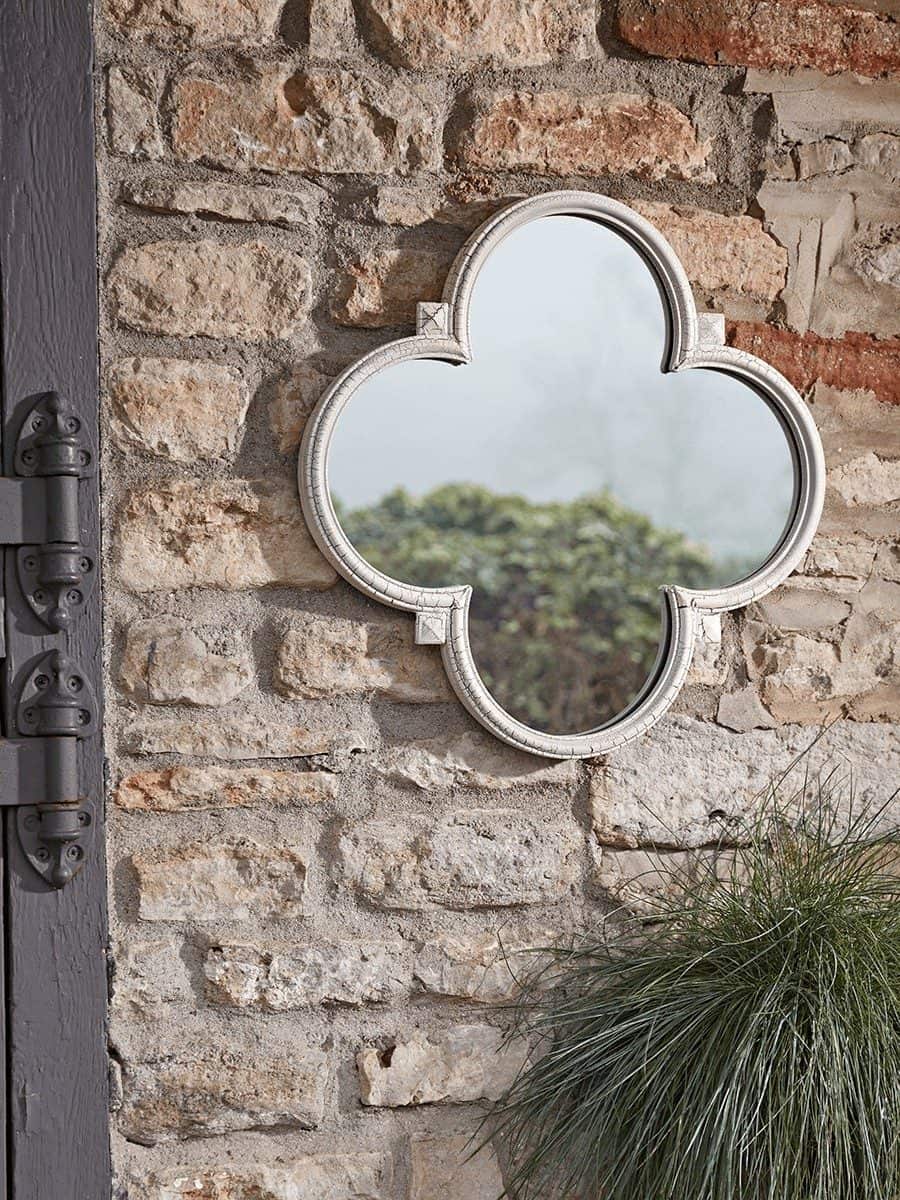 20. Shed mirror
A windowless garden shed isn't always a problem. You can create one with mirrors! Have a look at this one; a mirror designed with strips of wood and shutters.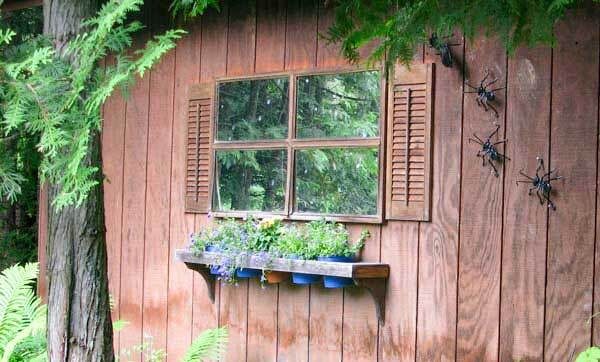 21. Mirror-polished stainless steel leaves
A design that embodies unique and beautiful mirror sculpture. The mirror-polished stainless steel leaves sit atop adjustable rods. This forms an enchanting display, reflecting the surrounding space.
The painted bold colour adds an extra dose of vibrancy.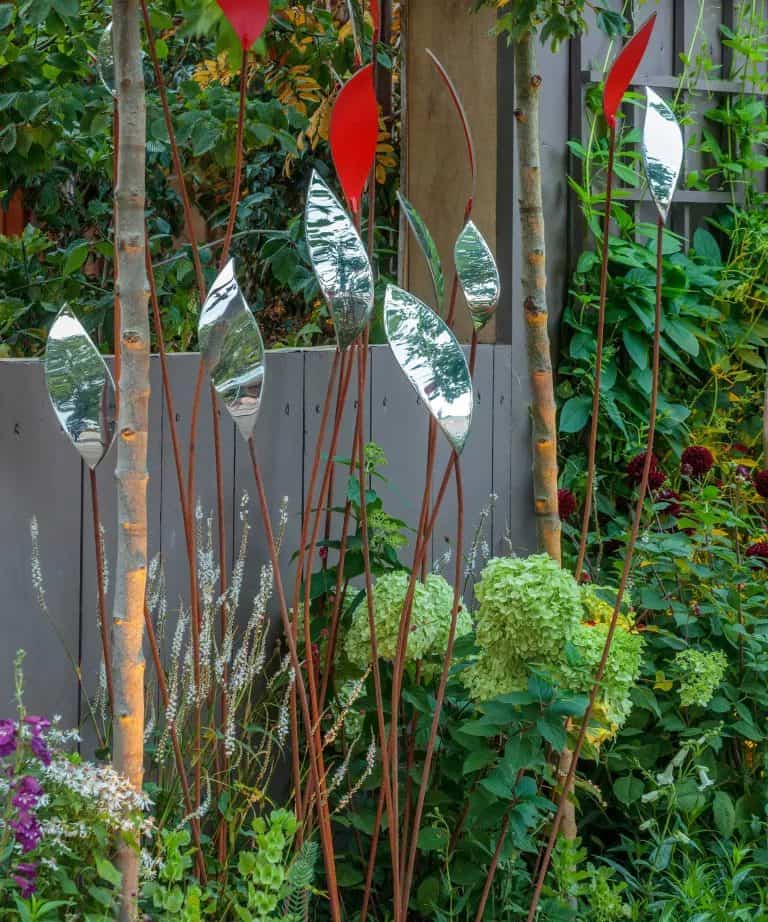 22. Lawn mirror for focal point
Now have a look at this water droplet mirror! Its convex curves reflect the surrounding garden, adding visual interest to the lawn. If you want a mirror piece that offers an other-worldly vibe, consider this concept.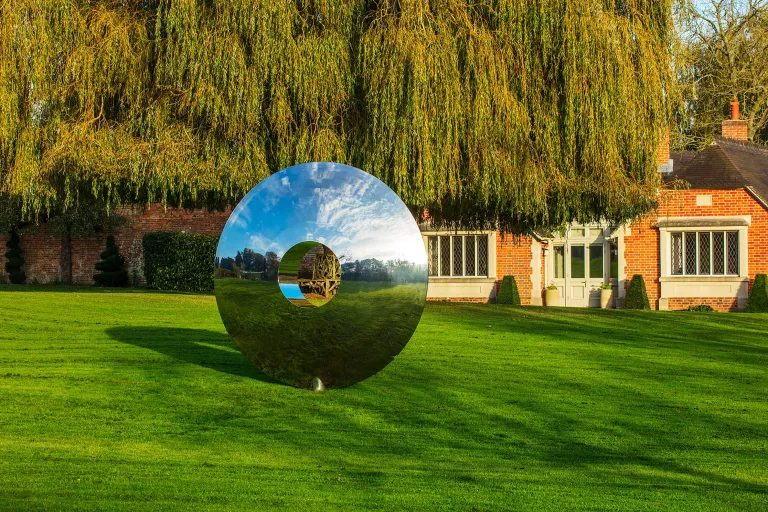 Round-up
Garden mirrors make a great addition to gardens. Best for jazzing up a dull-looking wall or fence or adding a new dimension to your garden design.
Pair with outdoor furniture, you can extend your living space outdoors! But there are a few considerations you need to keep in mind.
First, when positioning the mirror, make sure to place it with care. Birds can get confused by mirrors, so pay close attention to their flight paths. Choose an area where birds aren't likely to fly towards.
Second, avoid a potential fire hazard, such as a glare that can reflect into your home. Ensure your outdoor mirror isn't placed in direct sunlight; shady areas are ideal.
We hope our list of ideas will help you revamp your garden scheme in a show-stopping style!
MAXBUTTON
FAQs