It's easy to love playhouses. They provide a safe haven of play for kids, letting them get out the house and allowing their imagination to bloom. For parents, a wooden playhouse gives a sense of security and pride in seeing them prosper and develop through play in a safe environment.
They can bring joy and peace of mind to any household – and that makes them, simply, great.
If you have a playhouse and you love them as much as we do, then the question that'll be playing on your mind is: how do I keep my playhouse in good condition?
If this has been bugging you, then don't worry – we have all the answers you need. In this guide, we'll show you how to care for and maintain your playhouse so that it lasts for years to come. With a few of our tips, as well as regular cleaning and treatment, your playhouse will stay in great shape as long as you need it to.
Read on and find out how!
Part 1: Regular Cleaning And Care
This may seem simple, but the very best thing you can do to prolong the lifespan of your wooden playhouse (also known as a wendy house) is to give it regular cleans and inspections.
Consistent cleaning and checkups will ensure that there is no build-up of dirt or dust. Keeping on top of the grime is a chore, but it helps keep your playhouse looking fresh. Inspections are useful as they will let you spot any major problems. You can find rot or damage before they have a chance to deal real harm to the building.
Alongside small cleans, make sure to give your playhouse a full clean at least once every two or three months.
Take out all the furniture and toys, then open up the windows and air out the inside of the playhouse. Wipe down the wooden boards and windows with soapy water. Use a firm bristled brush to get rid of anything lurking in the corners and crannies.
This will keep your playhouse looking and feeling fresh. Removing any furniture and toys also lets you spot bits of dirt or damage that might otherwise be hidden. It's a simple step, but these cleans are the backbone of making your playhouse last.
Part 2: Quick Repairs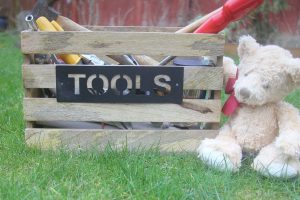 When doing the regular inspections we mentioned in part one, you should be on your toes for any signs of damage or anything that is broken. Broken or splintered pieces of wood, gaps between the boards, or holes in the timber – these are all things you need to look out for.
A gap or hole can present a serious problem for the playhouse in both the short and long term. Holes let water and wind get in, and these elements can cause serious damage to the inside of your playhouse. Splintered wood is dangerous, and can cause real harm if fallen on, so you'll need to deal with this quickly too.
The best thing to do if you see damage like this is to repair it straight away.
A quick solution is to nail a small piece of wood over the hole as a temporary fix. With splintered wood, you'll want to use wood glue to hold it back in place. If you have a playhouse with a slide, ensure that all the attaching screws are tight and strong.
If you fix these kinds of breakages quickly, then you'll be dramatically lowering the chances that they will cause damage to your playhouse. The earlier you find them, the better.
Part 3: Checking For Rot And Water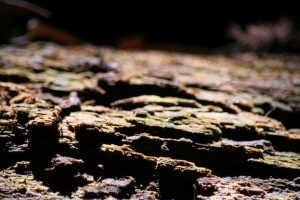 Along with checking for damage, you should also keep an eye on the roof or windows. These areas are where water is most likely to "get in". When this happens it is known as water ingress.
When water gets inside your playhouse, it can cause direct damage to the wood and lead to rot. Rot is very dangerous when combined with wooden garden buildings. You can identify it if the wood is damp and crumbles to the touch. It's important to stay on top of the issue and make sure that no water is getting inside your playhouse.
The most common places for water to get into your playhouse are the roof and windows. It's important to check these regularly for gaps or leaks. Take special care when inspecting the window. This is because there are more likely to be gaps around the frame or between the window and the frame.
If you spot lots of gaps around the window, consider sealing them using a silicone caulk.
As with the wooden boards, do any repairs to the roof or windows as soon as possible. If you find that water has managed to ingress into the outdoor playhouse, then the process is simple. Wipe it up, seal the leak, and air out the playhouse as much as you can so the moist air disperses. This should get prevent rot from forming and the wood degrading.
If you follow these three steps, you'll be able to keep the inside of your garden playhouse in great condition for years on end.
Part 4: Treatments
We've covered keeping the inside of your playhouse in tip-top condition, but what about the outside?
When it comes to protecting the exterior boards of your playhouse, there's only one process that will keep the natural wood looking good: treatment.
We don't mean spa treatments (although feel free to treat yourself to one!) but protective wood treatments such as stains and preservatives. Treatments are chemicals that are applied to the wooden panels to make them more resistant to rot, water, and all sorts of other damaging elements. Be aware that if you have a large building, such as a two-storey playhouse, you'll need a greater quantity of treatment.
There are loads of options, and you don't have to opt for all of them. To help you understand which does what, we'll run through them below.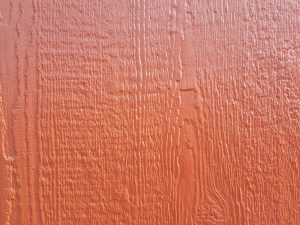 Pre-treatment
Pre-treatments are anything that is applied to the wood before construction, usually before the wood is delivered to a customer. This could be a chemical treatment, a spray treatment, or a pressure treatment.
Here at Garden Buildings Direct, we spray-treat all our playhouse timber. This means that it will have an in-built level of protection up until you assemble it. We do this to ensure the product is not damaged before you receive them, so you can enjoy them for as long as possible.
While our pre-treatment will give you a good base level of protection, you shouldn't stop there. For a playhouse that keeps on giving, consider applying another treatment – or two – after you assemble it.
Preservatives
Wood Preservatives are treatments that do what they say on the tin: they preserve the wood. They do this by seeping deep into the wood, making the boards water repellent. By applying a preservative, you'll be reducing the chance that they will be affected by rot.
Preservatives can come as either spirit-based or water-based, and they can also be clear or have a colour to their coat as well.
For the best results, get a clear, spirit-based preservative and apply a coat of paint or wood stain. This will improve how resistant the wood is and give your wood a whole three layers of protection.
Wood stains
Wood stains are treatments that always have a colour finish to them, while also applying a layer of protection to the wood. Wood stains are able to do two jobs in one by protecting and colouring the wood.
The advantage of using wood and colour stains is that you only have to apply one type of treatment to the wood, as they do both jobs at once.
We sell Protek's Shed and Fence Treatment, a wood stain with a great colour finish and reliable protection. We also sell Protek's Wood Stain & Protector, which is better for use on the timber boards used in outdoor playhouses.
Simply apply a couple of coats to your playhouse, and you'll be good to go!
Coloured finishes
Finishes are always the final layer that you apply to your timber playhouse. They are a lot like regular paint but provide an added layer of protection to the outside of all your treatments. Their colours are often the last-longing, and they are quick drying too.
If you're planning to use a finish, make sure you have a layer of protective treatment underneath to make the most of your playhouse. The finish will help protect the treatment and keep the wood in great condition for longer.
If you're looking to get a coloured finish, try Protek's Royal Exterior Superior Wood Finish. It provides a neat, coloured finish while providing the wood with mould and fungal protection to reduce the risk of rot. Better yet, it's safe for use around children – perfect for your playhouse!
Use a combination of these treatments to ensure your playhouse lasts long and looks good! You may need to reapply finishes, preservatives, and stains after a few years (some people apply a layer of preservatives every year to be safe). Keep it protected, and you'll keep it in great condition for play!
Finishing Off
If you've followed all the steps and tips above, then you'll have a playhouse that looks great and will keep looking great for many years to come. It doesn't matter what type of playhouse you have, just follow this guide and you'll be set.
A playhouse that looks great and is free of damage or cracks is one that kids will keep wanting to go and play in. By looking after your playhouse, you'll be looking after your kids' learning and development. You'll also have an amazing-looking playhouse to show for it!
If you've got any playhouse questions, this complete playhouse FAQs will get all your questions answered!
Shop Wood Treatments
Shop Playhouses