Pumpkins on doorsteps, cobwebs in windows, the cackling of a witch at midnight…it's that time of year again. That's right, Halloween is here and so are all its festivities! Like you, we can't wait to start trick-or-treating, dressing up in costumes, and decorating the house in Halloween decor.
But don't let the fun stop there! If you want to create Halloween memories you and the kids will never forget, then you'll want to transform your children's playhouse into a Halloween haven.
It sounds haunting, but turning your wooden playhouse into a scary house of horrors is easy. With this guide, your playhouse will be the perfect place to spend the scary season – and maybe even be the centrepiece of a Halloween party.
Ready for things to get eerie? Then let's ghoul!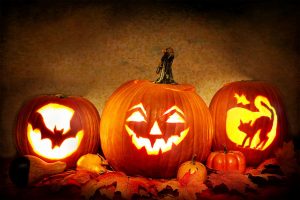 Pumpkins
No Halloween party or decoration would be complete without a pumpkin – or two, or three! Pumpkin carving at Halloween is a tradition as old as time, and your playhouse decorations simply won't be complete without one. 
If you're not sure what kind of face you want to draw or have never carved before, don't stress. Check out these simple guides on how to carve a pumpkin, and all the different faces you can carve! 
Carving pumpkins is a fun group activity to do with your kids, and you can even try to make pumpkin pie with the parts you cut out. Just make sure to always be careful with knives and check that the pumpkin you buy is edible.
Once you've carved your pumpkin, pop a small candle inside so that they light up in a chilling way. Place them next to the door or inside the window of your playhouse, and watch how those frightening faces flicker!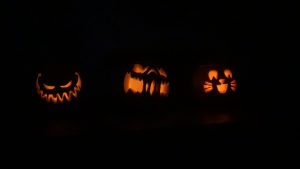 Cobwebs and Gravestones
When you think of Halloween decorations, there's no doubt that you think about the sight of a giant cobweb or a gravestone shrouded in mist. These creepy sights are some of the most classic Halloween decorations around – and there's no reason why you shouldn't use them too!
They're easy to get a hold of – buy as many as you want from a decorations store or local supermarket.
If you don't fancy spending money, then it's easy to make some DIY gravestones with a bit of cardboard and grey paint or spray paint. Simply coat it in the paint, then carve or write a scary message onto the front!
Drape the cobwebs off the roof of the playhouse, or stick them into the corners to make it look like it's home to a giant spider. Gravestones can go in the garden nearby, or even leant up against the playhouse wall. Try out a few combinations and see which looks scariest!
Ghouls and Spiders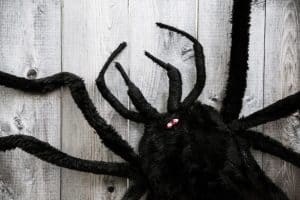 Creepy-looking critters and ghouls are a Halloween staple and not one you should miss out on! Alongside your cobwebs and gravestones, some spooky ghosts and scary spiders will fit right in.
Ghosts can be easily made out of old bedsheets or pillowcases by cutting eyes and a mouth out of the fabric. Hang them on a frame or suspend them from the roof with string to make them come alive.
If you want to make DIY fake Halloween Spiders, there are plenty of cool guides around depending on how big you want to make it.
Place your ghosts behind the door in your playhouse to scare anyone who enters, while your spiders crawl across your roof or the playhouse floor. Your Halloween playhouse will be frightening enough to scare off any real ghouls!
Eerie Lighting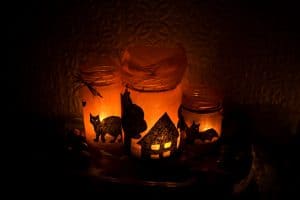 No set of Halloween decorations would be complete without a bit of eerie lighting – and it's the same when it comes to playhouses. 
Lighting can really set the mood and feeling for a room, especially when you're trying to make it feel creepy and unsettling. Walking into a room of flickering, dim lights is sure to set anyone on their toes – and it's not hard to set up either!
There are a couple of ways to set up this kind of spooky lighting. The first way to do it is the old-fashioned way: candles. Candles are great at providing eerie lighting, as the flame naturally flickers and sparks. They're also well-known as a great prop in scary movies and books, which will add to the atmosphere even more!
If you do get candles, remember to place them on a stable surface and keep an eye on the open flame.
The other option you can opt for is rope or fairy lighting. They can look great strung outside of your wooden playhouse, adding to the spooky feeling of the outside of the playhouse. You can even get some great-looking themed lights, such as little pumpkins or ghosts. 
There's no safety danger to the lights themselves, but be careful when you connect them to a plug or extension lead.
When done right, eerie lighting can transform your Halloween decorations. They'll go from giving you the jitters to something that will scare your socks off! Lighting is a cheap and efficient way to make your playhouse truly frightening.
Spooky candle holders
A creative way to make your lighting even spookier is to make scary candle holders. Making them is easy and cheap!
Don't throw away pasta sauce jars. Instead, recycle them into the next Halloween decorating idea. Cover the outside of the jars with white or orange tissue paper. Then, cut out shapes of ghosts, bats, and witches with black tissue paper and stick these over the top. At night they will glow and produce silhouette shapes. As a safe option add battery operated tealights as these won't burn little fingers and you can place them inside the playhouse too!
Ghostly Bunting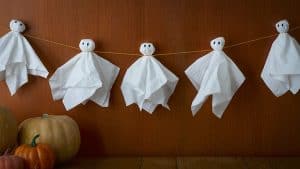 If you want to step up the DIY aspect of your playhouse Halloween decorations, then try easy-to-make ghostly bunting!
This is yet another fun thing to do with your kids, and it's super cheap too! All you need is a long piece of string, some tissue paper, a marker pen, and half an hour of your time. If you think the components are simple, just wait until you see how easy it is to make.
Simply bunch up tissues from the middle and tie a knot around the top. This will create the ghost shape, keep adding the ghosts along the string to create a bunting effect. Once complete add eyes with a marker pen to the head of the ghost. This will keep the kids entertained for hours and will make spooky decorations for their playhouse.
Ghostly bunting is a fun and simple way to add your own personal, finishing touch to your Halloween decor.
Theme Your Playhouse Decorations
For some of us, the regular brand of Halloween decorations just don't cut it anymore – and that's okay.
Perhaps years after years of the same decor have made you bored of the regular decorations. Or maybe you're in search of something different to make your wooden playhouse and Halloween decor stand out from the crowd. If this sounds like you, why not try making your playhouse fit a costume theme?
Get your children or grandchildren to agree on a costume theme (although we know that is easier said than done!), then spruce up your playhouse to match it.
Pirate themed
Pirate costumes are some of the most well-recognised Halloween haunts, and an easy one to decorate a playhouse for too.
Some rope rigging, a ships' wheel, and the Jolly Rodger flag (the skull and crossbones) will get any playhouse looking like a menacing pirate ship.
A tower playhouse, like the Lollipop Max Tower, looks particularly good when dressed up this way. Their decked balcony looks just like the back of an old boat, and really enhances the immersion when playing. Look at Gemma's example if you're interested in finding out more!
In the jungle
If you can't get the kids to agree on a single costume, then why not decorate your playhouse to suit a whole range? A jungle theme will do wonders at letting children have their individuality while still making them fit right in.
Kids could be dinosaurs, ferocious jungle animals like panthers or snakes, safari guides – or even tarzan!  This theme is a super flexible one, and not too hard to decorate for either. Just like the pirate theme, it would suit a tower playhouse great as well.
Start making the playhouse look like it's hidden amongst the trees by draping vines from the roof. Next, surround it with plants and position some of your favourite animal soft toys in the windows. If you have a speaker nearby, play some rainforest animal sounds to make the kids believe they've been transported to a lush Brazilian jungle!
Either of these theme decorations will ensure your kids have a fun-filled Halloween – whether they're celebrating with you or their friends.
Party Preparations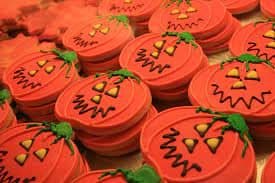 If you're feeling particularly proud of your playhouse decorations, don't be shy! Why not use the playhouse as the centrepiece of a kids Halloween party?
Playing in and around a themed playhouse will really stimulate children's imagination. It will also enhance their feeling of make-believe. Outdoor playhouses are particularly great places to host parties too, as they give kids a sheltered space without letting them make a mess inside the house!
If this idea has caught your attention then take a look at our essential checklist below to ensure you and your party guests have a great time.
Ensure the playhouse is safe.

Give the playhouse a quick inspection, looking for any sharp edges or safety hazards that may be hidden away inside. Check the playhouse floor especially. There probably won't be any, but with lots of kids around it is better to be safe than sorry.
Make some spooky treats.

There's nothing better than tucking into a spider cookie or ghostly cake on the night, and they're fun to make with kids too.
Get some music on!

No party is complete without music, and it's no different at Halloween. Kids will treasure their memories of grooving to "The Monster Mash" or "Thriller", so pop the music on and turn the volume up!
Get these in order, and you'll be all set for a Halloween party to remember!
Start The Scaring!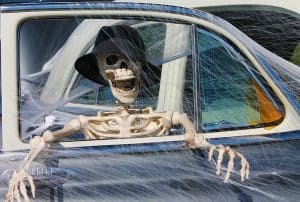 Halloween is just around the corner now, so if you're thinking about getting your playhouse all decked up there's no time to lose! Get the costumes out of the roof, load up on fake cobwebs, pumpkins, and giant spiders, and let your Halloween spirit go absolutely wild! Once the decorations are complete, show them off with a fun kids' Halloween Party!
We hope you make something totally spook-tacular! For inspiration, check how Josie turned her kid's playhouse into a pirate's den!