We love to catch up with our customers to see how they're getting on with their garden buildings. That's why we were so happy to hear back from Daniel, whose family absolutely loves the Lollipop Max Playhouse he brought for them.
Like any proud Dad, Daniel adores his two daughters and wanted them to feel comfortable no matter where they were at home. He noticed that they weren't spending that much time outdoors and came up with a plan to fix it.
Daniel found that his daughters didn't have a comfortable place to relax or have fun outdoors.
He decided that the best way to get his young daughters out of the house was to give them a place they could be themselves in the garden – and the best way to do that was with a garden playhouse.
When Dan found Garden Buildings Direct, he knew he'd come to the right place. After comparing some options, he picked out the Lollipop Max Playhouse. He told us he chose it because it was the right size for the space in his garden – and because it looked great!
"It's made the garden a place for the kids to enjoy – they love it."
Upon arrival, Dan assembled the Lollipop Max in no time at all. Before his daughters knew it they had a spacious playhouse to enjoy! The Lollipop Max is perfect for small kids, giving them a cosy and easily customisable place to play without taking up too much space.
After deciding on a cottage and kitchen theme for the outdoor playhouse, Dan's family got to making it homely. With some help from the little ones, they fitted out the playhouse with a toy kitchen and whiteboard before decorating it. They decorated the outside with some flower-shaped lights, hanging flower chains, and a cute welcome mat.
There's even a hanging sign letting the whole world know that it's Isla and Ruby's Playhouse!
Take a peek at their wooden playhouse creation below – we're sure you'll agree that it looks great!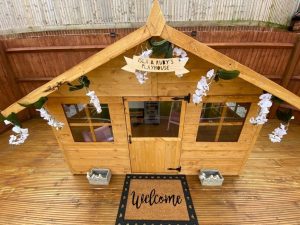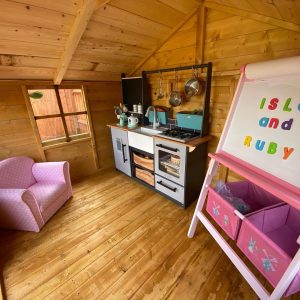 Daniel was so happy with our service that he even gave us a glowing recommendation.
"My experience ordering through Garden Buildings Direct was very good, very friendly."
He also has a handy tip for anyone who has recently brought a playhouse for their own kids.
"Put all the toys you don't want them to play with indoor in it and they'll love it!"
Seems like he really is putting his Lollipop Max to good use!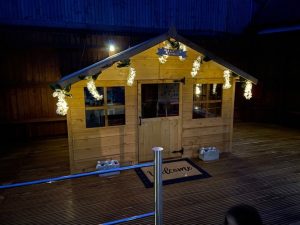 "I'd recommend you to a friend 100%"
We're always happy to hear from customers who love their products. That's why hearing back from Daniel about his great experience has been an absolute pleasure. We hope that his daughters get years upon years of fun out of their Lollipop Max!
If you're interested in buying a Lollipop Max of your own or want to view the other playhouses we have on offer, you can view our wide range of wooden playhouses using the button below.
Alternatively, you can read out other customer spotlights by using this link.
If you've got any playhouse questions, or simply want to know more about them, visit our Playhouse FAQ Centre for all information you'll ever need.
Shop Playhouses