We're back with another entry in our Choosing A Playhouse series!
In our first two posts, we covered all things practical and aesthetic with playhouses. We kicked off the series by looking at the size and shape of your garden and ideal playhouse. Then, last week, we delved into playhouse features and flair – making sure that you were choosing the things that fit your needs.
This time, we're turning our minds towards money – and especially saving it! First, we'll be looking at playhouse value – from where you're buying it from, to the kind of garden playhouse you need, to identifying which wooden playhouses have the best value for you.
After that, we'll focus on making the most of your own budget for buying one including some helpful tips for budgeting and buying. It's all well and good getting a playhouse, but you can sweeten the deal by saving money in the process!
So, get ready to snag a great deal – let's talk about playhouse budget and value.
Value
Let's start by talking about getting the best value for your money. There are two ways you can get great value for your money, and we'll be looking at them both.
The first is buying a playhouse from somewhere that is generally good value for money. That means that their garden buildings are priced well and you'll be getting good quality and durability from your purchase in general.
The second is finding an outdoor playhouse that will have good personal value. In other words, the money you spend will be put to the best use possible, and you won't be paying for things you won't need or use.
Don't worry, we won't be striding ahead and leaving you to figure it out on your own. Let's have a closer look at each of these things – and even give you a point in the right direction!
Buying from a good retailer
Half of getting the best possible value for your money is buying from a retailer whose products themselves are sold at a price that is good value.
There are tons of factors that come into play when deciding if the place you're buying from is "good value" or not. The quality of what you're buying, how long it will last, the time it takes to be delivered, the after-care and customer service they provide – these are all important elements, but there are many more.
When it comes to wooden playhouses, finding a place that is good value for money isn't always easy. But, luckily for you, we know just the one…that's right, it's us: Garden Buildings Direct!
Yes, we know what you're thinking: of course you're going to say that! We don't blame you for thinking that, either. You just want the best deal possible – and so we do. But don't take it from us – take it from our customers.
What our customers say about us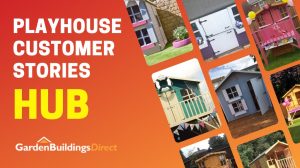 Zoe, who brought the Lollipop Max, was impressed with our prices and said that the experience of buying from us was "excellent".
Meanwhile Claire, who purchased a Bunny Max Tower Playhouse, said she "loved the design and found it affordable. We chose Garden Buildings Direct for the great value for money."
Michaela, the proud owner of a Bunny Tower Playhouse, felt the same. She said that our site had "the best prices with free delivery – I found it a good deal."
If that's not enough, then feel free to visit our Customer Stories Hub, where you'll find a huge number of great reviews from our customers who all praise the delivery, prices, and quality of our children's playhouses.
What makes our products even better value for money is the fantastic guarantee they come with. Since all our outdoor playhouses are made with quality, natural wood tongue and groove cladding, we guarantee all of them against rot, decay, and insect infestation for up to 10 years!
Add this to the customer-approved quality and service of our products, and you've got some serious value for money. If you shop at Garden Buildings Direct, good value is a surety.
Getting the best personal value
The other half of getting good value for money is choosing a product that you will be able to get your money's worth from. The key to achieving this is choosing an affordable playhouse that fits your needs precisely.
In our previous guides, we've guided you to nail down what you need from your garden playhouse. This includes how big it needs to be, what features you need, what it will be used for, and so on. If you don't know this yet, then it's worth getting a list together so you can get the best possible value for money.
When choosing, aim to identify a playhouse that fits all your needs without giving you any excess or features you won't be using. For example, if you simply need a large playhouse for your children, try not to buy a large playhouse that has additions that simply won't be used – like bunk beds or a tower.
These kinds of additions can seem attractive, but you won't be getting full value for money out of them. If that's your aim, then cut out the elements that go beyond what you're looking for.
By sticking to what you need, and not forking out for features you don't, you'll be on track to get great value for your money. Making the most out of your cash is as easy as that!
Budgeting
It can sometimes be essential to budget your playhouse purchase and make sure that you're not spending more than you need to. If that's the case for you, we're here to help with this budgeting section.
We've got some budgeting tips and advice, both in general and specific to wooden playhouses, that will help you make a sensible choice with your playhouse purchase. If you need a full guide on budgeting, then follow this link to get some expanded ideas and methods to help you budget successfully.
Using three simple steps, we're going to focus on how you can budget to get your perfect playhouse.
Step 1: Determining your budget and setting a soft limit
The first thing you need to know, of course, is how much money you have available to spend.
Find or work the greatest amount of money you could spend on your playhouse. Remember, the objective with budgeting isn't to spend everything you have available. Instead, it's to get what fits best within the range which you can spend.
To best achieve that, it's a good idea to set a soft limit. This soft limit will be a figure a little way under your budget – for example, 20% less than the total figure. It will encourage you to spend beneath the full amount, saving you even more money!
Step 2: Collecting all your options
The next step is all about research. 
To find the playhouse with the best value, browse the complete range of playhouses available at Garden Buildings Direct. We have models, options, features, and sizes to fit any and all budgets. 
Take a look through our wide range and find the playhouses that align both with your soft limit and with your playhouse requirements. You should be able to find quite a few! At this stage, if you find ideal playhouses that exceed your soft limit but are still within your budget then do make a note of them – but keep it separate!
Once this initial list has been knocked up, it's time to narrow it down. Perhaps you or the kids don't like the look of one, or you decide that it's not got the value for money you're looking for – maybe it's that little bit too big, or has a feature that just won't be used. 
Reduce this list of wooden playhouses until you have your final options.
Step 3: Your decision
And, finally, the important part – choosing what you're going to buy.
Ultimately, we can't tell you what to pick. That is down to your personal preferences, and what you determine to be the best fit for the children using it and the best value for you. Most of the time, you'll get a feeling that tells you which to pick – and most of the time, it's best to follow that feeling!
But if you find that none of the options within this list are suitable, or you just plain don't like them, then you have a couple of options.
Either return to the ones you noted down which were above your soft cap. Or, you can raise the soft cap entirely and begin your search again, looking for playhouses that reach the top of your limit.
It doesn't matter if you have to do this, it's just important that you don't go over your budget – and even more important that you find the right playhouse for your kids to have hours of fun in!
Combining What You've Learnt
The best way to make the most of your money is to combine what you've learned here in this post.
Budget sensibly so you can make sure that you're not spending too much, then seek out the best value for money from your options. By combining the ability to identify good value playhouses, and your new budgeting skills, you'll find your perfect playhouse in no time!
We've now covered all the things worth considering when choosing your playhouse. But we're not done just yet! In the next and final post in our series, we'll be combining everything we've learnt and guiding you through the process from start to finish! Click this link to read it now!
Until then, check out the Garden Buildings Direct playhouse range using the button below!
If you've got any playhouse questions, or simply want to know more about them, visit our Playhouse FAQ Centre for all information you'll ever need.
The Complete Guide to Choosing A Playhouse: Part 1 – Size and Space
The Complete Guide to Choosing A Playhouse: Part 2 – Features and Flair
The Complete Guide to Choosing A Playhouse: Part 4 – The Finale