We love to catch up with our customers to see how they're getting on with their garden buildings. That's why today, we spoke with Carlos about his BillyOh buy, to find out exactly how much he was enjoying his new purchase!
As a family man with a busy household, Carlos came to Garden Buildings Direct in search of a little extra storage space for items that were just cluttering his house. He wanted a tongue and groove shed to be exact, due to their easily customisable nature and ease of construction.
After scouring the internet high and low, he finally came across our website and spent a little time weighing up his options through our vast stock of tongue and groove products. And he finally settled on the BillyOh Expert Tongue and Groove Apex Workshop due to its high quality specs.
'I had a good look at the offer online and Garden Buildings Direct's products seemed to be of high-quality specs and I liked the design and instructions.'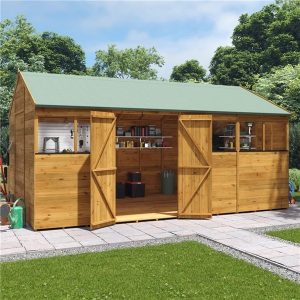 'Feedback for GBD was positive so I was inspired and confident.'
After wasting little time securing his new product, Carlos awaited delivery – with his new building  in a flash, much to his surprise.
He got to work constructing the unit as soon as it was in his possession, and due to our pre-cut & easy-to-assemble materials he had it erected in no time at all!
'Generally, my experience was very positive. The driver was very helpful and nice. The instructions were also very clear and easy to follow.'
Upon completion of the build, he got to work making small adjustments to his storage unit. He reinforced the doors with extra wood and added fixings to the windows to make it that little bit more secure.
He also added run-off drains to the workshop, to protect both the unit as well as his garden from leaks and floods.
'I will definitely recommend buying from Garden Buildings Direct."
You can see Carlos' full makeover below: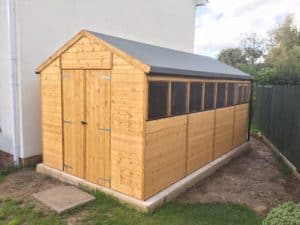 Another fantastic product story from a keen and enthusiastic customer – we're honestly so happy with Carlos' experience!
'I think quality pays in the long run and it's worth paying the little bit extra to get the shed you really want.'
At Garden Buildings Direct, we strive to offer all of our customers both the best quality products and service. And to hear that one of our loyal customers had no issues when ordering from us is just so refreshing to hear.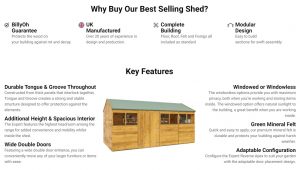 So if you've got a great story about your BillyOh shed, summerhouse, or playhouse conversion – we'd love to hear it! Simply get in touch with us on social media for a chance to feature here.
Or if you want, you can check out more customer stories right here.