We love to catch up with our customers to see how they're getting on with their garden buildings. So to hear back from Katie, who transformed her Expert Reverse Apex Garden Shed into a hideout room and garden bar was just fantastic! Let's explore her journey and the amazing Garden Building she has built.
---
Getting the most out of your garden is no easy task. There can often be lots of room to work with, but finding the best use for you and the space can be tricky.
Katie was in just the same situation and knew she wanted a whole new space where she could entertain family and friends as well as just relax when the time allowed. The ideal solution she found was a large shed that she could convert into a great multipurpose space.
In search of something that ticked these boxes and provided great value, Katie came across our Garden Shed range here at Garden Buildings Direct. While the internet gave her loads of options, she only had her eyes on us. She wanted to buy from a local company and one that offered good value for money.
Browsing our range, Katie knew she wanted something spacious and robust. This naturally led her to our popular Expert Reverse Apex. She already knew she was onto a winner.
"We chose the expert as it was the largest and best value for money."
Katie customised her shed on-site with all the options that would suit her and her family: a windowless design for privacy, a large 20 x 10ft size, and our robust tongue and groove cladding. Once it was all kitted out, all that was left to do was order!
"We had a great experience with GBD, no problems."
After a smooth delivery process and straightforward construction, Katie was eager to decorate her new outdoor room and make it the comfortable haven she knew it could be.
They first added insulation to make it warm and comfortable, then painted the outside and plastered the interior to create a really cosy, home-like space. Finally, she kitted it out with a fully-homemade bar and added neon lighting to spruce up the room. Let's take a look at the end result!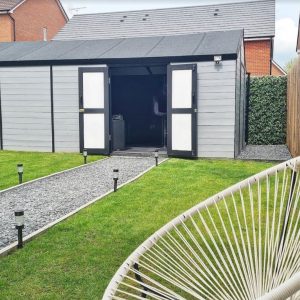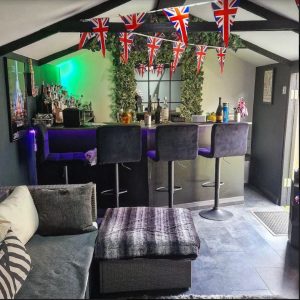 Fantastic isn't it? We love the colour scheme, furnishings, and especially the faux-window mirror that creates the idea of extra space. All the decorations work well together to make a really impressive extra room.
This extra space is one of the things Katie loves most about her new Expert Shed. It's also allowed her to do loads of things she couldn't do before:
"With the new bar, games room, and relaxing space we can entertain family and friends."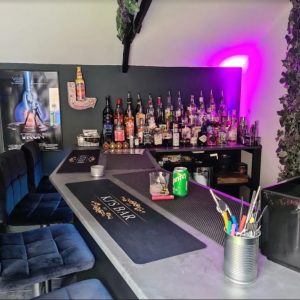 The best part of getting a garden building like this is that you can decorate and adapt it in whatever way you like. Katie used hers to create a space she could relax but also entertain in – but yours could be an art studio, a gym, or anything else you can imagine!
To start a journey of your own, all you need to do is find a garden building that suits you. Browse our log cabins and summer houses, or click the button below to take a look at our great sheds.
Alternatively, you can read more of our customer stories here for an extra dose of inspiration!