In the realm of outdoor storage solutions, the surge in sheds highlights a growing demand. Among the popular materials — wood, metal, and plastic — plastic sheds stand out as a top choice. Durability, affordability, and low maintenance best describe this remarkable material.
So, if you're seeking convenient storage with a focus on practicality, then you're in for a treat. Explore our list of the best plastic sheds for your outdoor space! 
Plastic Shed: Your Ultimate Storage Solution
When it comes to outdoor storage, plastic sheds boast an array of benefits, including:
Low-maintenance
Plastic garden sheds require minimal upkeep, offering a hassle-free storage solution. The material itself is resistant to rust, termites, and weather damage. This resilience ensures longevity and eliminates the need for frequent upkeep. It's best for homeowners seeking a garden building that demands less attention.
Durability
Plastic sheds achieve durability through their robust construction. Most are constructed using high-quality materials, with polyethene being a top choice. This specific material is a thermoplastic polymer that offers exceptional strength. It's also known for its resilience against various weather conditions. As a shed, this makes it a reliable and durable solution for storage needs.
Portability
The lightweight yet sturdy construction of plastic sheds makes up for their portability. This allows homeowners to reposition the shed according to their preferences effortlessly. This also provides flexibility and convenience in optimising the use of outdoor space.
To fully enjoy these benefits, discovering the ideal model is key. Explore our curated selection below to find the one that meets your needs.
Our Best Plastic Sheds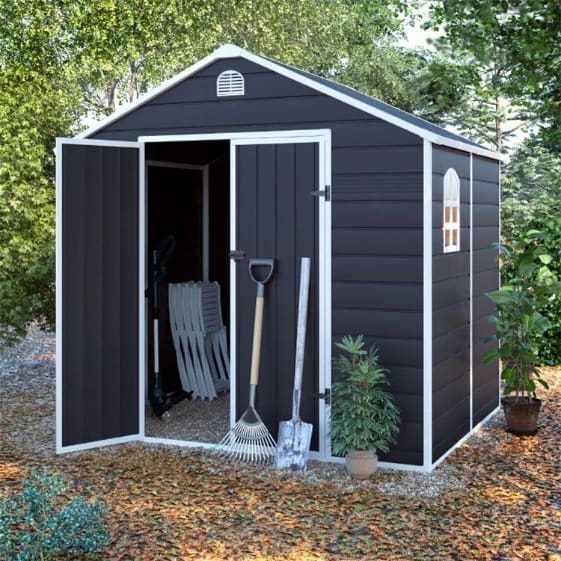 Solve outdoor storage issues with a BillyOh Ashford! It combats garden clutter without completely taking over your backyard. The classic apex roof and muted grey colour complement its stylish appearance.
Mixing style with practicality, it's made from fire-retardant plastic. What's more, it is equipped with a robust steel structure frame for added structural strength. This combination of features offers you a storage shed that's fully protected. For extra durability and support, we've included a foundation kit as standard.
On top of that, this model is easy to maintain and UV-protected. This means that it won't crack, fade, or peel in direct sunlight. There's also a padlock hasp that ensures whatever you're keeping inside remains safe and secure. Available in three sizes, you can pick the perfect size that suits your garden layout.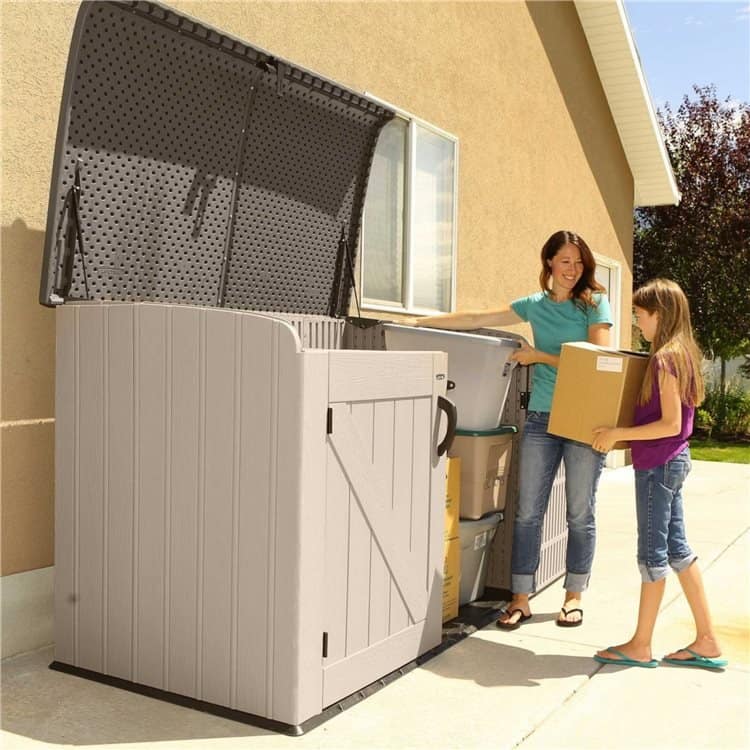 Ideal for space-constrained gardens, this heavy-duty horizontal storage plastic provides the perfect solution! Its size is appropriate not to overtake your precious outdoor space. Yet, it's large enough to hold many garden tools and essentials at once.
Made from high-density polyethene, it features a curved roof with a lifting lid. It's designed with a controlled spring hinge installed to keep the lid open. This added feature also falls flat when closed, keeping the contents dry.
Its rigid HPDE construction is paired with heavy-duty, powder-coated steel reinforcements. These materials are what make the storage box so strong and resistant to harmful UV rays. Even better, they're 100% recyclable and don't release harmful emissions.
The double doors that allow you access to your belongings use a latch-locking mechanism. Should you wish, you can add a hasp padlock to the doors and lid for an additional level of security.
We offer a minimum 5-year warranty, acknowledging the robust durability of our structures.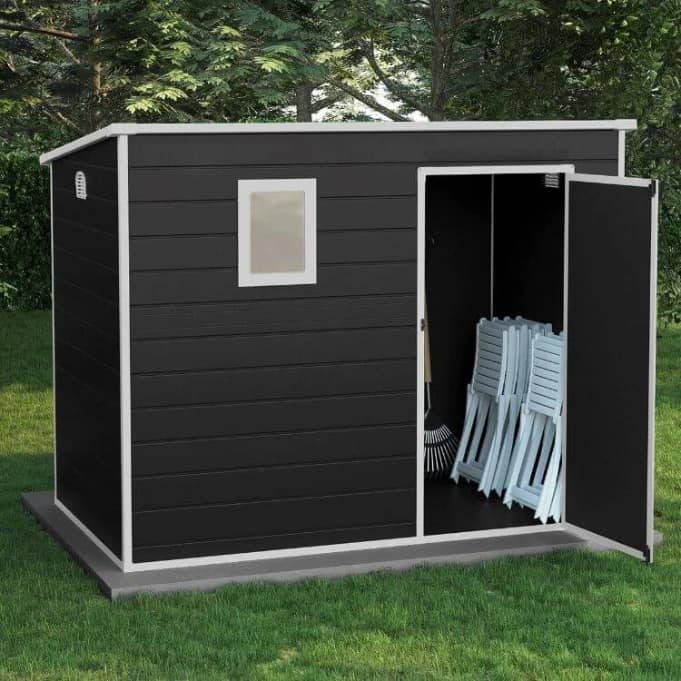 The Oxford is a fantastically versatile and durable plastic garden store. It's built for tight spaces and awkward corners while affording plenty of storage space.
The contemporary pent roof allows for water to drain off down the single slope and away from the base. It provides a stylish, modern look, making it an attractive option for modern gardens. And with a roof height of 6'4" at the eaves, it's well-suited for taller users to be able to stand upright.
The plastic is not only weatherproof and durable, but it is long-lasting and fire retardant. It requires little to no maintenance after installation. A moulded plastic floor is included as standard. This gives the unit a solid base, which will provide long-lasting storage for your garden.
The windowed design gives the interior of the building some natural light. Paired with a side vent, it keeps the interior cool and condensation-free. The door lock has a padlock eye to allow you to secure your belongings and keep them safe.
For a garden storage solution that ticks all the prices but doesn't cost a fortune, go for the BillyOh Oxford!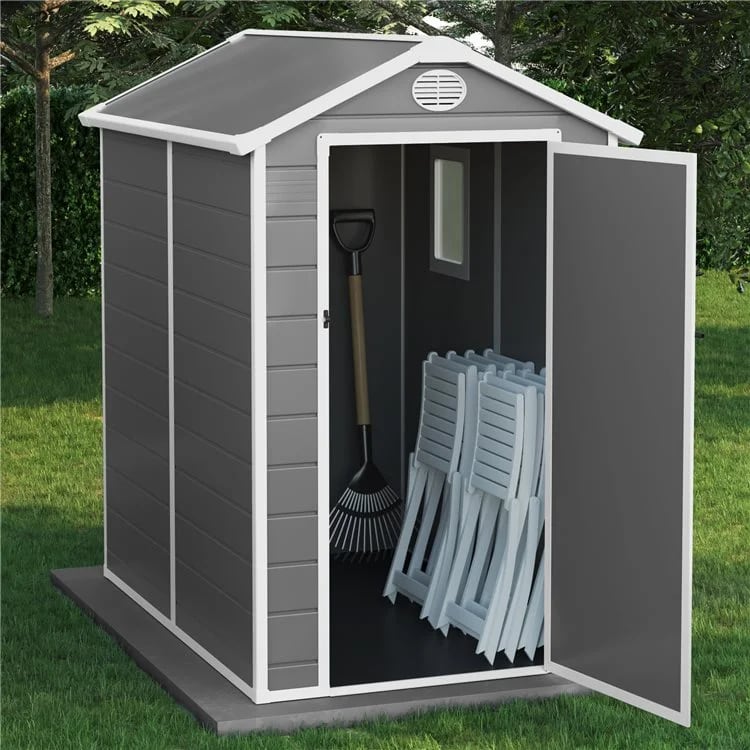 Get quick and reliable storage, even in small spaces, with the Kingston Apex Shed. It features durable and waterproof panels that can stand up to the worst of the British weather. This creates a robust and hard-wearing storage solution, come rain, sun, snow or wind. The metal framing completes the look, giving the building a stronger framework.
Don't fuss about flooring, as it comes equipped with its own built-in solid plastic floor. This means that, when built, the shed is a single self-contained unit. Such an inclusion also eliminates the need for building a foundation. Do note, however, that the unit has to be placed on a level ground for best use.
Additionally, a small side window is included to allow natural light in. The air ducts also keep the air circulating, which helps keep moisture levels low. A padlock eye is included on the door for added security of your belongings.
Available in three space-saving sizes, from 4ft x 3ft to 4×6 and 6×9. But that's not all – it also has a narrow shape, which allows it to fit into those tricky spots in your garden.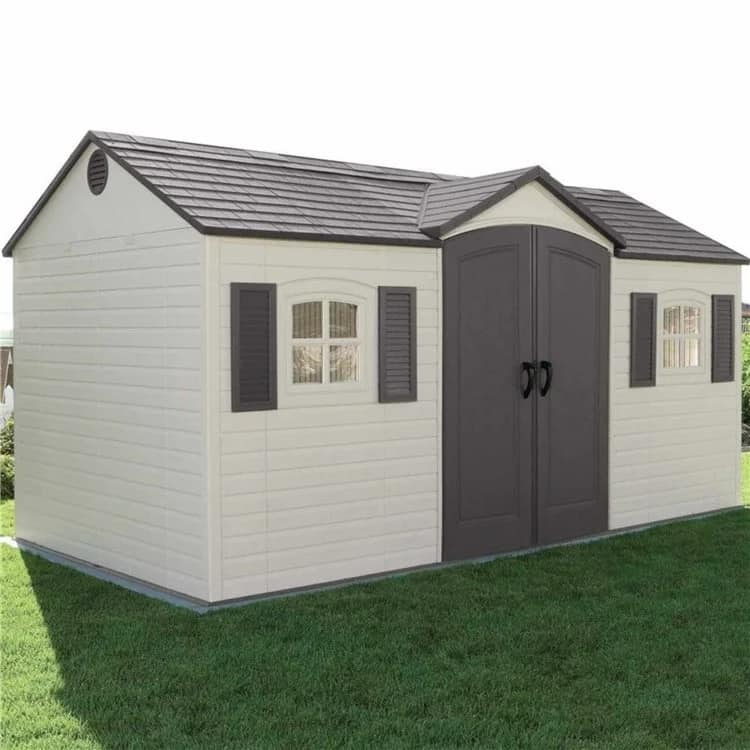 This plastic shed is designed to be hard-wearing. It's built to resist the regular wear and tear that harsh weather conditions can accelerate. This resistance is possible through these remarkable features:
double walls

high-density polyethylene (HDPE) material

powder-coated steel reinforcements
The HDPE forms the primary material for this shed. It's particularly resistant to harmful UV rays from the sun. This ensures the crisp exterior will not crack, peel, or chip under harsh sunlight. Additionally, the dual-wall structure uses steel reinforcements throughout. The powder coating increases the resistance to wear and tear, rusting, and corrosion. Overall, it's how the garden shed can be such a long-lasting outdoor building.
The unit also incorporates two opening side windows and six roof ridge skylights. This allows natural light to fill the space and fresh air to enter the building. Plus, screened vents to ensure airflow when windows are closed.
With the option of one or two entrances, you can tailor your plastic shed to your specific needs. Other features included are shelvings and peg strips to organise your tools in style. And, of course, the 10-year guarantee!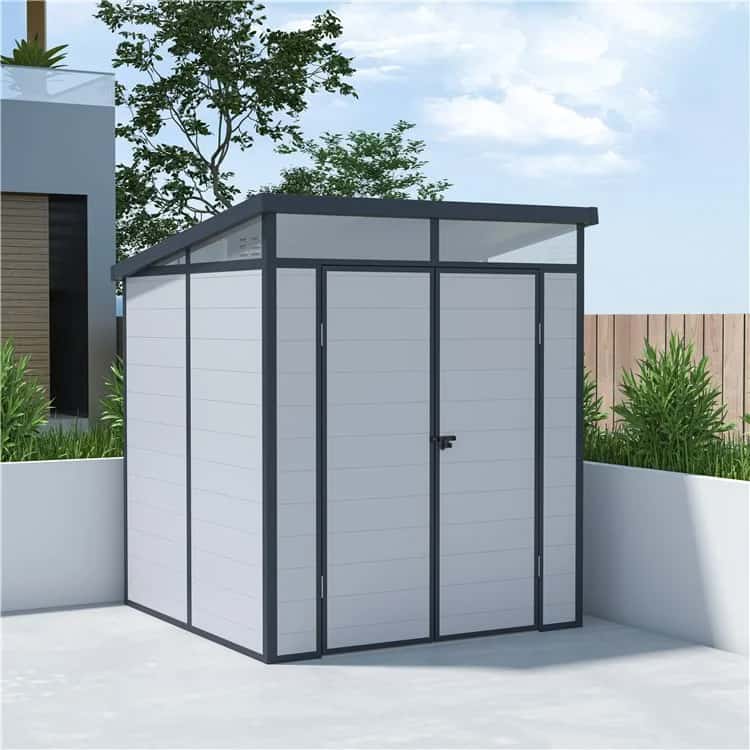 Versatility at its finest, introducing the Stafford that adapts to your storage needs. Its resilient structure is a fortress of durability with 10mm polypropylene panels. This waterproof and UV-protected armour crafts an impervious shield, ensuring lasting security.
Your ultimate weatherproof haven, featuring a sturdy metal frame and contemporary plastic panels. Both materials guarantee UV resistance and waterproof reliability. Meanwhile, the pitched pent roof ensures efficient drainage. The building also blends a sleek interior and a custom-built metal frame. It boasts diverse thicknesses: robust 1.0-1.2mm aluminium columns and a 0.4-0.8mm metal frame.
A reliable latch & bolt system secures the wide-opening double doors. This access point maximises accessibility and guarantees the security of your stored items. Enjoy a well-ventilated interior with horizontal slat vents for continuous airflow. Enhance ventilation further with the openable polycarbonate side window.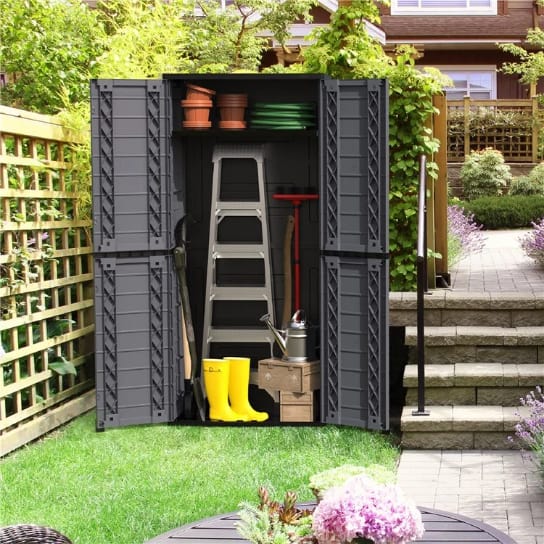 In need of a storage solution? The DuraMax vertical storage cabinet could be the answer. Adaptable, versatile, and durable, it provides a simple but extremely effective storage solution. No matter where you need one – whether in your utility room, kitchen, garage, shed or garden!
With four shelves included and lots of space to create various configurations. Configure it to its full-height tall cabinet. Or use it in the split configuration for lower-level storage.
Made from durable plastic, it's weatherproof and resistant to rust, rot, and mildew. The result is a cabinet that you can rely on in and out of doors. Its sleek grey colour and unique cedar grain finish emulate the look of wood. The Duramax Tall cabinet complements contemporary colour schemes and surroundings.
Round-up
Investing in a plastic shed is a smart decision for durable, low-maintenance, and portable storage. With weather resistance, UV protection, and easy assembly, it meets diverse needs efficiently. Explore our top recommendations to find the perfect fit for your space.
Explore our diverse range of garden sheds for sale at Garden Buildings Direct. Don't overlook our wooden and metal shed varieties. Discover the perfect storage solution for your needs today!
Up next on your reading list: How Long Do Metal Sheds Last?