When it comes to investing in plastic sheds, maintenance is a key factor. And with popular choices including wood and metal, plastic sheds really excel in this area – as they're virtually maintenance-free!
The development of modern plastics has increased the durability of plastic sheds and over the past few years, this type of shed has become a fantastic budget-friendly contender.
So if you're planning on investing in one soon, you're in the right place! In this post, we'll explore the best plastic shed range that Garden Buildings Direct has to offer.
Why Plastic Sheds?
One of the main reasons why many people opt for plastic sheds is that they're practically maintenance-free. Moreover, there are no dangers of corrosion, rot or warping.
This guarantees the shed remains in pristine condition for a long time. All it needs is occasional washing with warm soapy water or slightly jetting it with a water pressure cleaner. Simple as that.
Like treated wooden sheds, most plastic sheds are also treated to resist the harsh UV rays. What's more, they're reinforced with steel frameworks so they can hold up against the elements.
The HDPE and PVC vinyl plastic used in today's shed has been developed. They're durable enough within the extremes of the UK's weather. In short, plastic sheds are watertight, weatherproof and UV resistant.
As for the aesthetics, plastic storage usually features subtle but decidedly contemporary designs that fit in with any garden layout. Other features include plastic siding, pitched roofs and integrated padlocks eyelets for security. Below, we'll go through some of the best plastic sheds on offer from our new Lifetime range.
Lifetime Plastic Shed Range from Garden Buildings Direct
Price: £2,399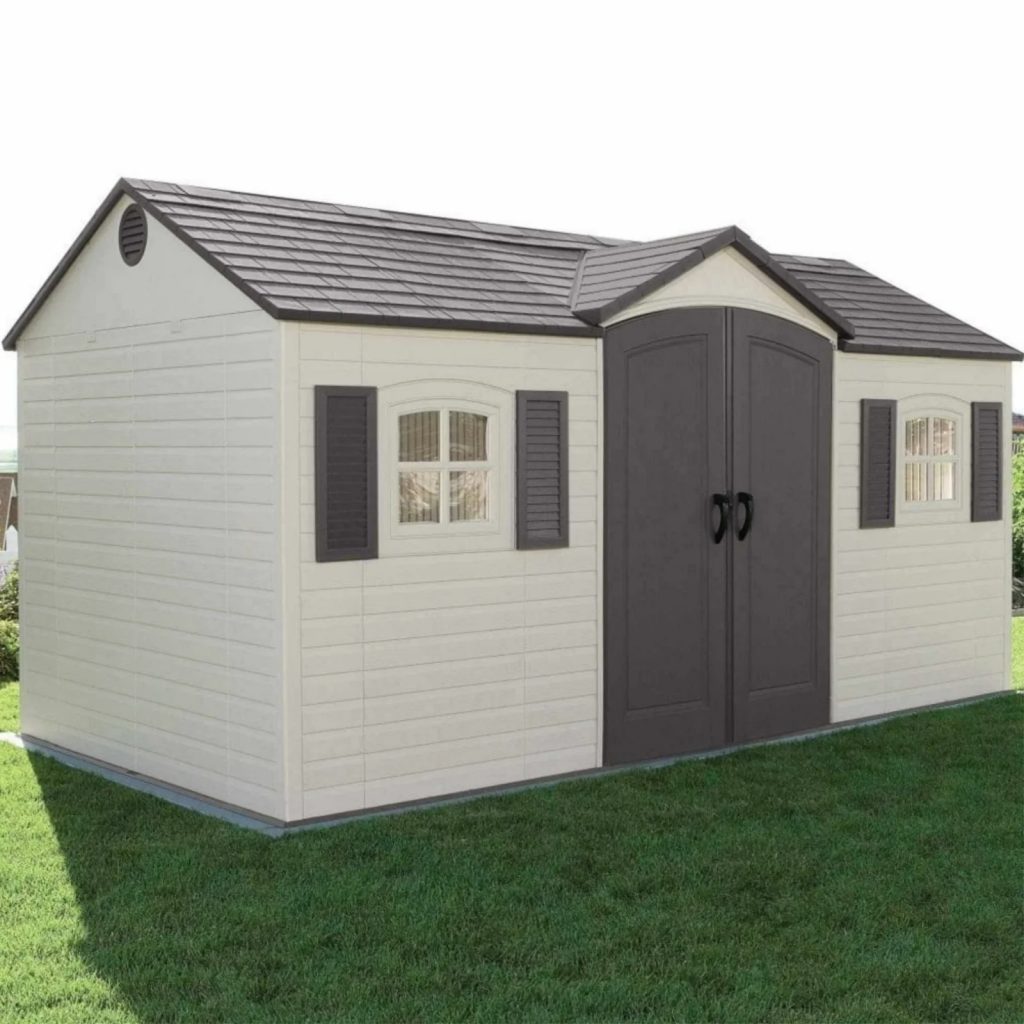 There are many things you can use plastic sheds for—and this shed unit can give you the advantage of either storage space or use as a workshop. With its 15 x 8 size, this Lifetime shed is robust and offers enough space to move around inside.
The structure is also more eco-friendly than most plastics. It doesn't emit harmful emissions or leak toxic chemicals during production. And the credit goes to the high-density polyethylene (HDPE) plastic build. This also ensures that the crisp exterior will not crack, peel, or chip under harsh sunlight.
Another key factor of this unit is the powder-coated steel bracing. The dual-wall structure uses steel reinforcements throughout. This brings extra strength to the construction. And the powder coating ensures the building is resistant to wear and tear, rust, and corrosion.
Even better, it's combined with special touches, such as the choice of an arched double or single door. With this option, you can tailor your plastic shed to your specific needs.
As for the core interior features, it includes shelving units and peg strips. These help you organise your tools and other equipment in style.
The overall appearance of this shed features a light and airy design. To know more about it (including the sizes available), click here.
2. Lifetime 12.5ftx8ft Heavy Duty Plastic Shed
Price: £1,999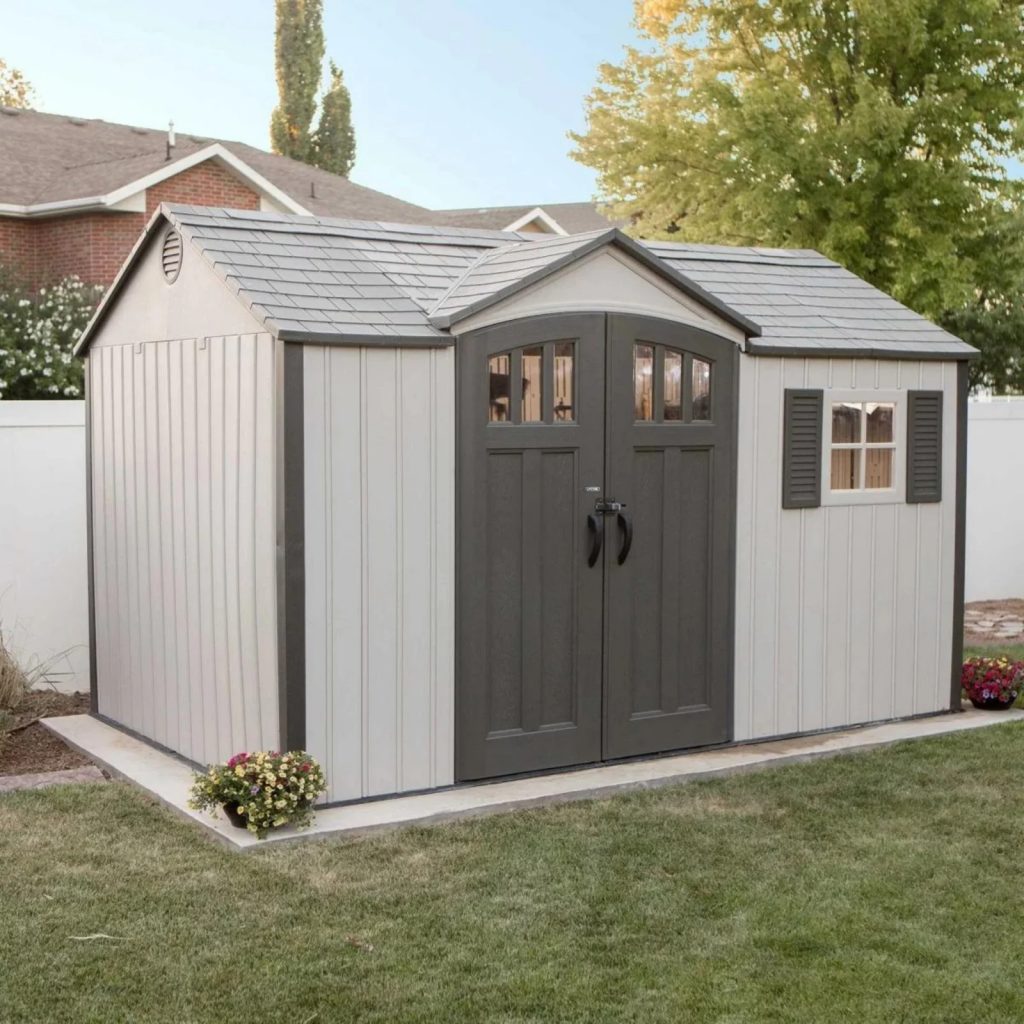 This classic and stylish Lifestyle shed unit offers a hassle-free storage solution. The exterior complements any garden setting with flattering, timeless colours.
Its 12.5 ft. x 8 ft. size and is enough to accommodate your storage needs for all your gardening tools. This shed purchase also includes two shelves, six wall hooks, and a tool pouch. Organising your tools and equipment has never been easier!
You also don't have to doubt its durability. Using HDPE and powder-coated steel reinforcements, this plastic shed is built to last. Moreover, it's UV-protected, ensuring the structure won't fade or crack.
Air circulation throughout any shed is also crucial to stopping the space overheating in summer or condensation forming. With these vents, the airflow is constantly circulating fresh air.
The apex roof also offers extra headroom for a spacious interior. This means you can comfortably stand upright inside. The floor space is also generous, allowing you to store large items inside it easily.
In addition to looking picture-perfect, the lockable doors are sturdy and secure. They come with a heavy-duty lock ensuring the safety of your garden equipment.
To know more about this shed (including the sizes available), click the provided link above!
3. Lifetime 8ftx10ft Special Edition Heavy Duty Plastic Shed
Price: £1,479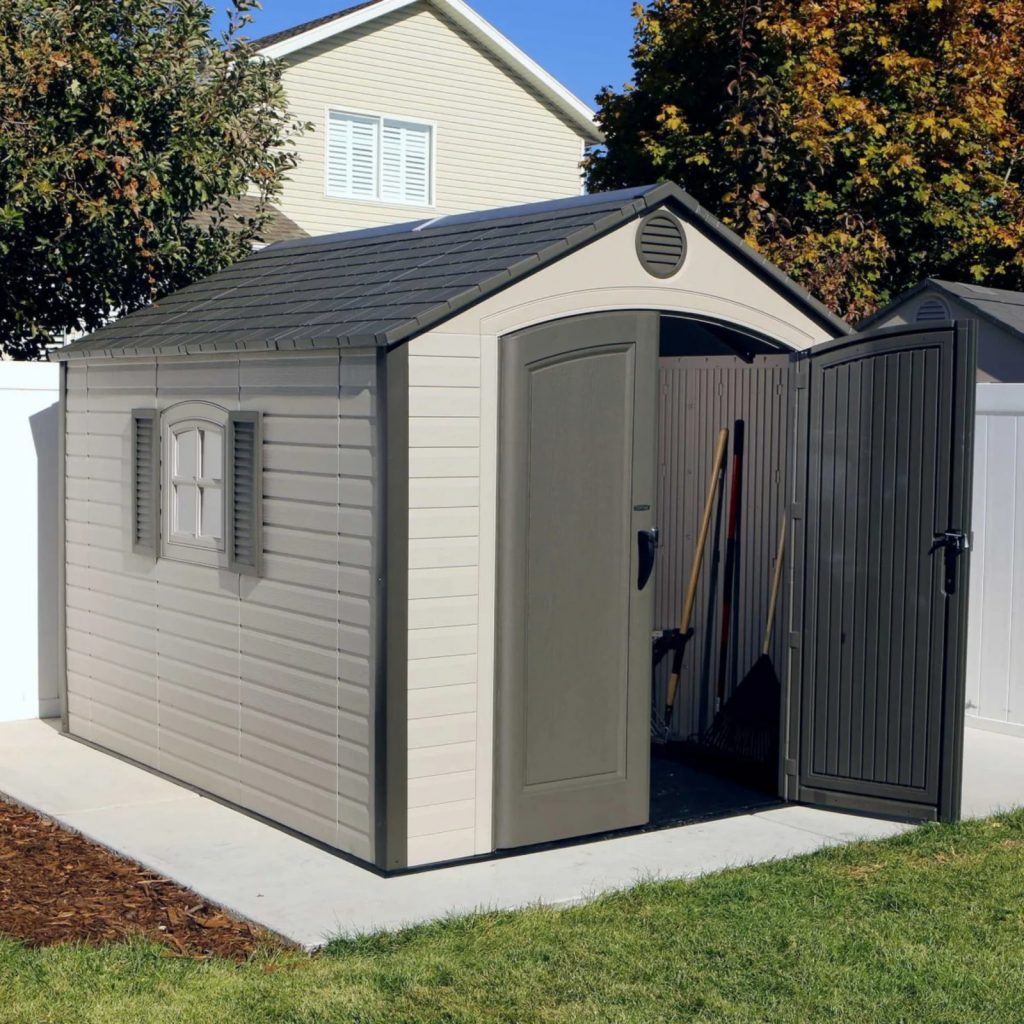 Plastic sheds are available in a wide range of functional styles and sizes. For smaller gardens, this Lifetime 8x10ft heavy-duty plastic shed is the perfect addition!
Our Lifetime collections are lightweight while maintaining superior strength and durability. This unit is known for its robustness, longevity and resistance to moisture.
Further, the HDPE features premier UV-inhibitors. These make the shed structure very resistant to extended exposure to UV rays.
Like the other units, this one is also designed with a powder-coated steel frame. The steel adds stability and the powder-coating prevents rust or corrosion. This provides a great all-weather finish to the shed. 
The wide-opening double doors are also fitted with a unique button catch opening mechanism. Plus, the screened vents at the front and rear allow a constant airflow, preventing mildew.
The ideal solution to your storage needs, this shed unit can be an attractive addition to your garden.
4. Lifetime 8ftx5ft Heavy Duty Plastic Shed
Price: £1,149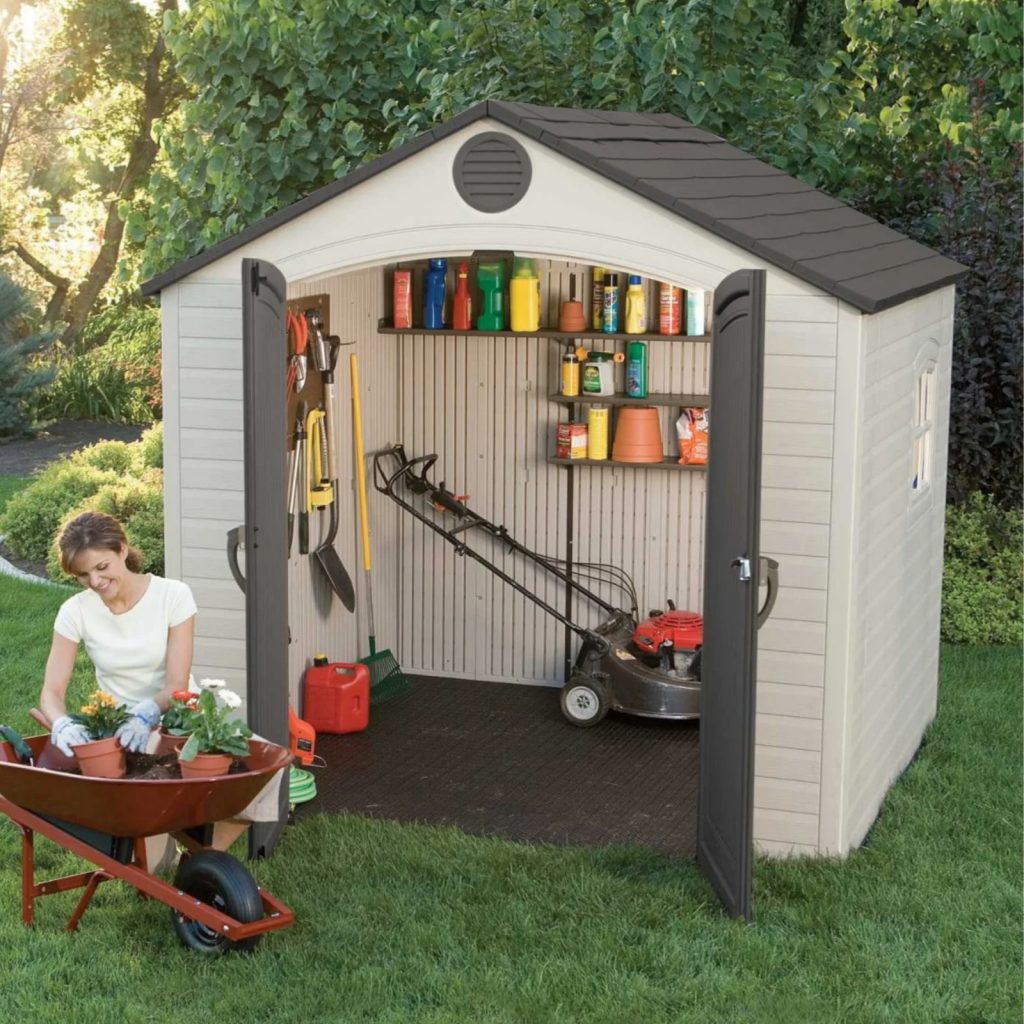 Perfect for smaller gardens, this small plastic shed features an apex room. It's also manufactured from high-density polyethene with heavy-duty, powder-coated steel reinforcements.
The longevity of this shed comes from the HDPE that it's made up of. This plastic is strong and resistant to mould, mildew, and rotting, allowing it to stand the test of time.
A picture-perfect design, the cream and grey exterior complement any garden. The highlight of this unit is the skylight feature. It improves the internal light through the natural lighting flooding in from above.
The shape of the roof (an apex design) allows for extra head height when you stand within it. Plus, the double doors provide a practical entrance to the shed. With these, you can store your gardening tools with ease.
What's more, the inclusion of screened vents allows for continuous airflow, preventing mildew. Overall, this shed unit is a worthwhile investment for your yard!
5. Lifetime 6ftx3.5ft Heavy Duty Horizontal Storage Plastic Shed
Price: £559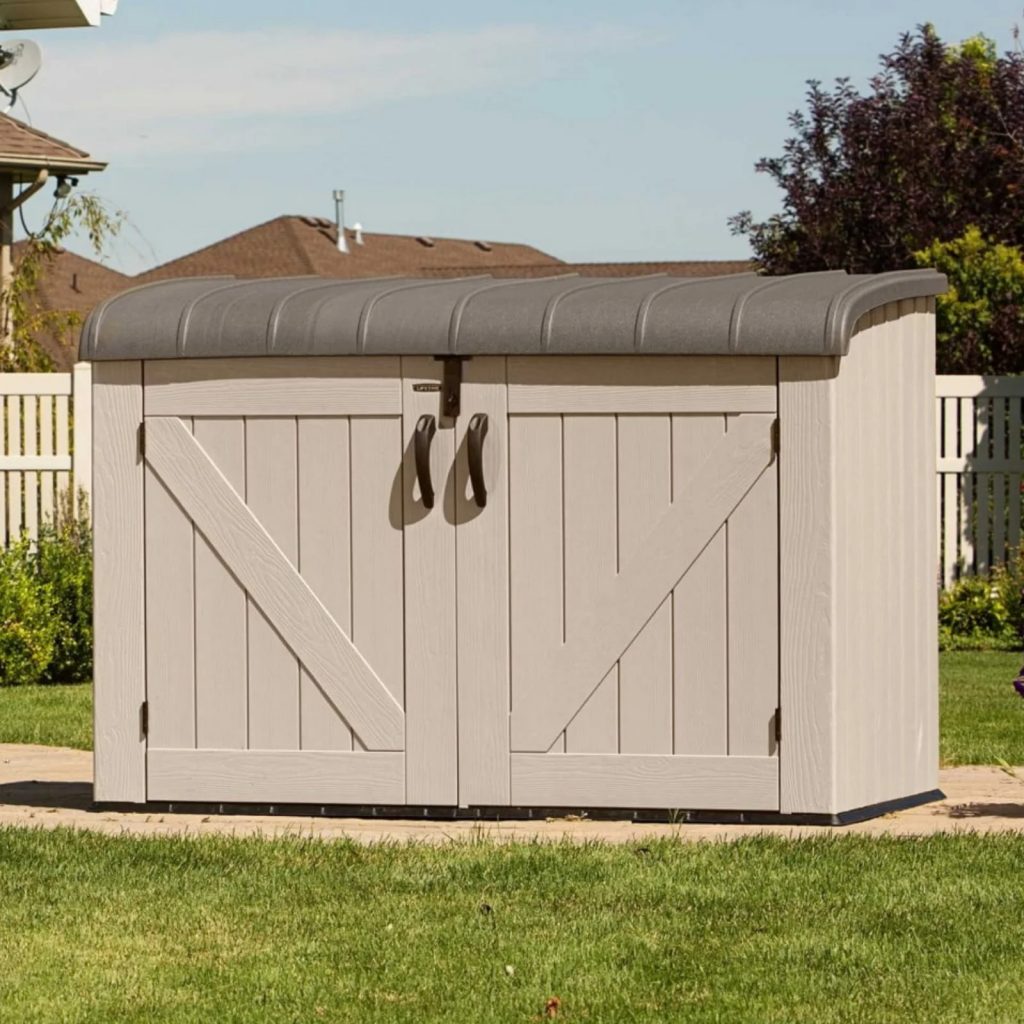 If your garden can't fit even a small garden shed, but want more than a storage bin, then this one might work for you! It's a curved roof garden storage unit made from high-density polyethylene.
With heavy-duty, powder-coated steel reinforcements, it makes an ideal storage solution. This storage box is also designed with a controlled spring-hinge to keep the lid open. It falls flat when closed, keeping the contents dry.
For security and added peace of mind, the lid is also lockable. Add a padlock to secure the box and keep your possessions safely stored inside.
Like with the rest of our Lifetime shed collection, this unit can withstand the elements. It's resistant to fading, cracking, and peeling – extending its lifespan.
Suitable for use as a wheelie bin store, it can keep bins out of sight or double as a log store. Free up some space in your yard or even in the garage from rubbish with this multi-purpose storage unit.
The wide double hinged doors make rolling items in or out simple. It has an easy-opening lid and a sloped threshold, and it opens from the top/front.
Why Buy From Garden Buildings Direct?
Garden Buildings Direct is a leading manufacturer and seller of garden buildings. We invest huge amounts of time and manpower to produce the best quality products that suit everyone's needs, and this extends to every single plastic shed that we sell.
With this, we are confident in endorsing our garden building collections. This includes our Lifetime heavy-duty plastic sheds, which are absolutely worth checking out!
Click the button below to shop from our BillyOh plastic sheds today.
Shop Plastic Sheds