Continuing our best garden buildings series, plastic sheds take centre stage today.
Durability, affordability, and low maintenance are the key attributes of plastic garden sheds. Like their wooden counterparts, they make a convenient and secure storage solution.
Garden Buildings Direct can help you find one that's ideal for your needs. Read on to find the best and most popular plastic sheds on the market.
Why Plastic Storage Sheds?
Plastic is a flexible material, and by definition, many tend to think it's somewhat weak. Yet some are incredibly strong and long-lasting, such as polycarbonate, polyethene, and vinyl. Such quality materials are what defines the term 'plastic' in most, if not all, plastic sheds.
Plastic garden sheds are undeniably strong and exceptionally good value for money. They won't rot or rust, unlike timber and metal sheds, and they're virtually maintenance-free. Available in a range of sizes, styles, and colours, they make a versatile option for any outdoor space. The clean and modern-looking designs also add up to their aesthetic appeal.
The heavy-duty polycarbonate sheds for sale from Garden Buildings Direct are among the best ones on the market today. The material is weather-resistant, fire-retardant, and UV-protected. Plus, flooring or a foundation kit is included for a quick and simple installation.
Our plastic storage units are an excellent choice and won't be beaten on price or quality: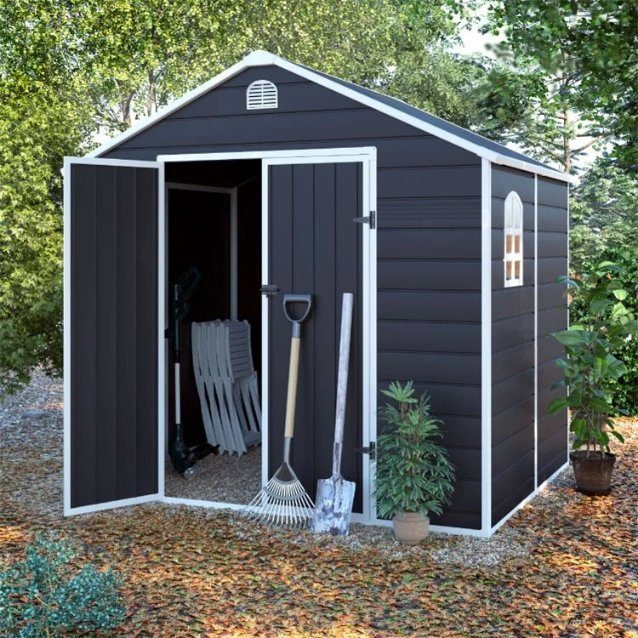 Solve garden storage issues with the BillyOh Ashford Plastic Shed! It comes in a gorgeous muted grey in three distinct sizes. Ideal use for storing all kinds of items, from garden equipment to outdoor furniture.
Design insights: The built-in air vents provide enough air ventilation for dampness prevention. The design also features a small side window, allowing natural light into the shed. Ashford is easy to maintain and UV-protected, and thus it won't crack or fade in direct sunlight, to add.
For added durability and support, we've included a foundation kit with the Ashford. What's more, a padlock eye is included on the double doors for extra security.
Sizes available: 6×6, 8×6, 8×12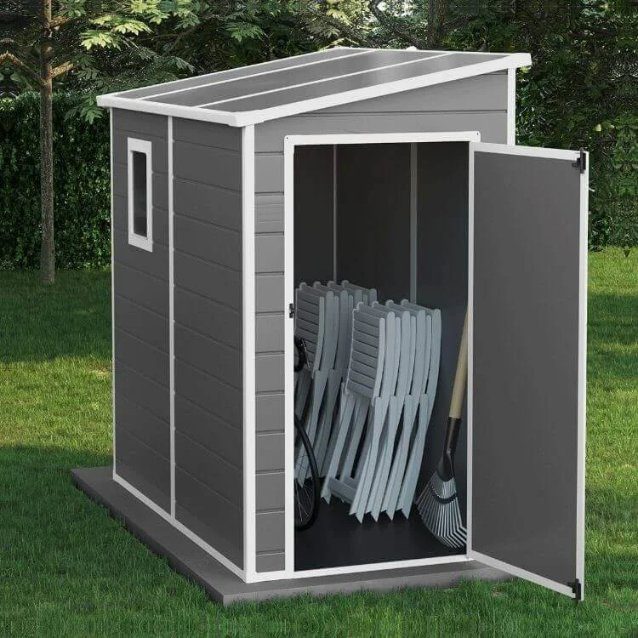 The lean-to design of this shed makes it ideal for small gardens or areas with limited space. It can fit snugly against an existing wall, e.g. your house or other garden buildings. With a depth of 6'3" and height of 5'7" at the eaves, it offers plenty of storage space.
Design insights: The metal framing gives the rest of the structure a strong framework. This doubles up the robustness of the high-quality plastic material of the unit – overall.
With its subtle grey, Newport will look fantastic in traditional and modern gardens. The side window offers natural light to the shed's interior. Plus, the in-built air ducts allow ample airflow, keeping the stored items safe and dry.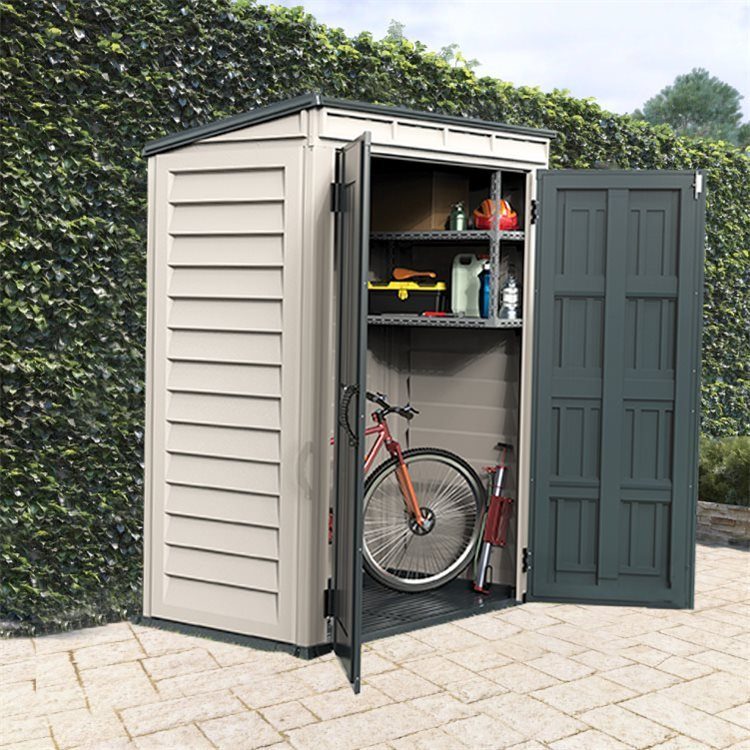 The key point of this shed is the pent-roof design, which looks sleek and modern, and also allows for extra headroom. It's a quality space for storage at an attractive price point.
Design insights: The solid vinyl panels are weatherproof, easy to install and maintenance-free. The strong reinforced interior metal structure can hold up to 20 lbs of snow. There's no need for foundation, thanks to the vinyl-made, heavy-duty floor panel.
The wide and tall double doors make moving items in and out as easy as possible. They also come with a padlock eye, too, for enhanced security. Vents run across the front width to keep the interior cool and condensation-free.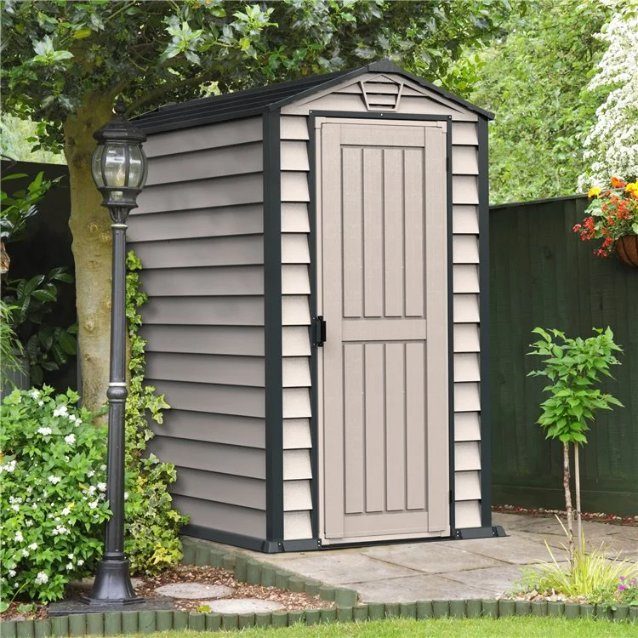 On the hunt for a storage unit that helps in a pinch but doesn't squeeze your garden space or budget? Look no further than Evermore! It provides just the right amount of storage, with the versatility to go anywhere.
Design insights: The fantastic weather-resistant design results in impressive durability. Constructed with a strong galvanised steel frame, providing a firm structural strength.
The apex roof provides great drainage and a tall product height for loads of headroom. And better yet, the space-saving 4×6 design means it can fit anywhere you need it to.  Whether that's down a side alley, inside a garage, or next to your favourite BBQ!
Utilise the vertical space with shelving or hanging racks, and you'll be amazed by what you can fit inside.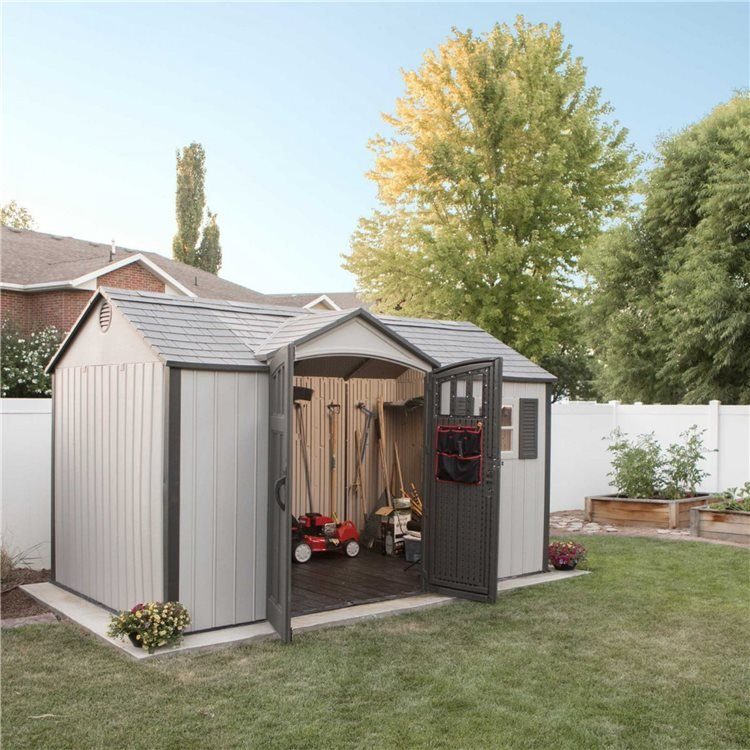 The ultimate solution to garden clutter is here! Here, we present the Lifetime heavy-duty plastic shed unit, boasting a 12.5×8 size – at an affordable price. It's the perfect outdoor storage space for all your garden essentials.
Design insights: Made from HDPE, it's resistant to weather, rust, and decay, ensuring it lasts for years. It's a modern and lightweight plastic that requires very little maintenance. A clean with some soapy water once in a while will do!
The powder-coated steel reinforcement contributes to the robust design of the unit. This protects it against wear and tear and from harsh weather conditions.
The hinged doors to the shed open widely, and they also lock on the inside and outside. What's more, the light and airy feeling makes spending time inside all the more appealing. Thanks to the two windows and five skylights that invite plenty of light into the room.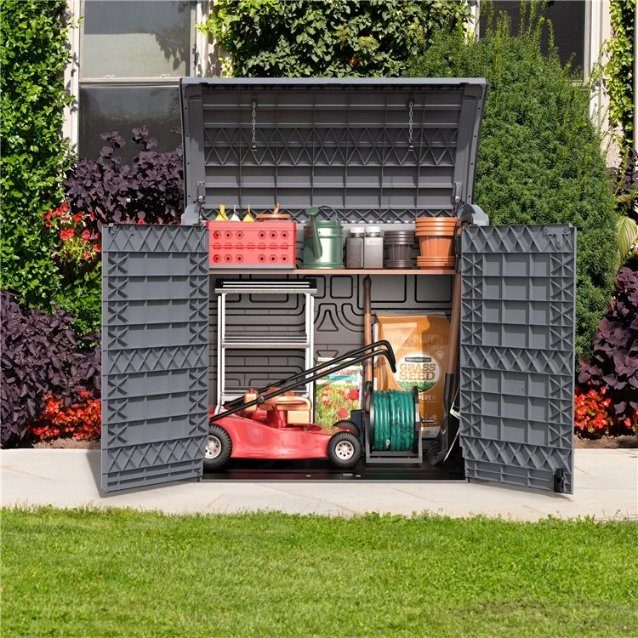 The Storeaway shed is a popular choice among the top garden storage boxes. Don't underestimate its size, as it can store wheelie bins, BBQs, or outdoor furniture – and much, much more!
Design insights: A large storage container with an interior capacity of up to 1200 litres! Finished in a sleek grey woodgrain exterior. Plus, with both horizontal and vertical access points.
The piston-operated arc lid gives you vertical access to the interior. Whereas the wide-opening double doors provide horizontal access to the unit.
Alongside durability, the Storeaway features a wood-like cedar grain finish in sleek grey. It'll look smart and can fit naturally into your modern garden space.
Size: L:82.5cm x W:145cm x H:125cm
Round-up
If you have the time and money to build one from scratch, good for you (and good luck)! Otherwise, your best bet is to invest in the best plastic sheds for sale.
Plastic garden storage sheds are well worth considering for several different reasons. If, at first, you haven't made up your mind, chances are, now, you do, especially after reading this guide. To browse our fantastic range of plastic sheds, all you need to do is click the button below.
Shop Plastic Sheds