Investing in a pre-built shed means you don't have to lift a finger to put it together when it arrives. But when talking about cost comparison, it may be cheaper to build your own shed.
If you're a DIY enthusiast, that reason alone may be enough to construct the shed yourself. You can either rely on step instructions via the web or purchase a complete kit. Either way, as long as you have all the tools required, you're all good.
But before starting on your building project, there are factors you need to consider. These include your abilities and the time you can dedicate to labour.
This guide will walk you through all the possibilities. Keep reading, and let it help you decide whether the do-it-yourself route is worth a try.
Buying a Pre-built Shed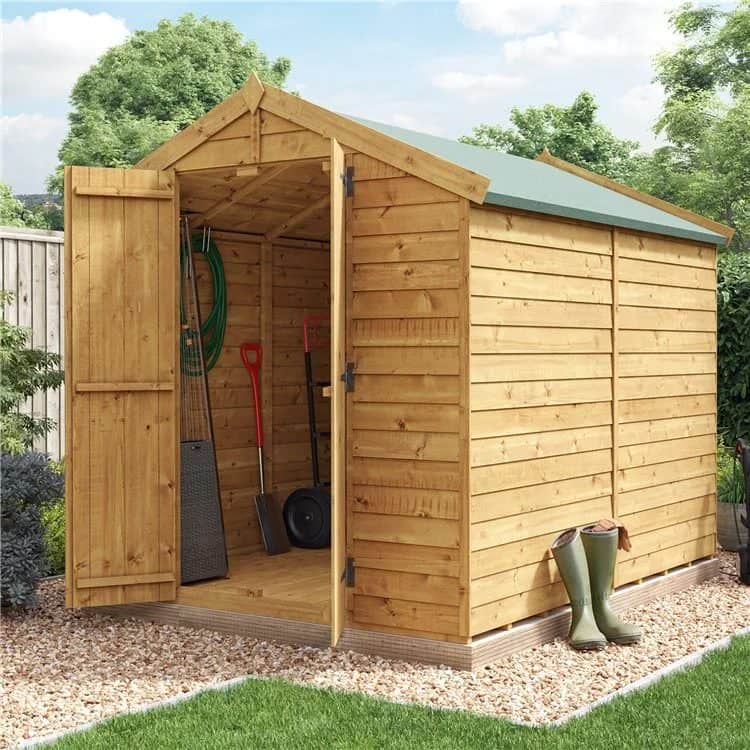 Between work and family, you may not have enough time to create a storage space from scratch. But suppose you need an extra room for your outdoor items – this is where pre-built sheds come in.
Wooden, plastic, and metal sheds can be anything from extra storage space to a workshop or home office. Not only do these structures have the storage you need, but they also come fully assembled. They are ready to go the minute they reach their destination – to your garden, in your case.
Not all sheds are created equal, but most are built with premium-quality materials. You have the confidence of knowing that they stand the test of time. Also, you aren't just buying a storage building but an heirloom-quality piece that adds a home curb appeal.
If you're tired of your garden tools sitting out in the rain or need to get around to some woodwork, a garden shed is the answer!
The perks
Have a look on why you should buy one instead of assembling it with materials lists and tools. Here are some of the best arguments for investing in a pre-built shed:
Delivery

Ease of purchase

Easy to assemble

Quality and warranty guaranteed
If you're not that handy or don't already own the tools necessary to build one, this option could be for you. By skipping the shed construction stage, you can have something ready to go in your garden in no time.
You'll be assured of quality materials, a professional design and a warranty. However, the cost may be the argument against this option. The price range might seem off-putting at first, but it doesn't include just the material costs. You're also paying for the labour, construction as well as delivery and more.
This begs the question:
Why Not Build a Shed?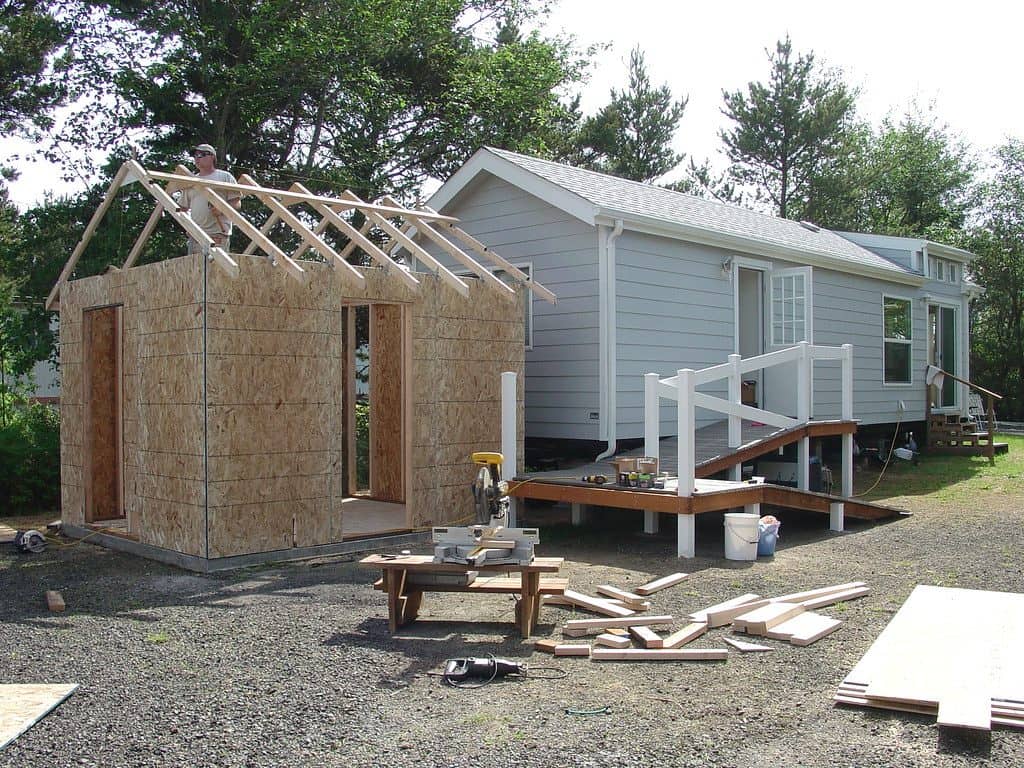 Usually, it won't take many special tools to build the shed. If you invested in a shed kit, where everything is already cut and ready to go, all you have to do is assemble it. At most, you'll need a tool list that includes a hammer, drill, and screwdriver.
If you opt for online step by step instructions, you'll need a few extra power tools, such as circular saws.
On the other hand, you have the power to customise the garden building. You can decide on the style, shape, materials lists, quality, and price range to suit your needs.
Things to consider
One of the biggest draws for building your own wooden shed is the romantic element. There's enjoyment to be had when building your own shed, especially if it's cheap.
But the question is, is it really cheaper? The outlay for the initial materials may well be. Plus, there are additional steps and factors to consider:
Are you handy?

If you haven't got any construction skills, then you might be shooting yourself in the foot here.

Can you transport materials?

Have you got a vehicle capable of picking up

construction materials

like a

ridge board

? If not, then you might end up spending more on delivery costs.

What's your time frame?

Can you afford to wait if fixings and materials aren't in stock? How quickly do you need your

outdoor structure

finished?
Building your own shed can be a great experience, and there can be a real sense of achievement at the end of it.
But what happens if your friend can't help you on such short notice? Or what if it rains and you haven't got the roof sheets or roof panels on yet? 
Unless you're a skilled builder, you might not be able to construct even a medium outdoor structure at the weekend. If you mess up step instructions or measurements, you might even have to start over.
The Costs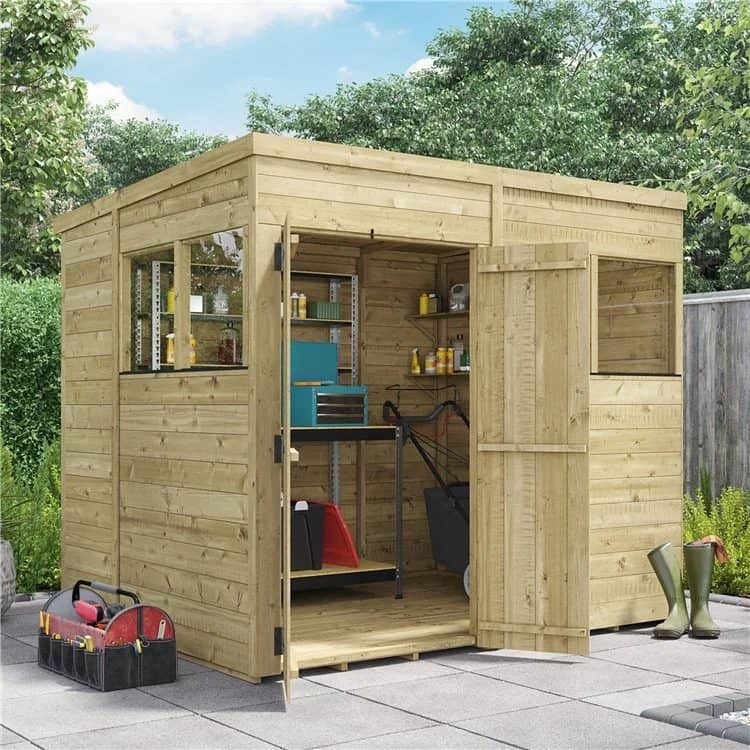 Have a look at the additional cost involved in building and buying a shed.
1. Purpose
The prices will vary depending on what shed you buy, such as storage or a workshop. By deciding on how you want to use it, you can narrow down your price range.
2. Design
Once you've decided what to make a shed for, you should decide on a design. First off, figure out whether you want a pent, apex, or reverse apex roof.
A pent roof is a single slope on an incline for drainage. Whereas an apex roof is slanted in a 'V' shape and drops off to the sides of the shed. A reverse apex is similar but slants down to the front and back of the shed (in relation to the door).
Then, you'll need to go a little further and decide what design you want. Refer back to your shed's purpose that you settled on to get a better idea. Do you want a lean-to, a saltbox shed, or a summerhouse? 
These decisions will affect the price of your shed. They may also require more carpentry knowledge.
3. Tools and construction
These increasing demands on your construction skills go hand in hand with the tools you'll need. These include:
Jigsaw

Drop saw (or mitre saw)

Circular saw (or hand saw)

Drill (and bits)

Impact driver 

Pencil, set square, and tape measure

Straight edge

Hammer and chisel

Spirit level

Basic staple gun 
For ease of construction, or depending on the size and thickness of your shed, you might even want a framing gun. 
Still set on the idea of building your own shed? If so, look at one of the biggest hidden costs of attempting to construct one – time.
4. Time
Shed construction takes a lot of time, from design planning and materials to assembly. Offsetting the upfront cost of buying one by using yourself for labour can save you money.
Below are the rough steps you'd need to take to construct a shed. Then you can think about whether it's worth your time and effort.
It goes something like this:
Measure, clear, and level your desired space.

Mark your shed out.

Dig footings for support slabs for the four corners and backfill with hardcore and soil. At this point, you could also opt to pour a full

concrete slab

or footings, depending on how big your shed is.

Cement in further support slabs along the edges of your foundation.

Construct a level frame to rest on your slabs.

Lay the

OSB board

on your ground frame.

Build the wall frame.

Insulate and waterproof your shed.

Frame the roof.

Fix cladding to the exterior.

Fit plywood and add

roof panels

or

roof sheets

.

Fit the door and

window frame

.

Any

additional steps

like installing shutters, drainage, ramps, soundproofing, internet etc. 
So, how long do you think it'll take you? If something goes wrong, like your foundation isn't level, it could strain your shed. Then this could cost you further down the line.
The BillyOh Option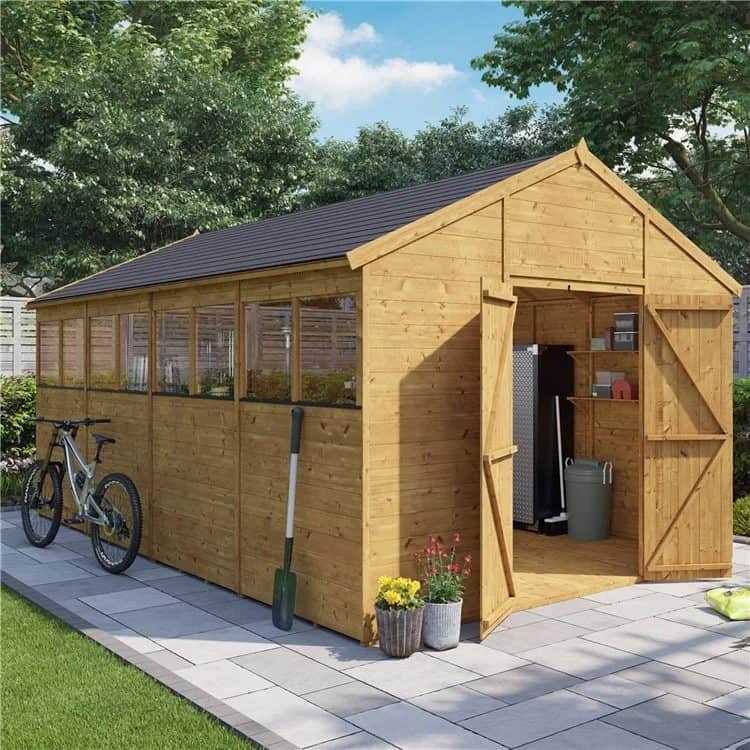 What if you still want the experience without the extended labour and waiting time? You may want to consider the BillyOh option. We stock an expert range of garden buildings including sheds, summer houses, and more.
Our range of sheds uses pre-assembled tongue and groove boards for easy construction. Plus, you can customise the size and even have a solid base kit option to suit your garden.
With this third method, you'll also require fewer tools. At most, you'll need a hammer, drill, and screwdriver. With all your panels pre-cut, the construction process will save you more time and energy.
Best of all, the European-sourced timber ensures you'll get a high-quality, durable DIY shed.
BillyOh construction process
With a pre-bought shed, you won't be required to do anything of this except maybe the foundation. In contrast, the BillyOh construction process can look a little something like this:
Order online

Panels made from high-quality European timber are built whilst you wait

Panels are delivered to your door

You and a friend use our tongue and groove design to fit the panels together in a matter of hours

Kick back and relax in your brand new shed
And we'll just leave that there!
Planning Permission
Depending on where you live and where your shed will fit, you may need to check planning regulations. You'll need to check whether any building codes apply.
Some rules are more general, such as not exceeding 2.5m at the maximum height of your eaves. But again, it's no point waiting until your shed arrives to find out that it's not up to specification.
To give you an idea, have a look at this log cabin planning permission.
Round-up
You've come all that way, and you're right back where it all started. So, is it cheaper to build your own shed?
There is no right or wrong answer to this question. Generally, it is almost less expensive, as you're conducting all the labour yourself. Yes, it may be, and this 'yes' means that if:
You're skilled enough to measure, cut, and build one

You have all the tools on-hand

You can rely on at least one skilled friend to help you out

You have time on your hands

The

complete material list

and fixings you need are all in stock. And you have the means to transport and store them

The weather is on your side and doesn't waterlog or rot your shed before it's built
And the alternative – buying a ready-built unit – can come with a hefty price tag. But why not get the best of both worlds with the third option? You can still have the thrill of construction and the feeling of achievement.
Whatever you decide to do, know that a shed – be it pre-built or DIY – is a worthwhile investment. 
Check out our range of easy-to-assemble garden sheds to find the perfect fit today!
Shop The Storer Shed
FAQs