We love to catch up with our customers to see how they're getting on with their garden buildings. So today, we decided to check in with Shazad to see how her daughter was enjoying her new playhouse!
Birthdays are a special occasion for all. They're a wonderful community event where family and friends gather in harmony to celebrate a person's life. And as a standard convention, they're usually an opportunity to shower the birthday boy or girl with thoughtful presents for them to enjoy.
So when Shazad's daughter's birthday was coming up, she wanted to get her something really special to cherish and enjoy in the years to come. So she had the bright idea of gifting her a playhouse, where she could frolic and play to her heart's content.
After a little research on the internet, as well as recommendations from family and friends, she decided to pay Garden Buildings Direct a visit – to browse our wonderful selection of high quality children's retreats.
'I saw the good reviews and my colleagues had previously purchased from Garden Buildings Direct.'
And she found exactly what she was looking for in our Bunny Tower Playhouse.
Although the Bunny Tower has since been discontinued – it has now been upgraded to the Bunny Max Tower Playhouse – complete with slide and extra space!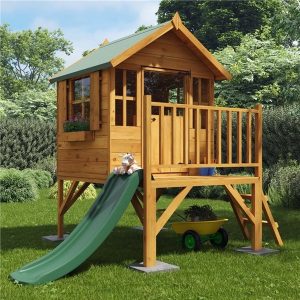 After a speedy and problem-free delivery, Shazad got right to work on constructing her little one's new play room – using our step-by-step instructions to build it with ease.
And in no time at all, the birthday surprise was up and ready for decoration!
'I had an excellent all-round experience. The item was exactly as described with good instructions and delivered exactly when you said it would be.'
Shazad decided to leave the playhouse in its natural wood finish to let her daughter's imagination run wild – and when it came to surprising her with the playhouse, she was overwhelmed with joy!
'My daughter is enjoying it thoroughly. In fact, she even wants to sleep in there!'
You can see Shazad's beautiful new playhouse below:
'I would absolutely recommend buying from Garden Buildings Direct.'
Yet again, another fantastic choice from a truly adoring family. We hope that Shazad's daughter loves her new playhouse and that she makes many memories in it over the years!
If you've got a great story about your BillyOh shed, summerhouse, or playhouse conversion – we'd love to hear it! Simply get in touch with us on social media for a chance to feature here.
Or if you want, you can check out more customer stories right here.
Shop Playhouses