We love to catch up with our customers to see how they're getting on with their garden buildings. So this week, we spoke to mother of two Samantha, to see how she had made the most of her new playhouse!
Samantha came to Garden Buildings Direct searching for a luxurious playhouse for her two little girls to cherish for years to come.
As lovers of the outdoors with a little free space at the foot of their garden, it made sense for Samantha to buy an outdoor playspace. A place for her little ones on those warm summer afternoons.
After a little bit of research, she found our website and started browsing our wonderful selection of luxury playhouses. Finally, she set her sights upon our Gingerbread Max Playhouse due to its size and quality.
'The playhouse was the best design and size that we could find.'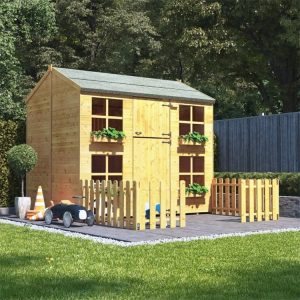 Upon delivery, Samantha and her family got right to work with the construction phase of the project – making the most of our easy-to-read instructions and pre-cut timber. And in no time at all, the playhouse was standing strong and tall and ready for decoration.
'My experience with GBD wery good – especially as we ordered during lockdown. We had no problems and it was delivered on time.'
Samantha decided to decorate the exterior with a classic cream colourway, adding a splash of pale pink on the roof and flower boxes. She also placed colourful artificial shrubbery in the planters to make the building pop!
The inside was furnished with a mini-kitchen area, cushioned seating and plenty of toy dolls to keep her daughters entertained. 
However, the theme changes as the year goes by and Samantha has plenty of fun re-decorating for each new season.
'The girls wanted a pretty pink theme and we added some daisies in to match the house name.'
You can see some of the best seasonal makeovers below: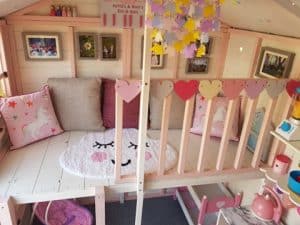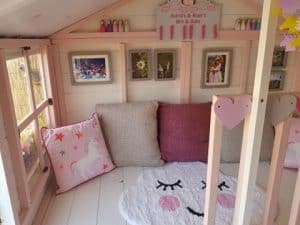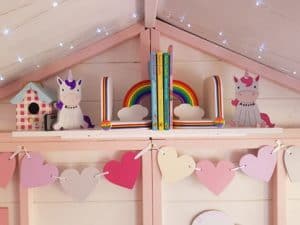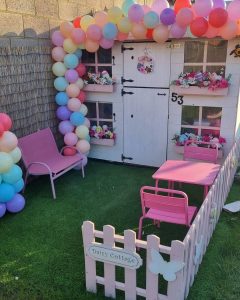 Yet another remarkable makeover by a truly joyous and creative customer – we can't wait to see the Halloween decor when the time comes!
If you want to see more of Samantha's decoration progress or simply see what she's up to, be sure to check out her Instagram.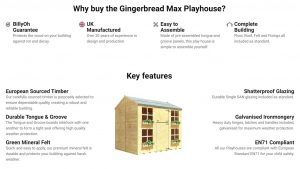 And if you've got a great story about your BillyOh shed, summerhouse, or playhouse conversion – we'd love to hear it! Simply get in touch with us on social media for a chance to feature here.
Or if you want, you can check out more customer stories right here.
Shop Playhouses