We love to catch up with our customers to see how they're getting on with their garden buildings. So this week, we spoke to Scottish mother Jacqueline, to see how she had put her little girl's new BillyOh playhouse to use.
Jackie and her little girl Amber Rae, 3, love the great outdoors! You can see on her Instagram feed that every day is an adventure for the two of them. No matter if they're having a picnic in the park or paddling at the beach, they just love being outside and one with nature.
So it made complete sense for Jackie to buy her little girl an outdoor play space for those after-school activities when they didn't have the time to get away.
After hearing recommendations, she decided to pay GBD a visit – and she couldn't believe her eyes at our great value for money products.
In the end, she fell in love with our BillyOh Peardrop Junior Playhouse due to its perfect fit in her allocated garden space.
'Garden Buildings Direct has the best value for money and customer service.'
Upon delivery – which is free to most of the UK – Jackie wasted no time in assembling her daughter's new playhouse. And with our prefabricated timber and materials, she had it up in a flash!
'My experience was perfect – no issues from start to finish.'
It was painted pink inside and out, with lighting and frilly white shrubbery draped across the exterior. She furnished the inside of the playhouse with a cool kids kitchen and comfy seating too.
You can see the full extent of Zoe's makeover below: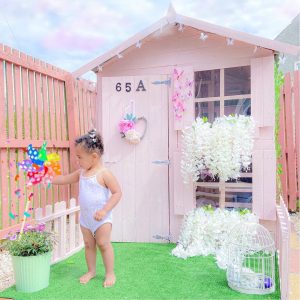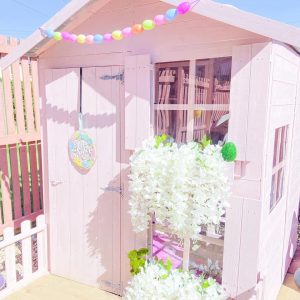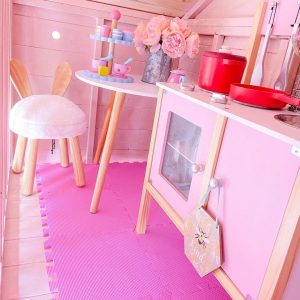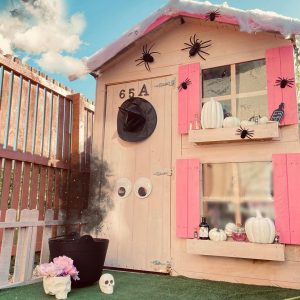 Yet another remarkable transformation by one of our fantastic customers. We hope Amber Rae loves her new playhouse!
If you want to see more of Zoe's new build, as well as her mama adventures, then be sure to check out her Instagram.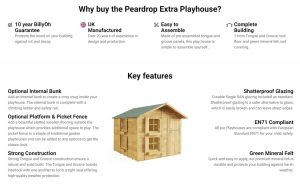 And if you've got a great story about your BillyOh shed, summerhouse, or playhouse conversion – we'd love to hear it! Simply get in touch with us on social media for a chance to feature here.
Or if you want, you can check out more customer stories right here.
Shop Playhouses