We love to catch up with our customers to see how they're getting on with their garden buildings. So today, we spoke with soon-to-be mother of three Zoe, to see how she was making the most of her new GBD product.
As a loving mother, Zoe wants what's best for her children. Her family is her world and she can't help but treat her little ones to their every desire!
Her eldest daughter Martha is already at the age of playing outdoors and her son William is approaching the same time of his life. And with a new baby expected in October, she decided that it would be best to invest in an outdoor playspace which her children can cherish for years to come.
'We're expecting our third baby so we wanted a larger playhouse.'
She decided that she wanted to buy a playhouse big enough for the three of them and install it in the comfort of their own back garden. So Zoe started searching the web high and low for the perfect fit.
She eventually came across GBD and was intrigued by our vast selection of top tier products – all at a reasonable price.
And she finally set her heart upon the BillyOh Lollipop Junior Tower Playhouse.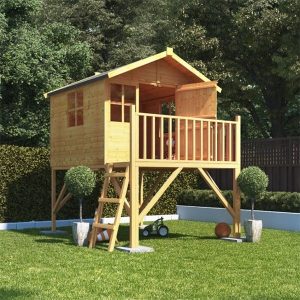 'We don't have a playroom so this was perfect!'
After a speedy and stress-free order-to-delivery turnaround, Zoe and her partner got to work on assembling their new playhouse, wasting no time so the kids could settle in right away!
With the help of our easy-to-read instructions, they had their children's new retreat up and ready for decorating in the blink of an eye.
'My experience with BillyOh was perfect – it was such a quick response time too.'
Zoe decided to paint the exterior a luxurious cream with a black door to match their own property, with solar lighting strung above the entrance for those early dark nights.
The inside was coated with a similar cream colour, and was furnished with a mini kid's kitchen, comfy seating and all the toys they could ever want!
'Now the kids can play with their friends in their treehouse.'
You can see the full extent of Zoe's makeover below: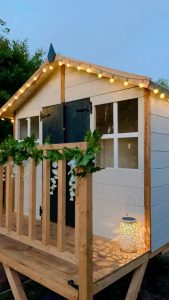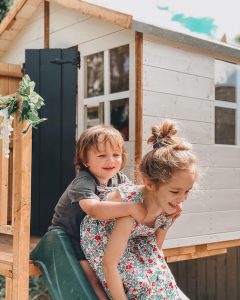 Yet another majestic makeover from one of our brilliant customers, we hope the kids love what you've done with the place, Zoe!
If you want to see more of Zoe's brand new BillyOh playhouse, or to check out her wholesome content feed, be sure to take a look at her Instagram.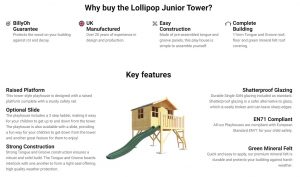 And if you've got a great story about your BillyOh shed, summerhouse, or playhouse conversion – we'd love to hear it! Simply get in touch with us on social media for a chance to feature here.
Or if you want, you can check out more customer stories right here.
Shop Playhouses