We love to catch up with our customers to see how they're getting on with their garden buildings. That's why today, we spoke with Nick to find out how he was making the most of his new BillyOh product!
Memories spent relaxing with family and friends in your own summerhouse will definitely last a lifetime. That's why Nick and his wife Louise were looking for their ideal set-up to install at the foot of their back garden.
After visiting various showrooms and websites to no avail, they finally came across Garden Buildings Direct where they would find exactly what they were looking for.
'We looked around the show areas for summer houses and didn't really see anything that ticked our boxes.'
After being impressed by our reasonable prices, Nick whittled it down to three final choices before settling on our Skinner Log Cabin due to its great size and spacious layout!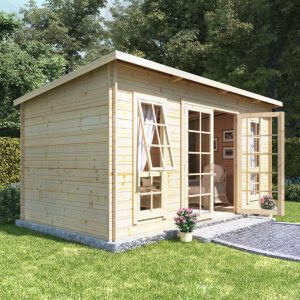 'I looked online and found Garden Buildings Direct (which is excellent) and really liked two or three models. Also, we were very impressed by the prices.'
After completing their order, the delivery was booked in and the product arrived at their door in a very short space of time.
Eager to get it set up, Nick and Louise wasted no time in beginning the construction process – and with the help of our easy-to-read instructions, lightweight materials and prefabricated timber, they had it up and ready in a flash!
'I was kept up to date through emails and texts. Delivery was speedy and prompt. The delivery staff were also very helpful and gave me some useful tips to help me erect it.'
Then came the decoration part, and Nick decided on a beautiful flushed teal for the exterior to give it an inviting homely touch.
The inside was furnished with the usual fittings such as comfy seating, and the happy couple and their family have wasted no time in putting it to use!
'We had a BBQ with our family and friends and our new summer house received lots of praise. Our Granddaughter is looking forward to having a picnic in the summer house!'
You can see the full turnaround of Nick's summer house below: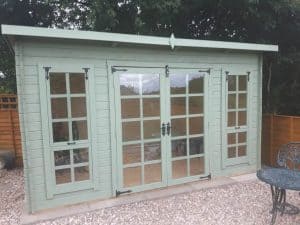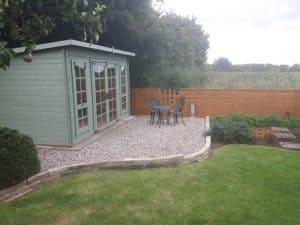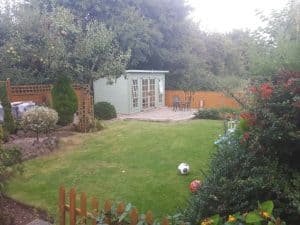 Once again, another fantastic makeover by a hardworking and enthusiastic couple – we hope Nick and Louise cherish their summer house for years to come, and are sure to keep in touch with us!
If you've got a great story about your BillyOh shed, summerhouse, or playhouse conversion – we'd love to hear it! Simply get in touch with us on social media for a chance to feature here.
Or if you want, you can check out more customer stories right here.