We love to catch up with our customers to see how they're getting on with their garden buildings whenever we have a chance. So today, we took some time out to chat to Joanne to see how her children were enjoying their brand new BillyOh playhouse!
A playhouse truly is an important part of a child's life. It's a place where they can get out of the house no matter the weather, to create adventures and let their minds run completely wild to their heart's content.
So that's why one day Joanne decided to pay Garden Buildings Direct a visit, to give the gift of a playhouse to her young ones – as after all, they mean the world to her.
After a short time browsing through our wide selection of top-quality BillyOh products, she finally came across our Gingerbread Junior Wooden Playhouse. She knew there and then that it was the ideal play space for her youngsters, and she conferred with them to make sure it was one that they craved.
'My children chose the playhouse for the size and pretty design.'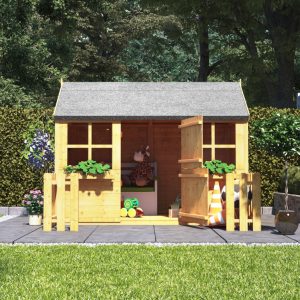 Quality, price and a speedy delivery were must-haves for Joanne, so when she came across this product which had everything she needed and more, it was a real no-brainer!
'I purchased the playhouse from Garden Buildings Direct due to their easy-to-use website, competitive pricing and quick delivery.'
She wasted no time in securing her new unit for the kids, and upon our promised speedy delivery wasted no time in getting to work on the installation process.
Due to our easy-to-follow instructions and high-quality timber, the playhouse was up and ready for some decor in a jiffy.
Joanne and her kids all chipped in with decorations – they opted for felt roofing on the top to weather all storms, and placed beautiful plant pots either side of the door for that homely feel.
'The children love the playhouse. We are all very pleased and would recommend Garden Buildings Direct.'
You can see Joanne's full makeover below: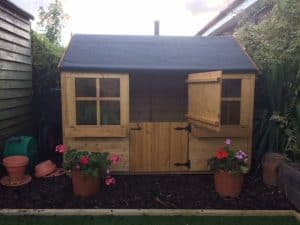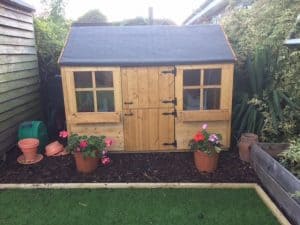 Yet another fantastic use of one of our playhouses, and another happy family who will no doubt make the most of their new building for years to come. Well done Joanne, it was a pleasure catching up!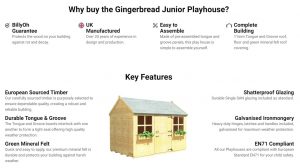 And if you've got a great story about your BillyOh shed, summerhouse, or playhouse conversion – we'd love to hear it! Simply get in touch with us on social media for a chance to feature here.
Or if you want, you can check out more customer stories right here.