We love to catch up with our customers to see how they're getting on with their garden buildings. So today, we've got someone special with a great story about how they transformed their BillyOh purchase.
Hi there, what's your name?
Hey, I'm Rachel.
And Rachel, which playhouse did you go for?
I picked the Gingerbread Max Playhouse.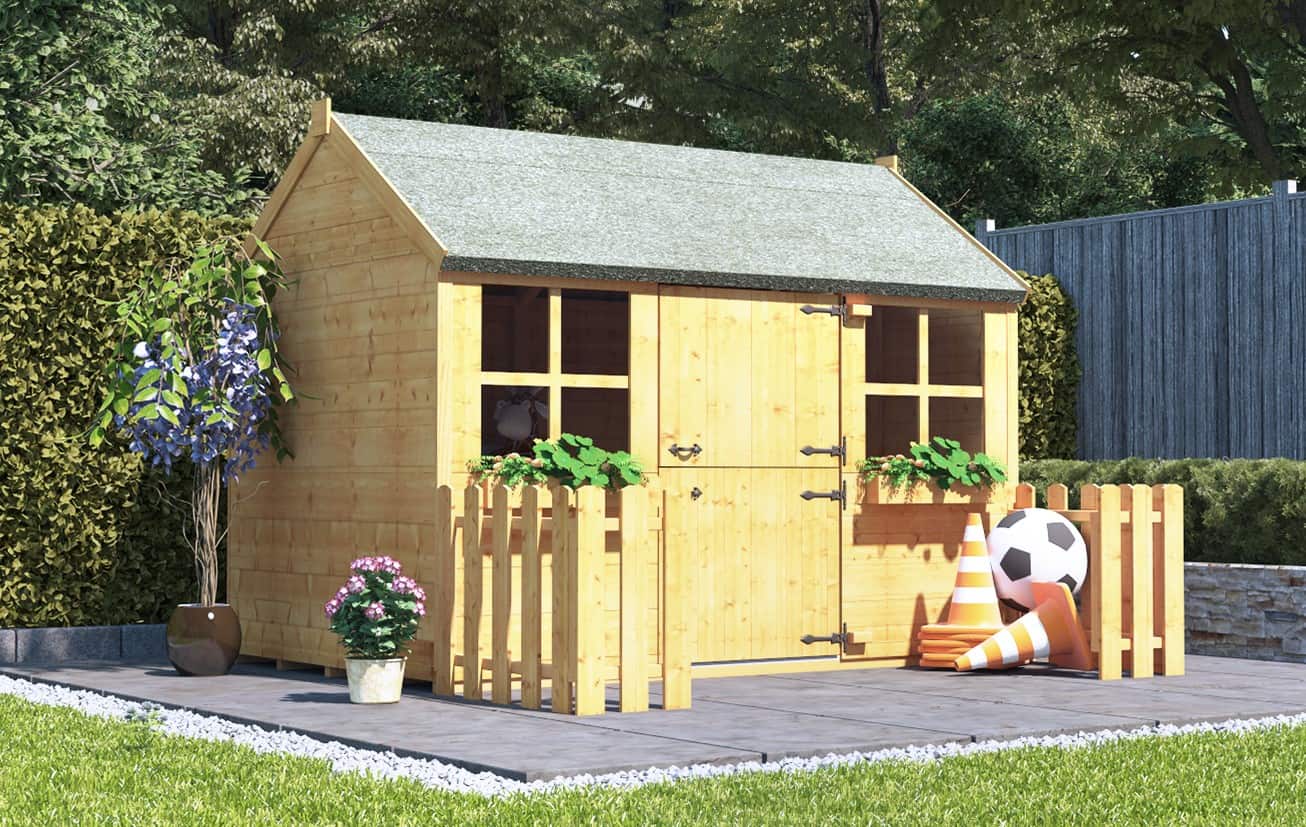 What made you pick this particular model?
It matched the exterior of our cottage with the window and door position and had an upstairs which was important for our little girl! Also, it's a great size and we loved the style!
Sounds great – and has your playhouse got a name?
The mini pink cottage! It's a mini version of our real house.
Great name Rachel. What would you say your new playhouse has allowed you to do that you couldn't before?
Our little girl now has a dry space outside to play where she can have tea parties and look after her dolls. It's also useful for storing her prams and doll's furniture.
Gingerbread Max Exterior 1
Fantastic.
Does your playhouse have a theme, then?
Designed to match our house!
Sounds great. And h
ow have you decorated your playhouse?
We painted it pink, with pink chimneys and red felt roofing tiles to match the masonry and roof tile colour of our cottage. We filled the window boxes with pretty flowers and heathers. We added floral curtains and painted the door to match our own with her own mini door wreath.
Gingerbread Max Planters

Wow – it sounds like you went all out! And what's your favourite thing about your playhouse?
That our little girl loves it so much! She loves inviting her friends in to play and they especially enjoy the upstairs!
So what made you choose Garden Buildings Direct?
Great quality, good reviews, and reasonably priced.
Aw, thanks Rachel. And how was your experience with us?
Punctual delivery with clear instructions for assembly. Great experience!
And would you recommend GBD to a friend?
Absolutely.
Gingerbread Max Exterior 2
Almost done – any top tips for anyone wanting to create their own personalised playhouse?
Don't delay… Create something they will love for their whole childhood! We sorted out the mini pink cottage before even fixing up the real house! And our little girl has already had 18 months of enjoyment from her playhouse. If we worked on the big house first, she'd still be waiting.
Good thought Rachel, and lucky for her! Where can people see more of your awesome playhouse?
They can find me at @thepinkcottageadventure on Instagram. 
Wow, it sounds like Rachel is really making the most out of her Gingerbread Max playhouse. So if you've got a fantastic story about your BillyOh shed, playhouse, or even a log cabin conversion – we'd love to hear. Simply get in touch with us on social media for a chance to feature here.
And if you want, you can check out more customer stories right here.
Shop Playhouses