We love to catch up with GBD customers to see how they're getting on with their garden buildings. So this week, we spoke with Londoner Joel to see how he's putting his new BillyOh Tianna Summer House to use.
Joel works from home in Twickenham but in his spare time he's a very active person – and is always crafting and furnishing with his tools at hand. So it came as no surprise that he fancied a new project over the summer to give his garden a little extra life.
He was torn between the idea of having a hideaway to unwind after a long day in his home office, and a place for his kids to watch movies when they're bored. Luckily, Joel discovered that he could have the best of both worlds with our best-selling Tianna Summer House.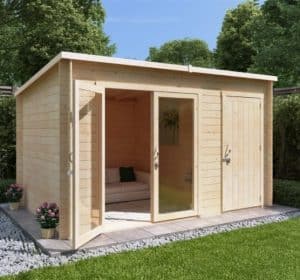 'I'm using the summer house as a man cave to watch sports and also a space to let the kids play and watch movies.'
Not only does the Tianna Summer House provide a relaxation spot for Joel and the kids, but it also provides extra storage space for his tools and garden equipment when he's not using them in the separate section of the building.
'It's given me more space to myself and it provides an extra room to the house.'
After a speedy delivery, Joel got straight to work with the decorating process and furnished his newly acquired summer house with a comfy sofa, additional seating and a coffee table for maximum relaxation.
He also installed a custom skylight for optimal natural light on those clear summer nights.
'I added a skylight to mine and it made a big difference!'
You can see the full extent of Joel's makeover below: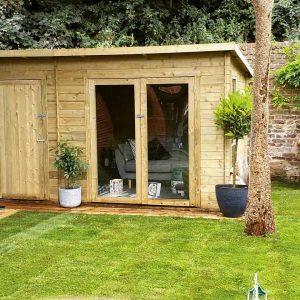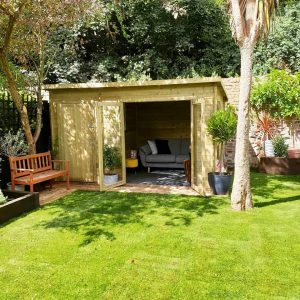 At Garden Buildings Direct, we're very proud of Joel's use of our summer house with side store. And we want to help offer you the same quality garden building and service! To see how Joel's getting on with his new build, go check out his Instagram – @JoilyC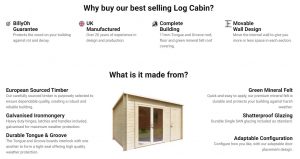 If you've got a fantastic story about your BillyOh shed, summerhouse or log cabin conversion – we would love to hear it! Simply get in touch with us on our social media pages for a chance to feature here.
And why not check out some more of our customer stories here!
Shop Summerhouses