We love to catch up with GBD customers to see how they're getting on with their garden buildings. So this week, we spoke with Yorkshire-based beautician Maisie to see how she's putting her new BillyOh Ivy Summerhouse to use.
Maisie is a qualified beauty therapist from Huddersfield who'd been treating clients from the comfort of her own home. However, home comfort soon became inconvenient when she realised her house just wasn't spacious enough to carry out beauty sessions in.
'My house just wasn't big enough for my own space and my beauty treatments'
Maisie wanted to continue to work from home but if she was to do so she'd need to invest in more space. After hours of endless research combined with brainstorming she finally came up with the idea of building a salon in her back garden.
Maisie came across our business while searching for the perfect garden building, and found it in the form of our Ivy Summer House by BillyOh.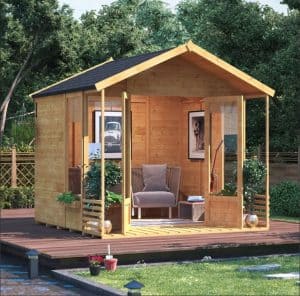 The main appeal of the Ivy Summer House for Maisie was the spacious front feature, with wide-opening double doors leading onto a porch-like setting.
'I loved the look, the open front with the balcony really drew me to this particular one. It just had a very pretty feel to it.'
Shortly after buying her summer house, she began the conversion and decoration process and made her vision of the perfect salon into reality.
Maisie decided to paint the exterior of the building grey and had a custom-built sign made to advertise from the outside. She complemented these outer colours with neutral tones and pastel pinks on the inside. Maisie then hung foliage and neon signage for maximum visual appeal for her clients.
'My favourite thing about my building is that I got to create it myself exactly how I wanted – it's my very own space where I get to work independently.'
All in all, a solid use of a BillyOh Ivy Summer House!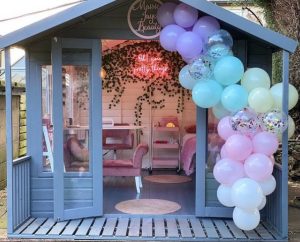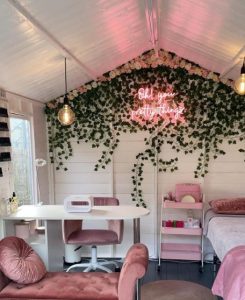 'Buying my beauty hut and starting my own business from it was the best thing I ever did.'
You can see the full extent of Maisie's makeover below:
View this post on Instagram
At Garden Buildings Direct, we're very proud of Maisie's use of our garden storage unit. And we want to help offer you the same quality garden building and service! To see how Maisie is getting on with her beautician ventures, go check out her Instagram – @maisiejayebeauty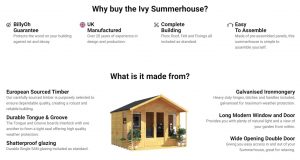 If you've got a fantastic story about your BillyOh shed, summerhouse or log cabin conversion – we would love to hear it! Simply get in touch with us on our social media pages for a chance to feature here.
And why not check out some more of our customer stories here!
Shop Summerhouses