We love to catch up with GBD customers to see how they're getting on with their garden buildings. So this week we caught up with Gloucestershire based Evie to find out how she has made the best use of her BillyOh Darcy Log Cabin.
Evie describes herself as a 'hand-painted natural nail artist' and has multiple years of experience working as a qualified nail technician. As a self-employed business owner, Evie carried out the main bulk of her work from home. However, she soon became overwhelmed by an inability to separate her home and work life under the same roof!
A friend pointed her in the direction of Garden Buildings Direct, where she 'fell in love' with the idea of opening her own nail salon in her back garden. And all through using one of our high-quality log cabins.
'A friend recommended Garden Buildings Direct to me – I had a look at the website and fell in love with so many options on there!'
After searching high and low for the right fit, Evie was dazzled by our BillyOh Darcy log Cabin due to its wide-opening windows and double doors as well as its sleek and stylish reverse apex roof.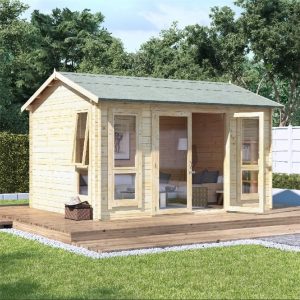 'I love the layout of the doors and windows, and especially love the roof!'
Upon delivery, Evie wasted no time in customising and decorating her log cabin. She purchased custom doors and window frames to make her building pop, before painting it white for a fresh and airy feel inside.
With the interior painted a neutral off-white and grey laminate flooring, Evie installed custom shelving for all her nail polishes and gels. Evie also decorated with foliage and green velvet seating because…why not?
'I absolutely adore the size. Everyone comments on how perfect it is for what I do, and how much of a good set up it is in the garden.'
You can see the full extent of Evie's makeover below: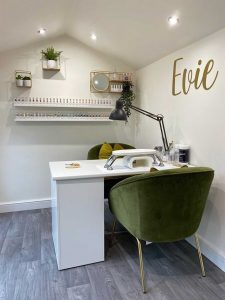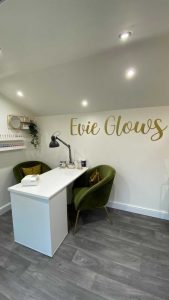 At Garden Buildings Direct, we're very proud of Evie's use of our Darcy Log Cabin. And we want to help offer you the same quality garden building and service! To see how Evie's getting on with her new nail salon, go check out her Instagram – @EvieGlows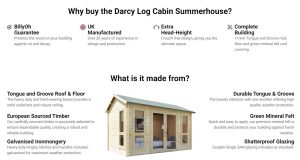 If you've got a fantastic story about your BillyOh shed, summerhouse or log cabin conversion – we would love to hear it! Simply get in touch with us on our social media pages for a chance to feature here.
And why not check out some more of our customer stories here!
Shop Log Cabins