We love to catch up with our customers to see how they're getting on with their garden buildings. So today, we spoke to Andrew from Nottinghamshire who has a great story about how he transformed his BillyOh purchase.
As the business owner of a successful upmarket clothing brand, Andrew carries himself with the utmost pride. And his sense of trendiness translates to his living quarters. Residing in the quiet town of Kirkby in Ashfield, he enjoys the finer things in life like vinyl records and indie craft lagers.
During the national lockdown, Andrew decided that he wanted to take on a home project to carry him through the boredoms of furlough. So he set his mind to  the prospect of creating a back garden bar where he could sip his microbrews and spin his vinyls.
After scouring the internet endlessly for the perfect garden unit, he stumbled across our website and browsed through our vast stock of premium goods. After reading a couple of positive reviews, he decided to go with our best-selling BillyOh Tianna Log Cabin as it also offers a side shed compartment that's in-keeping with the cabin style.
'I scoured the Internet looking for the right summerhouse, and was adamant on the side shed. I read reviews and felt comfortable dealing with Garden Buildings Direct.'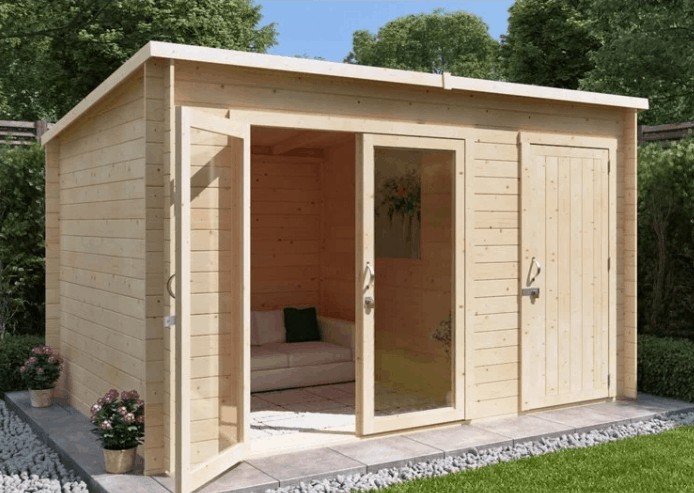 Due to having a relatively small garden, Andrew thought that this product would be well-suited to his needs and he wasn't disappointed!
'It's an empty wooden box at the beginning of the day. But experiment with paints when decorating and you'll know when it's right.'
He set to decorating his new building as soon as he had installed it, coating the exterior with a classic rich oak with a blue slate trim. The inside was finished a pure white and various retro football shirts and road signs were hung upon the walls to give a real 'geezer' feel to it.
He also installed custom seating and tied the room together with a large shaggy rug.
'Everything went as expected, which was perfect. My only shock was "is all this timber really going to make a Summerhouse?". Of course, it did!'
Andrew is overjoyed with his new garden escape, and adores the fact that he has a place to relax and unwind after a heavy workday. He often spends hours in his new garden unit, chilling out with music chiming – and when he isn't occupying it himself, his daughter and her friends set up shop, using it as a girl's clubhouse. After all, our buildings are super diverse!
'Doors shut, music on and I can float away to anywhere I want. It's also a clubhouse for my young daughter and her friends, so it gets plenty of all-round use.'
You can check out the full extent of Andrew's conversion below: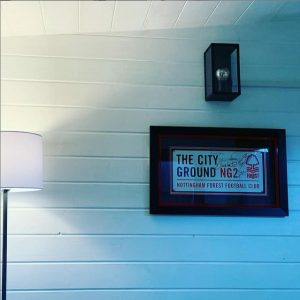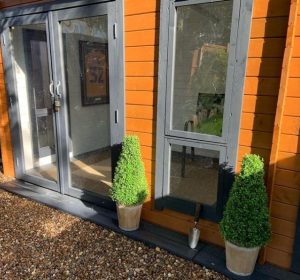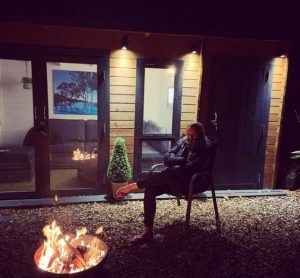 We really do admire the work Andrew has put into converting one of our log cabins, and if you want to check out more of his work, then be sure to catch him on Instagram – @andrewfrogson. It's hands down one of the coolest feeds we've ever seen!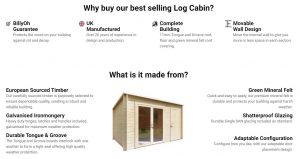 And if you've got a fantastic story about your BillyOh shed, summerhouse, log cabin or playhouse conversion – we would love to hear it! Simply get in touch with us on our social media pages for a chance to feature here.
And why not check out some more of our customer stories here!
Shop Log Cabins