We love to catch up with our customers to see how they're getting on with their garden buildings. So today, we caught up with Plymouth-based mother of two Sophie, to see how she had turned her new log cabin into a cosy snug.
As a mother to a little boy and a girl, Sophie's household could get pretty hectic throughout the UK's national lockdown. With restrictions preventing them from leaving the house, Sophie and her husband Steve had no space to chill out and unwind as a couple.
They decided that they needed a spot where they could get some peace and quiet on those frantic days. And we can't blame her, with kids running rampage and the four of them constantly on top of each other. So they set their hearts on building a log cabin getaway at the bottom of their garden.
'We wanted somewhere to sit in the garden even when it's cold – and get that peace and quiet away from the kids (lol).'
After searching high and low, they came across our best-selling BillyOh Tianna Log Cabin. They knew instantly that it was the perfect place to create a serene and peaceful hideaway on those warm summer evenings.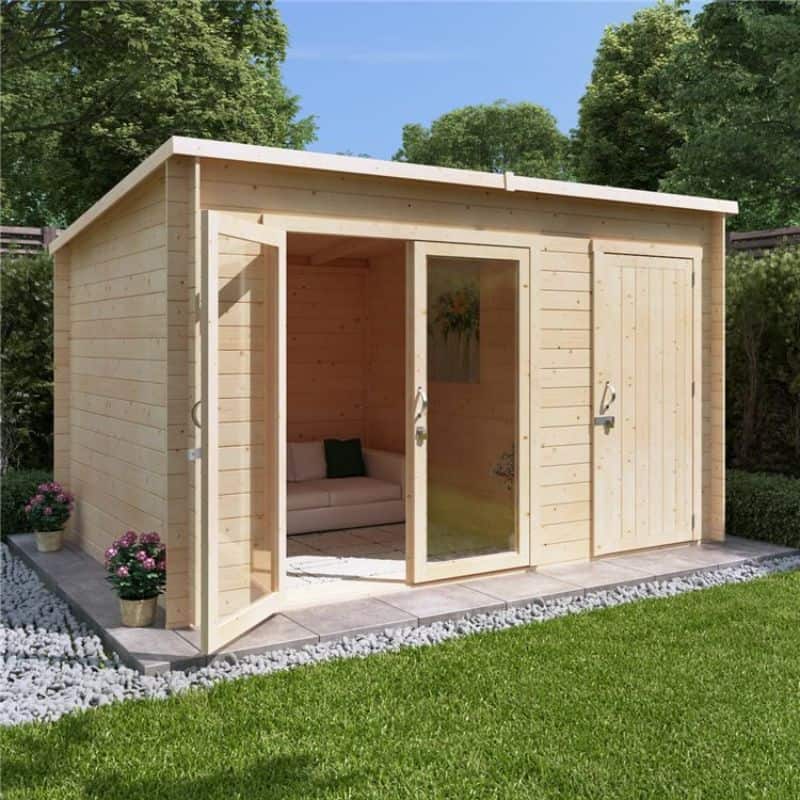 After reading rave reviews and seeing our 'too good to be true' prices, Sophie and her husband decided to order the unit there and then. Then they got straight to work upon its arrival – after all, we all had nothing else to do during the lockdown right?
'We chose GBD because of the great reviews and the amazing price of the log cabins.'
First and foremost, Sophie raised the pre-existing decking for a classy-looking base to house the unit upon installation. Then she painted the cabin a pure white with grey trim. She also placed potted foliage and golden statues out front to give it a holiday vibe.
The inside followed suit with a white base coat, but Sophie also added splashes of black and pink into the mix to make the building pop. She furnished it with trendy wicker chairs and luxurious velvet upholstery, before fitting shelving for her bottles of fizz.
'Our log cabin is our little sanctuary in our garden – it's my little gin snug. We open the doors up and sit on our sofa on those warm summer nights and chill.'
You can see the full extent of Sophie's makeover below: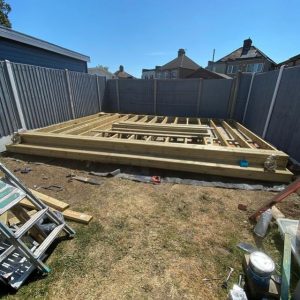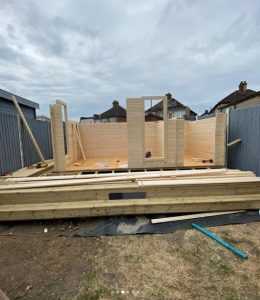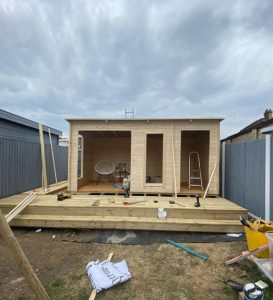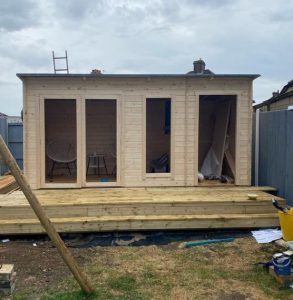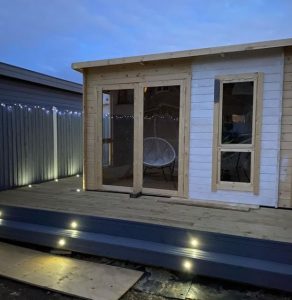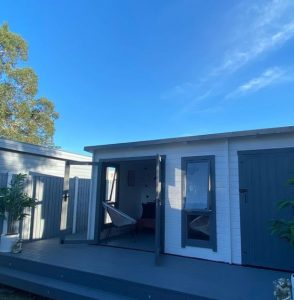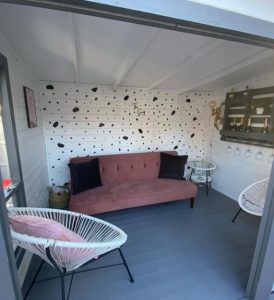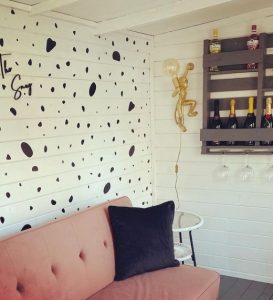 Another happy customer and another fantastic use of one of our BillyOh products!
If you want to see the whole building and decoration process, then be sure to check out Sophie's Instagram feed – @theplymstockproject. And to check out Sophie and her family's adventures, why not look at her personal feed too – @sophielango.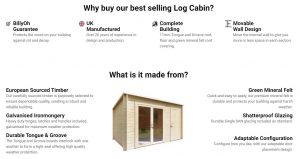 And if you've got a great story about your BillyOh shed, summerhouse, log cabin or playhouse conversion – we'd love to hear it! Simply get in touch with us on our social media pages for a chance to feature here.
And why not check out some more of our customer stories here!
Shop Log Cabins