There's something wonderful about the thought of cosy, insulated log cabins made from timber isn't there?
We sure think so, but the benefits of a garden log cabin go well beyond good looks alone. Of course, you could always check out an advanced guide on choosing a log cabin, but for now, we'll keep it simple. 
We've come up with a list of the 7 biggest and best benefits of adding a log cabin to your garden. 
But before we get into that, here's a fun bit of trivia – which president was born in a log cabin? 
Read on to find out at the end of this blog!
What Is a Log Cabin?
A log cabin is just that – a cabin made from logs. They're especially popular in places like Scandinavia, Canada, and the open plains of America. They're sturdy buildings that exude a feeling of nature whilst providing shelter.
But nowadays, they've evolved and can be anything from a log cabin playhouse to a home office. They still have that alpine charm and can act as functioning sheds and even living spaces.
So, what are the 7 biggest benefits of having a log cabin?

1. Adapt It To Your Lifestyle
It's fair to say that a residential log cabin is a lifestyle choice. It's certainly more of one than choosing a storage shed.
But that's not to say that your cabin can't still be used for storage. In fact, a log cabin shed's large single or double doors make it easy to manoeuvre larger items inside.
So if you're not planning on building a log cabin with a hot tub, you can still have space to put bikes and tools!
On the other hand, there are loads of log cabin ideas to choose from like dedicating space to a home gym or even a 'mancave'. And doesn't having friends round to your log cabin sound better than hanging out in your shed?
Plus, if you're tight on space, there are even corner log cabins on offer to suit your garden. Just remember that for log cabins within 2m of a boundary, the eaves can't be higher than 2.5m.
If you want to learn more about log cabin planning permission, check out this useful guide.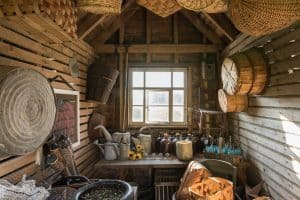 2. They're Eco-friendly
With a log cabin, you can rest assured that you're adding a garden structure that's environmentally friendly.
For example, our BillyOh log cabins are made from European-sourced timber. But, in general, log cabins are a sustainable investment made from renewable resources. 
And more than just being able to give yourself a pat on the back:
3. They're Also Energy-efficient
Another bit of good news is that wood is also energy-efficient. That goes for whether you're looking at a contemporary log cabin or a log cabin summerhouse.
There's also a good reason that log cabins are so popular in cold countries. That's because logs are energy efficient.
Timber garden products have a low thermal mass. This means that they have the ability to absorb heat energy throughout the day. But they also retain it. This means that wood acts as a natural insulator. 
This will ensure that your log cabin is warm in the winter and cool in the summer.
In addition, our BillyOh log cabins come in varying thicknesses. From roofing to floorboards and even glazing, you can optimise your log cabin. In turn, this means you'll require less heating and give off a lower carbon footprint!

4. They're Weatherproof
A log cabin made out of wood is not only energy efficient but also weatherproof. There's a good reason why you'll often see log cabins in places with harsh weather conditions.
But even a simple garden log cabin is durable. Wood is a good insulator and will keep you and the warmth in whilst keeping the elements out.
That's why our log cabin kits utilise interlocking panels for a sturdy design. This means that you can build something that's usable year-round.

5. The Perfect Home Office
Now don't get us wrong, home gyms and even home cinemas are great uses for a log cabin.  But the recent trend has been to use cabins as office spaces.
But don't worry – it's not too late to get on the home-office hype! With more businesses moving out of commercial office spaces, now's the perfect time to build your own!
A log cabin garden office can be the perfect space to work independently. Or you could run a start-up from there, or even entertain clients. By not renting pricey office space you can set yourself up for self-sufficiency.
A garden log cabin that doubles as an office also gives you somewhere that's dedicated to working. So as soon as you step through that door you'll be in the right mind-space. 
After all, we all know how tricky it can be with the kids running around your desk, or having to answer the door for the postman every five minutes.
Plus, you'll certainly save a bit of time on the commute!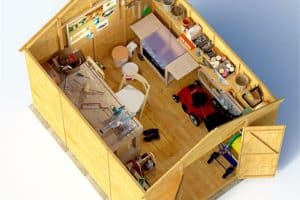 6. They Hold Their Value
If you treat it properly, even a cheap log cabin can last you a long time. After delivery, you and a friend can have your log cabin built and ready to go in a matter of days. 
With our tongue and groove style assembly, you can even dismantle and take your log cabin with you if you move home.
On the hand other, by keeping on top of log cabin treatment, your garden office can add value to your property.

7. They're Customisable
And if you're still not sold on the idea, you'll be pleased to hear that log cabins are available in a wide range of designs.
As we mentioned earlier, you can tweak every aspect of your log cabin. Choose the log thickness, glazing, and overall size to pick the cabin that suits you best. And you can do all of that without compromising on the beautiful alpine style!
You can even add cabin guttering for drainage or a lean-to for storage. The options are endless and you can build something liveable if you're looking for a residential log cabin.
(Or you could always add a bar to the interior!)
Check out this article if you want more ideas for your log cabin.
The Biggest Benefits of Log Cabins
Now you know about the seven reasons why log cabins are so great – well done for getting this far! 
And as a reward, we'll tell you which president was born in a log cabin. The answer is – there was more than one.
Andrew Jackson, James K. Polk, Millard Fillmore, Franklin Pierce, James Buchanan, Abraham Lincoln, and James A. Garfield, to be precise. Although, Andrew Jackson was the first!

So if a log cabin is good enough for a president, it's good enough for you. And on top of that, a log cabin (whether it's used as a shed or an office) can be a great long-term investment. By using energy-efficient materials your cabin can be inhabitable year-round.
Plus, building a log cabin can add value to your property. But it can also add value to your lifestyle with a lovely-looking addition to your garden. So whether you need a space to work or work out, a log cabin might just be for you. 
And if we've won you over to the idea, why not check out our advanced guide to choosing a log cabin?
Shop Garden Sheds
FAQs
---
Are log cabins warm?
Yes – insulated log cabins and even log cabin kits provide a tight seal against the cold. Plus, wood absorbs and retains heat well.
Are log cabins a good investment?
We certainly think so! With proper wood treatment and care, a log cabin kit can last you for a long time. 
Can log cabins be insured?
Yes, but you might have to get specialist cover if it isn't viewed as a permanent structure.
What kind of wood is used for log cabins?
Here at Garden Buildings Direct we only used European-sourced timber. That way, we can ensure durability, dependable quality, and sustainability.
How to build a log cabin
With a log cabin from Garden Buildings Direct, it couldn't be simpler. All orders come with digital assembly instructions. So, with a team of at least 2 people, you can have your log cabin up in no time!
Can you live in a log cabin permanently?
A log cabin makes a great end-of-the-garden extension. Check out our customisable features like guttering and glazing to ensure a habitable space.
How much does a log cabin cost?
At Garden Builds direct we have a full range of log sheds and cabins starting from as low as £928.