There's something wonderful about the thought of cosy, garden log cabins, isn't there? We sure think so, but the benefits go well beyond good looks alone.
In this blog, we're about to unlock the seven big benefits that make them a must-have addition to your outdoor space. So, if you've ever considered the idea of having one, keep reading!
What Is a Log Cabin?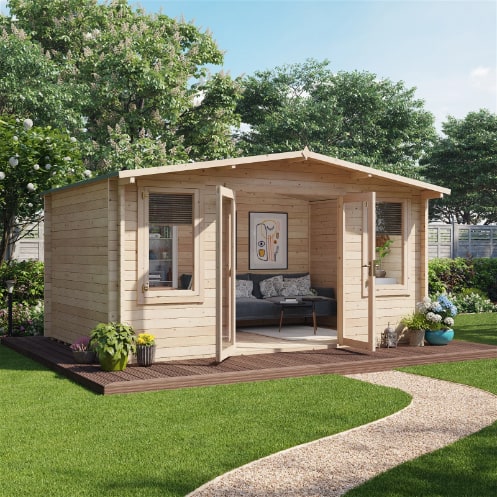 A log cabin is just that – a cabin made from logs. They're especially popular in Scandinavia, Canada, and the open plains of America. These sturdy structures exude a feeling of nature while providing shelter. They simply have that timeless connection to the great outdoors.
Now, they've evolved beyond their traditional roots and can serve a multitude of purposes. They can be a charming playhouse for kids or a serene garden office for remote work. These versatile cabins can also act as functional shed storage or creative workshops.
So, what are the seven biggest benefits of incorporating a log cabin into your outdoor haven? Let's explore the myriad ways in which these rustic retreats can make a difference!
1. Adaptable to your lifestyle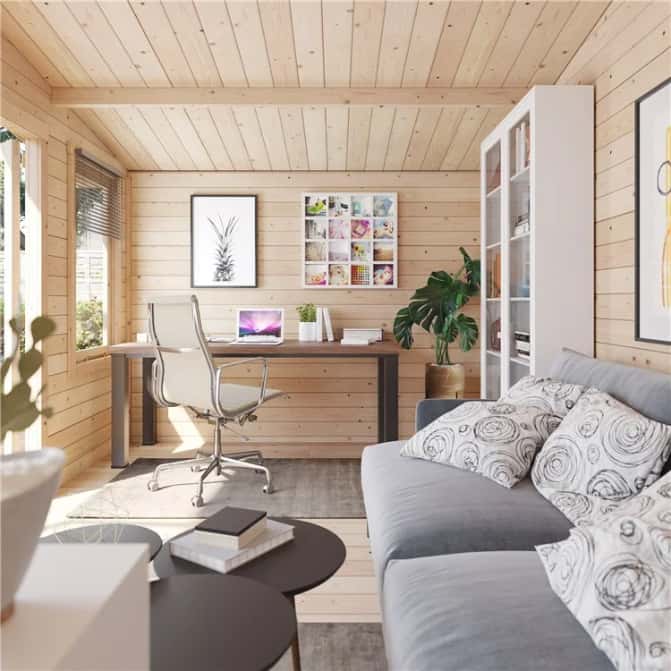 It's fair to say that a residential log cabin is a lifestyle choice. It's certainly more of one than choosing a storage shed.
But that's not to say that your cabin can't still be used for storage. In fact, a log cabin shed's large single or double doors make it easy to manoeuvre larger items inside. Suppose you're not planning on building one with a hot tub, you can still have space to put bikes and tools.
There are loads of log cabin ideas to choose from, like dedicating space to a home office or even a 'man cave'. Plus, if you're tight on space, there are even corner log cabins on offer to suit your garden. Just remember that for such garden buildings within 2m of a boundary, the eaves can't be higher than 2.5m.
2. Eco-friendly qualities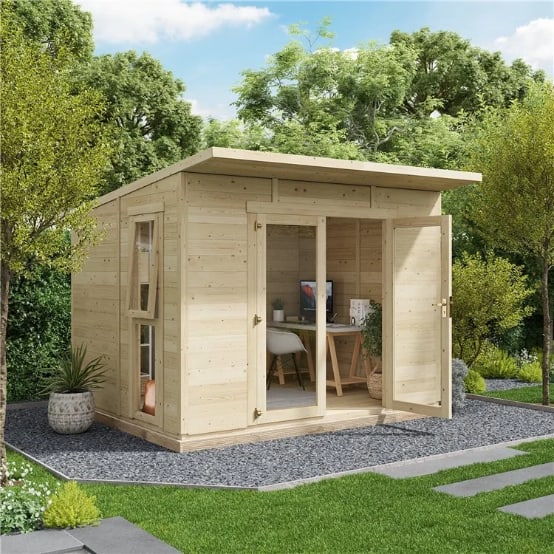 When it comes to garden cabins, their eco-friendliness goes beyond aesthetics. Take, for instance, our BillyOh log cabins, constructed from sustainably sourced European timber. In general, these outdoor structures are crafted from renewable resources like timber. This, overall, makes them a sustainable investment, helping you reduce your carbon footprint.
So, when you invest in one, you're not only creating an eco-friendly garden structure. You're also actively participating in the conservation of our planet's resources. It's a win-win that allows you to enjoy your outdoor haven while promoting sustainability.
3. Guaranteed energy efficient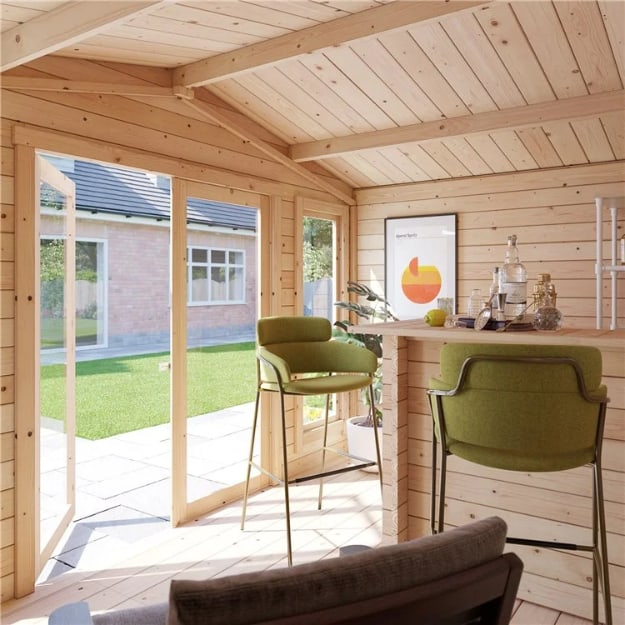 Another bit of good news is that wood is also energy-efficient. That goes for whether you're looking at a contemporary log cabin or a log cabin summerhouse.
Log cabins have long been favoured in cold climates for a reason. Logs possess exceptional energy-efficient qualities. Meaning these outbuildings exhibit a low thermal mass. This unique property enables them to absorb and keep heat energy throughout the day. Thus effectively functioning as a natural insulator.
In essence, log cabins are designed to keep you comfortable year-round. Thanks to their energy efficiency, you can stay cosy in the winter and cool in the summer. All while reducing your energy consumption and environmental impact!
4. Weathering the elements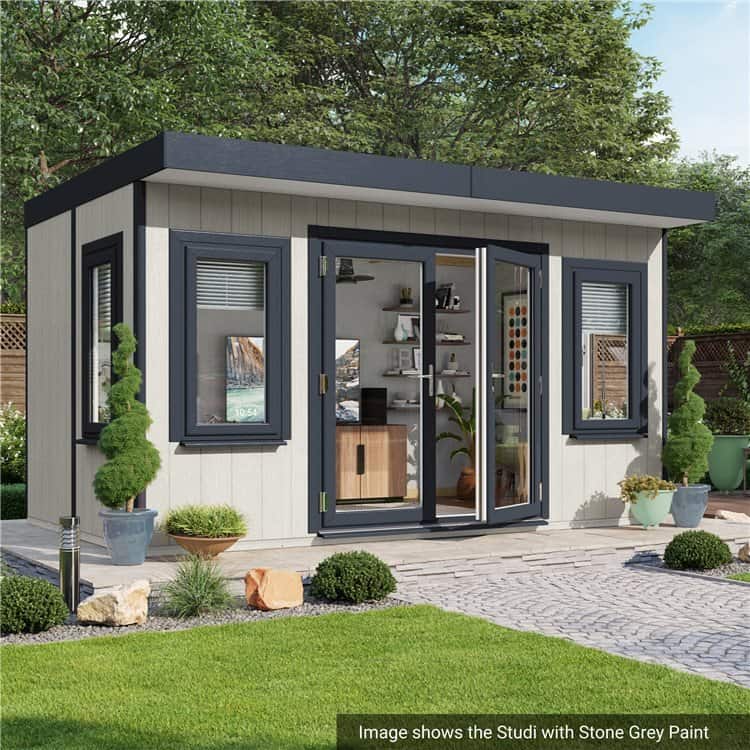 A log cabin made out of wood is not only energy efficient but also weatherproof. There's a good reason why you'll often see these garden rooms in places with harsh weather conditions.
The durability of even a basic model is a testament to wood's natural insulating properties. It ensures your comfort by preserving warmth and shields you from the elements.
Our log cabin kits take this a step further by employing interlocking panels for a robust design. This means you can have something in your garden that's usable year-round.
In essence, the weatherproof nature of garden cabins transforms them into reliable sanctuaries. It allows you to enjoy your outdoor space, no matter the condition.
5. A valuable investment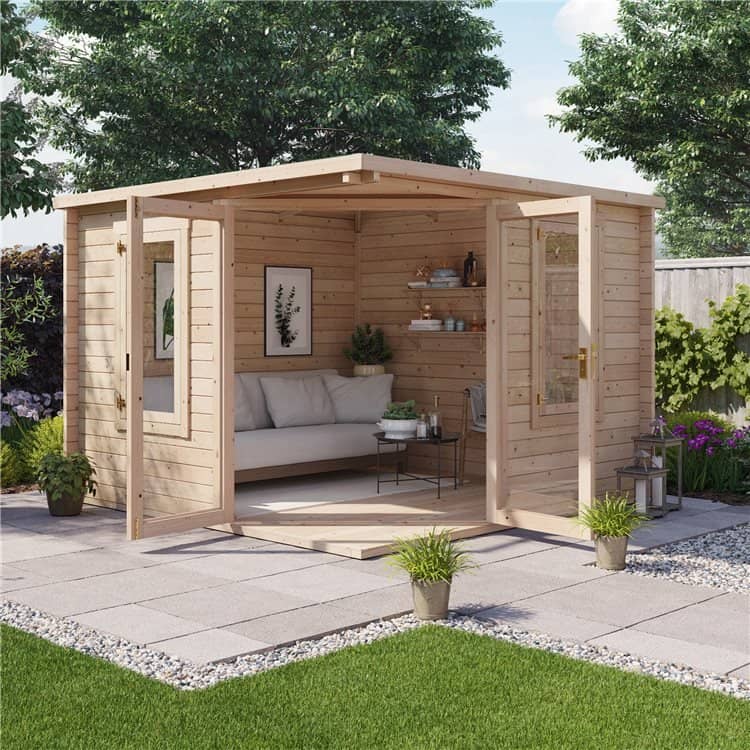 Investing in a garden log cabin is like a treasure chest waiting to be discovered. Even an affordable one can prove to be a valuable asset when handled with care. These cabins are built to last, and with a friend's help, you can have one up and running within days.
What's even more exciting is that our T&G (tongue and groove) assembly allows for easy disassembling. It's a portable piece of value that can travel with you.
When you diligently maintain yours, it can significantly boost your property's worth. So, not only are log cabins a fantastic investment, but they can also be a smart move to increase your home's value.
6. Freedom to customise it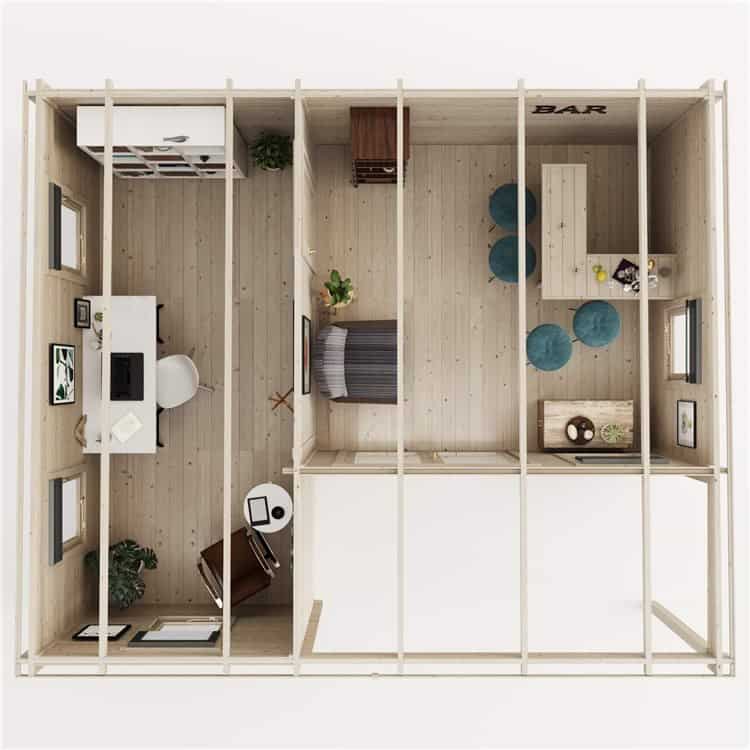 Customisation is the name of the game when it comes to log cabins. They offer a wealth of design options to cater to your specific needs and desires. From the get-go, you have the freedom to tweak every aspect of your log cabin. This includes selecting the log thickness, glazing, and overall size.
But it doesn't stop there. You can add practical features like guttering for efficient drainage. The possibilities are virtually limitless. In fact, you can create a fully livable residential log cabin with all the comforts of home.
And for those with a touch of creativity, why not throw in a bar for a unique interior twist? Take this insulated garden room, for instance. It can be your blank canvas, ready to be customised into your dream space!
7. Quick escape to nature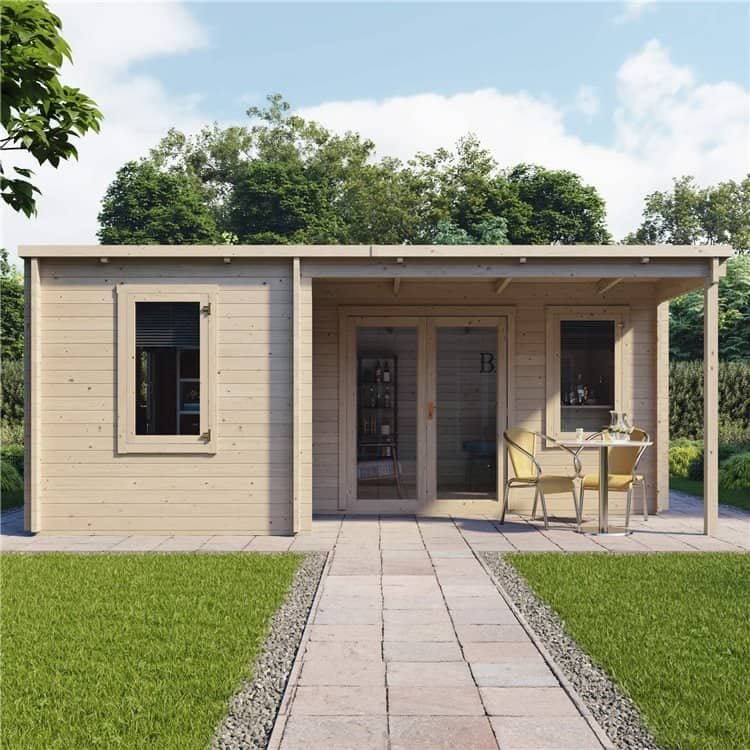 With a log cabin in your garden, you have a cosy haven where you can escape the hustle and bustle of daily life. These retreats provide a direct connection to the outdoors.
With one, you and your family can enjoy the beauty of your garden while sheltered from the elements. Whether it's a sunny afternoon, a light drizzle, or a snowy day, you'll have an all-season retreat and savour nature! It's the perfect escape, just steps away from your doorstep.
Permits and Regulations
Navigating the legal aspects of installing one is key to maximise the benefits fully. Doing so also ensures you avoid potential pitfalls. Here's how you can ensure a smooth and legal installation:
Local regulations:

Research your local zoning laws, building codes, and permit requirements. Compliance with these regulations is crucial to prevent future legal issues. Moreover, this ensures your log cabin meets safety and quality standards.

Property boundaries:

Ensure that your cabin's placement adheres to property line setbacks. Also, pay attention to other boundary restrictions. This prevents conflicts with neighbours and local authorities.

Environmental impact:

Consider the environmental impact of your cabin installation. Understand regulations related to tree removal and soil disturbance, to name a few.

Heritage and conservation areas:

Do you live in a historic or conservation area? If so, additional regulations may apply. Ensure your log cabin design aligns with any restrictions in these areas.
Make sure you address these to ensure peace of mind and the long-term value of your investment. For reference, check these building standards by NHBC.
Round-up
Log cabins are more than just charming additions to gardens. They're versatile, eco-friendly, and energy-efficient structures that offer:
adaptability

customisation

a quick escape to nature
Their value investment potential makes them a truly remarkable choice. With these benefits, you can have an outdoor oasis of comfort, style, and functionality.
Explore our range of log cabins for sale at Garden Buildings Direct. Enhance weather protection with our pressure treated log cabins. Up next on your reading list: The Top BillyOh Log Cabins
Shop Garden Sheds
FAQs