BillyOh is the UK's leading log cabin manufacturer. In conjunction with Garden Buildings Direct, BillyOh also manufactures sheds, summerhouses, playhouses and much more. But a BillyOh Log Cabin is our top-of-the-range offering.
We offer a variety of models to suit all lifestyles and pastimes – so much so that it might be difficult to tell them all apart.
So we've put together this list of our current favourites – and described why they might suit you best. That way, you can see for yourself exactly which BillyOh Log Cabin is right for you.
We've hyperlinked all the names of the cabins in the text. This means that if you want more detail about any one, you can click on their names within the paragraphs. The text you can click on is blue.
In the same way, we've put down who we think they're best suited for within the text as well. All of this text is in bold.
Enjoy!
The BillyOh Cove Multiroom Log Cabin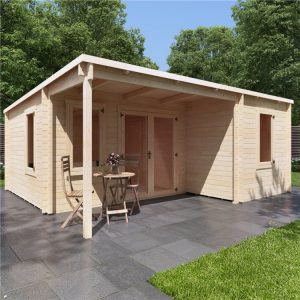 The BillyOh Cove is our newest log cabin, which automatically makes it our favourite.
It's stylish, and reinvents the wheel due to the fact that it contains two separate rooms within one building. This frees up the opportunity to use the cabin for two different purposes – whether that be a gym and a study, a lounge room and a spa, or a hair salon and an office.
The Cove suits people who need space. At a sizeable 6x5m, the overall dimensions of the building are larger than most we offer. It's got a large canopy, for people who want to dine or sit outdoors come rain or shine, and a front door that can be placed on the left or right hand side of the building, depending on preference. The walls are a sturdy 44mm deep – which is as thick as we offer.
Like all of our cabins, it comes with lockable doors and windows and varying options on window style, pressure treatment, roofing and flooring.
The BillyOh Robyn Corner Cabin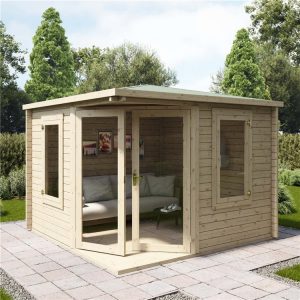 We're rolling out new cabins on a conveyor belt this year, and alongside the Cove, we've recently introduced the Robyn.
It's our first ever corner log cabin – and it looks amazing. Perfect for style-conscious cabin lovers, it fits ideally into the corner of any garden.
It incorporates some unique new features.
The first is the super on-trend hipped roof. This means that none of the faces are flat, which, aside from looking beautiful, means rain can run off in any direction.
The second is the generous glazing. We've not incorporated windows on three sides of a log cabin before.
And thirdly, it's got a 6'6″ guaranteed height. That means that almost anyone will fit inside with ease.
Offered at a singular, smaller size than the cove – 3×3 – the Robyn is definitely better equipped for those with less space to spare. It doesn't compromise on quality though – with the same 44mm walls and galvanised ironmongery, it's a cabin built for the long run.
The BillyOh Tianna Log Cabin Summerhouse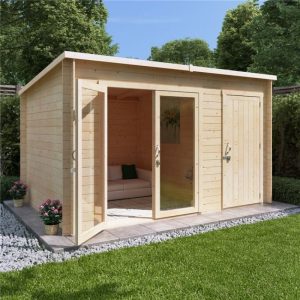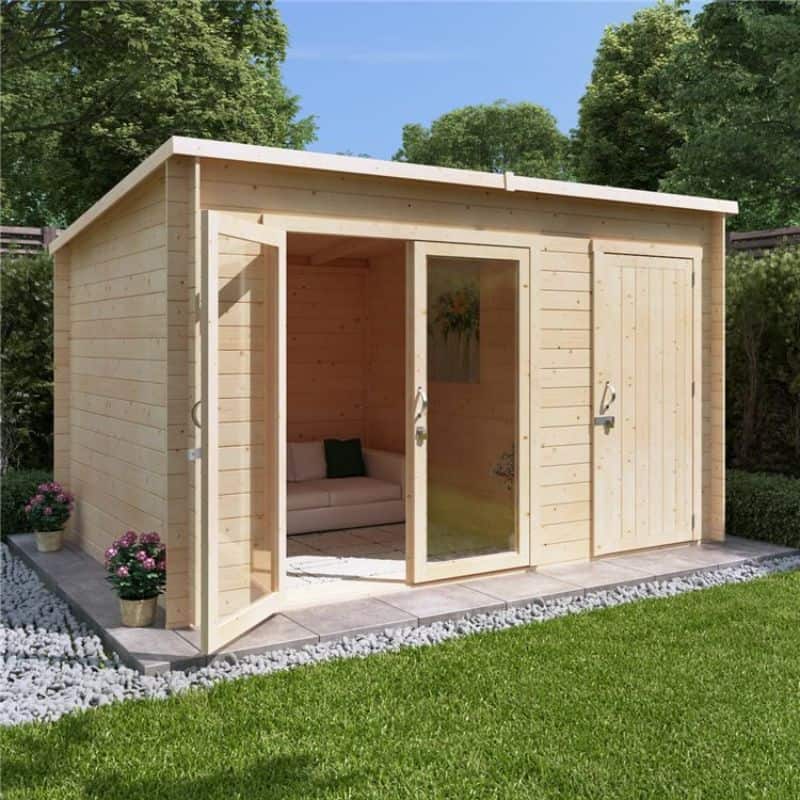 The Tianna Log Cabin is a customer favourite, and it's clear to see why. Most suitable for people who need a summerhouse and a shed, but don't want to fork out for both, it's a storage unit connected to a main building that is stylish, compact and easy to build.
Unlike with the Cove, the Tianna comes in different thickness options. 19mm gives the least coverage, best for if you're only planning to use it in summertime. 28mm is a bit more chill-resistant, and will boost the insulatory properties of the cabin.
You can adjust the interior wall's position to maximise storage space, or cramp that down and give yourself more room to stretch out in the main cabin. Unlike the Cove, the Tianna only comes with the option of single glazed windows – but that makes it mightily more budget friendly!
Starting at only £1,459.00, see why the Tianna is one of our best sellers today.
The BillyOh Porto Log Cabin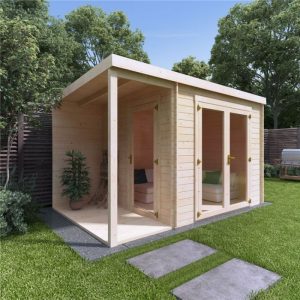 Named after the atmospheric coastal city in Portugal, the Porto is exactly what you'd expect it to be.
With it's sun-trap veranda and dual entry points, it wouldn't be out of place on the shores of mainland Europe. But that's not to say it isn't perfect for England.
Making the most of the sunshine is a breeze with the Porto. The veranda acts as a sheltered outdoor seating area – perfect for an al fresco lunch or a summer evening beer. Even when you're inside, three fully opening floor-to-ceiling doors mean that even the hottest days won't cause a problem. You can open and shut to your heart's content – letting in just as much or as little air in as you need.
We love it. At 7 feet tall, it stands tall and proud, and with views out of your windows to your entire back garden, it'll really be the star of the show. It's good for people who want to feel like they're on holiday in the comfort of their own home. We like to imagine it best at 7pm on a hot summer's evening, when the sun's just starting to go down…
The BillyOh Mia Log Cabin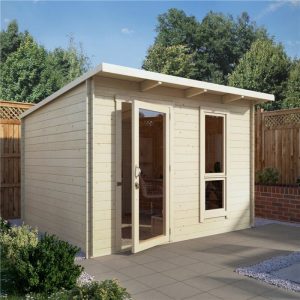 The idea for the Mia was conceived at the dawn of recent times, when the world adapted to working from home. At just £1,199, it was created as the perfect, affordable home office, for those who wanted to separate work and play.
Research shows that purposefully separating the place that you work from the place that you relax is beneficial. There's no better way to do that than by setting up shop in your back garden, surrounded by the tranquility of grass and trees. It provides a safe space for work – one in which you can concentrate – and means that after you've finished, you can replicate an actual day in the office by returning to the comforts of your own home, having not been sick of the sight of them while stuck on your PC indoors all day.
The opening window allows you easy access to fresh air when it's open, and a blockade to noise when closed.
It's uses, however, are not limited to work purposes. With it's compact design and stylish features, you could use it as a writing hut, a home recording studio or a mini gym.
The BillyOh Fraya Log Cabin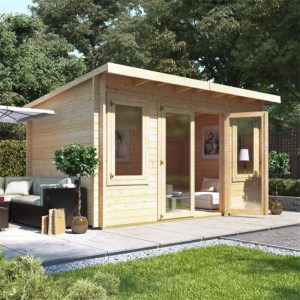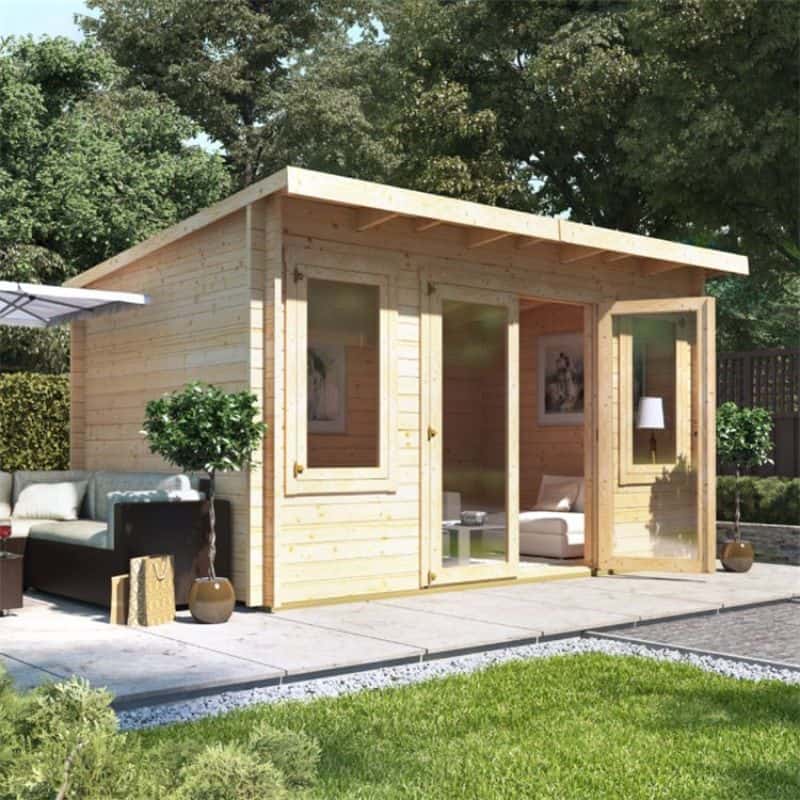 Simplistic and modern, the Fraya is our best-selling log cabin. With a pent roof and a range of sizes to choose from, it's makes use of a classic one-room design, while remaining fashionable at practical at the same time.
One of the Fraya's main offerings is it's choice of modern or Georgian style windows.  You can roll back the centuries with exterior window framing or keep it plain and simple with just the glazing.
With windows on either side of the door, the Fraya lets in light like a camera lens, meaning that for the daytime, artificial light won't be necessary. At night time, the roomy interior will pose you no problems installing lighting. Complete with a stylish front overhang, the Fraya really is one to behold. We think it best suits people who don't want anything too flashy, but like modern stylings.
The BillyOh Dorset Log Cabin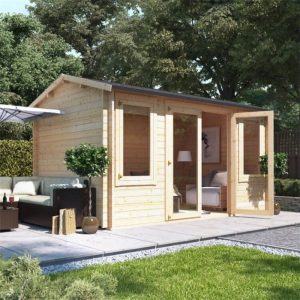 The BillyOh Dorset, another one of our most popular cabins, is the Fraya's younger sister. The major difference between the two is in the style of roof. Whereas the Fraya incorporates a modern, flat pent design, the Fraya's traditional apex roof makes it more appealing to those who like to keep it classic.
It comes in two variations – the original and the 'S' – and is offered in an incredible twelve different sizes.
Named after the quintessential British beach town, the Dorset can take you wherever you want it to. Whether you make it a tropical paradise with plants and leaves or an ode to the seaside, this cabin could be the one for you.
The BillyOh Carmen Log Cabin Summerhouse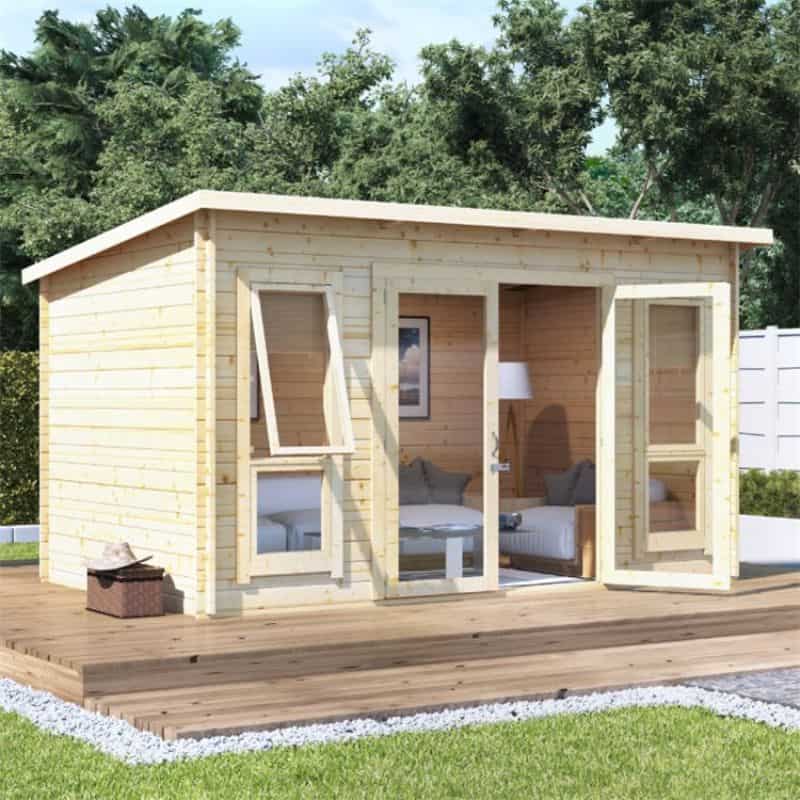 The BillyOh Carmen is our 'summerhouse' version of the traditional log cabin. This means it has thinner walls, single glazing and floor-to-ceiling windows for optimum light coverage. It's an elementary but nifty design, perfect for people who want something simple that they can use for the warmer 4-7 months of the year.
It's compact and won't take up all the space in your garden – while still being roomy enough to feel really homely. The simplicity of it makes it one of our best sellers. Funnily enough, it's one of our favourites too.
With a modern pent roof and the option of 19 or 28mm walls, customise your Carmen to your hearts desire with prices starting at just £1,495.
The BillyOh Pod Multiroom Log Cabin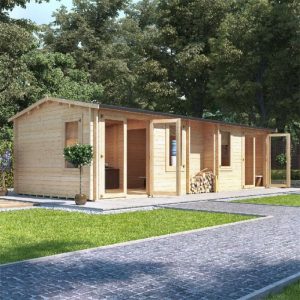 The BillyOh Pod is similar to the Cove in the way that it is a multi-room log cabin – but with the Pod, it's all on the same plain.
This means that the Pod is a real garden statement, and boasts a whopping 8m width, while cutting down on the size depth-ways.
The Pod is a real luxury building – with three separate rooms to transform into whatever you can dream of. Dual entrances mean that really, it's a two-in-one log cabin – with both main rooms spanning 3.5m each way. The central room can act as a mini storage unit or a utility room. Pop in for a coffee on a break from work!
It's best for people who have two ventures or requirements for their log cabin. Two separate rooms allows uninterrupted concentration on one or the other. If you've two adults working full-time from home, this could make the perfect dual garden office.
The BillyOh Outpost Insulated Building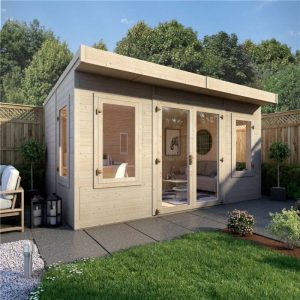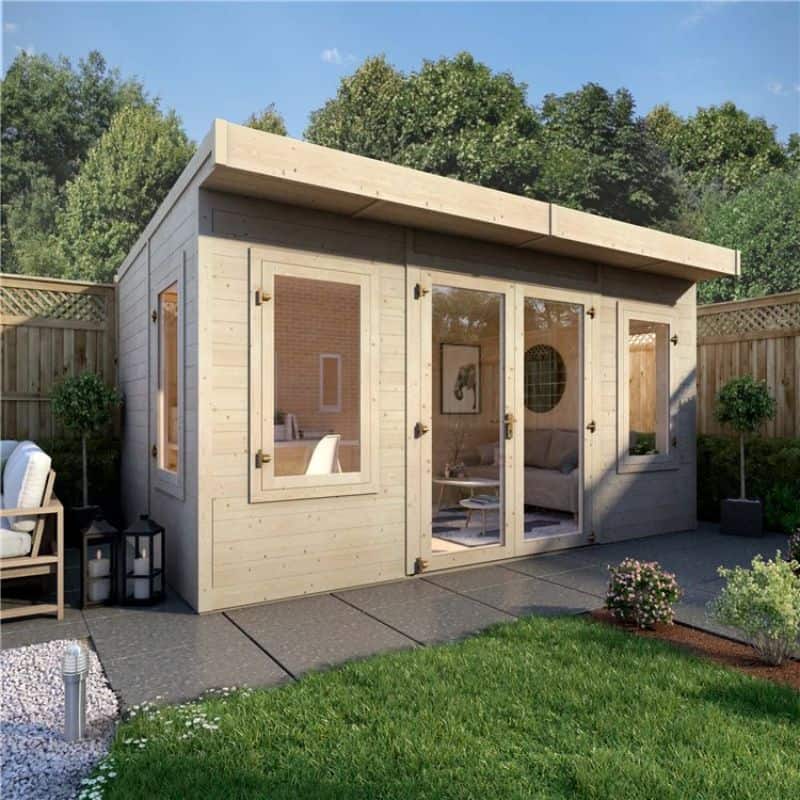 The Outpost is a recent addition to our market and is unique in being our only insulated building. This one is ideal for people who want to be able to use their cabin all year round, with no questions asked. Mega 66mm thick wall panels mean you won't even consider the cold outdoors when you're snuggled up warm inside.
The EcoQuilt insulation uses a thick foil blanket to trap heat indoors. With this included in the floor, roof, and walls, you're protected from all sides. The obligatory double glazed glass windows also ensure you're kept doubly safe from any external breeze.
With a 14x8ft overall size, the Outpost is spacious, modern and super cosy. It's ideal for a cosy winter's evening or hosting a late night party!
—-
If you're considering it, a BillyOh Log Cabin is probably the perfect building for you. With a host of style options to pick from, there's something to suit everyone.
Every BillyOh Log Cabin is available with the option of pressure treatment (PT), to protect it from rot and decay. This process involves leaving the wood in a VAT of liquid preservatives which infuse into the timber. It is a professional procedure and is highly recommended by us. With the addition of PT, you will not need to concern yourself with treating your cabin upon installation. Relax in the comfort of knowing that your log cabin is protected with pressure treatment.
In a similar way, all of our cabins are available with free delivery to most of mainland U.K. Some fees may apply to certain areas. You can find this information on the terms and conditions section of our website.