Once, hiking into the woods was the path to immerse in nature's beauty and find solace in a log cabin. Now, you can achieve the same in the comfort of your garden, offering a versatile range of activities.
To fully savour this advantage, you have to find the perfect retreat. Lucky for you, you're in for a treat with our top garden log cabins! Take outdoor living to the next level with one of our BillyOh models that will leave you in awe.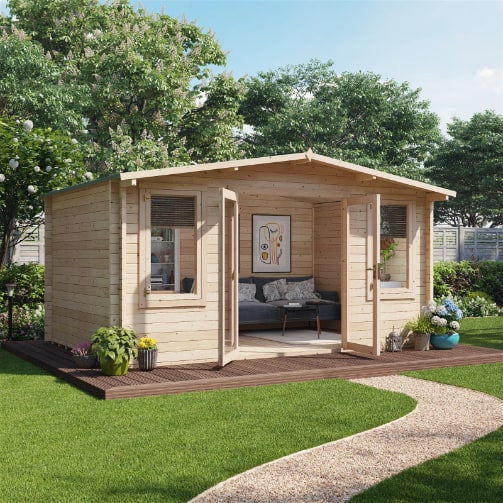 The Winchester stands as a classic example of an Alpine-style log cabin. It boasts the convenience of two wide-opening modern windows and fully-glazed double doors. These features may seem simple, but they infuse the interior with ample natural light. Their thoughtful addition to the building creates a spacious and welcoming atmosphere.
Another standout feature is the cabin's apex roof, blending aesthetics with practicality. The high centre ridge allows for efficient rainwater runoff. This effectively reduces the risk of water damage. Moreover, the added headroom makes it an ideal choice for versatile uses. Transforming it into a garden office, for instance.
Rest easy, as the optional 19mm roof and floor upgrades ensure the cold remains at bay. To further enhance the building's insulation, consider the 44mm wall upgrade. These additions collectively elevate the unit's suitability for winter use.
The Winchester log cabin comes with a 10-year guarantee against rot and decay. It's all thanks to the high-quality tongue and groove panels used. The T&G cladding is designed to be weather-resistant and sturdy, and that says a lot about this model.
Available sizes and prices:
13x8ft: £1,488.00
13x10ft: £1,691.00
15x10ft: £1,800.00
16x10ft: £2,131.00
15x11ft: £2,339.00
16x13ft: £2,693.00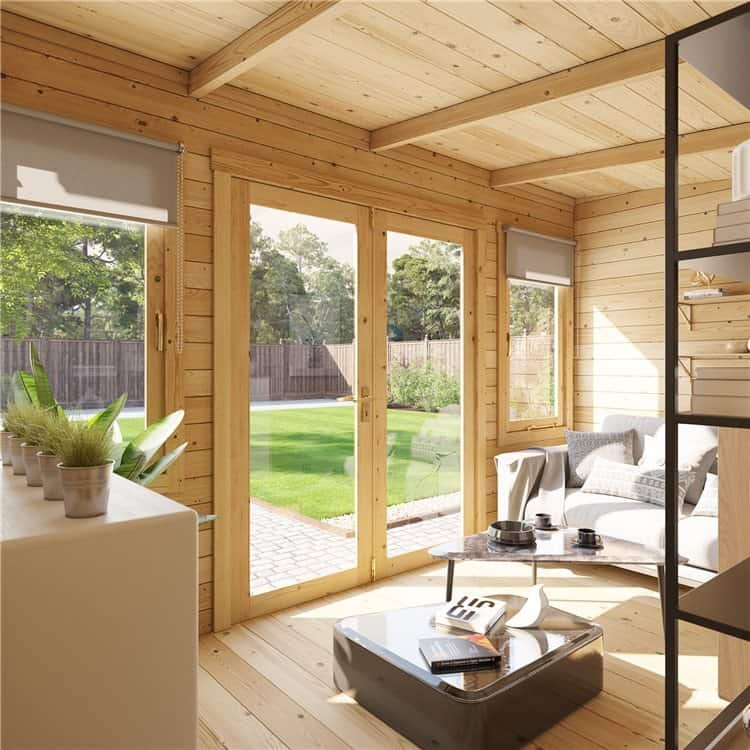 The Fraya is thoughtfully designed to blend with any garden setting seamlessly. Its modern pent design, along with a front overhang, lends a contemporary style. It also contributes to the amount of light that can reach the interior. This model also utilises opening front windows and large, fully-glazed double doors. Having a bright, airy interior makes it fantastic for use as a summerhouse or a garden bar shed makeshift.
The multi-point locking system significantly enhances security. Combined with heavy-duty galvanised hinges, latches, and handles, it ensures maximum weather resistance. In essence, this feature provides peace of mind. Rest assured that your cabin and belongings are protected against intruders and the elements.
In addition to the flexible 19mm roof and floor upgrades, you have the option to enhance the windows as well. The Fraya comes with durable single SAN glazing as the standard feature. For increased insulation and sturdiness, opt for double glazing with toughened glass. This upgrade ensures your cabin is well-insulated, providing better comfort and energy efficiency.
This building can be pressure-treated to extend the BillyOh guarantee to 15 years. Available sizes and prices:
Bonus: The Fraya Max Pent Log Cabin features a long, spacious, and asymmetrical design. Available in a range of larger sizes compared to the standard version.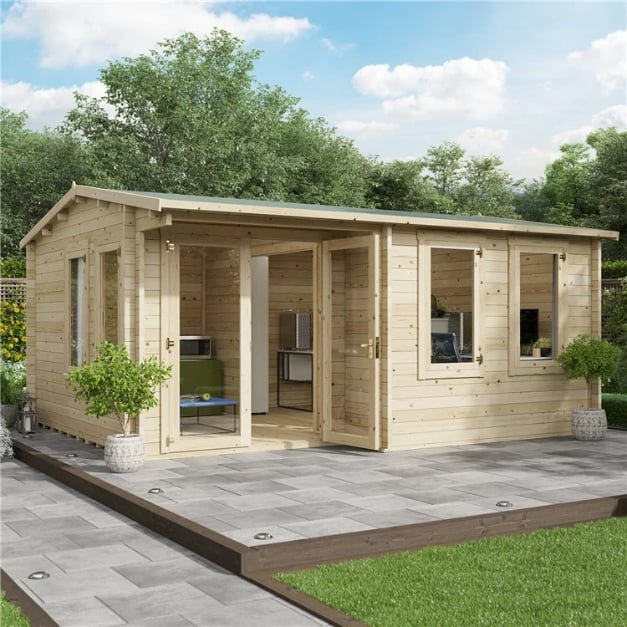 The Kent is spacious and durable, designed to stand the test of time. But when talking about its key features, privacy and adaptability best describe it.
Inside, you'll find a generous layout that features a unique multi-room design. With an eternal wall creating two distinct spaces, you have the flexibility to 1.) use one room for entertainment with family and friends and 2.) use the other for co-workers as a home office or any purpose you have in mind.
The garden room Kent is available with 28mm walls as standard; the thicker, the better. For a more robust building, you can upgrade to 44mm walls. As for the roof, it features something different — a reverse apex. This roofing style offers a special twist on the standard apex. Positioned at the rear, it provides a striking architectural feature. This configuration adds visual appeal while maximising interior space and natural light.
No need to fret about furniture placement. Thanks to the wide-opening double doors, you can put up even large office desks and chairs with ease. This model is available for pressure treatment, increasing your BillyOh guarantee to 15 years. Available sizes and price: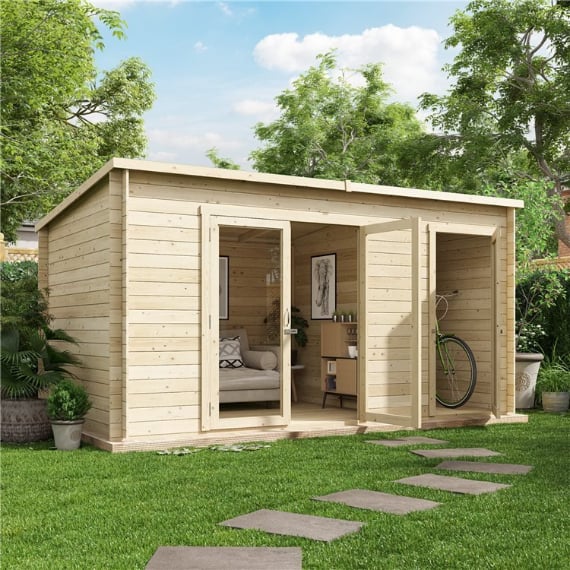 The Tianna seamlessly blends the elements of a log cabin and a summer house. This dual-purpose unit features a generous main area and a flexible side storage unit. The added side store can be positioned on either side of the structure to cater to your specific needs. It's a perfect combination of practicality and style, but that's not all!
The full-span windows provide you with fantastic garden views and more natural light. They also serve as versatile doors, which can be left open to let in the warm summer breeze. You can maximise this feature by connecting the interior with your garden. This idea is perfect if you love hosting gatherings or wish to create a serene retreat.
What makes this model extra special, well, besides the integrated side store? The internal wall can be moved to increase the size of either section to suit your individual needs. Having compact storage is ideal for bikes while keeping your ample summerhouse space.
Optional extras include pressure treatment, T&G wall, floor, and roof upgrades, and an eco base. Available sizes and prices for this summer house with side shed unit: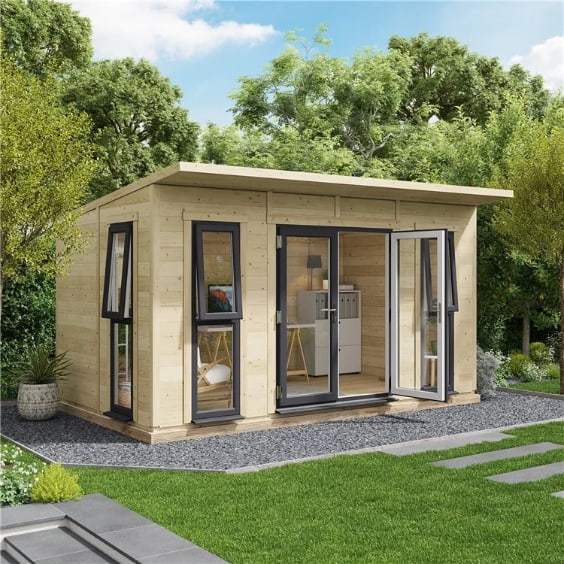 Garden rooms are the perfect way to revolutionise the way you use your outdoor space and even your home. With a multipurpose building like the Canvas, you can give yourself a whole new room to live in. With loads of customisable options and three sizes, you can make it fit just what you've been searching for.
This insulated log cabin features a fully modular design and a modern exterior look. What's more, it has a swathe of reliable features and amazing upgrades. Truly, the only limit to this model is your imagination.
Life is never dull, thanks to its natural-light-oriented design. You can expect a series of huge windows and glazed doors that reach from the floor to the ceiling. The optional side window allows you to keep the room airier and brighter.
But the Canvas' hidden power is its insulating capabilities. It lets it keep heat and provides a comfortable indoor space that you can use year-round. It is achieved with the structural composition of its walls, which use a layering system to trap heat.
Moreover, there's an insulating foil wedged between the inner wall and outer cladding. This element provides effective insulation, which makes up the building. To enhance this power, we also supply double-glazed window fittings. That way, there's no easy way for that valuable warmth to escape.
You can count on the Canvas to withstand harsh weather conditions. Its strong timber framing, featuring 27x44mm beams, offers stability and resilience. It's nothing to strong winds, heavy rain, and even the harshest British storms.
We offer a great 10-year standard guarantee. And, if you choose pressure treatment for the wood, you can extend this to 15 years for added protection.
Available sizes and prices:
12x8ft (Extra window): £4,076.00
14x8ft (Extra Window): £4,698.00
Round-up
Our BillyOh log cabins open the door to a world of possibilities in your own backyard. Each model offers a unique blend of style and practicality. High-quality construction, smart design, and a range of customisable features, you name it! They are your ticket to creating your dream outdoor oasis. Your perfect escape is just a log cabin away!
Explore Garden Buildings Direct for a wide range of log cabins for sale. Don't miss out on our pressure treated log cabins and log cabin sheds. Next on your reading list: 100 Log Cabin Makeover Ideas